CLICK THIS TO STOP READING BY YOURSELF AND JOIN THE 'BEST BOOK CLUB' NOW HERE TO MEET AUTHORS AND NEW FRIENDS
CLICK THIS TO STOP TRYING TO ACHIEVE YOUR GOALS BY YOURSELF AND BE COACHED TODAY HERE
CLICK THIS TO DOWNLOAD THIS FREE PDF SUMMARY HERE
CLICK THESE FOR THE FOLLOWING Book | Summaries | Course
YouTube |Spotify | Instagram | Facebook | Newsletter | Website
This book reveals the most cutting-edge way to drive eyeballs to your product or service to help people find you. There's a classic movie with Kevin Costner called Field of Dreams. It's about building a baseball stadium in the middle of nowhere. The movie is great, but it sends a bad message that people will come simply by something being built. Unfortunately, too many people in business have taken the concept literally and have decided to run their businesses that way. They think if they build the best product or service, invent the best widget, create the best mastermind, or write the best book, the world will just find it. They think that as long as they build the best product or service, people will just show up to buy it. The reality is they won't just come. Unless people know that you exist and you give them a compelling reason to come find you, they aren't coming.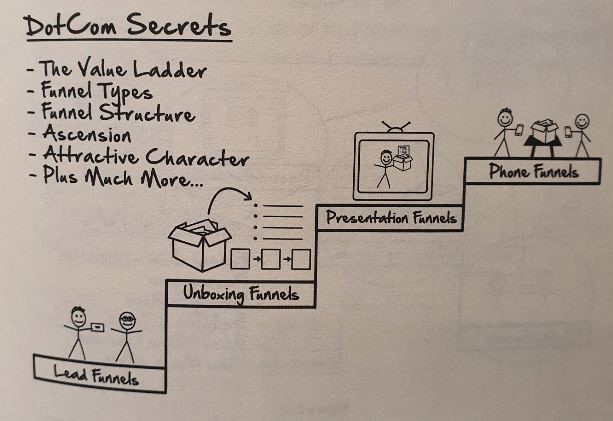 Some people weren't making any money because they lacked the basic understanding of how to convert their funnel's visitors into customers. They didn't understand the fundamentals of persuasion, storytelling, building a tribe, Becoming a leader, and communicating with the people who entered into their funnels.
Traffic is the fuel for every successful business. It is the people who are coming into your funnels. The more people you can get in front of, the bigger impact you and your company can have, which, in turn, usually creates more money for your company.
The strategies inside of this book are evergreen and will never change as long as there are humans on this planet to sell to.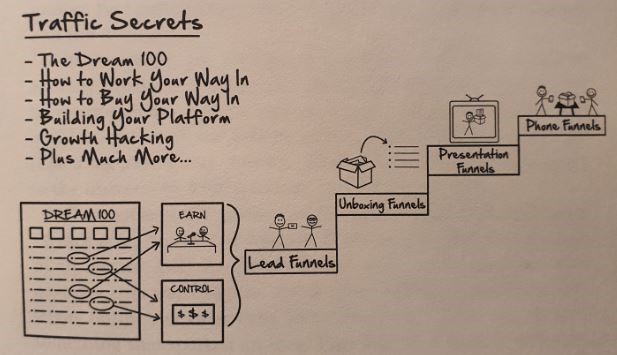 Introduction – There's a storm coming….
Traffic equals customers
Leverage Facebook to grow companies quickly.
The greatest predictor of the future is the past.
The tactics behind how to get someone to click on an add and come to your website literally change daily.
The people I learned from were some of the old-school, direct response marketing greats like Dan Kennedy, Bill Glazer, Gary Halbert, Jay Abraham, Joe Sugarman, Chet Holmes, Fred Catona, Don Lapre, Eugene Schwartz, David Ogilvy, and Robert Collier
Moving forward, you have to understand that traffic is people, and people are extremely predictable. The core strategies that Russell teaches you will outlast and supersede any particular platform, so you can apply them anywhere.
we will be focusing on strategies that don't change, including:
Identifying your dream customers
Finding out where they are already congregating online
Learning how to "work" your way in
Understanding how to "buy" your way in
Creating your own publishing platform
Building your own distribution lists
move to where the eyeballs go.
Section One – Your dream customer
The biggest problem with our education system, and it's one of the biggest issues that plague new entrepreneurs in any market. They believe that if they build a great product, or create an amazing company, the customers will automatically follow.
Sweat equity
People who put all their focus on creating something amazing (instead of also focusing on getting people to actually see what they created) are the people that fail. The biggest problem they have is getting their future customers to discover that they even exist. Every year, tens of thousands of businesses start and fail because the entrepreneurs don't understand this one essential skill: the art and science of getting traffic (or people) to find you.
Entrepreneurs are the only people on earth who can actually change the world. It won't happen in government, and I don't think it will happen in schools.
CLICK THIS TO STOP READING BY YOURSELF AND JOIN THE 'BEST BOOK CLUB' NOW HERE TO MEET AUTHORS AND NEW FRIENDS
CLICK THIS TO STOP TRYING TO ACHIEVE YOUR GOALS BY YOURSELF AND BE COACHED TODAY HERE
CLICK THIS TO DOWNLOAD THIS FREE PDF SUMMARY HERE
CLICK THESE FOR THE FOLLOWING Book | Summaries | Course
YouTube |Spotify | Instagram | Facebook | Newsletter | Website
Waiting for people to come to you is not a strategy. But understanding exactly who your dream customer is, discovering where they're congregating, and throwing out hooks that will grab their attention to pull them into your funnels (where you can tell them a story and make them an offer) is the strategy. That's the big secret.
When you have a perfect vision of who your dream customer is, it becomes easy to find where they are congregating. On the contrary, if you don't have perfect clarity on who that person is, it's really hard to find them.
Secret #1 Who is your dream customer?
Each business needs to understand their dream customer avatars better than the customers know themselves.
A product-centric company; or a customer-centric company.
When Perry first told me this story, I had my big "aha"!
Most entrepreneurs mistakenly think that their business is about them, but it's not. On the contrary, your business is about your customer.
If you want customers (traffic) to come into your funnels, then you have to be able to find them online. And if you want to find them online, then you have to start to understand them at a much deeper level.
The first step in this process is to become obsessed with your dream customer. Companies that become obsessed with their products eventually fail.
Became obsessed with your customers.
Being obsessed with your customer means understanding them just as well, if not better, than they understand themselves.
Most businesses are created from a problem that an entrepreneur had, and their product or service was the result of them figuring out the solution to that problem.
"Our mess becomes our message,"
When you're frustrated about a problem you're having, you look for a solution. If you're not able to find a solution that gives you the result you want, then you'll likely go on a journey to find or create your own solution. In that way, your problem becomes your business; in other words, you mess becomes your message.
We as marketers should not be trying to figure out how to create the next amazing ad campaign, but instead we need to learn how to "enter the conversation already taking place in the customer's mind."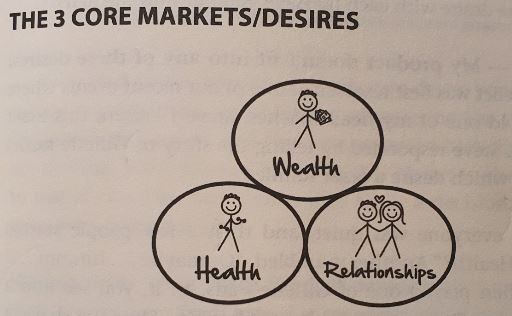 When people purchase any product from anyone, they're hoping to get a certain result in one of these three areas of their lives. So the first question you need to answer is this: Which of these three desires is my future dream customer trying to receive when they buy my product or service?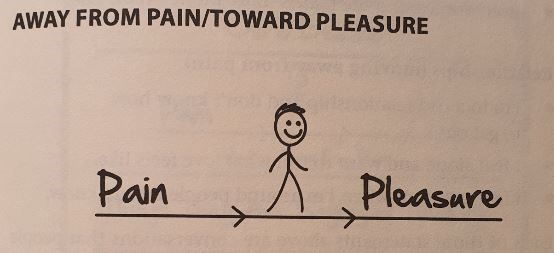 Exercise: Write down all the things your dream customers are saying or thinking as they move away from pain.
Exercise: Write down all the things your dream customers are saying or thinking as they move toward pleasure.
In 1886, the Yellow Pages directory was created, and it was awesome for consumers because you could find exactly what you needed, and business owners had the luxury of people simply showing up, looking for what they had to sell.
It seemed like the perfect solution, except for one thing: as a business owner, if you wanted to make more money or grow your company, you were not in control. You had to wait for people to have a need in order for them to come and find you.
But then, in 1927, the television was invented, and just 15 short years later, on July 1, 1942, during a Brooklyn Dodgers – Philadelphia Phillies game at Ebbets Field, the first-ever TV commercial aired. At the time, there were over 4,000 televisions in New York, and that day, while families gathered around to watch the big game on NBC, it was interrupted by the first-ever TV commercial. That ad, which was just nine seconds long and cost only $9, featured a map of America with a Bulova watch clockface in the middle. At the end of the ad, a voice announced, "America runs on Bulova time." And with those nine seconds, the shift from search advertising to interruption advertising had officially begun.
No longer would people only buy when they needed something; now advertisers had the ability to create desire and sell people stuff that they wanted.
This interruption advertising started happening in other types of media such as radio, newspapers, and direct mail. The process was simple: get a captive audience, entertain or educate them, and then, when you have their full attention, interrupt them with your message. You can then grab their attention and create desire for the product or service that you are selling.
People will either be searching for your product (left), or you will interrupt them (right) to get their attention with your ads as they are scrolling.
Secret #2 – Where are they hiding? The dream 100
The real power of the internet: it has allowed us to connect with like-minded people in a way that wasn't possible before. It's allowed each of us, with our unique and sometimes weird hobbies and interests, to congregate with our people to discuss the things that mean the most to us.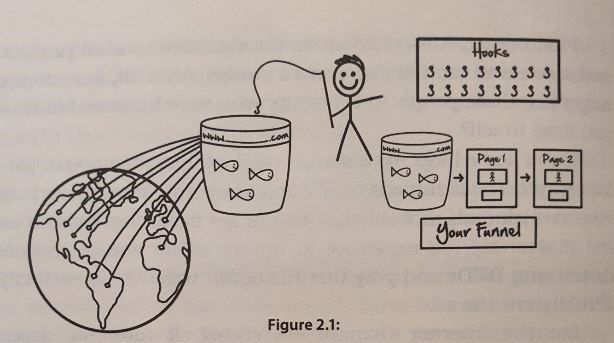 Exercise – Here are some questions you should be asking yourself at this point:
What are the top websites that my dream customers already go to?
What forums or message boards do they participate in?
What are the Facebook groups they engage in?
Who are the influencers they follow on Facebook and Instagram?
What podcasts do they listen to?
What are the email newsletters they are subscribed to?
What blogs do they read?
What channels are they following on YouTube?
What keywords are they searching for in Google to find information?
If you don't truly understand your dream customers then it will be hard to find them. But if you really understand them, then you should already know where they're congregating to get out of pain and where they're congregating to move toward pleasure. And when you know where they're congregating, it's pretty easy to put your messages or your hooks in front of them and pull them into your funnels.
One of the common misunderstandings with traffic is that you have to "create" traffic, but, as you can now see, that just isn't true. Traffic (your dream customer) is already there. Your job is to identify where they are, tap into those existing streams of traffic, throw out some hooks, and then get a percentage of your dream customers to start coming to you.
CLICK THIS TO STOP READING BY YOURSELF AND JOIN THE 'BEST BOOK CLUB' NOW HERE TO MEET AUTHORS AND NEW FRIENDS
CLICK THIS TO STOP TRYING TO ACHIEVE YOUR GOALS BY YOURSELF AND BE COACHED TODAY HERE
CLICK THIS TO DOWNLOAD THIS FREE PDF SUMMARY HERE
CLICK THESE FOR THE FOLLOWING Book | Summaries | Course
YouTube |Spotify | Instagram | Facebook | Newsletter | Website
The dream 100 (one to one)
"The goal of the Dream 100 is to take your ideal buyers from 'I've never heard of this company' to 'What is this company I keep hearing about?' to 'I think I've heard of that company' to 'Yes, I've heard of that company' to 'Yes, I do business with that company."
The dream 100 (One to Many)
I identified who my dream customers were that would want to read my book and where they were congregating. I made a list and wrote out everywhere that I could think my dream customers might be gathering. On that list I identified:
10+ top websites and forums they spent time on
15+ active Facebook groups they participated in
50+ influencers they followed on Facebook and Instagram
30+ podcasts they listened to
40+ email newsletters they subscribed to
20+ blogs that they actively read
20+ YouTube channels they subscribed to
After making the list, I added up how many subscribers, readers, and followers each of those channels had. I was so excited to find out that there were over 30 million of my dream customers on that little list alone, all congregated inside of those 185-plus communities!
I did a Dream 100 campaign to the owners of those 185-plus communities asking them to promote my book to their audience? If I could build a relationship with one of them and get just one yes, that could turn into hundreds or thousands of new customers!
So that's exactly what I did! I found the contact information for those 185 people, and I sent them each a copy of my book in the mail with a letter asking if they'd be interested in helping to promote my book on launch day.
Rachel Hollis, the author of the #1 New York Times best-seller Girl, Wash Your Face. At the time, of launching her new book, Girl, Stop Apologizing.
She had sold over a million copies of her books. I asked her for the secret to selling that many copies, and she told me: We asked ourselves this question: "What are the tribes that my women are already in? What network marketing companies are they in? What Facebook groups….what Instagram channels….what hashtags are they following?" After we identified these things, we tried to figure out who are the tribe owners of these women. Who do we need to become friends with? Anyone who had over 200,000 followers, we would direct message (DM) them, tell them who we were, and ask them if we could talk. We started messaging everyone. Our focus was to find the tribes, and then figure out the best ways to infiltrate them.
The Dream 100! She didn't call it that, but that's exactly what she had done to quickly become one of the best-selling authors of all time!
Respect the fact that people like to consume media in their own favorite ways, and while it's possible to move people from one platform to another, there is much less resistance when you just migrate people to you who are already on the platform that they love.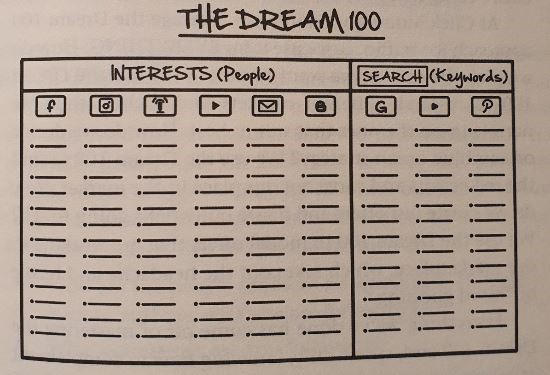 If you would like to print the Dream 100 Worksheet for your own use, go to TrafficSecrets.com/resources to download your copy.
The next step is for you to build out your Dream 100 list. Everything we do from this point forward from paid ads to free traffic to joint ventures will all build from this core foundation of the Dream 100.
Very few people ever sit down to do the work and actually build it out.
If you were to hire Russell today for a $100,000 consulting day, the first thing he would do with you is spend the first three to four hours building out this list. That is how important it is, so don't skip it! Yes, it's simple, but it's the foundation to everything!
The Dream 100 is the key foundation for traffic and the key foundation for your entire business because it helps you to figure out how to position your offers and tell your stories.
The two core types of congregations – As you're building out your Dream 100 list, there are a few important notes I want you to remember. In Secret #1, we talked about how there are two ways that your dream customers will find you: either they're going to search for you or they're going to interact with things that interest them where you will interrupt them. I make these same two distinctions when I'm trying to identify where my dream customers are congregating.
Interest-Based Congregations: The first type of congregation is based on interests.
Facebook is believed to automatically track over 52,000 data points on each user as they are using their platform, which is super annoying as a user but super awesome for us as advertisers.
Make a list of all the people, companies, movements, and interests that your Dream 100 are already following.
Start with your favorite social network and try to write down between 20 to 100 Dream 100 names for that network.
The same thing for podcasts, blogs, email newsletters, and any other important types of congregation.
Search-Based Congregations: When someone goes to Google or any other search platform, they type in a keyword phrase looking for something like: how to lose weight, emergency plumber Boise Idaho, best water filters.
This type of congregation is called a search-based congregation, and searches can occur on Google, Yahoo, or any other search platform.
Exercise
To create your Dream 100 list, write out the phrases that you believe people are actively searching.
Traffic is a numbers game.
So it's essential that you cast a wide net.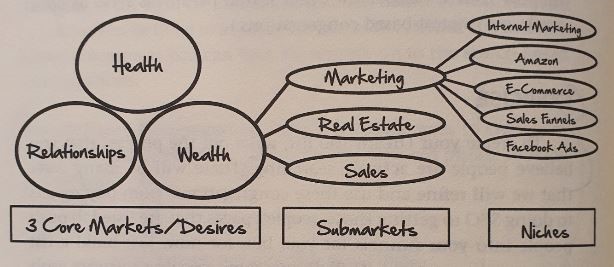 Inside of the 3 Core markets/Desires are submarkets and niches.
Each of the three markets have an unlimited number of submarkets. For example:
Wealth > finance, investing, real estate, sales, marketing
Health > nutrition, strength training, weight loss
Relationships > marriage advice, dating advice, love
Inside each of the submarkets are the niches. So, for example if my market is wealth, my submarket would be marketing, and the niches that I would create is "sales funnels."
Wealth > marketing > sales funnels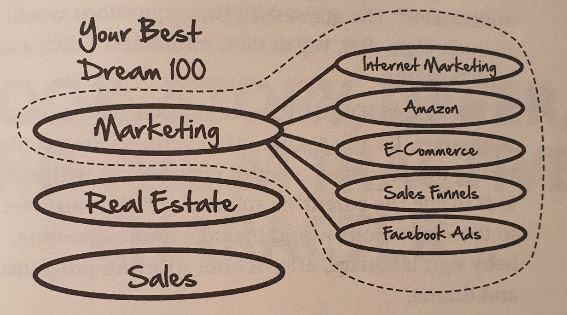 To find your best Dream 100, look outside of your niche and into your submarket for the warmest traffic.
If you're struggling to identify all the niches within your submarket, just ask yourself this question: What other vehicles are people trying to use to (insert result they desire) with (insert your submarket here)?
Your submarket is where you should focus all of your Dream 100 efforts initially because this is your warmest traffic.
CLICK THIS TO STOP READING BY YOURSELF AND JOIN THE 'BEST BOOK CLUB' NOW HERE TO MEET AUTHORS AND NEW FRIENDS
CLICK THIS TO STOP TRYING TO ACHIEVE YOUR GOALS BY YOURSELF AND BE COACHED TODAY HERE
CLICK THIS TO DOWNLOAD THIS FREE PDF SUMMARY HERE
CLICK THESE FOR THE FOLLOWING Book | Summaries | Course
YouTube |Spotify | Instagram | Facebook | Newsletter | Website