CLICK THIS TO STOP READING BY YOURSELF AND JOIN THE 'BEST BOOK CLUB' NOW HERE TO MEET AUTHORS AND NEW FRIENDS
CLICK THIS TO STOP TRYING TO ACHIEVE YOUR GOALS BY YOURSELF AND BE COACHED TODAY HERE
CLICK THIS TO DOWNLOAD THIS FREE PDF SUMMARY HERE
CLICK THESE FOR THE FOLLOWING Book | Summaries | Course
YouTube |Spotify | Instagram | Facebook | Newsletter | Website
Secret #11 – Facebook Traffic Secrets
Facebook tracks everything you do: What do you like? Which things do you comment on? Which types of posts do you engage with? All in all, they have up to 52,000 data points on every individual that they accumulated as you were scrolling, clicking, and commenting.
When a new platform is released, they reward people for using it by giving everyone free exposure. Over time, your free exposure lessens, and you have to buy ads in order to get as much exposure as you did for free before.
Step # 2: Find your dream 100 on this platform – Surprise, surprise. The first step when you start using Facebook is to identify your Dream 100 that have already mastered this platform and congregated your dream customers. If you haven't yet, be sure to clean up your Facebook feed by unfollowing everything that isn't tied to your Dream 100 and your dream customers. This will keep the noise down as you step into this next phase. Your Dream 100 are the people, experts, influencers, and brands in your market that have already congregated your dream customers. It is also the owners of the groups in your market. Each of these people and groups have their own social party happening, and your goal is to first identify the party's attendees (e.g., people, brands, interests, and groups) and then to leverage Facebook to get these people into your funnels.
Step #3: Identify the publishing strategy and create your publishing plan – It's important to remember that Facebook is the biggest social party in the world. it's happening 24 hours a day, 7 days a week, and the majority of your dream customers are already there. You don't have to create traffic; you have to find the existing streams of traffic and figure out how to funnel those people into your world.
Four areas of the platform that you must master.
Your personal profile (your home)
Your Fan Page (your show)
Groups (your hangout)
Messenger (your distribution channel)
Your Fan Page Strategy (Buying Your Way In)
You should view your Fan Page more like your website.
There are four things that we post on our Facebook Fan Pages.
Produced value videos:
Live value videos:
Live perfect webinars:
Curated content from your other platforms (reruns):
The secret is giving without withholding. This is the beginning of your value ladder, and the more value you give up front, the more people will want you.
Secret #12 – Google Traffic Secrets
Google's core goal: a better user experience. If we can align with Google's goals, they will send us an almost unlimited amount of traffic for free. Trying to spam the algorithms may give you short-term gains, but only until Google finds the loopholes and closes them. However, the real secret is understanding Google's intent and helping them to serve their searchers.
Step #2: Find your dream 100 on this platform – This is where the search engines start to become really fun for me. This process is similar to a treasure hunt, looking for the keywords and blogs that you can tap into to bring you thousands of visitors a day, sometimes overnight. In Secret #2, we talked about two types of congregations. The first was "interest-based" congregations, such as influencers, brands, and other things that people are interested in. The second type of congregation we discussed was "search-based" congregations. Instead of targeting "interests," we would be targeting keywords and keyword phrases. For Google, we are going to be building out two Dream 100 lists. One list will be with the top bloggers in your market, and the second list will be a list of your Dream 100 keywords.
Your Dream 100 (bloggers): As I start looking at Google, before I put in the work of getting ranked in the search engines, I want to find the people who have already done the work, gotten ranked, and have readers who currently read their blogs.
Finding them can be as easy as going to Google and typing in your dream keywords and the word "blog" after it. You'll then see the top 10 listings in Google and which bloggers have made it to the top.
Your Dream 100 (keywords):
Being ranked on page number one for one of your dream keywords is the equivalent of owning Boardwalk or Park Place in Monopoly. Owning one or more of these listings in this virtual real estate landscape can fill your funnels with traffic for years to come.
The next step was to find the long-tail keywords associated with each of my dream keywords.
To do this, take your number-one dream keyword phrase and type it into Google. Google will suggest other keyword phrases in the search bar that people often search for when someone types in your dream keyword phrase. These are the other suggested phrases under your search results.
These keywords will become your "long-tail" keyword phrases. Write down your nine long-tail keyword phrases that are associated with each of your dream keywords that you would like to target. For example: Dream Keyword: Sales Funnels
Long-Tail Keywords: Sales funnels definition, Sales funnels software, Sales funnels for real estate, Sales funnels examples, Sales funnels for artists, Sales funnels for templates, Sales funnels explained, Sales funnels 101, Sales funnels for Shopify
You can also scroll down to the bottom of Google after you search for your dream keyword, and it will show you eight more keywords that are closely related to your search term.
When you type in your dream keyword, Google will suggest other popular, long-tail keyword phrases (left). After searching for a specific result, Google will also show you related searches at the bottom of their search results (right).
Keep looking until you find 10 solid keywords phrases to focus on. If you do that with all 10 of your dream keywords, you will end up with a list of 100 keywords.
Secret # 13 – YouTube Traffic Secrets
There is something special about YouTube that I don't think many people understand. YouTube is the only platform where you can create something and post if online where it will actually grow exponentially over time.
When you post a video on Facebook Live, it will show up in the newsfeed of your dream customers for a few days, and then it's gone forever. You can extend the life of that video by paying for ads to boost it, but eventually it will fall to the bottom of your feed, never to be seen again.
As soon as artists create videos and post them on YouTube, their viewership can start to grow and continue to grow forever.
Step #1: Understand the history and the goal – Did you know that YouTube is the world's second largest search engine (behind Google), and it's also the second most trafficked website (also behind Google)? Oh, yeah, and in case you didn't know, it's also owned by Google. It was created in 2005 by three PayPal employees (Chad Hurley, Steve Chen, and Jawed Karim) above a pizzeria in San Mateo, California. In less than two years after YouTube started, Google purchased it for $1.65 billion.
Right now, over 1.9 billion people log into YouTube every month, over 400 hours of video are uploaded to YouTube every minute, and over one billion hours of videos are watched on YouTube every day.
Step #2: Build out Dream 100 lists: one list with the names of the people, brands, and influencers that you would like to target, and a second list with the keyword phrases that you would like to create videos for. I'll go into more detail on how we find the right keywords in the publishing section later in this chapter.
Step #3: Identify the publishing strategy and create your publishing plan
Closely watch your Dream 100 and see what things they're doing that YouTube is rewarding them for. If they change how they like descriptions, tags, or linking, you'll see the changes in the videos that are getting a lot of views, and then you can change your strategy to match theirs.
"About Us" page: This page is important for two reasons. First, it lets people know more about you when they're checking you out before they subscribe. Second, the information you write here will show up in the search results for your channel and will be a big key to people finding and subscribing to your channel.
Header image: When people come to your channel page, the first thing they'll see is your header. Your header should be simple and speak clearly to your target audience so that they know the value they'll get from your channel.
Profile image: Many people mistakenly put their logos here. Instead, use a picture of yourself because it will dramatically increase engagement.
Channel trailer and description: When people first come to your channel page, they'll see an actual trailer for your channel as well as a brief description about your channel. It is only shown to new visitors who aren't subscribers yet, so this video is speaking specifically to them.
Tell them to subscribe to your channel and turn on notifications so they don't miss any of your new videos.
Create a short channel trailer by following this simple script: Introduction, backstory, value statement, posting schedule, and CTA.
CLICK THIS TO STOP READING BY YOURSELF AND JOIN THE 'BEST BOOK CLUB' NOW HERE TO MEET AUTHORS AND NEW FRIENDS
CLICK THIS TO STOP TRYING TO ACHIEVE YOUR GOALS BY YOURSELF AND BE COACHED TODAY HERE
CLICK THIS TO DOWNLOAD THIS FREE PDF SUMMARY HERE
CLICK THESE FOR THE FOLLOWING Book | Summaries | Course
YouTube |Spotify | Instagram | Facebook | Newsletter | Website
Identify your dream keywords that you want to make videos for.
The first step is to find all the long-tail keywords around your dream keyword that you can make videos for.
To create a discoverable video, simply follow this five-step script outline: hook, trailer, intro, story/content, and offer.
Hook: Create a 15-second concise introduction.
Trailer: Place your quick branded intro or "trailer," which should be no more than four to five seconds.
Intro:
Story/Content:
Offer:
Create your thumbnail "hook":
The best practices that usually get the most clicks are using large faces/images, bright colors, and as few words as possible. It needs to pop off the page. Look at your Dream 100's video thumbnails to get an idea of how they're grabbing attention with their thumbnails.
Write your description: Ideally, these will be between 150-300 words. The first two sentences should contain your keyword and CTA because this portion is "above the fold," i.e., the portion that everyone sees before they scroll down.
Three things that have the biggest impact on your video's success:
Click-Through Rate (CTR) – How many people who see your thumbnail actually click on it? The benchmarks we want for CTR are: 4 percent – Acceptable, 6 percent – Good, 9 percent – We should throw a party!
Initial retention: The first minute of retention is very important. You need to hook people fast and keep them watching. Watch the videos from your Dream 100 to get ideas on how they hook people past the first minute. Try to keep minute one retention above 70 percent.
Overall retention:
The "Binge-Watching" YouTube Hack
One of the best things you can do for your channel is to get people to binge-watch your videos.
One secret is instead of putting up a longer, 30 or 60-plus minute video, create a YouTube playlist and break up your long videos into smaller 5-10 minutes videos that are part of a series inside of that playlist. Then when someone watches the first video on the playlist, it automatically directs them to video Two in the series, and when that video ends, it directs them into video three, and so on. This gets people watching a half dozen or more videos on your channel in a row and boosts all your rankings across your channel!
Do collabs with other channels where you can make a video with another influencer and have them post it to their channel with links pointing back to you.
Secret #14: After the Slaps and Slaps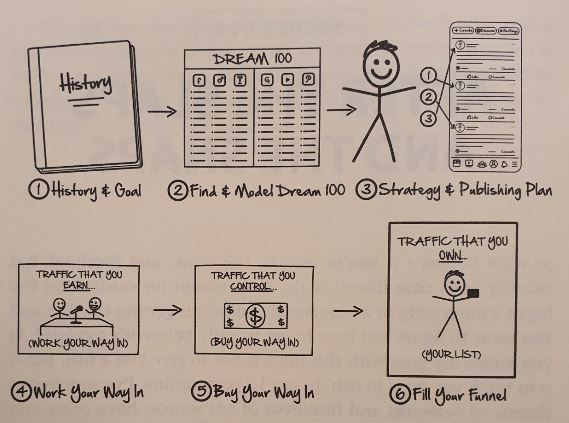 Secret # 15 – Conversation domination
Eventually, you'll want to be omnipresent on each platform.
Be sure to subscribe to my channel and turn on the notifications so you don't miss my next amazing video that is coming out soon. Now let's jump into the video."
CLICK THIS TO STOP READING BY YOURSELF AND JOIN THE 'BEST BOOK CLUB' NOW HERE TO MEET AUTHORS AND NEW FRIENDS
CLICK THIS TO STOP TRYING TO ACHIEVE YOUR GOALS BY YOURSELF AND BE COACHED TODAY HERE
CLICK THIS TO DOWNLOAD THIS FREE PDF SUMMARY HERE
CLICK THESE FOR THE FOLLOWING Book | Summaries | Course
YouTube |Spotify | Instagram | Facebook | Newsletter | Website