CLICK THIS TO STOP READING BY YOURSELF AND JOIN THE 'BEST BOOK CLUB' NOW HERE TO MEET AUTHORS AND NEW FRIENDS
CLICK THIS TO STOP TRYING TO ACHIEVE YOUR GOALS BY YOURSELF AND BE COACHED TODAY HERE
CLICK THIS TO DOWNLOAD THIS FREE PDF SUMMARY HERE
CLICK THESE FOR THE FOLLOWING Book | Summaries | Course
YouTube |Spotify | Instagram | Facebook | Newsletter | Website
Section Three – Growth Hacking
Section #16 – The Funnel Hub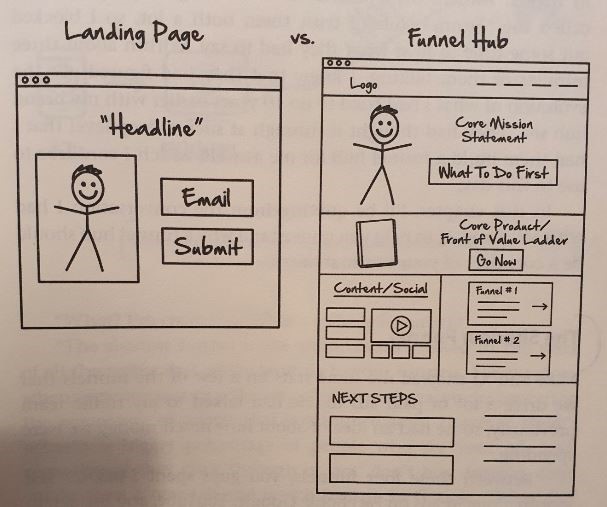 The Shadow Funnel
When we create a funnel, we assume most people will simply buy our product after seeing it.
What actually happens is most people need convincing before they buy, so they go through a "shadow funnel," researching for more information about you and your products.
Your funnel hub
How to create your funnel hub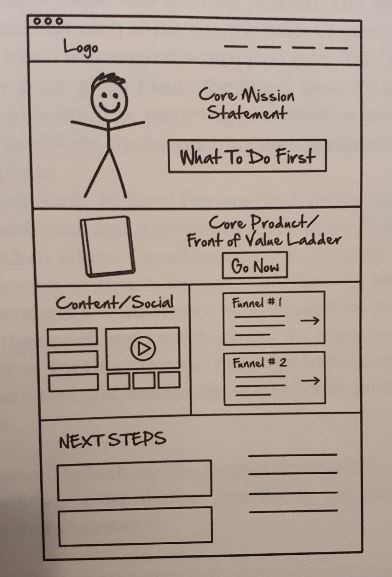 Check out MarketingSecrets.com by Russell Brunson
To build your funnel hub, you can add features such as a blog, RSS feed, social posts, and front-end funnels.
Secret # 17 – Other people's distribution channels
Plug them into their pre-built distribution channels.
Distribution channel #1: Email Solo Ads
There are hundreds of people in almost every market who have already built up their own email lists, and one of the easiest ways to quickly increase your traffic is to buy ads in their email lists.
"How can I give myself a raise today?"
Integration marketing
When you integrate your funnel into other people's funnels or email campaigns, you get the benefit of having additional streams of traffic for as long as they are in business.
Integration marketing works beyond just email. We've set up deals where we integrate a pop-up on people's blogs so every reader the blog gets can potentially join my list.
Secret #18 – Your Affiliate Army
What's the best way to get traffic to a website?
I rely on my own network of affiliates.
The amount of leverage you get when you build an affiliate program and rely on the efforts of other people is huge. It's kind of like building a team and hiring people to do these tasks for you, except when they're an affiliate, you don't pay them for the work. Instead, you pay them commissions based on the sale. They have the risk, and you both share the rewards!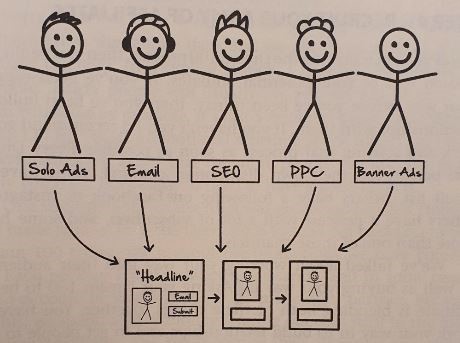 You don't have to be good at everything You can get an army of affiliates to promote your products and services with their preferred method of traffic.
Focus my efforts on recruiting, training, and paying them.
Step #1: Recruit your army of affiliates
Asking your Dream 100 to be an affiliate is blending both of these things together. You have to work your way in to build relationships and to get people to say yes to promoting, but then you have to pay your way in for each sale they make. When someone is an affiliate, though, it takes the risk off you. You're no longer buying ads and hoping they convert. Instead, your Dream 100 is promoting you, and you only pay them after they've made the sale.
Started digging his well before he was thirsty.
Just know that the more people you ask, the more likely you'll get the yeses.
Step # 2: Make them your affiliates
After your Dream 100 has said they want to be an affiliate, you have to make it official by getting them to join your affiliate program. Inside ClickFunnels there is an affiliate platform called Backpack that you can use to add an affiliate program to any funnel inside of your ClickFunnels account. You just need to turn it on for a funnel, and it will create a page where your Dream 100 can sign up to become an affiliate. Within the software, it will provide tracking links for your funnel, track their sales, and pay their commissions.
Often, your best affiliates will be your customers. I always like to let my customers know that they can actually make money by referring their friends. You can put links to your affiliate sign-up page on your funnels, on your thank-you pages, and in your emails.
Step # 3: Give your affiliates a reason to promote
Step #4: Train your affiliates to become super affiliates
Step #5: Compensate your affiliates
Secret # 19 – Cold Traffic
Quote from the late Eugene Schwartz: If your prospect is aware of your product and has realized it can satisfy his desire, your headline starts with the product. If he is not aware of your product, but only of the desire itself, your headline starts with the desire. If he is not yet aware of what he really seeks, but is concerned with the general problem, your headline start with the problem and crystallizes it into a specific need.

Prospects are at different stages in their awareness of the problem, solution, and product based on the temperature of the traffic.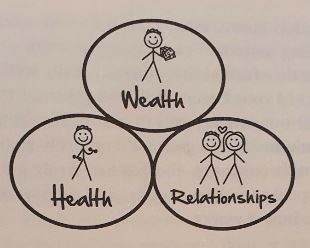 Often, cold traffic is only aware that their core desire (such as health, wealth, or relationships) isn't good.
Step #1: Create your "Cold traffic customer avatar"
Step #2: Create a bridge
Marketing is all about creating bridges from what someone wants and desires to the solution that you provide.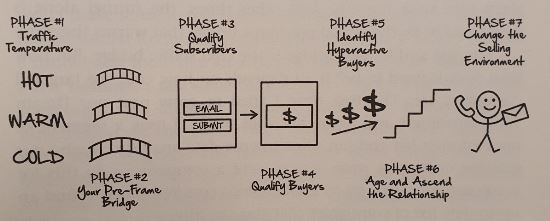 The warmer the traffic, the smaller the pre-frame bridge needs to be.
As you can see, the warmer the traffic, the smaller the preframe bridge needs to be. If your audience knows, trusts, and loves you (the hottest traffic), then your bridge could be as simple as telling them you have something cool that you think they should buy.
The game become easier and easier as you focus your efforts on tapping into your Dream 100's hot traffic (your warm traffic) and converting it into traffic that you own. The traffic that you own becomes your hot traffic.
In order for most companies to scale past nine figures per year, you'll need to master cold traffic. To begin with, though, I'd still focus all your efforts on warm traffic and the Dream 100. I always tell people that there is a huge pile of cash sitting in front of you, waiting for you to go and grab it. Don't step over it while trying to go after bigger piles of cash somewhere else. Stop and grab the big pile of cash (your hot and warm traffic) first, and then after you have it all, you can start looking more at the cold traffic channels.
Secret #20 – Other Growth Hacks
To have something go viral, you need each person to refer more than one person.