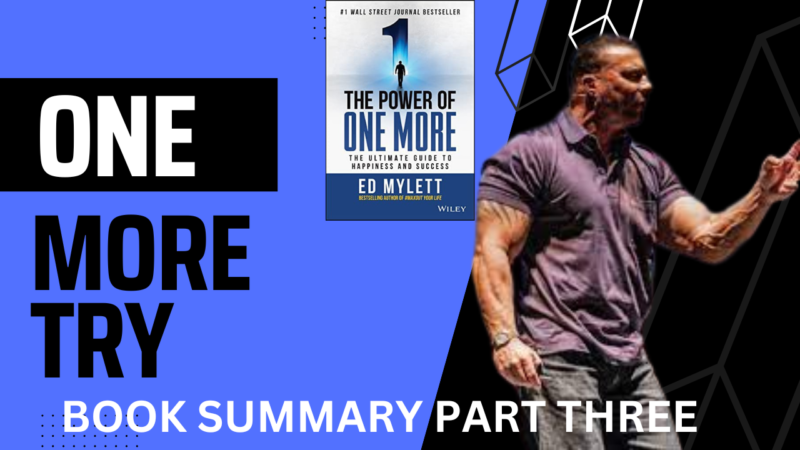 When was the last time you spent 60 minutes working with an elite coach on your life blueprint to map out your 1 to 3 years on your journey to success? Right now, I am opening up my calendar to spend 60 minutes with the individua's who follow bestbookbits to map out your next stage and season in life through my signature 60-minute life blueprint session. You will also get a free copy of my book success in 50 steps. Click the link below to jump first on a free 15-minute pre coaching chat. Click here to make a booking.. If not, you can always download 500 summaries here
Download the PDF Summary here
3 One More Try
It ain't over 'til it's over. —Yogi Berra
IF YOU EVER WANT TO ACHIEVE ANYTHING MEANINGFUL IN YOUR LIFE, the strategy you must master is One More Try. Here's why.
One More Try doesn't run in an isolated path in your life. It's an overarching concept that links to many of the other strategies in this book.
One of the core beliefs I hold is the importance of compounding. Compounding takes place when you attempt One More Try, time and time again. When you're successful in implementing a One More Try mentality, you'll create and compound more wins for yourself.
Each of those wins creates an incremental advancement toward your goals. You stack them on top of each other to produce significant long‐term changes in your life.
Here's a simple example that illustrates the point. When you were a child, the first time you tried to ride a bicycle, you didn't do so well, did you? You probably started with training wheels, going slow, and with your mom or your dad by your side to steady you.
As you climbed on your bike day after day, you got better at learning how to balance, pedal, and go forward. Eventually, those training wheels came off, and slowly but surely you started to ride away on your own. Not long after that, you were whizzing up and down streets and sidewalks without a care in the world. And your life had changed forever.
Until you understand and embrace the fundamental, life‐changing power of One More Try, you won't fully understand why it's essential to try and make one more call, do one more set in the gym, meet one more person at a convention, or learn one more skill to put you head and shoulders above everyone else.
When you act and do the same things as everyone else, you'll get the same results as everyone else. When you implement a One More Try mentality, that's where you'll find your greatest successes and your most significant personal growth.
Doing so also will give you more confidence than your competitors. It's a secret weapon of sorts. Although they may not see it, you'll know you're willing to do more than them. You're eager to make One More Try than they are. That's a tremendous advantage in your favor.
This isn't exactly a new idea. Confucius understood the battles that go on in a person's mind when he wrote, "The man who thinks he can and the man who thinks he can't are both right."
Confucius knew that an individual executes to the level of what he or she believes in themselves. Confidence fuels your belief that you're worthy of making One More Try.
Many people like to think of themselves as overachievers. If you call yourself an overachiever, you're declaring that your standard practice is to go above and beyond what's necessary for achievement.
To be an overachiever, you must wholly embrace One More Try.
There is another critical component to this. Even though you may be willing to do the things that other people aren't willing to do, you must be intentional and look for opportunities in everything you do. That mindset must become second nature to you. When you practice this strategy long enough, it becomes a reflex. You don't think about it. You just do it.
On an even more fundamental level, you must believe that you can create a One More Try life for yourself. This is like confidence, but it's more about creating a higher level of self‐esteem. Many people don't buy into themselves enough, and the limitations they live with come from within.
Being your own worst enemy is something I've seen a lot.
I don't buy into this limiting mentality and I don't want you to either. It doesn't have to be that way!
I learned a long time ago that we all have the wisdom inside us to create the future we want for ourselves. Most of us simply don't tap into this rich vein, for whatever reason. We block that part of our identity and accept something less.
When was the last time you spent 60 minutes working with an elite coach on your life blueprint to map out your 1 to 3 years on your journey to success? Right now, I am opening up my calendar to spend 60 minutes with the individua's who follow bestbookbits to map out your next stage and season in life through my signature 60-minute life blueprint session. You will also get a free copy of my book success in 50 steps. Click the link below to jump first on a free 15-minute pre coaching chat. Click here to make a booking.. If not, you can always download 500 summaries here
Download the PDF Summary here
Sometimes we accept a lesser life because we weren't given a good role model to follow, or we've suffered through adversity that's made us mentally fragile. We wither under criticism and refuse to dig deeper to find the mental toughness and grit that even we didn't know we had.
Here's something that should excite you. When you do break through, the places where One More Try takes place are a lot less crowded than when you run with the pack. Most people give up. They don't do the work you're willing to do. So, they won't get the results you'll get.
Rather, when you move to this new place where One More Try is the norm, the law of averages is now working in your favor. Simply stated, more tries equal more successes.
That's a good place to start if you're looking for the boost you need to start implementing One More Try.
Busting Open the Piñata
One More Try is so important that I want to give you a few examples to drive home the point that often in life, it feels like we're making no apparent progress, even though we are.
My favorite of these is what I call "busting open the piñata." Life is like taking swings at a pin˜ata. It's also an excellent metaphor for how to understand the impact of One More Try. There's no external evidence that we're making progress and that's why people often quit before getting to the part of their lives where the candy comes out.
The perfect example of this is from a few years ago when I went to a birthday party for a 5‐year‐old. At the party, there was a pin˜ata, and one by one, the kids put on a blindfold. They stepped up, were given a bat, spun around, and then told to swing at the pin˜ata.
The first couple of kids grazed the pin˜ata. They were disoriented and didn't know which direction to swing. Even with some well‐intentioned help from their fellow partygoers, they did no apparent damage to the pin˜ata. Or so it seemed!
Those kids got a little frustrated when nothing came out. What they didn't realize is that inside, the pin˜ata was slowly breaking down.
The kids who went up later figured out the game a bit more. They stepped up, bat in hand, and took their swings. Many of them made solid contact and did some damage, whether they knew it or not.
The compounding effect of pounding on that piñata, even if it seemed like the piñata was holding firm, was making a difference. Every time a blow landed, those kids made invisible progress, growing ever closer to the ultimate goal of busting it wide open. All the kids shrieked with anticipation after each thump. After a few more whacks, they sensed the paper‐mache beast was weakening. Still, the piñata would not break.
When all of the children had taken their swings, mom blindfolded the birthday boy and he stepped up for his turn.
That little man reared back, and with the mightiest "One More Try" you're ever going to see, he busted that piñata wide open.
You know what came next. More than a dozen children scurried to gobble up all the treats and goodies that had fallen from the piñata.
Was it that one shot that busted the pinata wide open? Absolutely not. It was the compounded accumulation of all those hits that contributed to achieving the goal of getting the candy.
Too many people quit their business, their workouts, or their relationships before the candy comes out! Although they're making progress, it doesn't always show up externally.
My advice to you is to keep hitting the pin˜atas of your life. Whether you can see it or not, you're making more progress than you might think.
Is this starting to sound like your life yet? It should. We all swing at a lot of pin˜atas and early on, we don't generally bust those pin˜atas open.
You are a lot closer to realizing your goals and dreams that you may think, and this is a perfect metaphor of that concept.
Just like the children, you're making invisible progress in your life. Unfortunately, most people don't stick around long to realize the outcomes from that progress.
However, when you know that you're moving forward, even when you can't directly see you're moving forward, you'll stay more focused on your processes and tasks to accomplish your goals.
When was the last time you spent 60 minutes working with an elite coach on your life blueprint to map out your 1 to 3 years on your journey to success? Right now, I am opening up my calendar to spend 60 minutes with the individua's who follow bestbookbits to map out your next stage and season in life through my signature 60-minute life blueprint session. You will also get a free copy of my book success in 50 steps. Click the link below to jump first on a free 15-minute pre coaching chat. Click here to make a booking.. If not, you can always download 500 summaries here
Download the PDF Summary here
Invisible progress is more than having faith. It's knowledge you've acquired because your efforts produced results on other things you've attempted in the past.
When we do bust open a piñata, we get an undeniable rush.
You've experienced it many times. You know exactly what that rush is. In fact, the harder it is to bust open that piñata, the more intense the rush is. As we keep swinging, anticipation builds. Adrenaline kicks in. Confidence grows. You may even get a little angry as you dig deeper and refuse to yield.
In your piñatas, the "candy" that tumbles out can be your bliss. It's your financial freedom. It's falling in love with the special someone in your life. It's landing the dream job you've always wanted.
All because you didn't give up. You gave it One More Try. And over time, those efforts compounded until you got precisely what you wanted.
You must tune out the naysayers and all the negative distractions to focus on busting your piñata wide open. You'll feel disoriented at times, doubt may creep into your mind, and you may think that your goal is not worth it. Until you learn how to win those battles, you'll never enjoy what your piñata holds for you.
If you stay with it long enough, you will enjoy the fruits of your labors. And everyone else in your circle who sticks around and supports you will enjoy those things as well.
Take your swings. As many as you need. Get that candy. There are a lot of piñatas waiting for you to bust open and enjoy.
A Father, a Daughter, and the Power of One More Try
I want to tell you what happened on April 26, 1998, and why that date means everything to me.
I was relatively new to the business world, and I was scheduled to give a presentation that night to 40 people on my team. The RSVPs didn't materialize the way I had wanted, and by the time the presentation rolled around, only eight people showed up.
I was crushed.
I started to doubt whether this was a career for me. I began to think maybe there was something better out there, something else that I was meant to do with my life. I was frustrated and discouraged and didn't know if I should keep doing this or not.
I sat down and had a talk with myself. It's as honest as I've ever been. Had I done everything I could for as long as I could? Had I done the right things at the right time? I really needed to decide if I had put forth my best effort to make a go of it.
Because I was candid with myself, the answer was "no." That's a hard thing for a proud man to admit to himself. Hard but necessary.
Even more important, I had to acknowledge my shortcomings. Until that point, I had followed a pattern of quitting when things got hard or embarrassing. I found it easy to pull the plug. Too easy.
Instead of walking away, I dug my heels in and decided I was going to give this one more try. I was going to empty my tank and do everything that I could to make sure that I had given my very best to my chosen profession. Retreating and giving up were no longer options for me. I set my old limiting identity aside and launched a new version of myself. That "come to Jesus" talk with myself, that refusal to give in, and my decision to go the distance by tapping into One More Try changed my life forever.
From that night forward, my efforts and my mindset turned into a business life that has paid me hundreds of millions of dollars.
There's one more example I want to share with you.
Fair warning: there's a proud parent moment ahead. Those of you who are moms and dads will completely understand where I'm coming from.
As I write this, my daughter Bella is 17. Wow, where did that time go? Much to her credit, she recently decided it was time to go out and get a job. Bella applied at a local pizzeria in town and had a great interview. They were ready to offer her the job until one final question tripped her up. They asked if she was 18 yet. Since the pizzeria served beer, it was a minimum age requirement, and she didn't meet it.
Bella called me right after she left that interview. She was dejected when she shared the news. I was bummed. As a parent, when your child hurts, you do too.
But that's not the end of the story.
A half‐hour later, Bella called again. The first words out of her mouth were …
"Dad, I got a job!"
Talk about somebody else getting candy from the piñata your daughter busted open. I can't even begin to tell you how elated I was. And, I was curious.
After a disappointing setback, most teenagers will tuck their tails between their legs and head home. But as she was leaving the pizzeria, Bella noticed a small café next door. Instead of passing by like 999 out of 1,000 job‐ hunting teenagers might do, she went inside and started talking to the hostess.
One thing led to another, and it turned out the café was looking to hire someone. And, that person didn't need to be 18! Bella met with the manager and was hired on the spot.
That's how my beautiful daughter, using One More Try, took a potential defeat and turned it into a victory instead.
I'm hard‐pressed to come up with a more perfect example of how pushing yourself and using One More Try can work in your favor. It would have been so easy to give up, but because Bella made an effort to talk to one more business, she got a job, and it changed her life.
Perhaps the coolest part is that she did it all on her own. Like father, like daughter. It's one of the best proud parent moments I've had in my life.
Three Ways That One More Try Can Turn You into an Overachiever
Your path to becoming an overachiever is linked directly to One More Try. The more you try, the more you achieve.
Here are three overachiever principles to consider.
Extremity Expands Capacity
Your most significant gains don't come from places you're already at or where you've already been. Your greatest gains and successes happen when you push yourself to new places and new limits. You create an extreme condition compared to what you're used to, and when you do that, you expand your capacity for success. Your new level of capacity becomes your new norm.
As you become more comfortable pushing yourself to extremes, you become more confident because you know what waits for you on the other side.
If you're worried about pushing yourself to the point of exhaustion, don't be. I'm not saying that you shouldn't get your rest, but I've found that most people are tired from too little activity, instead of too much activity.
High degrees of activity produce energy, and you feed off this energy. Much like batteries, if you don't use your energy, you tend to lose it over time.
But when you use your energy, that produces even more energy. When you produce more energy, you can go to a more extreme place. Once you've been to that place, you're able to see it, feel it, touch it, and understand what that new level of capacity is to you.
Those of you who know me now know why I've adopted the motto MAXOUT. For 30 years, I've understood that maxing out your life creates a new extreme level. That new extreme level creates a new capacity and the place where you will grow and achieve the most results. In other words, when you MAXOUT, you will also MAXUP.
Winning Is a Numbers Game
If you want to be an overachiever, you must create better numbers for whatever is important to you.
Much of your success will come down to your commitment to executing basic tasks again and again. You must learn to do simple things well. You must be obsessed with perfecting processes repetitively until you create big enough numbers to give you the wins you're looking for.
Overachievers don't think in terms of quality or quantity. They think in terms of quality and quantity.
Tiger Woods doesn't just go through the motions when he practices hitting golf balls from two to four hours a day. He is obsessed with repetitively hitting each ball the right way with the same backswing, same stroke, and same follow‐through each time.
If you watched The Last Dance, a documentary about Michael Jordan and the Chicago Bulls, you saw how hard Jordan pushed himself. You either got on board with Michael's level of practice and play, or you didn't last very long. Jordan didn't land in the record books by accident. He understood that you must put in the work and rack up the numbers when you practice, so that you can rack up victories of all kinds when you play.
The highest achievers always condition themselves to incorporate One More Try into their daily routines. As I mentioned, there's less competition when you rise to that level, and your victories will be bigger and better in all cases.
Perhaps you've coasted from time to time in your business. Maybe you haven't applied One More Try to its fullest advantage. Everybody goes through peaks and valleys, but you shouldn't wallow in those valleys for very long. You'll know when you're not putting forth your maximum effort.
You'll know when you're not doing everything you can to make you and your business as successful as possible.
You can hide from yourself sometimes, but you can't hide from the numbers.
The numbers are a black‐and‐white reflection directly related to your effort. It's easy to compare month‐to‐month or year‐to‐year sales volume, phone calls, and other metrics. You should have no trouble keeping track of how often you go to the gym, how many sets and repetitions of weights you lift, or how many miles a week you go for a run. You can't dominate when you don't crank out better numbers than your competitors or when measured against your past performance levels.
Nothing Creates Everything
In the beginning, God created the heavens and the earth. Now the earth was formless and empty, darkness was over the surface of the deep, and the Spirit of God was hovering over the waters. And God said, "Let there be light," and there was light. —Genesis 1:1–3
Some theologians interpret Genesis as God creating the whole universe out of nothing. He just spoke existence into being out of total nothingness. I happen to be one of those people who also believes this, and I go into greater detail about my faith as part of One More Prayer in Chapter 18. This belief is known as creatio ex nihilo and is the answer to how the universe came to exist. Creatio ex nihilo teaches matter is not eternal but had to be created by some divine creative act, frequently attributed to God. Here's how that applies to your life.
When you push yourself and empty everything you have inside of you to the point of having nothing left, that's when everything will be created.
When you empty yourself, you create room for new experiences, goals, and efforts. Bruce Lee echoed that sentiment when he said, "Empty your cup, so that it may be filled."
I'm not talking about driving yourself to physical exhaustion. You should never put yourself in that state. What I am talking about is always doing One More. When you do, you're emptying yourself out. When you have nothing more to give, you have reached a state of ex nihilo. And you're ready to fill yourself up in a higher capacity.
Making the Power of One More Try Work for You
Life won't hand you opportunities. You need to be the type of person who goes out and creates opportunities for yourself. Don't wait! Be aggressive and understand that One More Try does not have to be perfect. It simply needs to be attempted. When you hide from One More Try, all you're doing is disguising your insecurities.
Even when you don't get exactly what you want, when you attempt One More Try, the next time you try again, you're not starting from scratch. You're going to be starting from a new level of experience that you can leverage to increase the odds of a better outcome.
As you implement One More Try, you'll also create new levels of capacity. These levels are where you'll find your most satisfaction. The more often you attempt One More Try, the more often you'll win because winning is frequently a numbers game, if you execute well and give your maximum effort. Also, keep in mind that you'll create new possibilities to fill up your life when you make every possible attempt and empty your tank.
The key to One More Try is to be intentional. You must have the strength and the focus to take steps that will drive you closer to where you want to be in life.
This is not always an easy thing to do. It requires a quiet determination to stay the course. Or, as Mary Anne Radmacher once said, "Courage doesn't always roar. Sometimes courage is a quiet voice at the end of the day saying, 'I will try again tomorrow.' "
When was the last time you spent 60 minutes working with an elite coach on your life blueprint to map out your 1 to 3 years on your journey to success? Right now, I am opening up my calendar to spend 60 minutes with the individua's who follow bestbookbits to map out your next stage and season in life through my signature 60-minute life blueprint session. You will also get a free copy of my book success in 50 steps. Click the link below to jump first on a free 15-minute pre coaching chat. Click here to make a booking.. If not, you can always download 500 summaries here
Download the PDF Summary here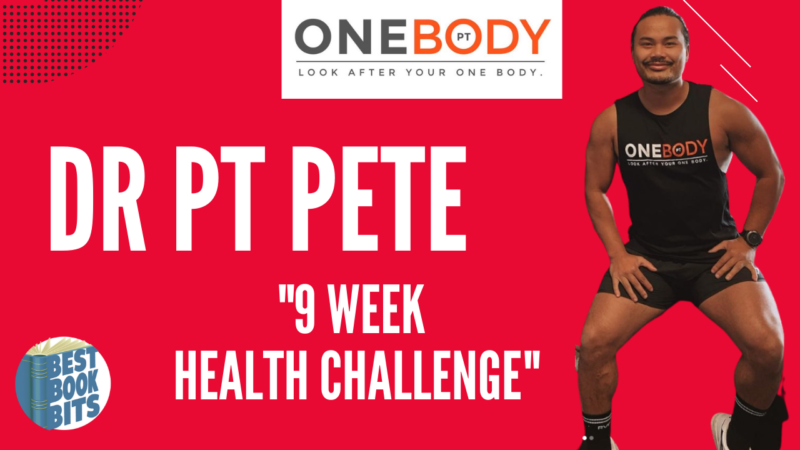 👉JOIN THE 9 WEEK HEALTH CHALLENGE here
[00:00:00] Best Book Bits Podcast brings you a special guest today my personal trainer, Dr. P T . Pete, thanks for being on the show. Thanks Mike. Appreciate it mate. Thanks for having me on the show today. First I'm doing something like this, so it's. Yeah. Really exciting. Yeah. Awesome. Yeah.
First time. First time guessing a podcast for my audience, I just wanna share some people that have played a massive role in my life offline. Cuz I run an online business. So offline. Dr. PT Pete is my personal trainer at the moment. We are running a nine week challenge, so we're just gonna get into some of the stories.
Pete, tell us a little bit about your origin story. Whereabouts are you from and how did you get involved in health . So yeah, a little bit about me. I was born in the Philippines. So yeah, I was born in the Philippines just north of Manila. grew up in Australia though here in Victoria. And yeah, so growing up just fell into sports as a kid.
Always wanted to try to fit in, was also the odd one out here in regional Victoria. And and yeah playing football as a kid really helped me. Find that passion for health and fitness, I feel like yeah, that's where it all began when I was around 12 years old and then hitting the gym then really helped me yeah, find that [00:01:00] passion, but yeah, as soon as I finished high school, saved up to do my PT course, so I always knew I wanted to be a personal trainer since I was a little kid. And then, yeah, while whilst I was at uni as well, just worked as a personal trainer over the last six. , which sort of brings us to this point now.
Awesome. So recently you just became a doctor. Can you tell people why I call you Dr. Pt Pete, what is the doctor title? Yeah. I just finished my studies now. Actually, just finished six years of university. I'd done a year of biomedical science at Victoria University. From there, I'd done five years.
At R M I T which is Royal Melbourne Institute of Technology here in Melbourne. And yeah, so just done, just finished my double degree and now a fully qualified osteopath, which is awesome. . Congratulations. So how did you start in the industry? So when you finished school, yes.
You were studying, but how did, what did you do? Like first jobs where did you work? Was it gyms or what? . Yeah. So as soon as I finished obviously high school completed my PT course. That took about maybe a year, just over a year to complete. So I've done that through my, [00:02:00] whilst I was doing my first year of university.
And then over the five years of studying osteo, I was working as a personal trainer at multiple gyms. My first one was at a place called F 45 functional 45. So that was more of like a group fitness sort of style gym. I did that for about two to three years to begin with, and then I transitioned to another gym called Body Fit Training, where I'm still located now at the same time as I'm running one body pt.
Yeah, one Body PT just grew through my passion for personal training. I really wanted to do something where I can really personalize and help people on a more personal level instead of like a group fitness setting. , yeah. Really just started up one body pt and now I've been helping hundreds of clients, around the world.
With the fitness journeys and it's been really good, really successful. And I've learned a lot along the way as well, by while still my own thing. So it's my first sort of time, venturing outta my own, doing my own thing. So yeah, it's been really good over the last three, three years. Cool.
Thanks for cheering. I know we've spoke offline a little bit about this, but what's the matter with the F 45 model and why do you think some of those things [00:03:00] don't work? Can you expand on a little bit about the F 45 model? Yeah. When I first started off at F 45, I. It was good. It was good to, to initially just to start learning.
Different exercises and I was able to be exposed to lots of different people and how they move and I was able to assess it and just really apply what I was learning from uni, initially to my work. But I just find that, yeah, there was just a lot of, not a lot of sort of science behind the training in my personal opinion.
And there was just a lot of a lot of plyometric work and just, it wasn't really my type of yeah, my type of training that I enjoyed. So I slowly. Grew out of it, and I wanted to venture out into something different. But yeah, I just found that, yeah, just the training itself wasn't what I wanted to coach at that time.
So that's why transitioned out of that one. It's nothing wrong with Air 45, but it's just, it doesn't fit the style of what you've been learning at university. Was that correct in in terms of some of the applications of the methodologies is, would that be correct? Yeah. Correct.
Yeah. It just wasn't what I was learning at uni and, all the progressive overload type of [00:04:00] thing. Like all the progressive overload and how to train properly and get people moving. It just wasn't. It was just clashing with, yeah, with my sort of ethical beliefs I guess, and my morals I guess.
And just, yeah, that's why I decided to join Body Fit Training, which is another sort of franchise, which is a group fitness franchise as well, where it's a little bit different in a sense with the training, a lot more strength and conditioning, which is what I love to do. . Which is why Yeah, which is why I transitioned over.
So let's jump into osteo. So a lot of people don't know what an osteo is, so can you explain in a short summary of what a doctor of osteo is and how Yeah. So in Australia an osteopath is yeah, what we help with neuromuscular. Neuromusculoskeletal condition. So anyone that's in pain or say you come in with a while back, back condition that you've had for a few months, for a few years, we'll assess it, diagnose and treat that.
Yeah, we really help people get moving. We have a really holistic approach to things if you've got a shoulder problem, for example, we'll assess sort of the neck, obsess, how everything's moving, how the thoracic are moving as well. It's not just localized [00:05:00] at that one spot.
👉JOIN THE 9 WEEK HEALTH CHALLENGE here
We really wanna make sure that the body's moving as a unit and as a function. Yeah. Here, Australia, that's what we do. I know in America, in other countries, and Osteopath is a different title they're known as like actual physicians. So whereas here in Australia it's yeah, it's more of yeah, directed at neuromuscular skeletal conditions.
how has that knowledge transpired with your one-on-one clients as well? I know from personal experience, you actually started coaching my wife first before me. And you are currently now doing an osteo session a week with my wife and a personal training session a week with my wife. So how does those two knowledges combined into the, the functional movement as you call it?
It goes hand in hand like with osteopathy it's all about movement and getting the patient moving. And I feel like with personal training, it's really it's all about like exercise. Like all the science shows that exercise is the one thing that's really gonna help someone get stronger and better and feeling.
Feeling better more long term. So it really ties hand in hand. There's, without yeah, without your exercise. Like manual therapy with osteopathy will only have its effects, on a short term [00:06:00] basis. So it's really important to understand that. We need to be integrating some movement, some exercise in there as well.
So I'm really lucky that I'm able to mix the both of those together. And I'm really, yeah. Really lucky for, I'm really blessed, sorry to have to study what I have in the past to yeah. To integrate into my personal training. Yeah. Awesome. And one of the things you've taught me as well, like I'm currently got a groin injury.
And normally people would say, rest up, don't move, don't walk. But you actually come from a different angle on this. Can you talk about how you encourage people to actually. Move with their injury instead of resting in recovery and what the difference is between that as well. Yeah, man. Yeah. From a clinical setting, I think back in the days a lot of healthcare practitioners may have been taught that, if you got an injury like you're groin, for example, that you need to rest it.
Let the body heal itself and, just not, try not to move it too much. However, going through the last five years of university, they've just really drilled into us that it's actually the opposite now. Like it's all. Getting the person moving as quick as we can. [00:07:00] But obviously managing their pain and managing injuries to make sure you can still live, the lifestyle you normally live, right?
So you don't want to just be bedridden all day, you're not moving. Cause that will then just create like a psychosocial factor with your pain as well. And we don't want that , I guess it's, yeah, it's really important to keep moving if you do have injuries, obviously, if it's pretty severe and it's causing you a lot of pain, go see someone about it.
But just making sure and understanding that it's not about, yeah just resting all the time. It's really important to get moving. And to re rehab it as quick as you can, but also managing it as well. Definitely important as well. Let's change tracks a little bit at the moment and talk about some of the online misconceptions that people have with the fitness industry.
The fitness industry, it's a multi-billion dollar industry. You've got social media now, you've got guys and girls claiming to be personal trainers doing challenges, putting up a whole bunch of stuff. Can you talk about the misleading information on social media that we see a lot and just talk about some of the trends that, yeah we chat about this the other day, but.
As with social media, anyone can really post anything. You don't know if they're an actual [00:08:00] personal trainer or what their backgrounds are. But essentially there's just so much information on social media nowadays that are just that are just very misleading. I find that a lot of people may, yeah may fall for those tricks, I and people turn, I guess like influence. Really make things they make things turn out to be more complex than it actually is. For example, they might say, oh, do these six ab workouts to get a six pack. Where for myself, I know that to get a six pack, like it's just all that, you gotta lose your body fat percentage and really drop down that body fat mass.
And to do that, most of that will just come down to your nutrition. You can do a million sit ups in a day and you probably still won't. Have a six pack at the end of the day, like you can't really target where you lose your fat in your body, which is something that a lot of people think.
They think if, I just do upper body workouts, I'm gonna lose fat in my upper body. But it doesn't really work like that. We can't tell our brain what to of drop fat and stuff. So yeah, there's the idea, there's, that's one, one sort of. One main one that I find a lot is just, yeah, just misleading information that people put out there on social [00:09:00] media.
Yeah. The other one I see a lot of is uh, must do exercises as well. What do you know about, oh, you, you must do this exercise to achieve that. Can you talk a little bit about that? Yeah. I see this all the time. People say, yeah, you gotta do these three exercises or these four exercises to get these results, but it's not as simple as going from A to B.
Like it's all about be comfortable with what you're doing. There's three things that I. Tell my, all my clients when we train one of them is, what are the moving patterns that are, or what are the moving patterns that are we trying to achieve here? What muscle groups are we trying to train as well in target?
And are you comfortable and able to go through your full range motion whilst, doing these certain exercises. So it all comes down to, personal preferences. Obviously exercise selections is really important, but when you're just starting out, it's just all about getting moving.
There's no really muscle exercises unless you're in a sport, for example like power lifting where you gotta, you gotta squat around your kilos or deadlift around your kilos. Then if that's your sport and you're trying to train towards that's a little bit different. Just for the general pump and if you're just trying to just get fit and just get moving, there's no sort of [00:10:00] muscle exercises, it's Yeah.
All about what you're trying to target. Are you able to target that muscle efficiently without fatiguing and taking it through a full range motion rom, what is that? I hear that term quite a lot as well. So minimal fat, fatigue and full rom. What is, what does full rom mean? Yeah, man. So I dunno, it's more so like your range of motion.
How you're able to take a joint or a muscle of your body through its range of motions. So for example, if I'm doing like a shoulder press here, am I able to go all the way up above my head? Or am I, is there something that's stopping me from doing that? Is it like, I, aren't you able to get the most out of that exercise?
There's probably other exercises that you can do that you're probably able to get more out of. Like a boat a bit. Analogy is probably like a squat, for example, instead of doing like a baba squat, where there's so many variability, so many factors that could go wrong. You could just do a leg press and get the same outcome because you're doing the same movement pattern, you're just pressing, right?
It's just a low body push, so you're just pressing with your legs, which is what you're doing with a squat. Whereas a lot of people think you've got a squat to get stronger in my low body. But around a squat is, for example, like a power lifter. That's what they do for [00:11:00] their sport. So there's a lot of better ways.
get the same result is what I'm trying to get out there. Yeah. Got it. Yeah, thanks for sharing. Let's switch gears to the healthy habit side of things as well. So as we're running the health challenge at the moment. One part of it is getting the body moving and then the second part of it is what do you actually put in that small little mouth of yours too?
That, that's the biggest results as well. And we had a little short conversation offline before as well, and we We don't recommend people to do two hours of exercise at the gym. We would actually recommend to do one hour of movement a day and spend an hour in either the kitchen, grocery shopping, cooking a meal or even 30 minutes, 30 minutes movement, 30 minutes of cooking, a meal, prepping, whatever it is.
Can you talk about the importance of just getting that healthy lifestyle of movement and food and nutrition and making sure they're balanced up? Can you expand on that a little? . Over the years of being a coach, the one thing I've seen people do over and over again is they try to out train a bad diet.
👉JOIN THE 9 WEEK HEALTH CHALLENGE here
So what they think [00:12:00] is they do, they go hard at the gym. They'll train for an hour, they might do two sessions a day, and eventually they're just over trained, right? So they're putting their energy and channeling their energy. in the wrong part and the wrong aspect of, of their health and fitness.
So it's really important to have a good balance. With your training it's good to train, if you're efficient, if you go to the gym, you get what you need done you follow your program, you're in and you're out. That's your session done. But a lot of people just neglect their preparation and how important nutrition is with their journey.
I feel like if, especially if your goal is to lose body fat mass and just to shred down, lose a few kilo. , then it's important to. really putting your nutrition at the forefront. So instead of spending two hours at the gym, I always tell my clients, spend 45 minutes spending fif 50 minutes, spend an hour.
But you don't want to be doing double sessions or going too hard. You'd rather spend that energy in the kitchen preparing your meals. Cause that's really what's gonna help you, lose that fat if you are in that calorie. Yeah, I like how you said you can't train out, train a bad diet, and I've heard that one before, but I've been guilty of that for the last sort of 15 [00:13:00] years.
I got no problem with training, no problem with waking up early. No problem with lifting the weights, doing the programs, but the easiest thing I could have done was spent more time. In the kitchen instead of more time in the gym, cuz they say a six pack is created in the kitchen not in the gym, per se.
A part of the challenge that we'll go through as well. So we are doing a nine week Kickstarter challenge. It's kicking off next. Week. So we're anticipating this to kick off January 7th, and we're doing another opening date, which is Feb first. So just a small little plug. Now halfway through the podcast, if you want to kickstart and get a jump on your health as well, you'll be working with Dr.
Pt, Pete, and myself over nine weeks. It's a nine week program where the first three weeks, we'll slowly do it for you. We'll do your program individually as well and then we'll watch you do it, and then we'll teach you how to do it. So at the end of the nine weeks, , you've got those healthy habits, they can set you up for the rest of 2023 where you can do it by yourself as well.
So it's that time of the year, which is called New Year's [00:14:00] resolutions and everyone's on that health kick now. I was at the gym earlier today it's January 2nd where we are in Australia right now. And the gym was absolutely packed. But I can tell you a lot of those people will start dropping off in the first couple weeks cuz they don't have that accountability and that motivation as well.
Do yourself a favor, click the link below. Let's jump on a call with me and Pete and jump on the. Program as well. But just a segue from that, Pete as well, people doing these challenges, what are the, some of the struggles that people have when they start a challenge and they don't finish it or they don't put those habits into place?
Can you deep dive a little bit into how habit formation is very important and accountability as well? . Yeah. It's all about accountability. I feel like people always start off strong throughout these challenges. I've been doing these challenges for, yeah, the past, past six years now. But, we get really good results.
You can get really good results when you really put, you dedicate this, this time, for example, these nine weeks to, to get you to where you want to get to. And a lot of people just, I guess they drop off. They think, they just come up with excuses, really. Like they just feel. , I've got this coming up or they have, they might have one bad day and then they're just like, oh, I'll have the [00:15:00] rest of the week off and I'll start next week.
Where it's really important to of have that accountability. And that's where I come in as a coach where yourself comes in as a coach and we can really help people get those results and just guide them in the right direction or when people have questions as well, I feel.
if you don't have anyone to fall back on, if they might be stuck on something, might be exercises or might be, any questions at all regarding nutrition or anything like that. Or any tips and stuff like that. And people don't have the answers, they just eventually fall off.
But I guess it's important to make this a lifestyle change or with training, it's all about, I'm all about making it more of a long term sustainable sort of change. Instead of nine week fix. So it's really about just creating those habits during the challenge to set you up for the rest of your life really.
That's really what I'm trying to get out there. Absolutely. And I just want to plug one thing as well. I've been injured the last couple weeks to a couple months on and off with little nickels injuries. Just because I couldn't train it doesn't mean I couldn't have my nutrition on point.
So my nutrition still could have been a plus even though my training might have been D. So one of the [00:16:00] things I was going through was, oh, just cuz I'm not trained them injured, I can push it forward and eat shit for four weeks until I get better and then I'll get my training and my nutrition.
Back on par, meaning they both have to be a plus for me to get results where it's not true. You could be injured, you could be, couchbound, bedridden, but if your nutrition is on point, you could actually get great results by not training or just minimal movement too. That's not ideal, but what I'm saying is don't let the excuse that you are injured or you can't work out.
Be the excuse I've seen results. I've coached people over the years with health and fitness goals and I've seen some amazing results with very minimal effort in terms of the activity, but very good understanding of the principles applied with nutrition as well. Can you talk about how important that is as well, Peter?
I know we're banging on about nutrition, but is there any tips or tricks you can give people to say about how they can start getting their nutrition into shape instead of their body into shape? So give us some tips on. How people can [00:17:00] get their fridge and pantry into shape and what you would suggest with clients offline.
The first thing that that I usually do with every client that you know, that initially contacts me is we run through all their goals and we also run through their maintenance carriers. So a lot of people when I talk. To this about with them they don't really understand what calories or maintenance calories are.
So for those that don't know, ba basically say if your body burns, let's say 2000 calories in a day or say your maintenance calories is 2000 calories. If you eat below that, say you eat 1,800 calories, you're gonna be in a calorie deficit. So over time, You're gonna be losing weight. Like it's, there's a hundred percent like you're gonna be losing weight regardless if you're eating under your maintenance calories.
But most of the time people are eating over the maintenance calories and they don't actually know how to calculate it. Like it's pretty simple. There's calculators online that you can of use the simple ways where you can find out what your maintenance calories are and then understanding what you may need.
👉JOIN THE 9 WEEK HEALTH CHALLENGE here
Calories are, how much calories you can eat on a daily basis, and then just preparing your meals in. A accordance [00:18:00] to those calories so they fit within your calories and your intake, your daily intake. Whereas a lot of people they don't track what they eat or they don't understand it. Even in orange juice, for example, has calories in it a Tim TA has 99 calories in it. They might have five Tim TAs that's 500 calories. People that just don't understand the. Preparing yourself and preparing your meals. And then just you really collaborating and putting together the exercise and nutrition together is probably the hardest thing to do.
But once you've got, once you've got it down pat you will see the results. Pretty much straight away. And some of the things is like low calorie, high density food as well. So a lot of people don't understand. And one of the analogies that you said there as well is good. Is there any foods you would recommend people to eat more of instead of eating less of?
Is there Yeah. Less saturated fats, eat more wholesome organic foods. Like I've meat me, my, my partner used to be vegan for seven. And we just, I've never been a vegan or vegetarian before, but we started, eating heaps more veggies and salads and stuff like that. Most, more pretty, pretty recently, we've done two weeks [00:19:00] of being a vegetarian and I felt the best I have in a while.
And I think that was just because even myself, I was eating way too much meat or proteins and I didn't have that balance. So having a good balance with your protein. Your fats and your carbs is really important. And I guess a lot of people don't really understand, what is. . But that's where, we can break that down with people, even alcohol.
So my journey with alcohol, I've actually been off alcohol for 12 months, so it's been one year this week that I haven't had alcohol. And it's been game changing. So my whole relationship with, I would overtrain during, in the week I would get my nutrition but I might have.
A bottle of red wine, a couple of beers, some whiskey, and the alcohol could change the whole energy imbalance. Can you talk about how important it is to watch not just food, but your liquids as well, and how that can push your energy imbalance out where you might have every week you're doing you're under the calories, so you've got 2000 calories as your maintenance calories.
You are. 1600, 1700 calories and you have one night on the drinks and that can push your whole week energy [00:20:00] imbalance out. Can you talk about how you talk with clients about watching your liquids and what you would substitute instead of alcohol or sugary drinks? What would you recommend, Pete? That's a good point actually.
A lot of people think, from Monday to Friday, They're they're pretty strict and it comes the weekend. I hear this all the time, like I'm good throughout the week, but then on the weekends I splurge out. And this is a very common sort of problem that occurs in the fitness industry.
But to tackle this, I always educate my clients on looking at your calorie overview over seven day periods. So don't look at it daily, right? So if you've got an event on. on the weekend. For example, like a wedding coming up you know when something's gonna come up, right? The week before.
What you have to do is just make sure you look at it over a seven day period. So for example, let's say 2000 calories. So we know that's. . So over a week, that is 14,000 calories. Okay, so obviously, yep, 14. I just have to make sure that was the right calculations there. So let's say that's 14,000 calories over a week.
So what we can do is we can bank those calories throughout the week. Instead of eating [00:21:00] 2000, eat a little bit less throughout the week. Really bake those calories to that. When it comes to the weekend, you can have. A few drinks. But you just gotta understand, you can't just blow out.
Otherwise, what you've done throughout the week is just poke pointless. Yeah. So you are really just burning the candles at both ends and you can't really, you're not really gonna get the results you want out of it. . Yeah. It's really important to, yeah, it's really important to yeah.
Not blow out on the weekend and just understand. You've gotta have that balance in between. And with all, just a personal question. With all the clients you've trained over the years and doing body transformations, after body transformations, what are some of the successful habits that you see great clients, so people that actually achieve the results and keep the results.
What are some of the trait. You see them do? Or what is some of the perfect clients that you've had? And people can replicate those traits. And then the other question is, what would be some of. Negative traits that you see people that they fall off the wagon. So first, talk about some of the successes, successful traits that you see clients and some of the things that they incorporate into their daily rituals to achieve their body composition [00:22:00] goals.
Yeah I feel like the ones that really get good results is the clients that are really consistent. So you don't have to. All the answers. You've just gotta be consistent with your training. And just really yeah, be consistent. Turn it into a habit. So you don't wanna just have that mentality of, I'm gonna go really hard for the next, six weeks, eight weeks, 10 weeks, whatever it may be.
But just understanding that if this is gonna be a long-term change, you gotta just. Make sure it's more consistent. You don't go too hard, too quick. Don't, it's not a sprint, it's a marathon. So the people that understand that and understand and really invest their time into learning more, educating themselves and asking questions, reaching out for help is those that will have success for more long term.
Instead, Just going hard and which is good right? To put the energy in, but just for those that actually want to educate themselves and understand more, I find like those clients are the ones that get really long, good, long-term re success results. Yeah, and I guess I could answer the ones that have, don't get the results and they don't educate themselves.
They're not consistent. They're not training and they don't turn it [00:23:00] into a habit. So I think these rules are very simple and they apply for a lot of things as well. But getting back to the underlying issues, do you ever talk about, what got someone out of shape and how their lifestyle. Got 'em to a point where they might be, 15, 20 pounds, kilos, overweight outta shape, don't move.
What are some of the psychological things or what are some of the reasons that people get outta shape? The, any things that comes up for you, Pete? Like why do we live in society where, 60% of people are overweight or obese and we're given this society where we're not healthy and we're not?
Can you talk about some of the reasons why? Yeah. I feel like there's a lot of people that I guess there's a lot of things here in Australia, especially where people are working from home nowadays, a lot more people may sustain some long-term injuries or a significant injury that may initially stop them from training.
And then I guess those bad habits just roll on for a longer period of time than that, than the what it should. I train a lot of mums as well, where they've recently just had kids. They've put her in a few kilos. , then you've [00:24:00] got people that are just too scared to start, or it might not even be in their culture to trade.
Like I've got a lot of people here in, in the community that I live now where they've never trained before. And they reach out to me and they always say, Pete, I've never done anything before. And then you just teach 'em, but it's there's a lot of things that make that might contribute to people getting into bad shape.
But I feel like. It's never, there's never a right time to start your journey. I think you just gotta pull the pin into it. Like a lot of people might make make, there's a lot of people that make excuses saying I've, I had an injury five years ago and my back's never been the same.
But, they haven't really done anything to or. done anything to help that or get it stronger? And from my experience, your experience when my wife was training with you and she's coming home results and feeling great, and I'm like, you know what? I just need to pay someone to get the results.
So the 50% of the result comes from when you make the decision that you are going to pay someone to help you with accountability and coaching to get that result. It's 50% the 50. The other 50% comes from actually being [00:25:00] consistent, staying with the program, listening to the advice, applying the advice, doing the hard things first, because the easy things come second to get.
To the body composition you want, it's going to take work. But to keep that body composition, it's going to take more work. Sorry, it's gonna take work, but not as hard work because you're gonna have the habits, routines, disciplines and education to keep it off as well. But basically, from where you are now, if you are not getting results, it's because you haven't made the decision, which is number one, and haven't paid to play.
So that's number two. And. Following the advice through there, so just a bit of a tangent through there. But yeah, if anyone's listening at the moment that wants to start, doesn't know where to start, this is your time. If you are listening to this, understand this could be a small wake up call. We're not looking at working with people for 52 weeks.
We don't have that bandwidth. We're running a nine week program starting mid Jann and [00:26:00] one starting Feb first, cuz some people are still on holidays as well. So it'd be two groups. It's one-on-one coaching or one on two. You get me and Pete. And we get you. It's not a group coaching, it's an individualized program as well.
Whether you're a seasoned weightlifter or you've never lifted weights before, this is not about weight lifting. It's about fitting in with your lifestyle. You have, I have someone who's a runner. They're going to run. I have someone who walks. They're going to walk. I have someone who's going to go to the gym.
They will go to the gym. So whatever lifestyle you have, it will fit around you as well. So the biggest thing of what me and Pete are coming from at the moment is to help you kick start. 2023 so you can have the healthiest year ever. Cuz we're all about teaching people healthy habits as well. But fire question, I'm gonna ask you a couple questions.
Rapid fire, whatever comes you do it. So I think people seem to misunderstand about you. I'm a perfectionist so I feel like everything I do, I'm gonna make sure I do perfection. That's probably my best trait, but also my worst trait at the same time. , what's your [00:27:00] favorite thing about where you live?
Me, two dogs. If you could have dinner with anyone, who would it? It would be the rock. One thing you can't live without ice cream one. What's one person who motivates you? My old man, my dad. What's your favorite escape training? Pet peeves. Pet peeves would be chewing with your mouth open. Favorite quote?
My favorite quote, I use this one all the time, is, are you lifting heavy enough? I feel like people just don't go hard or they don't understand that they're stronger than they actually think. Yeah, you tell me that all the time. , what's your morning routine look like? Wake up, have cold showers straight away.
👉JOIN THE 9 WEEK HEALTH CHALLENGE here
My alarm goes off 3:50 AM most mornings to start my day. Only because my I've gotta be at work at 4:30 AM cold showers, prepare breakfast get dressed obviously, and then usually head straight to work. What's your favorite productivity hack? Having Google Calendar and just having everything set in place.
I think just being organized. What's your spirit animal. The year I was born was 98, so that's the year of the tiger. Is that the spirit animal? . Okay, [00:28:00] sure. Thanks for surviving the rapid fire questions. Can you tell people why they should join the challenge and work with me and you on this nine week health? Of course, I think by getting the results that we've gotten already with myself, yourself and your wife as well.
I find that I want to be able to connect on this online platform, which I haven't been able to do on a larger scale and really help people really change their lives. And I really mean that when it comes to their health and fitness. Like I've dedicated my whole life now. To help people, move better educate people, get 'em out of pain.
So my goal in life is to honestly help as much peop as many people as I possibly can. And over these nine weeks they'll get to work with you and I and to really help create those good habits and lifestyle changes to set them up for longterm success. And, we'll be there every step of the way, and I can't wait to start working with the people that decide to get on this journey with us over the next nine.
Dr. PT Pete thanks for being a guest on the Best Book Bits podcast and there's my audience out there. It just resonated with you. When you are ready to do something about your health, click the link below [00:29:00] and jump on a call with me and Pete and we'll be happy to guide you through the next nine weeks to make your 2023 the most healthiest year of your life yet.
So again, Pete, thanks for being a guest and we shall do a training session tomorrow. I think. Take care, I'll speak to you soon. See you mate. Thanks for having me. No worries. Bye. Thanks, mark. Bye.
👉JOIN THE 9 WEEK HEALTH CHALLENGE here