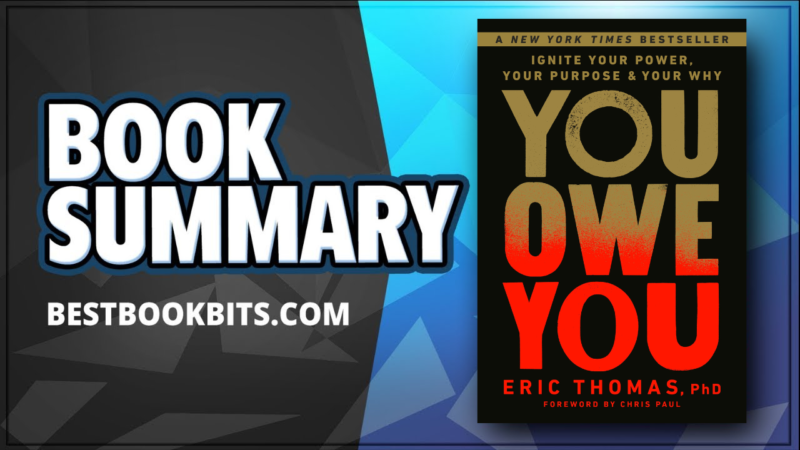 GET THE 500+ BOOK SUMMARY BOX SET IN PDF & MP3 here
You Owe You: Ignite Your Power, Your Purpose, and Your Why by Eric Thomas
No matter your story or your struggle, Eric Thomas—celebrated motivational guru, educator, and problem-solver to many of the top athletes and business leaders—will "help you work harder, discover your real motivation, and crack the code of enduring success" (Ed Mylett, #1 bestselling author of The Power of One More)
If you feel like success is for others, that only certain people get to have their dreams fulfilled, Eric Thomas's You Owe You is your wake-up call. His urgent message to stop waiting for inspiration to strike and take control of your life is one he wishes someone had given him when he was a teenager—lost, homeless, failing in school, and dealing with the challenges of being a young Black man in America.
Once he was able to break free from thinking of himself as a victim and truly understand his strengths, he switched the script. And now, with this book, Thomas reveals how you, too, can rewrite your life's script. With support, he recognized that his unique gift is being able to capture the attention of all kinds of people in all kinds of settings—boardrooms, locker rooms, churches, classrooms, even the streets—thanks to his wealth of experiences and command of language. Today, Thomas considers himself blessed to speak to an audience that is as large as it is diverse, from the rich and famous to kids struggling in school to young men in prison hoping for a new start.
Thomas's secrets of success have already helped hundreds of thousands on their journey, but this is his first guide to show you how to start today, right now. These critical first steps include deeply understanding yourself and the world around you, finding your why, accepting that you may have to give up something good for something great, and constantly stretching toward your potential. No matter where you are on your journey toward greatness, you owe it to yourself to become fully, authentically you. And Eric Thomas's You Owe You can help get you there.
It's You versus You
Victimhood is a mind-set. It's an attitude you hold that pushes you to make certain decisions or act a certain way. Victimhood is when the world happens to you. It's when you depend on the world to dictate your life. Victimhood is when you wait for the world to provide you with the tools to move forward. It's when you cede control to someone or something.
Here's the thing: When you let the world have the power, you're playing Russian roulette with your life. You don't know where you're going to land because you are not steering the car. But when you begin to take control, you'll find that you have the power to change your outlook and become a victor in your journey.
There are going to be plenty of times in your life when things go sideways. There are going to be times when you feel hurt. And you're allowed to be hurt. You can be upset and angry. But feelings are not facts. They are feelings. Facts are how you can move through your feelings.
You can be angry, but be angry in your house. Be in angry in your bedroom. You can be upset, but be upset with air conditioning and a roof over your head. You can be sad, but be sad with meals on the table and clean clothes on your back. You don't need to sabotage your whole life to have your feelings. You can have your feelings, but you don't need to be a victim.
You Are Never in It by Yourself
Aloneness is part of the victim mentality. This is the mind-set of someone to whom things are happening. When you act like a victim, you close yourself off to communication and relationships. You pit yourself against the world. You dig yourself into a dark hole where no one else can see you or touch you. You close yourself off to potential solutions. But, in reality, you are never in it by yourself. The perception that it's you against the world is a construct. The world does not conspire against you. You conspire against you. It's you versus you. Nobody can tell you that you're alone but you.
Seeing the people around you clearly is necessary to combat the victim mentality. When you tell yourself you're alone, it can be easy to slip into relationships that are false or that fulfill a surface desire for praise or company or pleasure. In constantly evaluating your own behaviors and patterns and seeking evidence over emotion, not only will you be able to see yourself better, but you'll also gain a clearer view of the people who surround you.
Discover Your Superpower
Even when other people don't recognize your gift, or the outside world doesn't validate it, you have to know with every fiber of your being that you are doing what is right for you. Trends come and go. Sometimes light skin is in. Sometimes dark skin is in. Sometimes it's short hair and sometimes it's long. You can't worry about what the world thinks is cool right now. You can only worry about you.
It should feel like a romantic relationship. You can't be number one in the world if you aren't obsessed with your gift. You can't be the best at what you do if you don't honor your gift. If you're going to contribute to your field or advance the game or get mentioned with the greats before you, you have to be dedicated to getting up every morning and taking care of it. Like any relationship that's worthwhile, your relationship with your gift requires work. If you get complacent and don't work at it, your gift will go fallow. Even if you are naturally good at what you do, that is not enough. You have to work at it and you have to want more.
There are plenty of people who, with very little instruction, can hear a song, pick up a guitar, and play. But unless they get into their gift and practice, they're never going to play like Jimi Hendrix. Plenty of people can open their mouths and sing beautifully. But if they don't get obsessed with the gift of it, they're never going to get to Beyoncé-level. Steph Curry was born with the ability to throw and sprint, but if he hadn't worked at it and gotten consumed by it, he wouldn't be the NBA legend he's become. Serena Williams was always going to be able to smash a tennis ball, but had she not put in the grueling hours of somebody who wants to win, she wouldn't have the accuracy or grace she shows up with on the court today.
GET THE 500+ BOOK SUMMARY BOX SET IN PDF & MP3 here
Sacrifice Good for Great
Good is good, but good doesn't get you the championship. Good is good, but good doesn't get you into the job of president or CEO. Good is good, but it doesn't qualify you for the Olympics. Good is good, but it isn't great. Almost anyone can get something good, but if you want to keep moving forward and level up, you're going to have to come to grips with abandoning good for great.
Now watch this: Kobe Bryant said that if you want to be great, you have to be obsessed with it. To go from good to great, you must be obsessed with whatever it is you want to be great at. If you want it, you will never settle for good. You will instantly recognize the measure of goodness against greatness and you will intuitively move beyond mere goodness to the level you are reaching for. You have to be willing to let go of predictability and stability. You have to be okay with the feeling of discomfort. You must be like an athlete in the throes of training. You push your mind and your body to their limits to get to the next level of competition. You must have the courage to take yourself beyond average. You owe it to yourself to gather this courage and move toward greatness.
The thing you have to keep sight of in sacrificing good for great is the present moment. Always be where your feet are. The best version of you is actually where your feet are. But if you aren't always developing and growing and changing, you will still be standing in the same place for eternity. Where your feet are will eventually expire.
You Are a Business
When you think about corporations or brands, you see a product or a service first. A car. A purse. A shampoo. But if you look behind those products and services, there were people first: Henry Ford, Louis Vuitton, Johnson & Johnson. A business is the physical manifestation of a mind and a vision. You can look at a company and see its parking lot and its building and its desks and its elevators, but all of this is somebody's thoughts and dreams actualized. Shifting your mind into business mode means thinking about yourself as a business.
For those of us who grew up working class, you aren't raised with the idea of seeing yourself as a business. You see yourself as a worker. You see your value in terms of working for somebody else. When you're working class, you decide to give your youth—your twenties and thirties and then some—to somebody else's company. You decide to give your energy and your strength to somebody else's vision. You decide to give your natural gifts to promote somebody else's bottom line. There's nothing wrong with helping somebody else achieve their vision or their goal, as long as it doesn't keep you from achieving your own vision and goal. If you give of yourself without boundaries, you are doing so without clarity about what you want for yourself.
Once you've shifted to see yourself as a business, you need to think practically. Where do you see yourself in business? Which industry? Specifically, what are your gifts and who can benefit from them? What is your product? In which market does your product belong?
You Owe You
Nobody owes you time but you. You are the only person who will make time for yourself. What does this look like within the reality of life? Start your day by getting centered. Imagine a piece of paper with a dot at the very center. You are the dot. There will be many things that try to move you away from the center, pull you to the edges. Your job every day is to stay as centered and focused as possible. You can't wake up and think, I need to make this money. The treasury prints money every day, but they don't print peace or joy or happiness. You can go to Walmart and buy a watch or to Louis Vuitton and buy a purse. But you can't go out and buy your own fulfillment. When you're centered, you can see yourself, you can see where you're supposed to go, you can see your future unfold before you.
Think about what your day looks like. Visualize what fulfillment will mean for you today. Paint a picture of the ideal day. And if you're not there yet, if you can't have your ideal day yet, think about what today needs to look like to get to that ideal day next week, next month, next year. Think about what your week looks like. What do you need to do to get to the next level? What does your month look like? Your year? Make a plan to get yourself on track. Nobody is going to make your plans but you. And you owe it to yourself to be the center of your own plan.
When you have a blueprint—your values, your beliefs, your focus, your self-knowledge—then you must set a standard. You owe it to yourself to constantly evaluate your own performance and the way you spend your time. Goals are good, but standards will get you to the next level.
Now is the time to do the work. Now is the time to dream of what greatness lies ahead. But not only to dream—to become your dream. To become great. The time has come to take hold of your life. The time has come to step into yourself. To begin living life the way that only you can live it. The time has come to become you.
GET THE 500+ BOOK SUMMARY BOX SET IN PDF & MP3 here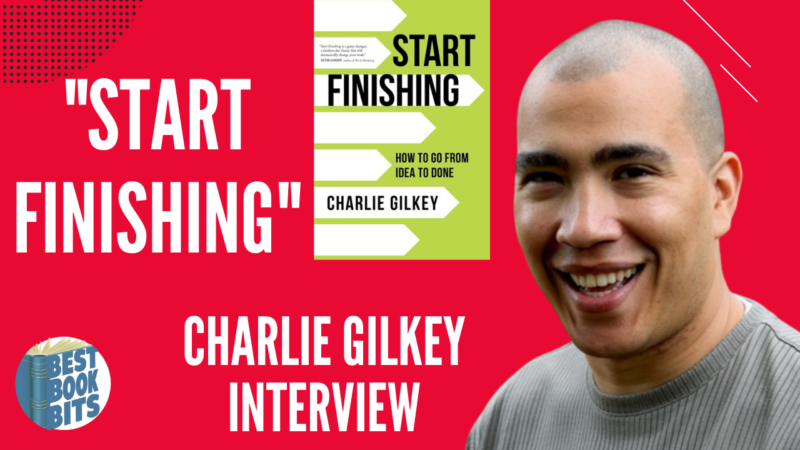 https://www.productiveflourishing.com/
A prominent productivity expert shows how to do more of the work that matters by converting ideas into finished projects. Though we've created more productivity tools and strategies than ever, many people are frustrated that they're not making progress on what's most important to them. We're to-do list ninjas, knocking off task after task but doing less of what really matters. With Start Finishing, Gilkey presents a systematic, root-cause approach for overcoming the real pitfalls to productivity and turning your ideas into finished projects. He outlines a powerful seven-step method for success ― including identifying your genius, building a success pack of supporters, navigating multiple projects, and using each completed step to create momentum that propels you toward your larger goals. With deep insight and clarity ― and contributions from Seth Godin, Susan Piver, Jonathan Fields, and more ― Gilkey provides an invaluable set of tools to help you stop being bogged down with task lists and start finishing your best work.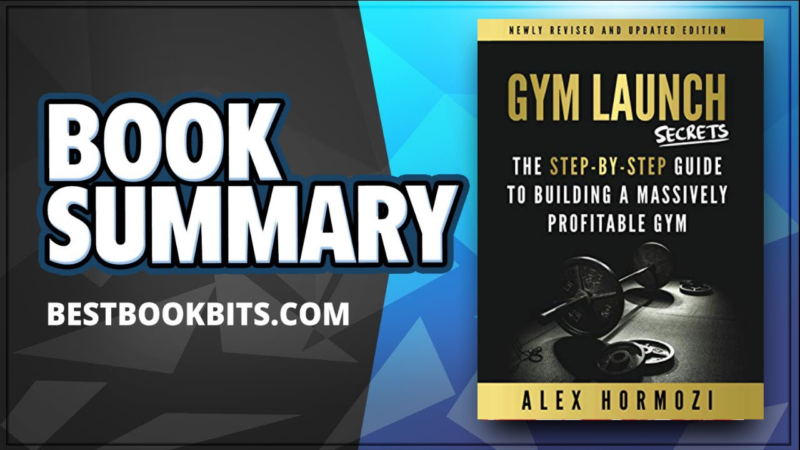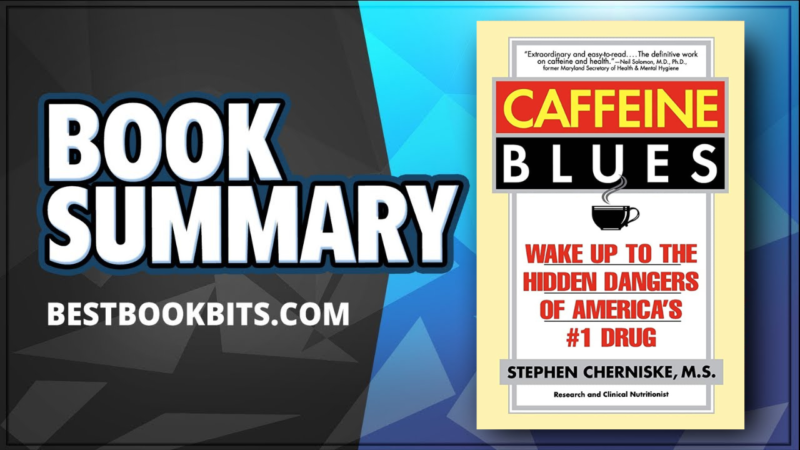 GET THE 500+ BOOK SUMMARY BOX SET IN PDF & MP3 here
Caffeine Blues: Wake Up to the Hidden Dangers of America's #1 Drug by Stephen Cherniske
One of the most accomplished nutritional biochemists and medical writers in his field reveals the truth about caffeine and helps you kick the habit forever. Nearly 80% of all Americans are hooked on caffeine, this country's #1 addiction. A natural component of coffee, tea and chocolate, and added to drugs, soft drinks, candy and many other products, the truth about caffeine is that it can affect brain function, hormone balance, and sleep patterns, while increasing your risk of osteoporosis, diabetes, ulcers, PMS, stroke, heart disease and certain types of cancer. Discover a step-by-step, clinically-proven program that reduces your caffeine intake, and effective ways to boost your energy with nutrients, healthy beverages, better sleep and high-energy habits.
CHAPTER 1 Coffee and Caffeine: A Dose of Reality
We have seen several well-marked cases of coffee excess. … The sufferer is tremulous, and loses his self-command; he is subject to fits of agitation and depression; he loses color and has a haggard appearance. The apatite falls off, and symptoms of gastric catarrh may be manifested. The heart also suffers; it palpitates, or it intermits. As with other such agents, a renewed dose of the poison gives temporary relief, but at the cost of future misery. … By miseries such as these, the best years of life may be spoilt.
Goatherds, Monks, and the Rest of Us
The origins of coffee are lost in legend, although the most popular tale traces its discovery to a goatherd dwelling in Ethiopia. According to the story, the goatherd watched his flock eat the bright red berries from a wild evergreen bush—and was subsequently amazed to see the animals leap about with wild abandon. He tried some of the berries himself, and soon he was leaping too. By around the sixth century A.D., the plant had reached Arabia, where it was used as a food and medicine. Coffee berries were either fermented to make wine, or dried, crushed, mixed with fat, and eaten. It was not until the thirteenth century that Arab monks made a revolutionary discovery: Roasted coffee beans could be made into a drink. No more falling asleep at prayers! The news spread from monastery to monastery, then hit the streets with the worlds first coffeehouses. Everyone who tried coffee wanted more—and if they were travelers, they wanted to take it home with them.
With lightning speed, coffee became a valuable trading commodity and spread to the world at large: first to Turkey, then to Italy and France, and finally to the rest of Europe by the mid-seventeenth century. The Arabs maintained strict control of the coffee trade until smugglers from other countries got hold of the seeds. The Dutch brought coffee to Java and Ceylon, the French transported it to the West Indies, and a Brazilian obtained coffee for his homeland. Today coffee is cultivated widely in regions between the Tropics of Cancer and Capricorn: Central and South America, Java, Sumatra, India, Arabia, equatorial Africa, Hawaii, Mexico, and the West Indies.
Most American colonists drank tea, a caffeine-containing leaf from the Camilia senensis bush, until the boycott against King George's tea tax climaxed with the Boston Tea Party in 1773. From that point forward, coffee
grew in popularity as America's national drink. Americans are now the largest consumers of coffee in the world, drinking over 420 million cups per day, or about one-fifth of the world's total annual supply. In America, coffee wins hands down as the most popular substance containing caffeine, with soft drinks, tea, and chocolate as runners-up.
From Plant to Percolator
The word coffee comes from the Arab word qahwah. The botanical name of the original species discovered in Africa whose beans are grown around the world today is Coffea arabica. There are three general groupings of coffee: Brazils (all Coffea arabica grown in Brazil), Milds (all Coffea arabica grown outside of Brazil), and Coffea robusta, a variety of coffee grown at lower elevations and generally considered to be inferior in quality to Coffea arabica.
Robusta beans contain nearly twice the caffeine of arabica and are also more acidic. Mass-marketed brands of coffee contain primarily robusta, whereas specialty coffees tend to be made primarily from arabica beans. One reason coffee spread so quickly around the globe is because it's an exceptionally hardy, self- pollinating plant. Though it's usually referred to as a tree, coffee is actually an evergreen shrub that, when cultivated, is pruned to a height of twelve feet or less. An arabica tree produces only about one to two pounds of coffee beans per year, so supplying worldwide demand requires an incredible amount of space.
We'll discuss the problems associated with coffee cultivation in Chapter 7. Coffee berries—the fruit of the plant, which contains the beans—are usually harvested by hand and undergo a lengthy processing procedure. Once removed from the berries, the beans are fermented, washed, dried, hulled, and peeled before they are roasted. After roasting, the beans are ground and then they are ready to perk, brew, or drip into your favorite cup of Java.
A Cupa Cupa Cupa Cupa Chemicals
Caffeine has received a great deal of attention ever since it was identified as the principle stimulant in coffee (1820) . But it seems that every year, even more noxious ingredients are isolated in coffee. In 1992, researchers found another stimulant compound distinctly different from caffeine that may be responsible for coffee's gastrointestinal effects. To date, over 700 volatile substances in coffee have been identified, including more than 200 acids and an incredible array of alcohols, aromatic compounds, carbonyl compounds, esters, hydrocarbons, heterocyclic compounds, and terpenoids.
Nonvolatile substances in coffee include caffeine and other purines, glycosides, lipids, melanoidins, caffeic acid, and chlorogenic acid. And that's
just the stuff that's supposed to be there. Coffee often contains a raft of pesticide residues and other contaminants such as nitrosamines, solvents, and my co-toxins. These carry well-defined health risks, and some are carcinogenic. Survival of the Bitterest Caffeine is produced by more than eighty species of plants, and the reason may well be survival. As it turns out, caffeine is a biological poison used by plants as a pesticide.
The caffeine gives seeds and leaves a bitter taste, which discourages their consumption by insects and animals. If predators persist in eating a caffeine-containing plant, the caffeine can cause central nervous system disruptions and even lethal side effects. Most pests soon learn to leave the plant alone. Which is not to say that coffee is impervious to insects. On the contrary, the modern agricultural practice of growing coffee plants in dense plantations fosters the development of insect infestations. Enormous amounts of chemical pesticides and herbicides are then applied to control those infestations. In fact, coffee is the most heavily sprayed food or beverage commodity on the face of the earth. Caffeine: Romancing the Drug When coffee was first brought to European cities in the seventeenth century, people were repelled by its color and taste. They complained that it smelled and looked like roofing tar. But after they experienced its stimulating effect, the beverage was quickly proclaimed to be one of nature's miracles. Historians record this phenomenon without noticing the irony of what they are writing.
Caffeine is, after all, a psychoactive drug, and human beings tend to crave substances that alter their state of mind—among them caffeine, morphine, nicotine, and cocaine. Indeed, all of these alkaloids are chemically related and, while they produce widely different effects, all are poisonous. Caffeine is considered harmless simply because it is so widely used. Obviously, from a scientific perspective, that is not valid reasoning. What's more, if caffeine were proposed today as a new food additive, the FDA would never approve it.
Any substance that causes such extreme reactions—heart palpitations, anxiety, panic, insomnia, and even birth defects—would be treated by the FDA as a new drug and denied status as a food additive. Yet amazingly, even healthconscious people, many of whom try to minimize their use of additives, preservatives, and drugs, consume high amounts of caffeine with no thought to the consequences. The authors goal in is to provide you with the facts you need to make informed choices about your own caffeine consumption. Until now, reliable information about caffeine has been unavailable, and there are some intriguing reasons for that.
First of all, most people are generally unaware of the amount of caffeine they are ingesting. Manufacturers can add caffeine to any food or beverage they want without disclosing the amount. (More about that in Chapter 7.) Few people know how much caffeine is in a cup of coffee or a can of soda, so they
have no way of evaluating the danger. Instead, they rely on what they hear and read in the media, and that information is rarely accurate. In his landmark review of caffeine and human health, R. M. Gilbert concludes: "If more were known about caffeine's effects, and if what is known were known more widely, the damage done by caffeine might very well appear to be intolerable".
Industry Feathers in the Academic Nest
The caffeine industry has generated a tremendous amount of propaganda and disseminated it successfully throughout the scientific, medical, and public arenas. But you won't see SPONSORED BY THE CAFFEINE INDUSTRY stamped across the top. This material is invariably published by foundations and institutes with very academic-sounding names. But the fact is that many of these august bodies are heavily influenced by the caffeine industry, and so are the reports you read and hear.
The International Life Sciences Institute, for example, has been churning out studies and information to government, academic, and public institutions for decades. Few know that it is supported by the caffeine industry. In 1985, the ILSI merged with the prestigious Nutrition Foundation, an organization whose mission statement includes the acknowledgment that it is "created and supported by leading companies in the food and allied industries." Prominent among the trustees of the combined ILSI/Nutrition Foundation are executives from the Coca-Cola Company, PepsiCo, Hershey Foods, NutraSweet, and Procter & Gamble.
A Case in Point
If you were curious about the dangers of caffeine, you would undoubtedly come across a brochure entitled What You Should Know about Caffeine. You would find this ubiquitous brochure on information racks in hospitals, pharmacies, public health offices, or in your doctor's office. It's available through the mail and on the Internet. What You Should Know about Caffeine is published by the very official-sounding International Food Information Council in Washington, D.C. The brochure does not list sponsors or disclose an industry affiliation.
When the author requested specific details of industry sponsorship, the author received another glossy color brochure that mentioned nothing about which organizations supply the funds to disseminate all this information. After pressing the issue through several phone calls, he finally received a list of IFIC "supporters," including Pepsi-Cola, Coca-Cola, M&M/Mars Candy, NutraSweet, Nestle, Hershey Foods, Frito-Lay, Procter & Gamble, and the Arco Chemical Company. Oddly enough, the IFIC "partners" also included the Association of Women's Health, Obstetric and Neonatal Nurses; the National Association of
Pediatric Nurses Associates and Practitioners; and the Children's Advertising Review Unit of the Council of Better Business Bureaus, Inc.
This strategy perfectly illustrates the approach of the caffeine industry: aligning itself with professional health organizations and scientific foundations. What better way to head off criticism that its products are harming the American public?
Is the Information Accurate?
What You Should Know about Caffeine states: "Caffeine does not accumulate in the bloodstream or body and is normally excreted within several hours following consumption." In fact, only about 1 percent of caffeine is excreted. The remaining 99 percent must be detoxified by the liver, and the removal of the resulting metabolites is a slow and difficult process. In Chapter 3, you will learn that it can take up to twelve hours to detoxify a single cup of coffee. In fact, the matter of accumulation has never been resolved. Evidence suggests that it may take up to seven days to decaffeinate the blood of habitual coffee drinkers. Plus, it can take three weeks or more for the body's levels of stress hormones to return to normal. If that's not accumulation, what is?
All the News That Fits, We Print
Prominent on the first page of What You Should Know about Caffeine is a colored box that states: "Research in relation to cardiovascular disease, reproduction, behavior, birth defects, breast disease and cancer has identified no significant health hazard from normal caffeine consumption." When the author inquired as to exactly what "normal" consumption was, he was told 200 to 300 milligrams per day. As you will soon find out, most American adults ingest that amount before noon.
What about ingestion of more than 300 milligrams of caffeine? The IFIC doesn't say a word about that, but in the following chapters you will learn exactly how that much caffeine can damage and even destroy your health. This information has been withheld from you because until now, the loudest voices in the caffeine debate have been connected directly or indirectly to the caffeine industry.
Digging Deeper
When the author asked the IFIC for scientific support for their assertion that 300 milligrams of caffeine was perfectly safe, they sent me a report published in Food and Chemical Toxicology. The authors of this report are both employees of the Coca-Cola Company and members of the National Soft Drink Association. As you might expect, the report downplays the effects of caffeine in the American diet, using some interesting techniques.
When Is a Cup Not a Cup?
Answer: When it's a "standard" five- ounce serving. For some reason, the above authors state that a standard serving of coffee equals five fluid ounces. That way they can list the caffeine content as eighty-five milligrams per cup. (Most studies claim that a standard cup of coffee equals six fluid ounces, the amount held by a teacup—which is still far less than almost anyone actually drinks at one time).
Likewise the "standard" soft drink serving is listed as six ounces, when all sodas come in twelve-ounce cans—and soft drink manufacturers are now heavily pushing the twenty-ounce bottle. The caffeine content of soft drinks is listed as eighteen milligrams per six-ounce serving. In reality, soft drinks contain anywhere from forty-five to seventy-two milligrams per twelve-ounce can.
"What Caffeine Problem"?
Caffeine consumption is also downplayed in the study cited above by using per capita figures, which is simply the gross amount of caffeine consumed divided by the total population. The problem, of course, is that not everyone consumes caffeine in equal amounts. Per capita figures may be useful for a discussion of economics, but not of health. If you are supposedly reviewing the safety of a substance, it is absolutely critical to consider the individuals most vulnerable to possible adverse effects.
You'll find, however, that none of the caffeine industry reports take that approach. Instead, they constantly refer to "mean" values, "average" people, and "normal" consumption. Remember the statistician who drowned trying to wade across a lake with an average depth of three feet? You have to look at reality, which is what you're going to do in Chapter 2 when you calculate the amount of caffeine you consume. For a scientist, the word average raises a red flag because average figures are often useless.
Even worse, the use of averages is the easiest way to manipulate data. In the coffee research reported in newspapers and magazines, you will invariably see "average consumption figures." But in a group of people with an average consumption of three cups per day, you'll find some people who drink no coffee at all, some who drink one to three cups, and some who drink six to ten cups a day. Now this might average out to three cups per person, but what good is this information?.
The effects of caffeine are very much dose related, and, as you have
probably already guessed, the effects of one cup of coffee are quite different from the effects of four or six. It is important to understand that the caffeine industry's "average" consumer does not exist. This mythical person, upon whom all their conclusions are based, is neither male nor female, weighs approximately 150 pounds, never experiences excessive stress, has perfectly functioning adrenals and liver, does not use birth control pills or any other caffeine- interacting drugs, consumes less than 300 milligrams of caffeine per day, and eats a well-balanced diet including a variety of foods high in B vitamins, calcium, magnesium, and zinc. Anyone who has a disorder that would be aggravated by caffeine is either dropped from caffeine industry studies or buried under the mountain of "mean" values.
The Search for Truth
For the past eight years, the author have conducted a systematic review of the world scientific literature on caffeine. This research has taken some real detective work. It's difficult to tell what's really going on at first. After all, he drank coffee for over twenty years, simply because he believed like everyone else that coffee, and caffeine, had no adverse health effects. He was in for the surprise of his life. The first thing he noticed was that much of the research on coffee was imprecise.
The majority of researchers refer to the standard coffee cup as a six-ounce serving, but most people drink from mugs, which contain twelve to fourteen ounces or more. That's not to mention convenience-store coffee cups, which contain anywhere from twenty to thirty-two ounces. If you're like most people, you probably consume far more caffeine than you think you do.
Likewise, many reports on coffee failed to specify the brewing method. Six ounces of drip-filtered coffee contain about 100 milligrams of caffeine, but the same amount of percolated coffee gives you 120 milligrams, and European-style boiled coffee packs in 160 milligrams of caffeine per cup. I began to see that the caffeine issue is rarely taken seriously. Nearly every researcher starts from the assumption that caffeine is okay. Why? Because, consciously or subconsciously, they are influenced by the fact that they themselves depend on coffee. The author has visited the offices of hundreds of scientists, professors, and clinicians. The coffee machine is as much a part of their environment as test tubes and computers.
Likewise, the journalists who report health news to the public are usually heavy coffee drinkers. His not not saying that these people are dishonest, only that information can be biased by the habits of those who make and break the news.
The Great Chain of Caffeine
It is also important to look at the chain of biochemical and behavioral events that caffeine creates, not just the immediate effects. Scientists rigorously adhere to this rule when looking at other drugs, but ignore it when studying caffeine. This error is illustrated graphically by one study on the effects of caffeine on schizophrenic patients, where regular coffee was replaced with decaf. The researchers postulated that if caffeine produces detrimental psychoactive effects, the patients should improve when decaf is used instead of regular coffee.
They made the switch, the patients did not improve, and so the researchers concluded that caffeine has no effect on psychiatric patients. What's wrong with this conclusion? The study ignored the chain of events that result from caffeine withdrawal. Here a group of hospitalized schizophrenic patients, who are used to drinking three to eight cups of coffee a day, are switched to decaf without their knowledge. These people are going to have serious withdrawal reactions, including disorientation, irritability, anxiety, and depression. Obviously, they will not show signs of improvement. How could they? Most of them probably had splitting headaches from caffeine withdrawal!
Yet the research was published and is frequently used to support the erroneous view that caffeine produces no negative psychoactive effects. It gets worse. These same researchers introduced decaf a second time and did see behavioral improvements. Did they recognize the likelihood of a decreased withdrawal reaction? No way—instead, they stated that these improvements were probably a result of coincidence.
A Matter of Interpretation
The author says that he also found investigators who did an excellent job at analyzing the behavioral effects of caffeine ingestion by schizophrenics. One extremely well-designed study documented significant increases in thought disorder and psychosis after caffeine administration. The investigators also found that caffeine increased blood pressure and stress hormone levels in the patient group. This is important information for anyone involved in psychiatric care, but how the issue of caffeine and mental health is resolved depends upon which study is read and how the reader wishes to interpret the information.
When he brought the latter study to the attention of a leading psychologist, he acknowledged that caffeine can cause significant increases in stress hormone levels but concluded, "A cup of coffee is no more stressful than watching a suspense thriller on TV". Can you see the profound error of this response? It looks blindly at the short-term consequences of caffeine use and ignores the real issue, which is the effects of long-term use. After all, what psychologist would condone the viewing of five suspense thrillers every day, year after year? Yet that analogy accurately describes the body's hormonal response to regular caffeine consumption.
More Flawed Research: Caffeine and Hypertension
Another common mistake in caffeine research has to do with the relationship of caffeine to hypertension (high blood pressure). The author found numerous studies in which hypertensive patients were taken off coffee. After a week or two, when blood pressure did not drop, investigators concluded that caffeine has no significant effect on blood pressure. This is absurd because it may take three weeks or more after withdrawal from caffeine before stress hormones return to normal. Evaluating blood pressure over the first one or two weeks is meaningless.
What's Real for You? If you look at the way real people consume coffee and soft drinks, you find, first of all, that most consume a great deal more than 300 milligrams of caffeine per day. There have been studies that measure the caffeine content of beverages as people actually consume them. One such study, published in Food and Chemical Toxicology, found that the caffeine content of a six-ounce cup of drip, filtered coffee (the type most people drink) ranged from 37 to 148 milligrams. A survey conducted by the Addiction Research Foundation found that a "cup" of coffee, as defined by the individual drinker, could contain as much as 333 milligrams of caffeine.
This conflicting data once again demonstrates that the idea of "normal" caffeine consumption is meaningless. Some scientific studies suggest that a 170-pound man could successfully detoxify 300 milligrams of caffeine over the course of a day without serious damage to his body. Theoretically, this may be possible—but not if he is under any significant degree of stress. Moreover, a 110-pound woman is almost certain to experience significant adverse effects from that amount of caffeine. And for anyone under a great deal of stress, even one cup may be enough to trigger the negative effects of caffeine.
Obviously, caffeine intake needs to be evaluated on an individual basis. In the chapters that follow, you will see that the effects and dangers of caffeine depend upon a host of variables, including gender, weight, age, stress level, general health, and medications. What's more, caffeine may affect the same person differently at different times. The only way to safeguard your health and the well-being of your family is to inform yourself. A great place to start is by taking the tests in the next chapter.
CHAPTER 2
Are You Addicited? How Much Is Too Much?
In the old days, coffee was served in teacups that sit on saucers. That size cup holds six ounces of beverage, which is considered the standard-size cup by researchers and the coffee industry. However, when I ask patients how much coffee they drink and they say, "Oh, no more than three cups a day," I invariably find that means three mugs a day at fourteen ounces apiece, or the equivalent of seven cups of coffee. In most coffee shops, a "normal" cup of coffee is fourteen ounces and a large cup is twenty ounces. Thus, one large cup equals 3.3 cups of coffee. One of my clients told me that he only drank one cup of coffee a day. It turned out to be one of those giant thirty-two-ounce convenience-store mugs with the vented cover for drinking while you drive.
This man (and millions like him) consumed nearly 500 milligrams of caffeine on his way to work on an empty stomach. No wonder there's so much conflict and tension at the office. By the time they get to work, these coffee-inhaling employees are wired and ready to fly off the handle. There's no doubt that the damage done by caffeine is very much dose related. But it's impossible to make general, blanket statements about how much caffeine is okay and how much is dangerous, since caffeine's effects are different for each person.
Understanding the effects of your own caffeine ingestion requires self-knowledge and experimentation. As you reflect on the material presented here, most likely you will see yourself in one of the examples or case histories. As you read, keep an open mind and consider the possibility that how well you live, and even how long you live, depend to a significant degree on the amount of caffeine you consume. This book provides the information you need, but the rest is up to you.
Obviously, there are many factors affecting longevity and health, but none is easier to modify than caffeine intake. In my clinical practice, I have counseled more than 9,000 patients and kept careful records regarding their compliance and level of success. Of all my recommendations—including weight loss, dietary change, exercise, and stress management—no single factor matched the impact of caffeine reduction. Again, it's not that all those other things are unimportant. On the contrary, I believe that exercise and a balanced diet are critical to optimum health, and I've devoted my career to making those goals obtainable. But the truth is, getting people to make significant changes in diet or exercise is extremely difficult. Research shows that even with careful supervision, compliance is well below 30 percent.
On the other hand, getting off caffeine (at least with my Off the Bean program) is relatively easy, and the rewards are often immediate and dramatic. Over 80 percent of the people who've tried the Off the Bean program have stuck with it—and have experienced tremendous health benefits as a result!
What Your Doctor Doesn't Know Can Hurt You
Until now, people had no way of evaluating their caffeine intake and the harm it can do. Remember that the initial stages of caffeine damage are often silent —just like lung damage from smoking or cardiovascular disease from a high-fat diet. Also be aware that the information you need about caffeine is not likely to come from your doctor. Consider the guidelines given to physicians in the medical literature. A typical example appeared in Postgraduate Medicine, in which doctors were advised that caffeine can cause abnormal heart rhythm.
The article, citing a report entitled "Caffeine and Arrhythmias: What Are the Risks?" stated that "about 80% of American adults drink three to four cups of coffee each day." It then went on to explain that each cup contains between 60 and 150 milligrams of caffeine. The logical conclusion from this information is that many American adults are consuming 500 to 600 milligrams of caffeine from coffee per day. The bullet points of the article inform doctors that:
Point 1: "Consuming less than 300 mg of caffeine per day does not seem likely to produce significant arrhythmias".
Comment: We've already learned that most Americans consume more than 300 milligrams of caffeine per day from coffee alone (remember the six-ounce cup?), not to mention additional caffeine from soft drinks, medications, and other sources. And what exactly is significant arrhythmia? If your heart fails to maintain normal beats, you are in mortal danger, period.
Point 2: "People with underlying heart disease probably should avoid consuming more than 300 mg of caffeine per day since significant increases in arrhythmias have been reported after consumption of higher amounts".
Comment: Good advice, but (A) people with underlying heart disease often do not know that they have heart disease; (B) people have no way of following this advice since manufacturers are not required to list the amount of caffeine in their products.
Do you see the folly of this approach? First of all, most people already consume over 300 milligrams of caffeine per day. What's more, the 300-milligram level does not take into consideration the myriad factors that influence how caffeine affects individual people. One person who consumes 300 milligrams of caffeine might only experience disturbed sleep, while another person might experience severe anxiety, depression, or dramatically increased risk for heart disease. Women are affected by caffeine far more than men. Age, overall health, weight, and a host of other lifestyle factors also enter the picture. How can you determine your own personal risk level? You can start by figuring out your caffeine quotient—quotient—exactly how much caffeine you presently consume, and how it is affecting your life.
Is Caffeine Hurting You?
If you are a regular caffeine user, chances are high that the drug is affecting the quality of your life right now. You probably depend on the stimulating "lift" to energize your body and clear your mind. Your total daily intake of caffeine comes from a variety of sources—not just coffee, but also tea, cocoa, soft drinks, medications, and chocolate. In fact, if you're like most Americans, you find it hard to get through the day without multiple hits of caffeine. You are probably addicted. If you object to that statement, take a few minutes to complete the following self- tests. You have nothing to lose. If caffeine's not a problem for you, great. But if it is, confronting the addiction is the only way to do something about it. This book will help you evaluate the effects caffeine has on your life and, most importantly, show you how to achieve far greater levels of energy and vitality without the drug.
Test I: Your Caffeine Intake
In the first column, enter the number of servings, then multiply to get your total caffeine intake from each source. Figures given for coffee and tea are based on a six-ounce serving. Remember that most coffee mugs or cups hold twelve to fourteen ounces. A "large" coffee cup holds twenty ounces or more, so be sure to calculate accordingly. Amounts of caffeine listed for each type of beverage are averages; variations may occur from product to product.
The amount of caffeine in common medications may surprise you. However, according to the FDA, nearly 1,000 prescription drugs and 2,000 over-the-counter medications contain caffeine—anywhere from 30 to 200 milligrams per tablet or capsule.
YOUR CAFFEINE QUOTIENT
"Caffeinism" is a state of chronic toxicity resulting from excess caffeine consumption. Caffeinism usually combines physical addiction with a wide
range of debilitating effects, most notably anxiety, irritability, mood swings, sleep disturbance, depression, and fatigue. Use your "Total Daily Caffeine Intake" from the previous page to determine if you are a victim of caffeinism.
If your caffeine quotient is less than 100 milligrams per day, it is highly unlikely that you are a caffeine addict.
If your total is between 100 and 300 milligrams per day, you're in the "danger zone." Disruption of sleep patterns begins at this level, and certain heart disease risk factors may be increased.
If your total is 300 to 600 milligrams per day, you are undoubtedly experiencing some degree of mental and physical addiction to caffeine. Research shows an almost 200 percent increase of risk for ulcers and fibrocystic disease at this level.
Intake of 600 to 900 milligrams per day indicates almost certain addiction. At this level, your mood and energy levels are severely affected. Research suggests that your risk of heart attack may be twice that of non-caffeine users. If you are a pre-menopausal woman, your chance of maintaining optimal iron levels is slim.
At 900 milligrams or more per day, you're a caffeine addict—hook, line, and sinker. At this level of dependency, all heart disease risk factors are significantly increased, as are the risks for stroke, psychological disorders, and gastrointestinal disease. You may need medical help to kick the habit.
"Although infrequently diagnosed, caffeinism is thought to afflict as many as one person in ten of the population".
Test II: Caffeine's Effects on Your Body
Do you experience any of the following on a recurrent or frequent basis?
If you have 6 to 7 "yes" answers, caffeine is a problem for you. Decreasing or eliminating caffeine intake will significantly improve your health. If you have 8 to 10 "yes" answers, caffeine is a serious problem. Decreasing or eliminating caffeine is an urgent need. If you have 12 or more "yes" answers, your caffeine intake represents a critical health risk that may actually decrease your life expectancy. Act now to take control of your life and health.
Dr. Fred Sheftell, director of the New England Center for Headache, states: "It's not unusual for us to find people who are taking 1,000 mg of caffeine or more per day." He notes that adverse side effects have been reported from as little as 250 milligrams per day.
Test III: Caffeine's Effects on Your Nervous System
Caffeine has been found to impair motor steadiness in neuropsychological tests. Here is a simple way to evaluate this effect without expensive laboratory procedures: Sitting up in a chair, extend your arm straight out in front of you, locking the elbow, palm down. Look at the tips of your fingers. If there is any noticeable trembling, chances are that caffeine has already damaged your nervous system.
In Chapters 3 and 4, we will discuss how caffeine disrupts biochemical message centers in the brain known as receptors. Human and animal data suggest that dopamine and benzodiazepine receptors are involved in hand tremor, and the condition is common in both habitual and casual coffee drinkers. The good news is that this damage can be repaired, but not until you get your caffeine intake under control. In Chapter 10, you'll see that it's not as difficult as you might think.
Test IV: Caffeine's Effects on Your Muscles
Muscle tension is hard to evaluate. Many times, we don't even know we're tense until we get a headache, or someone places their hands on our shoulders and we wince. Tension in the jaw muscles, however, is fairly easy to measure.
1- Open your mouth as wide as you can, then close slowly. Do you hear any popping or cracking? This is often a sign of problems with jaw alignment known as temporomandibular joint dysfunction (TMJD). TMJD affects millions of Americans, contributes to headache and a raft of other disorders, and is positively associated with stress and caffeine intake. That's because caffeine and stress cause a tightening of the jaw muscles that contributes to misalignment of the jaw on the skull. Teeth clenching and grinding (bruxism) at night are also related to stress and caffeine.
2- Now open your mouth wide again, and this time try to insert your first three fingers held vertically. (Or use a wine cork.) This is another simple test to see if you are holding significant tension in your jaw muscles. Reduced jaw mobility is a classic sign of chronic tension exacerbated by caffeine.
The Four Warning Signs of Caffeine Dependence
The most common response I hear from people who have eliminated caffeine from their lives is their surprise at how much better they feel. I know what you're thinking: "How could they feel better? Every time I try to quit coffee I feel like I've been hit by a truck." That's because caffeine is an addictive drug with a very well-defined withdrawal syndrome. I'm not going to split hairs about whether people are truly addicted or just dependent on the drug.
Studies have found conclusively that caffeine produces classic signs of addiction. And you don't have to consume huge amounts of coffee to become addicted. In one recent study, the median daily intake of the caffeine-dependent group was 357 milligrams, and 19 percent of them consumed less than the U.S. daily average. Here is how the scientists conducting that study made the diagnosis of caffeine dependence. See if it describes how you feel.
WITHDRAWAL
Reducing the dose or stopping the drug altogether produces well-defined symptoms, which may include:
Depression
Profound fatigue
Irritability
Disorientation
Increased muscle tension
Nausea
Vomiting
Ninety-four percent of the caffeine-dependent subjects experienced some of these withdrawal symptoms.
DEPENDENCE
Researchers defined dependence as consuming the beverage "despite knowledge of a persistent or recurrent physical or psychological problem that is likely to have been caused or exacerbated by caffeine". Ninety-four percent of the caffeine-dependent subjects experienced this behavior.
INABILITY TO QUIT
This was defined as a "persistent desire or unsuccessful efforts to cut down or control use". Eighty-one percent of the caffeine-dependent group found that they were unable to reduce or discontinue drinking caffeine-containing beverages.
TOLERANCE
The body develops a tolerance for caffeine so that greater amounts are required to produce the same level of stimulation. Seventy-five percent of the caffeine-dependent group reported tolerance.
Caffeinism: It Could Happen to You!
In over a decade of practice as a clinical nutritionist, I have seen firsthand, with thousands of clients, that caffeine is a health hazard. Anxiety, muscle aches, PMS, headaches, heartburn, insomnia, and irritability are the most common symptoms, and they can usually be lessened or eliminated simply by avoiding caffeine. That's good news for most people. However, if that's all caffeine has done to you, you're lucky. Others are not so fortunate. Like the woman whose baby was born with a heart defect because no one told her to avoid caffeine during pregnancy.
Or the man who underwent three surgical operations and nearly had his stomach removed because his ulcers would not heal. No one told him to avoid coffee. And what about people misdiagnosed as neurotic or even psychotic, who spend years and small fortunes in psychotherapy—all because no one asked them about their caffeine intake? To those who claim that caffeine is harmless, I say look at the facts—and, more important, look at your life. Your health is your most valuable possession, and life is short. I am convinced that to enjoy life to its fullest we must maintain health on three levels: physical, mental, and emotional. At each one of these three levels, caffeine is an adversary.
Caffeine versus Physical Vitality
On the physical level, we need a steady source of energy to accomplish our goals. Nothing is more frustrating than to be motivated, to have a great plan, but no energy to carry it out. When I ask patients about their reasons for drinking coffee, the most common response is: "I need the energy." The irony is that caffeine is a major cause of fatigue. Depending on caffeine to get you through the day might work for a while, but in the long run it will make your dreams harder and harder to achieve. To see what I mean, try this experiment. Clench your fist tightly. Hold it closed and very tight for thirty seconds. What happens to your arm and hand? They get tired. This exercise illustrates what happens to your body when you ingest caffeine.
First you feel strong, but soon afterwards you feel weak. That's because caffeine doesn't give you energy—it creates tension, and the ultimate result of tension is always fatigue. You felt the result of squeezing your fist, which only involves a few muscles. Imagine the energy drain created by muscle tension throughout your body after ingesting caffeine.
Caffeine versus Mental Vitality
On the mental level, we need to be consistently alert and aware to function effectively in our daily lives. Caffeine puts you on a roller-coaster ride where mental clarity alternates with periods of confusion, depression, and lethargy. You'll also learn that caffeine does nothing to enhance learning, but actually impairs memory and cognition. When patients relate their coffee stories to me, a common pattern usually emerges. They started drinking coffee occasionally, either as a morning "wake-up" or to stay up late.
Gradually, they found themselves reaching for coffee or cola beverages throughout the day just to stay alert. In time, the habit became an addiction, with their only dependable mental energy coming from the coffeepot. This is sad, because the coffee habit has a steep downside. We pay dearly for those "borrowed" periods of clarity by sacrificing our true mental vitality.
"There is no doubt that the excitation of the central nervous system produced by large amounts of caffeine is followed by depression".
Vitality Is Our Birthright
What we must remember is that vitality is not something that disappears in adulthood. We throw it away by becoming sedentary and damaging our bodies and minds with caffeine. We set ourselves up for a life of ups and downs, when each of us is capable of maintaining a high level of physical and mental vitality well into our advanced years. A healthy child doesn't require caffeine to get out of bed in the morning, and there is no reason why you can't experience the same boundless energy of your youth!
But first you must stop punishing your body and mind with caffeine. Is it worth it? The answer is yes. Patients who have followed the Off the Bean program have found their bodies healthier and minds sharper at fifty-five than they were at twenty-five. Of course, total health also requires emotional stability, peace of mind, and an optimistic attitude. The effects of caffeine diminish these qualities. Relationships with friends, partners, and co-workers depend on harmony, which is destroyed by anxiety, irritability, and tension.
Caffeine not only intensifies the stress in our lives, but makes us less able to cope. If I had a magic wand, I would instantly remove the stress from my clients' lives. Until that magic wand appears, I will do everything I can to help them control their caffeine intake. For some, regaining mental vitality after caffeine means learning a relaxation technique. For others, psychological counseling is recommended. But everyone needs to start by taking a close look at their caffeine intake.
Caffeine and Anxiety
For five years, I worked in a team practice with physicians and psychotherapists. Often, the psychological evaluation would include one or more anxiety syndromes and the recommendation was for counseling. I would point out that the person was consuming excessive amounts of caffeine and request a trial month off caffeine prior to therapy sessions. In about 50 percent of cases, the anxiety syndrome would resolve with caffeine withdrawal alone. Of course, I recognize that counseling can play a vital role in restoring wholeness and peace of mind. It's just that counseling a patient for anxiety who is drinking coffee is like trying to fill a leaky bucket.
Caffeine and Alcohol: Psychoactive Cousins
The undeniable fact is that caffeine is a psychoactive drug, affecting mind, mood, and behavior. While the effects of caffeine are obvious but not always recognized, the effects of alcohol, another psychoactive substance, are easy to spot. We all know how intoxicated individuals behave. When they are involved in automobile accidents, their blood alcohol is measured and they may face criminal charges. No one would think of measuring blood caffeine levels after an accident because there is no data to suggest that caffeine impairs performance.
I would like to suggest, however, that the biochemical and behavioral changes brought about by caffeine may very well contribute to auto accidents. Caffeine disturbs normal decision-making processes. Is it far-fetched to assert that ill-advised lane changes, tailgating, speeding, rage, and stress contribute to auto accidents?. Watch your driving the next time you're "wired" on caffeine and tell me I'm wrong.
There Is Life after Caffeine
Life after caffeine does not have to be dull. In fact, there are delicious and very satisfying alternatives, and I'm not talking about pallid teas, decaf, and instant coffee "substitutes." You'll learn about rich, robust, and healthful beverages that brew like coffee but contain no caffeine. Likewise, life after coffee does not have to be lethargic. Breakthrough research in human metabolism and brain biochemistry has made it possible for you to enjoy greater energy and alertness without coffee than you ever experienced when you were "on the drug".
There are natural alternatives to caffeine that actually enhance metabolic energy production while decreasing the tension in your body. The difference, once you make the switch, is astounding. You can repair your nervous system, manage stress, and improve your energy production naturally. Finally, you'll learn how to obtain the quantity and quality of energy you need for the rest of your long, healthy life. You'll discover that life without caffeine has the potential to be better than you ever dreamed possible!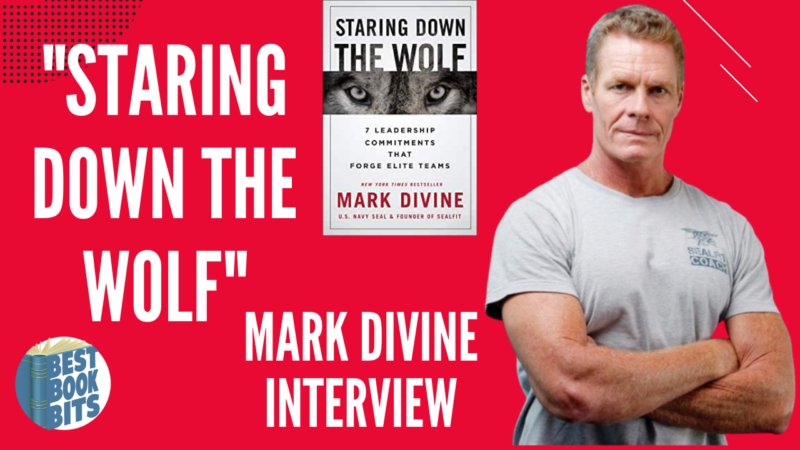 About Mark Divine Mark is from upstate New York and did his formal undergraduate education at Colgate University. His years at Colgate University were focused on athletic endeavors such as competitive swimming, rowing and triathlon racing, interrupted by brief episodes of academic activity. After graduation from "the Gate" Mark started his professional career as a CPA with Coopers & Lybrand in New York City. Clients included luminous and no-longer existent financial firms such as Solomon Brothers and Paine Webber. Four painful years later, with an MBA from NYU Stern School of Business in his briefcase, he left behind the suit to pursue his inner vision to become a Navy SEAL officer. He was 26 when he graduated as honor-man (#1 ranked trainee) of his SEAL BUD/s class 171. Mark was fortunate to serve with many great men and women on active duty for nine year and in the reserves for eleven…retiring at the rank of Commander in 2011. After leaving active duty in 1997, Mark started his second business career as an entrepreneur. He co-founded the successful Coronado Brewing Company and launched NavySEALs.com in the year he left the active duty Navy. NavySEALs.com is the leading web site for gear and information about the SEALs. US Tactical was next, gaining contracts with Naval Special Warfare Group ONE for training support, and the Navy Recruiting Command for a nationwide mentoring program for SEAL, SWCC, EOD and Diver candidates. Mark's business career was interrupted by a stint as an Adjunct Professor of Leadership at the University of San Diego, where he was pursuing his Doctorate in Leadership, then by a one year recall to active duty in 2004. The recall took him to Baghdad with SEAL Team One to conduct a special project for Naval Special Warfare Command surrounding the role of the USMC in Special Operations. In 2007 he launched his CrossFit affiliate and the now internationally known SEALFIT program to provide transformational personal and team training experiences. The training utilizes an integrated warrior development model he developed, called Unbeatable Mind, which draws from his 20 years as a SEAL and business leader, 25 years as a martial artist and 15 years as yoga practitioner. SEALFIT and Unbeatable Mind are uniquely effective at elevating clients to a higher level of operating, thinking and leading – encompassing the full spectrum of human experience – Body, Mind and Spirit in Self, Team and Organization.
My Movie mark divine 2
[00:00:00] Best Book Bids podcast brings you Mark Devine, a Navy Seal Commander, a thought leader, innovator, bestselling author, yoga master entrepreneur, changemaker, and a self-described warrior monk. Mark, thank you for being on the show. Michael, thanks for having me. Thank you. Now your resume is outta this world.
So the experiences you've done and the places you've been and the skills you've learned and the teachings you've taught, take us back to the day you were a Wall Street man before you got into martial arts. Is that correct? How did you un story unfold from there? I was my first career was on Wall Street, literally on Wall Street, the actual physical.
I wasn't in financial services per se, but I was working for a company called Coopers and Library, which is now Pricewaterhouse Coopers doing first auditing and then moved into consulting. And during that time I was also getting my MBA in finance at NYU Stern School of Business. So mba, cpa, work experience at this big firm.
That was the idea, right? That was the story that I [00:01:00] sold myself on and, I barreled into after graduating from. and that made a lot of sense because I grew up in a business family. We have a traditional family business that's been around since like 1895. That's manufacturing, makes stuff, equipment for industry.
And there was this story that, we were business people and that I was ultimately, we gonna come back to the family business. All my siblings are there right now to this day. And so it's expected. , I was grooved, to do that or groomed and grooved. So this opportunity to go to New York and work for Pricewaterhouse Coopers and get my MBA and become a certified public account all fit that narrative right, is something that was good.
Right? There was a lot of kudos, coming my way, both from my family and from culture and yeah, I was on the right path. In other words, right? There was no interest in the military at that time in my. No, like discussions about the seals or the Navy or anything really. Like we were not a military family, so that was [00:02:00] that was not on the table.
Now back to your question. Now what happened there? So I was very athletic. I still am to this day, like a part of my I guess the gift of this biological aspect of my being was to have this this pretty. High capacity for athletic abilities for pain tolerance. That probably came from the conditioning of my father's abuse.
But certainly had a little bit of a pain tolerance and and I got into endurance sports. I was a competitive swimmer and I was a competitive rower and a triathlete. And so all of that was easy to do in upstate New York and at college, because this was a big part of the whole story, right?
College experience, right? You're, you can, if you're an athlete, you get a lot of opportunity to express that. And upstate New York, you're outside all the time. There's tons of land around me, so I got, I was always running and hiking and swimming and whatnot, but now all of a sudden I'm in Manhattan, the concrete jungle and putting a suit and tie on every day and stuck in a cubic.[00:03:00]
And I looked at that and I said, you know what? This sucks. I'm gonna, at least I'm not going to look like these people around me. In five years of pasty white, puffy people, I'm gonna maintain my athleticism. This is the first sign that, I was, had a yogi in me. The yogi mindset that, lifetime of physical training and practice can keep the body in mind as physic fiddle until you're.
Click off. And I've, to this day, I have people in my sphere that I have trained with or that I'm familiar with or connected with who are in their eighties and nineties and just, really don't look much different than you and I, and they train every day. And that's what my early sphere was telling me, do that.
Just keep training every day. So I started running every morning after running, I was sitting. do some stretching, and then I would go to the gym at lunchtime and do a high intensity workout. This was before I knew what HIT training was. All my friends would go have their high carb lunch and a beer, and I would go to the gym and just bang [00:04:00] out whatever I could sweat like a monster, for hours afterwards.
And then this is getting back to the core of your question, like, how did I get into the martial arts and. What impact that had on me. I had this two hour block of time, Michael, after work, they would let us off at five o'clock roughly, and we were, had to be at night school night classes down at nyu, which was down to the World Trade Center before it got mowed down.
we had to be down there by seven 30, so it was like two and a half hours. And again, all the peers who are in this pro, I was a pro cohort based program. It wasn't just me doing this. I was with a bunch of other individuals who were working for other big eight accounting consulting firms and going to NYU with me.
Most of them would go home and eat dinner and change and do some homework and, make their way down to school. And I looked at that as a good block of training. Another training block said, what can I do during this? I didn't wanna go to the gym. I didn't have enough time to go rowing. I didn't really want [00:05:00] to go for a run, I was stumped.
What am I gonna do here? So I was pondering that and walking home one day and I walked past a martial arts studio and I heard the shouting, actually noticed the shouting coming from the second floor, and I was like what sack screams coming out of there. First I'm like, what's going on? Do I need to go render his sisters?
Then I'm like, oh, wow, look at. World SADO karate headquarters and I went up and checked it out and I didn't know anything about the martial arts. I remember from a town in upstate New York with 275 people in it, , it's pretty small. And and it was outside of Utica. We didn't have any real martial arts, at least that I was aware of at the time.
This is 1985. So I go up and check this out and they're in the middle of the floor. Is this classic, just like right outta the movies, this five, six Japanese guy who's just like insanely intense. also very light and playful and spontaneous and just revered by his students. And he was leading a black belt class.
And that was Tahi Nakamura who became I signed up the [00:06:00] next day and he became my mentor and my teacher. And so I started training the martial arts with him. But after about couple months, I stayed to watch the black belt class again, which was on Thursday night after the black belt class, they turned the lights down and they're like ushering everyone out.
And I. I hung around and I saw some senior students bringing some wooden benches out of a corner and kind of setting 'em up and lighting a candle. I said, what's going on here? And the person I asked said that's the Zen class. I said what is Zen? And they said go to the library tomorrow and get the book Zen Mind beginner's mind by a guy named Suzuki and you'll learn about Zen.
So I did that and I just was transfixed by this book, what is this right here? I am a kid from upstate New York, right? With no, no experience or evidence and there that there's anything else going on beyond what was put right in front of me, with the church and with my, family and with my school, and now I'm being exposed to this entire [00:07:00] eastern tradit.
Of developing the mind, body, and spirit and of achieving or attaining different states of being that. Per their descriptions very different than anything I understood or could experience. Yeah. And I think just to jump in really quickly, that's the importance of a beginner's mindset and before a beginner's mindset is not even having a mindset.
So you going into those experiences, open and receptive to the martial arts and then zen fascinating how if you didn't walk past that martial arts studio, how your life would've unfolded differently as well. Oh, it would've been completely different, Michael. Yeah, meditation completely and utterly changed my sense of self, my self-concept, what it was that I believed that I was as a human being, and also what I believed I was put on this planet for, or my purpose.
I could fill up 20 books with just each idea or each major kind of bucket [00:08:00] of knowledge or systemic thinking that happened or changed, when I sat on that meditation bench over that four year period. You've done a good job so far. You've, how many books have you published?
How many books have you published so far? ? I'm working on my, I'm working on my six, and that's the funny thing cuz words are just so limiting. Try to relate things that are. Extraordinarily either complex or simple on the other hand. Yeah. How did you then go from working at Wall Street to then joining buds and becoming ranked number one out of the class of 1 71?
How did someone go from that? Meditation to the extremes of pushing your body to the limits? The meditation had everything to do with it, like you just alluded to if I hadn't found. Knock more in meditation or even if I had just found a martial art that we weren't doing meditation, it wouldn't have happened.
I wouldn't have become a Navy seal because the profound shifts happened when I was sitting on that meditation bench and usually immediately after, within the first hour or two. [00:09:00] But it wasn't any one thing. There wasn't one moment where I suddenly had a explosion or epiphany or some radical non-dual experience.
S steadily progressive experience of deepening my powers of concentration to where then I could really radically concentrate just on my breathing and to the exclusion of pretty much any other thought. And then without really any coaching or prodding by Mr. Namo, I had these moments where I would just.
Forget what I was doing and drop. Drop into the void, right? Drop into just pure perception. I was still there, but there was no mark there. It was just pure, non-dual subjectivity witnessing. , what's the word I use for it? [00:10:00] That's used frequently for that idea, that notion of just pure awareness, just sitting there and just witnessing what's going on, as if there's a mark, as an object, not the subject.
And when I ever, whenever that happened and I came back into identifying as mark afterwards. Waking up out of that non-dual state or, coming back, maybe going back into the dream state. Actually, if you want to use the right language of this perceived reality that we live in, I would always bring back like a little gem of information, of insight or something of direct perception of knowing something that I didn't know before.
And it was always generally about my life or about. . And so what I kept coming back with when I would, and this has happened over the course of two, two plus years I kept getting the sensation that I was a warrior and that I was meant to be a warrior in this lifetime. And yet here I was working on becoming a CPA and an mba, so I started a journaling [00:11:00] practice again, this is 1987 now ish.
1987, no, we had no internet. No one was talking about journaling and meditating and visualizing. And here I was doing it. I was doing all three of those things, meditating every single day. I edited to my morning practice. After my run, I would meditate, breathe, I'd do box breathing, which I practice that I just coddled together.
And I later found through yoga that I was, it's just a very, simple controlled breathing practice in pranayama. And then I would medic. Classic what I'd learned through Zen. And then after I meditate, I would I would journal, right? And I would started asking questions when I journaled, if I'm supposed to be a warrior, how am I supposed to be a warrior?
And can I be a warrior as a CPA or as a business person? Is a Wall Street trader, a warrior? , right? And I would reflect on that. I'm like, oh no. A warrior is someone who's, in my definition at the time was someone who was really putting, willing to put themselves at risk to do something worthy.[00:12:00]
It was someone who was willing to do the right thing in spite of the consequences. He was someone who put others before self. Someone who was in radical service, to either, something much bigger in the case early days for me it was country later on it was, it's humanity. That's where it is now.
And so I asked those questions and then I would take those questions and some of the answers I would get in journaling, which is using my rational, my thinking mind. And I would take back to the meditation bench, right? And I would concentrate and then drop off and I'd drop off with that question in my.
and I would come back with more information or more certainty, or more clarity. And so all of this is happening, and I still wasn't getting any answers, Michael, that said, okay, yeah, mark, you're supposed to be a Navy Seal and you're supposed to go there in November of 1999. Just didn't work that way.
When you're tapping into your inner guide, your s your inter, your. Your inner guru, so to speak, the term sad guru is actually means your inner guru. When you tap into that [00:13:00] and you start to get these experiences that I'm talking about and you're looking for like a direction in life, you're not, it'd be folly to look or to expect that you're gonna get an answer that has anything to do with something material or some physical goal or object.
Like a job or an attainment. Like I didn't get anything that said you're gonna go be a Navy Seal Admiral or Commander, now it was all about being this, the essential nature of your being, the way you're supposed to be in this human form in this lifetime. . So for me that was to, initially it was to be a warrior, and then a warrior leader, and then a warrior teacher, warrior, monk, all of those.
The warrior, the thing part of it that is more of how you show up in the world. First started as a warrior and then it started to change, and now it's a teacher and, but the warrior's still there. It's just taken in the backseat. So those are my, my, my core archetypal energies. And these things get fleshed out in things like the Enneagram and Youngian, [00:14:00] therapy.
They're archetypal energies that even cultures can have, but every human being has it. But it's also, it's something you can tap into if you have, if you lack clarity or what that is. Meditation will. Bring it to the surface, so to speak, and that's what happened to me. One of the biggest takeaways I got from that, I've been journaling for 15 years myself.
I write two pages a day, 700 and something, pages a year, and every night I go back on the previous year in two years, up to about five years. And I just reflect on. The previous days because I realized most of the things I was doing didn't matter. So I wanna make sure that the things I'm doing tomorrow matter in five years time, so I'm not wasting my time.
So optimizing my time. But the thing you said, which was deliberate questioning what I wrote down was deliberate questioning of the subconscious. Of your ingar. So a lot of people journal and reflect on the day, but you actually take it a step further by then saying, okay, let's go inward and let's ask the question to my subconsciously.
You're literally putting it on [00:15:00] the meditation tape. I've never heard that word before. Amazing. Yeah, thank you for sharing that. So it's the next level of journaling. Don't just write things down and reflect on the day, but actually go deeper on yourself as well. Yeah, journaling is a fantastic process.
Stream of conscious. You can get things out, but also, I think one of the most powerful, and I love your practice, what you talked about, that recapitulation is what, one of the things I teach for an evening ritual is to go back and recapitulate. You can recapitulate your day, and I love this idea of recapitulating your week, month, or year, because you're right.
Generally, human beings have a tendency to radically downplay the progress, the successes, the cool things that happen and overplay. The negative and the disasters, the things that they don't have are, the gaps. And so that keeps them in a perpetual state of wanting when they actually have already considerable progress toward whatever it is that their goal is.
So you lack contentment. And so contentment is a [00:16:00] master skill. And we can develop contentment by looking back and recognizing how far we've come. And also by recognizing that wherever we are today is exactly where we need to be because that's exactly where we are. And to be okay with that, it's not always craving and grasping to be somewhere else or someone else.
And just wanna expand on how I do it cuz people think it's it's crazy and it might sound like Coop, but it's not. So today is the 21st of February. I'll just go back for two seconds and read 21st of February, 2022. 21st of February, 2021. So these like one, two pages. So it might take me five, 10 minutes and then.
I'll take it a step further cuz I put the photos in my phone from February in a little folder from like last year, two years up to five years. And I can reflect on the photos as well. But what in the photos is what you don't see in the journal is growth. So growth of my children, the changes, business partners, businesses, whatever it was.
And you can see how small my thinking was. And it's just very interesting when you reflect on yourself. It's, there's this power, it's this, it's, there's a [00:17:00] underlying power because of your knowingness, of your beingness and where you're at and your journey. It's very powerful. So for anyone that doesn't do it, it's like you're missing out.
The best time to plant a tree was 20 years ago, but second best time is today. We're so taught in the Western world. Try to force things to happen. We believe that we are the lever that we're the cause, that we're the doer. And what I've learned, and especially through this recapitulation practice and is and being, and this idea of contentment, is that if you can connect in with that aspect of being, or if you bring good questions to your meditation and contemplation, and then just sit in a state of open receptiveness and allowing things to happen, allow the thoughts to come to you, allow.
The information to show itself to reveal itself. And this is how I became a Navy seal. Like I was having these moments where I, like I knew beyond a shadow of a doubt, I was a warrior. I was meant to be a warrior. I had also a sense that I was barreling down the wrong path with [00:18:00] my with my professional career, but I didn't have a solid answer as to what was to replace it.
I did start a practice. I called trying on the uniform where I would visualize. Doing different things that I thought were warrior like. So one of them was flying jets. I visualized myself flying jets for the Air Force and the Marine Corps. And I did that for a while. And at first it, it seemed exciting and then, after doing it for a few days or maybe a week or so like that with the intention, okay, what if this is it?
Let me act as if this is it. Let me visualize myself doing this as if it's it. I started to get bored. I'm like, actually this is act. That exciting to me. Just, it's just turning knobs and yes, it's exciting to go fast, but it's not, doesn't have the variety and the adventure and I'm not using my body the way I feel like I'm using my body.
So then I thought what if I was a roughneck on an oil rig? That could be warrior-like and cool. And so I envisioned myself, what that would be like. Again, I didn't really have a lot of information, but I could imagine what that would be like. I didn't have top gun and I didn't have you.[00:19:00]
The movies that we have today. So it's a lot easier to do that today, cause you can actually, you can actually talk to an astronaut even, or get a sense for what that's like. So I, and I did that and I was like you know what? This sounds pretty gritty. It might be cool for a month, but again, I can't possibly see doing this stuck on a rig day after day for years.
So I went, as I was going through this process, this, I had the knowingness that I was to be a warrior. I was trying to, I was putting on uniform and visualizing different ways to be a warrior, and then the universe stepped in to gimme a hand. This is synchronicity, right? The idea of synchronicity is essentially that instead of looking at me as a separate doer, separate from an analyst, we are, we are actually.
one stream of conscious flowing through these body mind beings, these instruments. And when you align and tune in with that and you're in tune with what the body being is supposed to be [00:20:00] doing, then you are presented with that. The information, you just gotta pay attention, right? And the way that happened to me, the way the information was presented to me, that was gonna be the right information.
For this being in this, instant of being a human. I was walking, it was very similar to how I found karate. I was walking home from work, pondering these weighty things, and I walked past a Navy recruiting office and there was a poster facing the street and it said, be someone special across the top.
And it had Navy seals. Don't coal shit. Didn't say anything about the Navy Seals. This is 1987. and the Seals were a secret organization. They wish they still were to this day, but the cat is outta the bag, about 800 people in the organization. And I just, but I stopped and looked at this poster and I was like, holy shit.
There's a guy free falling and a little mini submarine and a sniper and a spotter in a h sight, you can barely see him. And it was just wicked. The cool. I was like that right there. That's it. And I went the next [00:21:00] day and I said, what? Whatever's on that poster, what are they, what is that?
And they're like, oh yeah, you don't wanna know about those guys. ? I said, yes, I do. What are they? And they said they're called the Navy Seals. See our land teams. And they're very they're just bad asses. But, I said that's, I'm interested in that. and I said I'm also an, I was talking to the ill recruiter.
I said, I'm also gonna have my MBA pretty soon, so I'd probably, if I do that, do they take officers? And they said, very few, but some, and, but you don't wanna be an officer . And they gave me all the reasons I shouldn't be an officer. So I said I think I'll talk to an officer recruiter anyways.
So I did and met one a week later named Nick and. He was very similar. He was a great guy. He's geez, mark, I have to research this. I'm not even sure how guys get into the seals. I do think there is a program for someone like you, but they only take one person a year, maybe two, because most of the officers would come out of the Naval Academy or the Reserve Officer Training Corps, and they take about 20, only 20 a year.[00:22:00]
In the front end and they maybe get 10 of them into the seals at the end of the year. Cause most of 'em, half, about half the officers quit buds and about 85% of all the other enlisted don't make it through buds either the SEAL training. So I said I wanna go for that. That's what I want to do.
I don't wanna do anything else. I said, let's figure out how to put a package in for that. I shifted, he said, okay. And I shifted my training just slightly. I didn't do anything different physically, except I did actually start to lift weights cuz I wasn't lifting weights besides my high intensity stuff.
So I got more deliberate. I added some strength training I wanted to put some beef on. But the other thing that I added to my training was, and my morning meditation, at the end of it, I added a visualization session where I visualize myself going through SEAL training and graduat. And I used as a basis for that imagery work, the video called Be Someone Special.
And it had an imagery of all the Navy SEAL training. It was classic. So I watched that about 20 times and then I inserted myself [00:23:00] into that video and I visualize it every single morning. Now, funny like footnote to this story is the power of visualization. I'm sure you were aware, maybe you talked about is.
That practice was profound. I didn't even know it. I was just working off of a hunch based upon an experience I had with my swim coach who taught me how to visualize my event at Colgate, the 200 meter breaststroke. And I had a pretty profound experience with that. And so I was like, I betcha this would work.
So I visualized myself, just crushing everything I could think of at buds and believing that I was worthy of it. And I did it every day for about nine months. And this is while I was waiting to hear from Nick in the Navy. And he's telling me, don't get my hopes up. I've got statistically a better chance of becoming an astronaut than a Navy SEAL from the civilian world, at 25, 26.
And I said just keep pushing them, pushing the package. Keep supporting me. And nine months of that visualization practice, I had this overwhelming sense of [00:24:00] certainty wash over me that I was going to be a Navy seal. I was already a Navy seal. I just needed to let time catch up.
And literally in the next few days, Nick called me, said, holy shit, mark, congratulations. You got one of the two slots to go to SEAL training after Officer candidate school. And I was smiled and I said, thank you . , I already knew what had happened. I called that winning in your mind before you step foot in the battlefield.
And that was from my classic Sun Sue quote, the Art of War author. He said, victorious leaders win in their mind before they go to battle, whereas others go to battle hoping to win. And it means to be have that absolute sense of certainty about what the outcome is gonna be because you see it in your mind and you see it at a level that is so clear.
And you believe it, that you know it's gonna be true. And what's happening here now, now I recognize is just like a past event you have a memory of, right? So you believe that this thing happened to you and cuz it did in a different [00:25:00] time. And you have this memory now if it was something really bad, a lot of times like traumatic, a lot of.
We will go back and re reinforce that memory by re replaying it in our mind and replaying, how it hurt us and the victimization and even talk therapy can, actually enhance the image through constant repetition, just scraping your emotional life over the coals of that past trauma.
And you're actually feeding it, you're feeding the energy of that memory so you know what you give energy to will persist and grow in. So you can use this to your advantage by, in a retro sense, those trauma-based things, you've stopped feeding them energy and you can recontextualize what happened and find something positive and then feed the positive energy of that, like the strength that it gave you or the awareness or the sensitivity or, there's always a flip side to the negative.
everything has a positive side and a negative side. So you focus on the positive and you energize the positive and you de-energize the negative. That has an incredibly [00:26:00] powerful effect for emotional healing of trauma. But in a future state, what you can do is you can create an image of a future desired state, and as long as it's alignment with it's aligned with that purpose or that calling that.
That you've surfaced through your meditation or your contemplation practice. It's gotta be an alignment, and it's not a doing thing. It's a becoming thing. So I was visualizing becoming the man worthy of just crushing buds. I wasn't visualizing so, so much on the accomplishment, the achievement, the doing part.
And what I was doing is I'm creating a future memory and then I'm adding energy to that memory as if it had happened. and the more I feed that future memory as if it's happened, the more it creates, like this gravitational pull this gravitational field in like the matrix of the world where it starts to create this ripple effect where everything starts to line up to support.
The achievement or the accomplishment that you already created in your mind, the winning in your mind before stepping foot in the battlefield. So I did that [00:27:00] and sure as shit, I got the orders to go to Buds November of 1989. I got my mba, CPA tested for my first degree, black belt. All of that happened in November, and I also left New York, left my job, left the Dojo, and went to Officer Cannon.
and then I went to Buds basic underwater demolition seal training with Class one 70 in April of the next year in 1990. In that class, I graduated 185 of us standing there that first day and six months later there were 19 of us left and I was number one graduate and my entire small boat crew of six others was graduated with me cuz I taught them a lot of these skills.
I taught them box breathing, I taught them visualization. I taught them positive self-talk. and and we just dominated. It was. I think you answered why you were number one in, in, in that. So thank you for expanding on that because it's not you outworked people. You actually went in there, they weren't short, they didn't realize you were the warrior monk, [00:28:00] and then you were uncovering that yourself and teaching others.
So you are going in there as a teacher, not just as a student as well. One story you said in the book and you didn't finish it, and I wanna know the answer. They said jump in the pool and swim to the other edge, which was 50 meters underwater Foy cloth. And you said, okay, and you jumped in, you swam to the other edge, you did a bit of a dive, you kicked back and went halfway.
So you did about 75 meters, and then you got in trouble and they sent you to the office or wherever it was. What, did you end up getting in trouble or what was that story? You said it in the book, but you didn't tell the finish. Now the story, actually, the story, I didn't get in trouble. I actually.
So that story was, I was originally had orders, right? Literally when you're ordered, you do it right. I had orders to go to Class 1 71 and I showed up in as I said, I showed up in Coronado in April after Officer Kenneth School and class one to 71 wasn't gonna start up for eight weeks. Another two.
And so they had some, back [00:29:00] then they had something called fourth phase. There's three phases of buds. First, second, the third phase. And then this fourth phase was kinda like the holding tank for guys waiting to class up in the next class. And they trained, here and there. They did training, they did obstacle course, they did running, they did basic training.
But I was ready to go. I thought I was gonna go and I was ready to go. And so I heard there was a, Starting on Monday. This is a Friday that I got there and Class one 70 was gonna start on Monday. And I thought, geez I want to be in that class. So I asked a couple people, they said, oh, I got orders to 1 71, but I wanna start up with one 70.
I said, that's stupid. You got orders if you follow your orders, . I said . Maybe is there anyone I can talk to about this? They're not used to having NBA CPAs, show up at SEAL training. Most of 'em were like seven, 18 year old. Kids still bad asses, but young, not willing, not usually already questioning authority.
Someone said Lieutenant Rick May is in charge of fourth phase and he's gonna be the one who decides who starts on Monday and who. [00:30:00] He's down in the pool or combat training tank, which is the seal speak for maybe seal pool. So I jog on over to the combat training tank in my boots and ts and my helmet, seen the little helmets that seals trainees wear. And they're open, I go in there and 184 guys lined up and they're udet shorts along the side. And they were doing crossovers, which is swimming crossovers, 50 meters. And And they parted and on the high diving board was this bronze, blue-eyed blonde hair, Adonis guy six three.
And his name was Lieutenant Rick May. And Lieutenant May saw me come in my uniform, saw my Ensen bars, and was like hello Enzy. How can we help you? And everyone's watching me like, what is this guy? And I. Lieutenant Macer, I'm Vincent Divine. I have orders of Class 1 71, but I want to class up with one 70 on Monday.
And he just kinda looked at me. He goes that's unusual. He goes swim 50 meters underwater for us, and and then [00:31:00] we'll chat further. So I started to take my boots off. He goes no. Leave everything on except for your helmet. So I put my helmet down. , I took a couple deep breaths and dove into the water and started doing my underwater kick out.
And like I'm, if you imagine swimming with combat boots on , it was pretty rough. I felt like there were anchors, right? And so I had to really use my, my pullout, my pole. But I was a competitive swimmer and I happened to be a breaststroker, so this wasn't unachievable. So I swam, touched the other side, a 25 swam back and I made it right.
So I, I didn't actually fail. So I hit the wall, I climbed out and may looked at me. He said, come see me in my office in an hour. So I went and saw him and he said that, that was impressive. And I can tell you really want this, so I'm gonna. , let's just start up on Monday, class one 70. . So that was pretty cool, right?
It's like I wasn't gonna take no for an answer. Obviously if you finally said no, but most people wouldn't have even gone down that road. And again, I don't even know why I did that. That was just, again, [00:32:00] listening to my intuition, listening to the inner voice that said, do this right, go now. It wasn't something that I'd rationally thought about.
It's just something. There was the only thing that I could have done was just not do it to block myself. And again, that was one of the most profound these things in my life where I just did something spontaneously and didn't question it and turned out to be right. I realized that, life is like that.
We think that we're making these decisions, and the reality is this consciousness streaming through. and it's hitting the conditioning of your body mind. And then that shows up as and then immediately slips into memory. And we think that we're, we're the genius that's, figuring all this shit out.
The alls you can do is block yourself from your awesomeness right? In life. So that's, to me, what, what personal growth or spiritual development is to get out learning, to get the heck outta your own. One thing we'll finish off with the seals and we'll nip it in the bud. No pun [00:33:00] intended.
I believe from an outsider's perspective, not a military person, that the whole idea of seal training or any training, it's you're dividing people from words and actions. 185 people start 19, finish, you become number one. The whole process is to divide people that say they want it, and the 19 that actually do the actions.
That actually not just wanted, but do the actions required and do whatever they're willing to sacrifice to get the job done. So it's just a divider of, you say you want it, but these are the people who've actually done it. So words and actions. So that's my outsider's perspective on life as well.
Stop talking about doing things and start doing things. And then once you've. Stuff. You can talk about what you've done, but you can't talk about what you are going to do. You can only talk about what you've done. That's my analogy of the whole spectrum of that. I think you're right, but, and so what you're pointing to though is a requirement to be very [00:34:00] thoughtful and careful with what you say you're going to do.
Because there were 170 some odd people, or 60 some odd people who said they were gonna. or said they were gonna try to become Navy Seals, whereas I said that I was a Navy Seal and it's very different. And so that means a lot of those people shouldn't even be there. They have a poor self-assessment of what they're meant to be doing and why they're doing it, and also their capabilities.
Absolutely. One, one obviously Navy SEAL that I actually seen a couple weeks ago in person that. Probably know his name. David Goggins, obviously very famous now and what do you know about David and what's the, have you met him before? What's the obviously you did Buds in the eighties, what's, how's it changed or what's different?
Yeah. 19. No, I did Buds in 1990. He came by letting me buds hasn't changed. Buds is Buds. Is buds. It's gotten a little bit more sophisticated, a little safer than when I went through. , it's still brutal. And they still have the same, [00:35:00] 85% fail, right? David Gog is he's a unique individual, just like a lot of, not all, some, there's some Navy Seal, I call it 10, 10% rule that kind of slip through the cracks and, but for the most part, there's some extraordinary individuals and Pliny who have the same level of fitness as Goggins just don't, aren't.
Posting videos every day and making a life out of it, or a career out of it. I've got friends who've just done extraordinary things that just literally blow your mind. It's crazy. Goggins is a, he's entertaining, right? Just like Jocko. Those guys are phenomenally entertaining. Their presence and ability to communicate is extraordinary.
And they've done, they do extraordinary things. Most of Goggin's extraordinary stuff is his story about getting through training and then what he's done after the seals. He wasn't, there was nothing extraordinary about his Navy SEAL career and most seals know that he just really didn't do much and he got out and capitalized on it, which is fine, right?
He's a badass in that regard. But Jocko, like Jocko's different and Jocko was a fucking lawyer. and he was a phenomenal leader and he, he made an [00:36:00] impact his team made an impact in Ramad and whatnot. So they're very different, but they're both are big personalities and they, their presences are made amazing.
They're very funny and motivating, right? So they got big followings. Back to Goggins. I met Goggins. I've interviewed him. There's something about people like. Who are always chasing hard and more, and they're doing it because of the child, the trauma of their child. They think that is going to heal them from their trauma or they're doing it thinking that their trauma made them strong enough to do this.
The reality is that's fine, up to a point, but there's going to need to be. Some reckoning, right? Some way to balance out all that energy, right? The yin and the yang have to be in balance, the hard and the soft. And he doesn't have an off switch. He doesn't have a down switch. And so I, I worry about him in that regard.[00:37:00]
I feel like if you were to do all that and you were getting therapy, deep therapy to do the, heal from the traumas, that's great, and you may still do that stuff there, but there's gonna be a time where you stop doing it, or ego just doesn't need to be known as the hardest man on earth. No. Said.
Well said. With your career. So after Bud's active duty for nine years and in reserve through 11 as well. Retired of the rank of commander in, in 2011. We don't have to touch on that because we've gone on so much as well. But is there anything you want to touch on there before you start your entrepreneurial career as well and doing some amazing stuff with SILF Fit and things like that?
I was very blessed to be able to. Get into business as a reserve seal. The reason I became a reservist, cuz I got married in 1994, early in 95, and I was at, in Hawaii and at sdv seal delivery vehicle team. That submersible unit, some cool little submarine stuff that we did. And I just don't think my new wife and I.
Knew what the impact of being a seal, being a married seal was gonna be. Especially on her, for me it was like always adventurous from [00:38:00] one adventure to another adventure. I didn't like leaving her but I loved being a seal and so on. Her side was, she gave up her career. She was a therap private practice to the therapist.
She had two young daughters or daughters who are now getting. . And so they were out of the house at 15. One of 'em bailed on school already and got her g e d and the other one's a little bit older. So they stayed home in Coronado cuz they were in school and they didn't want to, they didn't want to come to Hawaii.
And so she gave up a practice and we moved to Hawaii and then guess what? I'm gone I'm gone the whole time, just back and forth a few times, a few days here and a few days there. And after a year of that seals are basically gone for 11 months of. Even when they're technically home and not deployed, they're gone training, especially in Coronado or Little Creek, Virginia, where the seal bases are, there's, you can't really do much training in those towns, so you've gotta go on a travel trip to, to do your training even in the country, anyways, so 11 months out of the year, and she just came to me one day, in tears, says, I can't do this. And it's that come to Jesus talk me. So I said, [00:39:00] okay, I gotta make a, So I, I left the Navy active duty, but decided to stay in the reserves, and that was cool because I got to do a lot of really cool things.
I even went to combat as a reserve Lieutenant Commander in 2004, went to Iraq. But, I, my reserve time, except for the two years that I was mobilized for a whole year, I was, I would do like 45 to 60 days a year. The rest of the time I can be in business. And I wanted to bring some of these skills that were so effective for me getting through SEAL training and being a leader in the seals.
I wanted to teach. Special operators, these skills. So I launched this company called Seal Fit and began to teach them these skills, these meditation, concentration, visualization, how to manage your mind and emotions and how to be an incredible team player. And so with SEAL Fit was amazing. We started training SEAL candidates first and then got into other special forces units and then civilians.
And now we even do corporations, but our SEAL trainees, the ones we train in these principles, 90% of them get through Navy SEAL training, which is. So we've trained several hundred Navy seals in our system, and [00:40:00] now Bud s the SEAL Training Center themselves have implemented some of the techniques that I innovated or evolved.
And so that's really cool to be able to see this kind of come full circle and we still run these programs at Seal Fit and try to make people stronger and body, mind, and spirit. And we run more integrative person. In holistic development programs through the brand of unbeatable, and also we have a gear line called brute force, which is unstable load sandbags and weight vests and kettlebells and stuff like that for austere training.
Now one of your, we haven't even deep dived into any of the books, and I think we're gonna run outta time, but I know you've got five books out there, writing, writing another one at the moment, and so much content. I think I had 87 pages of notes here. We're on page two right now. True story, one of the one of your goals is to reach a hundred million people's sorry, inspire and train a hundred million people by 2040.
How do you unpack that? It's not something that I can say [00:41:00] that I'm looking at a hundred million customers or clients. I want, I'm talking about bringing a hundred million people into a path of wholeness or, to, into a self-determination, self-determining evolutionary process.
It's a wholeness right path of integration. What I mean by that is someone taking responsibility for growing physically, mentally, emotionally, intuitionally and spiritually. We call those the five mountains. So I can do that through my books, through my podcast, mark Devine show through all my, 400 or 500 certified coaches, doing their work through.
Coaches that I have trained, who've written books, who have, started businesses through there's a number of academic institutions that I've used my work, for curriculum especially the way the seal and unalign. So it's gonna be like all these different touch points and then those touchpoints training another generation of [00:42:00] teachers who then have all these different touchpoints, and so again, it doesn't, you do the math that you can hit big numbers fairly quickly. Yes. And I'm, and I gave this a 20 year timeline. No. Perfect. Yeah. One of my, I've got a goal to educate a billion people on the planet for free. I think I'm at 10 million right now, and that's just on online question.
I'm getting into the gym business and I had a business meeting last night with some business partners and we're talking about Les the reformer Pilates. We've got yoga in there as well. Les meal training. Can't you have seal? as a small gym or a program is something we wanna look at. I, because that could be, that would be global.
That would be global. Yeah. I just need to figure out that business model. I tried to do a licensing model and the certified coaches, I I realized that they really need to be seals, right? You need to have sealer special operators as the head instructors per se, for the program to have the authenticity that you want it.
So that is the limiting factor. But I'm looking at that business model of creating that model [00:43:00] for, transitioning Naval Special War for, I would allow other special ops. to do it as well. So you create a business model that's exciting where they can go in and be, run their own seal fit training center location, which would have gear, would have training models, we'd have events and I think that'd be huge.
I've got I've answered it. So you would have, like 45 hard, how people doing, oh, I'm doing the 45, 75 hard, or something like that. It's okay, that's like bootcamp. Yeah. You would have seal fit hard and seal fit light. That's a great. A silver fit light would just be like, really light for the up and comers, but I would split it into light and hard.
Yeah. Yeah. If you wanna help me with that one, just let me know. . That is a great idea. Yeah think and culture knees, and I'm glad you're doing what you're doing cuz you know, especially the last few years in the pandemic, we're just way outta whack. There's so many men mental health problems and people are so unhealthy and unfit and they're just outsourcing so much of.
Life to government, right? Or to corporations. And they don't realize it, right? It's just being nipped and tucked until their freedom is gonna be [00:44:00] eventually gone. And so instead of fighting that, the way you find freedom is by claiming it back in your own life, right? And you do that by being physically healthy, mentally healthy, and spiritually healthy.
And then you don't need pharmacological. Of interventions, right? You start eating really well. So the, the people selling junk food start getting less and less of our business, start making better decisions about your life and still obviously have to live within the constructs of the social structures that, arose because of the collective mindset of our world and our generations.
But you can find autonomy and. by first finding it within your. Be the change you wanna see in the world. That's what Gandhi said. Yeah. Correct. Yeah. The old saying, make your bed in the morning. There's a whole book about that. Get your house in order. We've all heard these things before, but it's one of the things he said earlier, which it was the para [00:45:00] visualization.
The difference is are you directing your life or is someone else directing your life for you as well? All comes down to the in. And just, yeah, you're either a warrior monk or you're not. It's as simple as that. But Mark, I wanna say thank you for being a guest on the Best Book Bits podcast.
Where can people find you socially? Where can they buy your books? Check out your programs? My books are all available at Amazon to search for Mark Devine or Unbe Mind, or the way of the Seal staring on the Wolf. Also my personal website, mark devine.com. D I v i n e has, information. It's got my blog, it's got, you can sign up for my weekly newsletter called Divine Inspiration.
Comes out every Tuesday. It's a great place to go. And if you're interested in the type of training, we're talking about seal fit.com. We'll have probably the best up-to-date information. Go there and, learn about some of the programs that we're rolling out and the podcast as well. The Mark Devine show too.
Mark Devine. That's, thank you for reminding me that the Mark Devine show right. Is on [00:46:00] Apple or wherever you listen, Spotify and we've been, we're in our eighth, ninth season now. Ninth season. Yeah. Amazing guest. You're up to, I think 351 episodes, somewhere up there. . Yeah. Awesome. Congratulations. Yeah.
Somewhere in the mid 300 s and, has some incredible conversations and some solo cast where I just, riff on things that are interesting to me and that's one thing that I need to do. Solocast, I haven't done that yet. It's just a bit strange for me, but I think I'll, I think I'll do that.
Nah, cool. People love it. I need to do more of them. I'm gonna be doing less of the interview style, promoting someone else's book and more of the, more deep conversations in the. Yeah. Yeah. Absolut. No, great. Yeah, to my audience, please go out and check out Mark stuff. You've, yeah, you've done a ton of work.
Such a massive wife resume through there as well. Keep producing content, keep doing that. And yeah I'll do what I can to promote you to my audience. But yeah, thank you for coming on and it's really good to speak to a warrior Monk, someone who's done some hard shit, [00:47:00] but actually gone very deep on the internal stuff as well.
So that's a, it's a great quality mark. So I just wanna congratulate you on that. Enjoy the rest of your day and thanks for being a guest on the Facebook Feed podcast and we'll speak soon. Okay? Thank you, Michael. Appreciate it.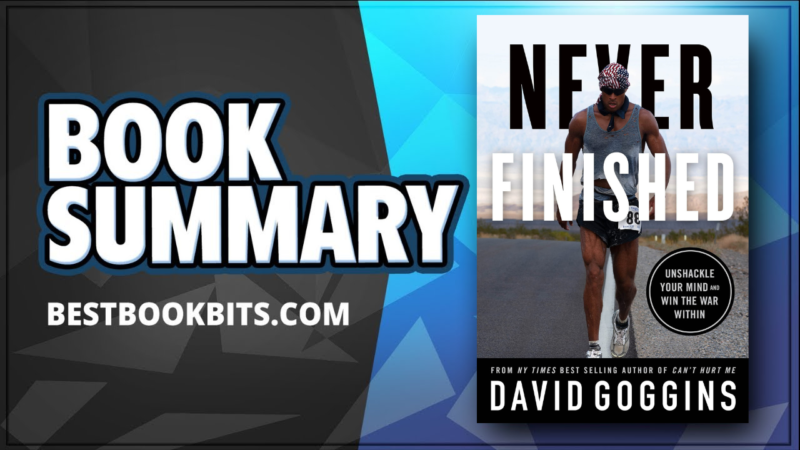 If you have been thinking about starting or growing a YouTube channel or Podcast show, writing your first book or creating your first course. I consult creators all around how to monetize their passion and creative dreams. Book a free consult with me here to find out how we can work together so you can start making money online now.
Download the PDF Summary here
Never Finished: Unshackle Your Mind and Win the War Within by David Goggins
???? DOWNLOAD THIS FREE PDF SUMMARY BELOW https://go.bestbookbits.com/freepdf
???? DOWNLOAD THE 500 BOOK SUMMARY BOX SET HERE https://go.bestbookbits.com/150
????BOOK IN A FREE PRE COACHING/CONSULTING CALL HERE https://go.bestbookbits.com/coaching56952098
???? GET A COPY OF MY NEW BOOK HERE
https://go.bestbookbits.com/freebook
???? DOWNLOAD MY NEW COURSE
https://go.bestbookbits.com/coaching
This is not a self-help book. It's a wake-up call!
Can't Hurt Me, David Goggins' smash hit memoir, demonstrated how much untapped ability we all have but was merely an introduction to the power of the mind. In Never Finished, Goggins takes you inside his Mental Lab, where he developed the philosophy, psychology, and strategies that enabled him to learn that what he thought was his limit was only his beginning and that the quest for greatness is unending.
The stories and lessons in this raw, revealing, unflinching memoir offer the reader a blueprint they can use to climb from the bottom of the barrel into a whole new stratosphere that once seemed unattainable. Whether you feel off-course in life, are looking to maximize your potential or drain your soul to break through your so-called glass ceiling, this is the only book you will ever need.
Warning Order
Time Zone: 24/7
Task Organization: Solo Mission
Situation: Your horizons have been limited by societal and self-imposed barriers.
Mission: Fight though resistance. Seek unknown territory. Redefine what's possible.
Execution: a) Absorb the philosophy within. Test all theories to the best of your ability. Repeat. Repetition will sharpen new skills and stimulate growth.
B) This will not be easy. To succeed, you will be required to face hard truths and challenge yourself like never before. This mission is about embracing and learning the lessons from each and every Evolution so you can discover who you really are and can become.
C) Self-mastery is an unending process. Your job is NEVER FINISHED!
CLASSIFIED: The real work is unseen. Your performance matters most when nobody is watching.
INTRODUCTION
There are times in life when we become so disconnected from ourselves that we must drill down and rewire those cut connections in our hearts, minds, and souls. That is the only way to rediscover and reignite belief – that flicker in the darkness with the power to spark your evolution.
Life is the mountain we are all climbing, but hope is not an anchor point. It's too soft, fluffy, and fleeting. There's no substance behind hope. It's not a muscle you can develop, and it's not rooted down deep. It's an emotion that comes and goes.
There are two levels to belief. There's the surface level, which our coaches, teachers, therapists, and parents love to preach. "Believe in yourself," they all say, as if the thought alone can keep us afloat when the odds are against us in the battle of our lives. But once exhaustion sets in, doubt and insecurity tend to penetrate and dissipate that flimsy brand of belief.
Then there's the belief born in resilience. It comes from working your way through layers of pain, fatigue, and reason.
A lot of folks feel like they are missing something in their lives – something money can't buy – and that makes them miserable. They attempt to fill the void with material things they can see, feel, and touch. But that empty feeling won't go away. It fades some until all gets quiet again. Then that familiar gnawing in their gut returns, reminding them that the life they are living is not the fullest expression of who they are or might become.
Unfortunately, most people are not desperate enough to do anything about it. When you're hogtied in conflicting emotions and other people's opinions, it's impossible to tap into belief and easy to drift away from the urge to evolve.
I'm haunted by my future goals, not my past failures. I'm haunted by what I may still become. I'm haunted by my own continued thirst for evolution.
The work is often as miserable and thankless as it ever was, and although there are techniques and skills I've developed that can help along the way, there is no certain number of principles, hours, or steps in this process. It's about constant effort, learning, and adaptation, which demands unwavering discipline and belief. The kind that looks a lot like desperation.
CHAPTER ONE: MAXIMIZE MINIMAL POTENTIAL
When you're living in hell, the only way to find our way out is to confront the Devil himself.
Roger that. It ain't your fucking fault that you were dealt a bad hand, but…it is your responsibility. How long will you allow your past to hold you back before you finally take control of your future?
I accepted the hard truth that hoping and wishing are like gambling on long shots, and if I wanted to be better, I had to start living every day with a sense of urgency. Because that is the only way to turn the odds in your favour.
Reality can be a mofo when all of your excuses are stripped away and you are exposed for exactly who and what you have become, but the truth can also be liberating.
EVOLUTION NO. 1
Like medics on the scene of a car accident, we all must act with a sense of urgency and tune into that ticking clock in the back of our minds. Because there is a drop-dead time on everything we do in life. All our dreams and visions come with expiration dates attached in invisible ink. Windows of opportunities can and do close, so it is imperative that we do not waste time on bullshit.
You have been preoccupied by bullshit for way too long. It's time to switch your focus to the things that will slingshot you forward.
CHAPTER TWO: MERRY FUCKING CHRISTMAS
She needed to take her soul back and introduce herself to herself.
Denial is self-protecting, but it's also self-limiting. Accepting your full truth, including all your faults, imperfections, and missteps, allows you to evolve, expand your possibilities, seek redemption, and explore your true potential. And until you unpack your baggage, it will be impossible to know what your potential really is. The whole truth can't haunt you if it serves you.
Never be satisfied.
This shit ain't permanent. Life is the ultimate competitor. It takes no days off, and it won't care if you've made some money or got a promotion at work. All that means is you are good to go for a moment or two. No matter how badass and successful you think you are, trust me, there is a semi coming around a blind curve, ready to smack you in the fucking mouth when you are comfortable as all hell.
EVOLUTION NO. 2
Many people write out their darkest moments in a journal or diary and hope to gain some leverage on whatever it is they survived or are struggling to overcome. I've kept a journal for years, but there are levels to this shit, and a written archive is the entry level. Audio recordings are more interactive and accessible and have a more profound effect on the mind.
If you were bullied, abused, or sexually assaulted and are willing to speak the unfiltered truth into the microphone and listen to it over and over, after a period of time, it will become just another story. A powerful story, for sure, but the poison will be neutralized, and the power will be yours.
The way we speak to ourselves in moments of doubt is crucial, whether or not the stakes are high. Because our words become actions, and our actions build habits that can coat our minds and bodies with the plaque of ambivalence, hesitancy, and passivity and separate us from our own lives. If any of this sounds familiar, grab your phone and record your inner dialogue as soon as you wake up. Don't hold back. Spill all your dread, laziness, and stress into the mic. Now listen to it. Nine times out of ten, you won't like what you hear. It will make you cringe. You wouldn't want your girlfriend or boyfriend, your boss, or your kids to hear your unfiltered weakness. But you should.
Because then you can repurpose it. You can use it to remind yourself that changes must be made. Listening might inspire you to commit to your life in a deeper way, to be your best at work, at school, or in the gym. It can challenge you to rewire the narrative so that when you bed down, you won't feel like you wasted another valuable day.
Do it again the next morning, but this time, once you get through listening to all your whining about the shit you don't want to do, sit up in bed and lay down a second take. Pretend you're motivating a friend or loved one who is going though challenges. Be respectful of the issues they face, but be positive, forceful, and realistic too. This is a skill that demands repetition, and if you do it regularly, you'll find that it won't take long for your self-talk to flip from doubt and dread to optimism and empowerment. The conditions of your life might not change a whole lot at first, but your words will make sure that your approach does change, and that will eventually enable you to shift everything. But you must speak the truth and be willing to listen to it. Don't be afraid of your weakness or doubt. Don't be embarrassed and pretend it doesn't exist. If surfaced for a reason, so use it to flip the dynamic of your life.
It's time to make your own mixtape.
CHAPTER THREE: THE MENTAL LAB
I looked at each day as an opportunity to mine the negativity that had colonized my brain and became fascinated by the power of the mind and how it can work for us and against us. Often, it falls prey to the merry-go-round of emotions and situational conditions that cause confusion and sap us of focus, force, and fortitude, all of which have a natural tendency to ebb and flow like the tide.
If you don't feel like you're good enough, if your life lacks meaning and time feels like it's slipping through your fingers, there is only one option. Recreate yourself in your own Mental Lab. Somewhere you can be alone with your thoughts and wrestle with the substance of what and who you want to be in your one short life on earth. If it feels right, create an alter ego to access some of that dark matter in your own mind. That's what I did. In my mind, David Goggins wasn't the savage motherfucker who accomplished all the hard shit. It was Goggins who did that.
While money doesn't always make you happy, it damn sure can make you feel satisfied. And satisfaction is a hop-step from complacency.
Weekend Warriors do hard things when they fit into their busy schedules. They do them to check a box and only when they want to. Then, they dial it back after a couple of long, hard days. When you are a fulltime savage, it's a lifestyle. There is no "want to." There is only "must do."
You cannot lose the core of who you are. Your core is your stability. It's what dictates how you move through the world. Physically, when your core muscles are weak, you are literally a pushover. Psychologically, when your core values come into question, it's easy to lose yourself.
You are either getting better, or you're getting worse. You're not saying the same. And I'd failed to heed my own words. I wasn't training to gain any longer. I had become a maintenance man, and while it's certainly possible to maintain muscle tone and a certain level of cardiovascular fitness, you cannot maintain the savage mind.
If you stop grabbing iron with your bare hands, they will lose their callouses. Your mind works the same way. You have to fight to keep that mindset of getting up every day to get after it because it wants to go away.
Long before the body goes soft, the mind will have softened.
The ego is an amazing force. The more I heard about my own success, the more tempting it became to coast, as if I'd finally arrived. Even though I know that they journey never ends and that there is always more work to do, when life stops kicking you in the teeth and serves you a big bowl of praise pudding instead, it's easy to feel that you are the big man. Especially if that level of respect was hard-earned. But praise – whether it comes from your supervisors, your family, or anyone else – has a downside. It can soothe the inner savage and keep you from feeing the need to grind.
A chance to prove myself to be uncommon amongst the uncommon once again.
The world needs doctors, lawyers, and teachers, but we also need savages to prove that we are all capable of so much more.
EVOLUTION NO. 3
Many dreams die while suffering. Think about it. We conjure our biggest dreams, our more audacious goals, when we feel safe and warm. Even if you're struggling financially, emotionally, spiritually, or physically, your grand plan to defy the odds probably came to you in a moment of comfort, when you had time to evaluate where you are and how you got there. There is no space for big-picture thinking when you're in the heat of battle. When all is calm, even temporarily, damn near anything can feel possible. So that's when you dream it up and map it all out.
You realize that your warmth just cost you a piece of your soul, if not the whole damn thing, which can lead to a lifetime of regret.
The life I desired was on the other side of surf torture. I did not cave into emotion and quit. When people do that, they aren't even making an actual decision to quit. It's a default reaction due to stress.
Everything in life comes down to how we handle those crucial seconds. When psychological, physical, or emotional pressure redlines, your adrenal glands go haywire, and you are no longer in control. What separates a true savage from everybody else is the ability to regain control of their mind in that spilt second, despite the fact that all is still fucked!
Life, like Hell Week, is built on seconds that you must win, repeatedly. I'm not saying you have to be hyperaware every second of your life, but if you are pursuing something that demands all you've got and means the world to you, that is often what it takes.
When you are trying to lose weight or quit drinking or using drugs, your moment of weakness can be counted in seconds, and you'll need to be ready to win those seconds.
Moments of doubt are unavoidable when we take on any strenuous task. I've used the One-Second Decision to regain my composure and win hundreds of small battles during ultra races, on the pull-up bar, and in stressful work situations. And the first step is to mentally take a knee.
When you are in the grip of life and in danger of losing your shit, just think, it's time to take a knee. Get a couple of breaths and flash to your future. If you fold, what will happen next? What's your plan B? This is not some deep contemplation. There is no time to order a pizza and hash it out with your people. This must happen in seconds.
It helps to remind yourself of what you're good at and where you excel so when you have to engage in something that is hard for you, it doesn't become overwhelming. Tell yourself, I'm good here. I'm great there. This sucks, but it will be over in twenty minutes. Maybe it's twenty miles or twenty days or twenty weeks, but it doesn't matter. Every experience on earth is finite. It will end someday, and that makes it doable, but the outcome hinges on those crucial seconds you must win!
If you can withstand the suffering, take a knee, and make a conscious One-Second Decision in a critical juncture, you will learn perseverance and gain strength by winning the moment. You will know what it takes and how it feels to overcome all that loud doubt, and that will stay with you too. It will become a powerful skill you can use again and again to find success, no matter what scenario you're in or where life takes you.
Never quit when your pain and insecurity are at their peak. If you must retreat, quit when it's easy, not when it's hard. Control your thought process and get through the most difficult test first. That way, if you do bow out, you'll know it wasn't a reaction based on panic. Instead, you've made a conscious decision based on reason and had time to devise your plan B.
Respect is earned every day by waking up early, challenging yourself with new dreams or digging up old nightmares, and embracing the suck like you have nothing and have never done a damn thing in your life.
There are 86,400 seconds in a day. Losing just one of those seconds can change the outcome of your day and, potentially, your life.
CHAPTER FOUR: A SAVAGE REBORN
I'd learned long ago that no matter what type of event or challenge I engage in, the only competition that ever matters is me against me.
Life is not pass/fail. It's about impact and effort.
In life, there are plenty of false summits.
We all take a punch like that every once in a while, but those who tend to crane their necks looking for the crest of the mountain as they beg for their suffering to end are the ones who get smashed the most by any false summit.
We have to learn to stop looking for a sign that the hard time will end. When the distance is unknown, it is even more critical that you stay locked in so the unknown factor doesn't steal your focus.
Remember, the struggle is the whole journey.
Why not spend one single day doing something I'll be proud of for the rest of my life.
When you're climbing a mountain or involved in any other difficult task, the only way to free yourself from the struggle is to finish it.
The full-time savage sees everything in life as an opportunity to learn, adapt, and evolve.
I used to take snapshots like that all the time. When I was a full-time savage, if you said something smart to me, I talked shit right back to you and used your disrespect as ammunition to propel me into whatever fucked-up task or race or workout. I had lined up next. And there was always something.
We all have that ferocity – that dog – inside us. It's a natural response to provocation, a close cousin of the survival instinct, but most of us keep it chained up and locked away behind closed doors because that savage side of ourselves doesn't mix well with this "civilized" world. It's obsessive. It's always hungry, always looking for scraps of nourishment and finds them in competition, failure, and disrespect.
If you want to maximize minimal potential and become great in any field, you must embrace your savage side and become imbalanced, at least for a period time. You'll need to funnel every minute of every single day into the pursuit of that degree, that starting spot, that job, that edge. Your mind must never leave the cockpit. Sleep at the library or the office.
There are no days off, and there is no downtime when you are obsessed with being great. That is what it takes to be the baddest motherfucker ever at what you do.
Know that your dedication will be misunderstood. Some relationship may break down. The savage is not a socialized beast, and an imbalanced lifestyle often appears selfish from the outside.
You should always beware of spitting in the wind.
EVOLUTION NO. 4
Destruction always breeds creation.
Have the courage and mental endurance to do whatever it takes to start knocking down those walls. You are the warden of your life. Don't forget you hold the keys.
CHPATER FIVE: DISCIPLE OF DISCIPLINE
Scars are proof that the past is real. Physical scars never go away, and when you look at them, they can bring you right back to a specific place in time.
Because there is no transformation without breakdown, and there is always another evolution, another skin to shed, a better or deeper version of ourselves waiting to be revealed.
There's an old saying in the military, that "if you are stupid, you better be hard."
Allow discipline to seep into your cells until work becomes a reflex as automatic as breathing. With discipline as your medium, your life will become a work of art.
Discipline builds mental endurance because when effort is your main priority, you stop looking for everything to be enjoyable.
A drive for self-optimization and daily repetition will build your capacity for work and give you confidence that you can take on more. With discipline as your engine, your workload and output will double, then triple. What you won't see, at least not at first, is the fact that your own personal evolution has begun to bear fruit. You won't see it because you'll too busy taking action.
Discipline does not have a belief system. It transcends class, colour, and gender. It cuts through all the noise and strife. If you think that you are behind the eight ball for whatever reason, discipline is the great equalizer. It erasers all disadvantages. Nowadays, it doesn't matter where you are from or who you are; if you are disciplined, there will be no stopping you.
EVOLUTION NO. 5
The higher I climb in my life, the more I realize how much I need to mop that floor. Because that's where all the knowledge is. There is no grit at the top, no tests of resolve in steak dinners, five-star hotels, or spa treatments. Once you make it in this world, you have to freefall back to the bottom in some way to keep learning and growing.
I call this "trained humility." It's a shedding of your skins that allows you to take on a mission that no one else can see and do whatever needs to be done next. Trained humility is service but also strength.
Continued growth only comes when you are willing to be humble.
CHAPTER SIX: THE ART OF GETTING HIT IN THE MOUTH
It's funny how our goals are only as elastic as our sense of self, of who we are and what we think we can accomplish.
A lot of us grow out of life's shallow end but stay there because we fear the unknown.
Remember, if you stay where you've always been, you will never learn if you have what it takes to venture into the deep water.
I knew that there were no tricks around fear. The only way to neutralize it was to commit to doing the fucking thing that freaked me out and then proceed to outsmart my fear through knowledge and preparation.
There are three crucial requirements to maintaining a high level of SA. The first is astute perception. You need to see the environment clearly.
Finally, there is projection. Based on your perception and comprehension, what will your future status be?
Whenever I go into a non-thinking mode, I always fail.
There is never a time in your life where you should give in to that autopilot mentality.
The best life lessons don't appear when things go well. It's when all your goals and pretty plans turn to shit that you can see your flaws and learn more about yourself.
You must take advantage of any opportunity to strengthen your resolve because when life hits you in the mouth, you will need that resolve.
We must learn how to absorb life's haymakers without getting knocked down.
You're not done yet, motherfucker!
EVOLUTION NO. 6
Small minds and weak people kill big dreams. You might have clear goals and be working on yourself every day, but if you have the wrong folks around you, there's a good chance they could be sucking the life right out of you and making sure that you go nowhere.
In military speak, the foxhole is a fighting position. In life, it's your inner circle. These are the people you surround yourself with. They know your history and are aware of your future goals and past limitations. But because it's a fighting position, a foxhole can just as easily become your grave.
Once you find our who the fuck you are, the world will start delivering you care packages filled with opportunities that will fuel your quest.
Not all friends and loved ones react that way when you change and become committed to perpetual growth. Some are genuinely offended, and you don't need or want their voices in your head.
When you evolve, your inner circle must evolve with you. Otherwise, you may subconsciously halt your own growth to avoid outpacing and losing contact with the people who mean a lot to you but may not be able to hang with you.
When there is no one around you who believes in or understands your quest, you must turn your foxhole into a one-man fighting position. That's okay. It is always better to fight alone.
Loneliness can be difficult and depleting, but I'd much rather you stay lonely than crawl out of your foxhole and trek back through known territory into the arms of the very people who loved the old you and were never comfortable with your transformation.
Does this mean you have to end all relationship or burn all bridges? No, not necessarily. But doubters must be kept at arm's length, and anyone in your inner circle. Must accept you for who you are and who you want to become.
Who's in your foxhole?
CHAPTER SEVEN: THE RECKONING
Hope is not an anchor point.
Unfortunate situations never last, but I knew that a bad attitude always lingers and can turn any setback into a tailspin.
The only thing more infectious than a good attitude is a bad one. The more you dwell on the negative, the weaker you feel, and that weakness infects those around you. However, the reverse is also true.
It's an unwritten natural law of the universe that you will be tested. You will get smacked in the fucking face.
No matter what life serves me, I say, "Roger that." Most people think "Roger that," simply means, "Order received." However, in the military, some people infuse ROGER with a bit more intention and define it as, "Received, order given, expect results."
"Roger that" is a ticket back to your life, no matter what happens. You may be laid off, run down, flunked out, cut, or dumped. You could be a stressed-out, bullied young kid, an overweight veteran with no prospects, or simply handed a pair of crutches and told to sit tight on the sidelines for as long as it takes to heal. The answer is always "Roger-fucking-that." Scream it out loud. Tell them all that you heard what they had to say and that they can expect your very best in return. And don't forget to smile. A smile that reminds them that you are most dangerous when you're corned. That is how you respond to a setback. It's the most efficient way to deal with adversity and come out clean.
Very few individuals step outside the box and attempt to stretch their limits. They rule out the spectacular by default. They put a hard cap on their own performance way before game day.
We all have one thing in common. We are here, stuck in the game of life, often subject to the whims of forces beyond out control, but we never train for it. We dedicate ourselves to external goals, whether they are rooted in fitness or school or work, as if they are isolated events, somehow disconnected from the totality of our lives.
This awareness that everything we do is merely training for the next episode is like a filter that expands your perception.
Just as stem cells produce a growth factor that stimulates cellular communication, muscle growth, and wound healing in the body, fear is a seedpod packed with growth factor for the mind. When you deliberately and consistently confront your fear of heights or particular people, places, and situations that unsettle you, those seeds germinate, and your confidence grows exponentially.
I'm not a freak," I said, "I'm just a guy who believes in himself more than most. I am aware of what we are all capable of and that to get there, I have to harness every bit of power and energy I can. Power that is within all of us and all around us. I use your weakness as strength. I use your aggravation as strength. I ignite my competitive spirit with yours to get me moving even faster.
You don't know me, son! I howled. "You don't know me, son!"
EVOLUTION NO. 7
It's no secret that the vast majority of people prefer to be led because it's easier to follow someone else than to break your own trail. Yet all too often, we are led by bosses, teachers, coachers, and powerful officials who wear the rank and title and deploy optimistic speeches, management lingo, and strategies they learned in some university or seminar or from their colleagues at that table in the executive suite but do not inspire us.
Most of his work was hidden, but it is within that unseen work that self-leaders are made.
You can prepare as if you are already there so when the time comes and you do land that opportunity, you are ready to smash it. That's what a self-leader does, no matter how busy their lives are. Not because they are obsessed with being the best, but because they are striving to become their best.
The best way to lead a group is to simply live the example and show your team or classmates, through dedication, effort, performance, and results, what is truly possible.
I took my own oath to self: I live with a Day One, Week One mentality. This mentality is rooted in self-discipline, personal accountability, and humility. While most people stop when they're tired, I stop when I am done. In a world where mediocrity is often the standard, my life's mission is to become uncommon amongst the uncommon.
Sure, some will be put off by your dedication and level of effort. Others will call you obsessed or think that you've gone crazy. When they do, smile and say, "I'm not crazy. I'm just not you."
Mine your core principles and come up with your own oath to self. Make sure it is aspirational and that it challenges you to strive and achieve, and live by it every day.
CHAPTER EIGHT: PLAY UNTIL THE WHISTLE
EVOLUTION NO.8
Most people live their whole lives without ever contemplating what it means to be great. To them, greatness looks like Steph Curry, Rafael Nadal, Toni Morrison, Georgia O'Keefe, Wolfgang Amadeus Mozart, or Amelia Earhart. They put all the greats on a pedestal but think of themselves as mere mortals. And that's exactly why greatness eludes them. They turn it into some untouchable plane, impossible for almost anybody to reach, and it never even crosses their mind to aim for it.
No matter what I'm doing or which arena I'm engaging in, I will always aim for greatness because I know that we are all mere mortals and greatness is possible for anyone and everyone if they are willing to seek it out in their own soul.
Greatness is a state of letting go of all your faults and imperfections, scavenging every last bit of strength and energy, and putting it to use to excel at whatever you set your mind to.
Success is just another mile marker on the journey.
Just as words can be redefined, never doubt that we can redefine ourselves. It can feel impossible at times because we live in a world filled with arbitrary boundaries and fixed social lines that are as thick as the walls around a fortress. Worse, we allow those walls to limit us in too many ways. The brainwashing starts early, and it starts at home. The people we grow up with and the environments we grow up in define who we think we are and what we think life is all about. When you're young, you can only know what you see, and if all you are ever exposed to are lazy people, content with mediocrity or who convince you of your own worthlessness, greatness will remain a fantasy.
Identity is a trap that will keep you in blinders if you let it. Sometimes, identity is what we are saddled with by society. Other times, it's a category we claim. It can be empowering to associate yourself with a particular culture, group, job, or lifestyle, but it can also be limiting. If you stick with your own too closely, you will be susceptible to groupthink, and you may never learn who you really are or what you can accomplish.
There are no prerequisites to becoming great.
The real work. Fighting those demons every morning and all day long is maddening. Because they only ever want to break you down. They don't encourage you or make you feel good about yourself or your long odds as you fight through all the toxic mold and crust that is self-hate, doubt, and loneliness. They want to limit you. They want you to surrender and retreat back to what you know. They want you to quit before you get to pliability, where the sacrifice, hard work, and isolation that felt so heavy for so long become your haven. Where after struggling to visualize greatness for years, it is effortless. That's when momentum will gather like an updraft and send you airborne and spiralling toward the outer limits of your known world.
CHAPTER NINE: WRINGING OUT THE SOUL
The road to success is rarely a straight line. For me, it's always been more like a maze. Many times, when I thought I'd finally cracked the code, had it all figured out, and found the straight path to certain victory, I hit a wall or got spun into a turnaround. When that happens, we have two choices. We can stay stuck or regroup, back up, and try again.
If you've lost it, you do need to find your way back to belief.
I never needed to be the hardest motherfucker in the world. That became a goal because I knew it would bring out my best self. Which is what this fucked-up world needs from all of us: to evolve into the very best versions of ourselves. That's a moving target, and it isn't a one-time task. It's a lifelong quest for more knowledge, more courage, more humility, and more belief. Because when you summon the strength and discipline to live like that, the only thing limiting your horizons is you.
???? DOWNLOAD THIS FREE PDF SUMMARY BELOW https://go.bestbookbits.com/freepdf
???? DOWNLOAD THE 500 BOOK SUMMARY BOX SET HERE https://go.bestbookbits.com/150
????BOOK IN A FREE PRE COACHING/CONSULTING CALL HERE https://go.bestbookbits.com/coaching56952098
???? GET A COPY OF MY NEW BOOK HERE
https://go.bestbookbits.com/freebook
???? DOWNLOAD MY NEW COURSE
https://go.bestbookbits.com/coaching