★DOWNLOAD THIS FREE PDF SUMMARY HERE
🕮 MY FREE BOOK TO LIVING YOUR DREAM LIFE"
🤲 SPONSOR BESTBOOKBITS BY USING PATREON 
💲 SUPPORT BESTBOOKBITS BY CLICKING THE LINKS BELOW
SECTION THREE: "10X SECRETS": ONE-TO-MANY SELLING
When you are selling face-to-face, you have the unique ability to ask specific questions, get personal feedback, and resolve objections on the spot. When you're in an event, or selling inside a funnel, you can't really ask questions and get answers from thousands of people, so you need to create your presentation in a way that resolves all the objections that will come up for as many people as possible
Your platform and your funnels are your virtual stage. You will use them for your ads, the landing pages for your funnel, your live or automated webinars, your Facebook or Instagram lives, your YouTube videos, your podcasts, and more.
The way you structure your selling presentations on these platforms are the same as how you structure a sales presentation from stage.
Plugging in your offer and stories
SECRET #11 THE PERFECT WEBINAR FRAMEWORK
What I discovered from the best people in the business was that teaching the best content hurts sales. But learning how to identify, break, and rebuild false belief patterns get people to take the action they need in order to change. I learned how to tell stories, how to structure offers, and so much more.
THE FRAMEWORK
The framework revolves around three core phases.
The Big Domino
The Three Secrets
The Stack and Closes
When I have 90 minutes, the time line looks like this.
First 15 minutes: Intro, Big Domino, and Origin Story
Next 15 minutes: Secret #1 – Vehicle Framework Story
Next 15 minutes: Secret #2 – Internal Beliefs Story
Next 15 minutes: Secret # 3 – External Beliefs Story
Last 30 minutes: Stack and Closes
If I have only 30 minutes, I break it down like this:
First 5 minutes: Intro, Big Domino, and Origin Story
Next 5 minutes: Secret # 1 – Vehicle Framework Story
Next 5 minutes: Secret #2 – Internal Beliefs Story
Next 5 minutes: Secret #3- External Beliefs Story
Last 10 minutes: Stack and Closes
The ratios stay the same, you just expound longer on your stories and tell more short Epiphany Bridge stories to break more false beliefs if time permits.
The bid domino
One of the biggest things to understand, is that the presentation is not about getting your audience to believe a lot of things. The entire presentation is designed to get them to believe just one thing: that your new opportunity is the key to them getting the result they desire the most.
That's it. If you try to get someone to believe in more than one thing, your sales will suffer.
Jason Fladlien once explained: The idea is to have a single point of belief that your message is built around and is emphasized over and over and over again from a variety of different angles.
Your first attempt to knock down the Big Domino is by telling your origin story about how you discovered the new opportunity. This story will kick off the presentation, build rapport between you and your audience, and introduce them to the new vehicle that you will be presenting.
The three secrets
This is the content section of your presentation
During the three secrets you will be teaching your frameworks
When you are teaching a course, you tell your story, explain the strategy, teach the tactics, and provide social proof. When you are selling, you do not teach the tactics. You teach the what (strategy) but not the how. You audience's desire for the how is the reason they are going to give you money at the end of your presentation.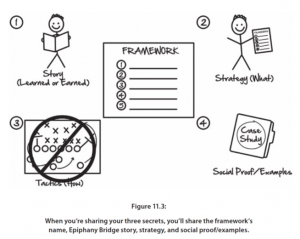 The goal of each story, strategy, and case study that you share is meant to break a specific false belief pattern and rewrite the true story in your listeners' minds. You need to identify the false beliefs they have around the following:
The vehicle (new opportunity)
Their ability to use the vehicle (internal beliefs)
The number one thing they believe is keeping them from getting started (external beliefs)
You will teach story, strategy, and case study for each of the three secrets.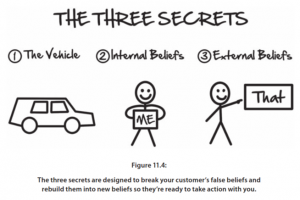 Stack and the closes
Here is where you move from the teaching to the sales portion of the presentation. You'll then present your offer in a very precise format we call the Stack.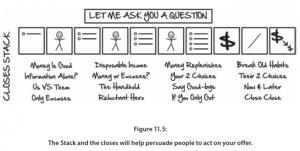 SECRET #12 THE BIG DOMINO
"My whole goal is to slow down and look around. Instead of looking for all the tasks that I could do, I try to identify the one Big Domino-the One Thing that, if I could knock that down, all the other dominos would either fall down or become irrelevant."
The one thing (The Big Domino Statement)
HOW TO KNOCK DOWN THE BIG DOMINO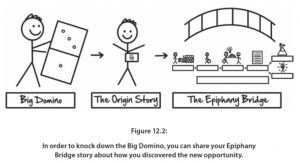 Now that you've identified the exact thing you need your audience to believe if they are going to take action at the end of your presentation, it's time to design everything around rewriting the stories in their minds with new, empowering stories that will better serve them.
PowerPoint (for PCs), Keynote (for Macs), or my favorite, Google Slides, which works for everyone.
The first 15 minutes (or one-sixth) of your presentation is trying to knock down the Big Domino through your origin story. We break this time down into two phases: the introduction and the origin story.

1: TITLE SLIDE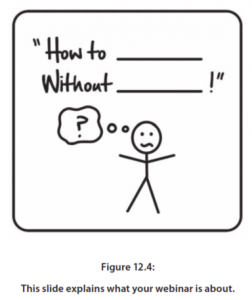 How to (result they desire most) without (thing they fear most).
2: INTRO/RAPPORT SLIDES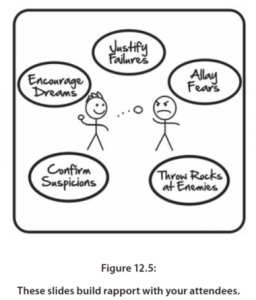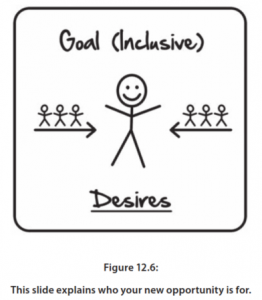 4: THE BIG DOMINO SLIDE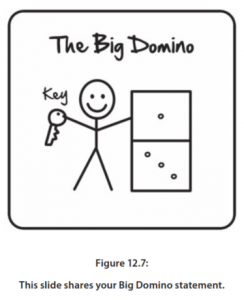 5: QUALIFY YOURSELF SLIDE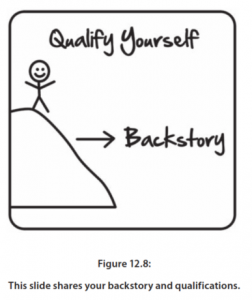 6: EPIPHANY BRIDGE ORIGIN STORY SLIDES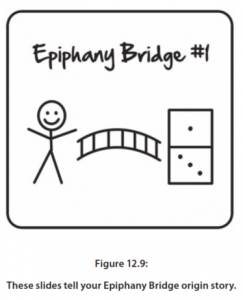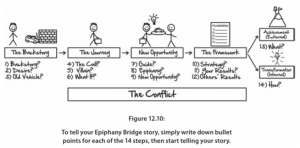 SECRET #13 THE THREE SECRETS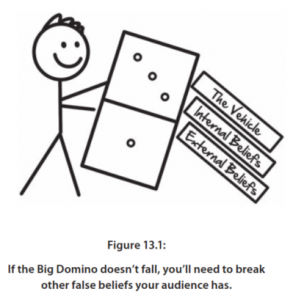 Step #1: Identify their three core false beliefs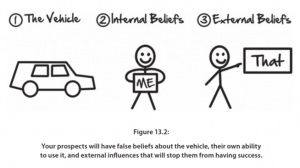 The vehicle: other false beliefs they may have about the vehicle framework or new opportunity you're presenting
Internal beliefs: beliefs about their own abilities to execute on the new opportunity
External beliefs: false beliefs they have about outside forces that could keep them from success; things beyond the individual's control, such as time or the economy.
Step #2: Write Three Epiphany Bridge Stories
Now that I have the three core false beliefs, I have to find the Epiphany Bridge stories that will break their core chains of false belief and create a new story for them.
Step #3: Write three secrets
Finally, I rewrite each of the false beliefs with their accompanying Epiphany Bridge stories into a "secret" using a "how to" statement that hints at my framework being the key to their desired result.
Breaking and rebuilding belief patterns
Everything you have done to this point has been designed to encourage curiosity, build rapport, and introduce the new opportunity. Now we're transitioning to the content section of the presentation. You'll be tempted to switch into teacher mode at this point. And if you're not careful, it will destroy your sales. This is not a teaching presentation; this is a presentation to inspire people to take action and change their lives. You can teach the strategy (what they need to do) but do not teach the tactics (how they need to do it).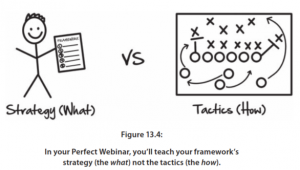 Teaching the tactics is what you do after they have purchased. If you do teach the tactics, it's the surest way to kill sales.
You must change their beliefs about your strategy first, then you can change their lives. But if you don't change their beliefs first, you'll never have a chance to change their lives.
The greatest service you can provide for someone is getting them to buy something. The act of buying creates a commitment that causes someone to take action.
The three secrets slides
7: TRANSITION TO THE THREE SECRETS SLIDE
Introduce what you're going to teach during the webinar.
8: STATE SECRET #1 SLIDE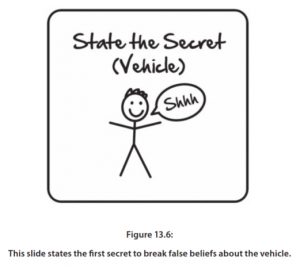 Introduce your first framework (the vehicle)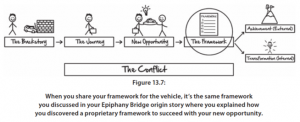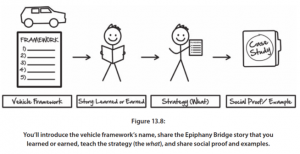 9: INTRODUCE THE FRAMEWORK SLIDE (THE VEHICLE)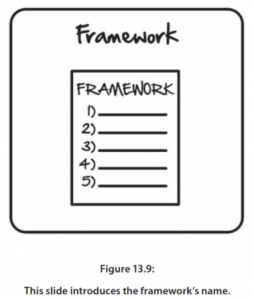 10: SHARE LEARNED OR EARNED STORY SLIDE (THE VEHICLE)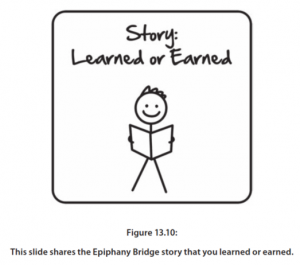 11: TEACH THE STRATEGY SLIDES (THE VEHICLE)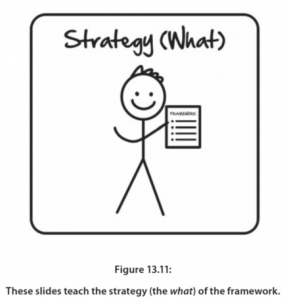 If you spend time in the weeds teaching the tactics here, you will lose them. Once again, your only goal is to get them to believe the strategy will work for them. After they believe, then you can teach them the tactics inside your training.
12: CASE STUDY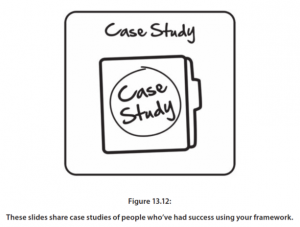 13: SHARE OTHER SUPPORTING EPIPHANY BRIDGE STORIES SLIDES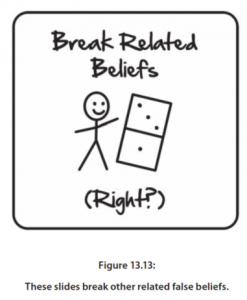 So go back to the list of false beliefs you created in your story inventory, find the ones associated with this secret, and quickly break the beliefs that may be holding your followers back. These stories are usually told in 30-60 seconds. Just mention the false belief and give a quick story in a few sentences about why that belief is wrong and what the truth is.
14: INTRODUCE YOUR SECOND SET OF FRAMEWORK (INTERNAL BELIEFS) SLIDES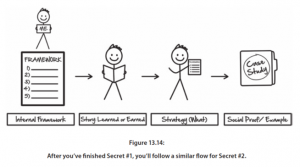 The only difference is that you will be sharing your Epiphany Bridge story about your internal frameworks.
15: INTRODUCE YOUR THIRD SET OF FRAMEWORK (EXTERNAL BELIEFS) SLIDES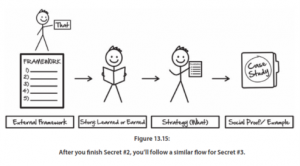 This third secret is all about your customers' external false beliefs.
SECRET #14 THE STACK AND CLOSES
Stack Psychology
The only thing prospects remember when you sell is the last thing you show them.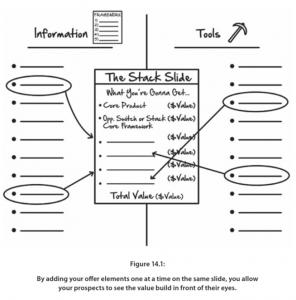 When you transition to the close, you are going to walk people through your offer. You do this by introducing the first part of your offer, telling the story behind how you created (learned or earned) it, and listing that one things on a slide with the total value.
You then move to the second element of your offer, tell the story about how you created (learned or earned) it, and come back to the Stack Slide and show elements #1 and #2 with the new total.

THE STACK AND CLOSES SLIDES
16: THE TRANSITION TO SELLING SLIDE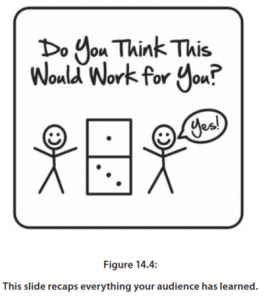 When you sell in person, you have the ability to ask follow-up questions and figure out their specific false beliefs. Then you can address those concerns and close them. You don't have that luxury in one-to-many sales like webinars or inside your funnels. So you have to includes as many objections and false beliefs in the presentation as possible.
17: THE QUESTION SLIDE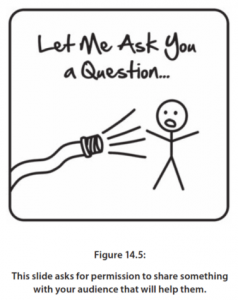 The best way to make that transition is to simply say: Let me ask you a question…..
18: WHAT YOU'RE GONNA GET SLIDE (THE CORE PRODUCT)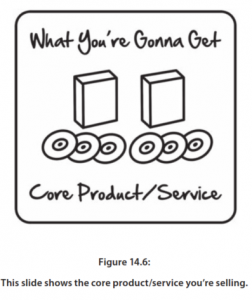 19: YOU'LL BE ABLE TO…/YOU'LL BE ABLE TO GET RID OF…SLIDES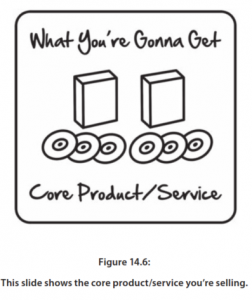 20: THE PROBLEM THIS PRODUCT SOLVED FOR YOU SLIDE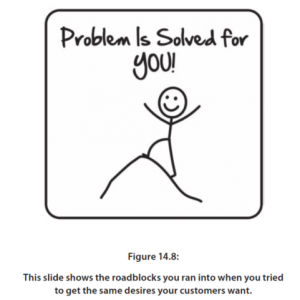 21: HOW MUCH TIME/MONEY THIS PRODUCT WILL SAVE THEM SLIDE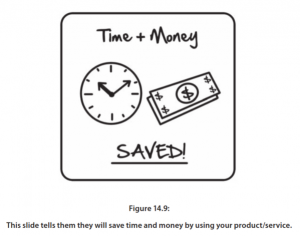 22: BREAK RELATED BELIEFS ABOUT THE PRODUCT SLIDES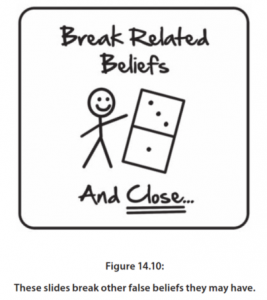 23: STACK SLIDE #1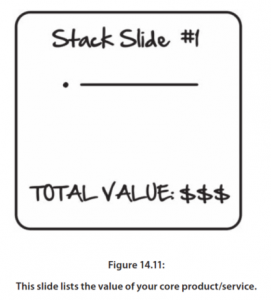 24: INTRODUCE ELEMENT #2 (THE FRAMEWORK) SLIDES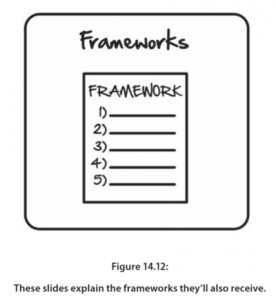 25: QUICK HIGH-LEVEL RECAP OF DELIVERABLES SLIDE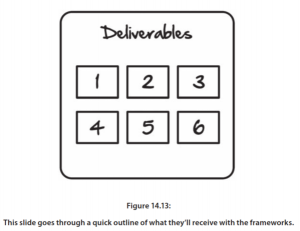 26: CASE-STUDIES SLIDES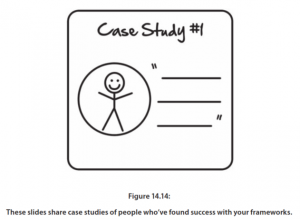 27: WHO THIS WORKS FOR (ALL-INCLUSIVE) SLIDE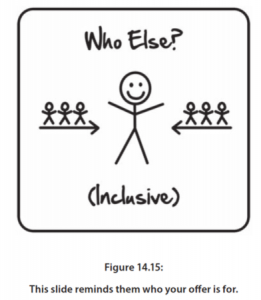 28: DESTROY THE #1 REASON PEOPLE DON'T GET STARTED SLIDE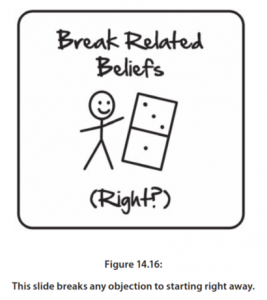 29: STACK SLIDE #2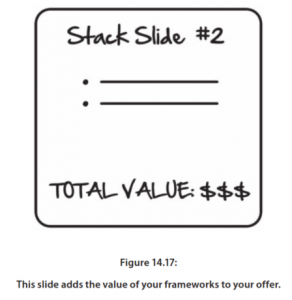 30: REPEAT THIS PROCESS FOR ALL OTHER ELEMENTS OF YOUR OFFER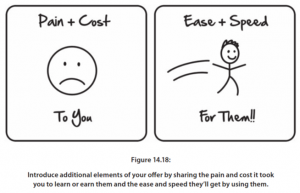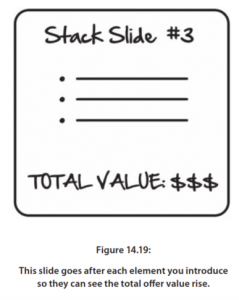 31: THE BIG STACK SLIDE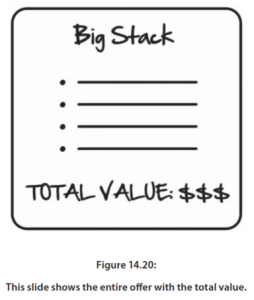 32: IF ALL STATEMENTS SLIDES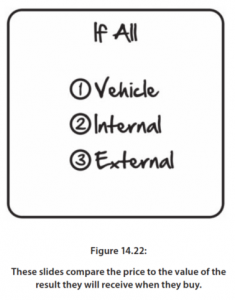 "If all" statements. An "If all" statement reads like this: "If all this package did was…………, would it be worth $…………..?"
Now obviously, I'm not going to charge you $11,552. But if I DID charge you $11,552, and all it did was………………, would it be worth it to you?
Now when you discount the price to what you're actually selling it for, they are getting a 90 percent discount from what they believe (and have said) it's worth.
33: I HAD TWO CHOICES SLIDE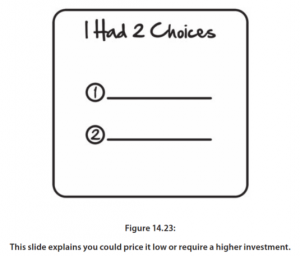 34: WHAT WOULD THE END RESULT BE WORTH SLIDE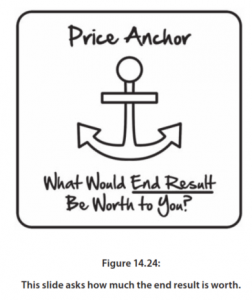 35: PRICE DROP SLIDE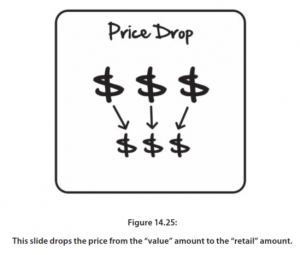 36: PRICE REVEAL SLIDE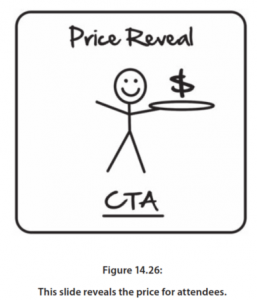 37: PRICE JUSTIFICATION SLIDE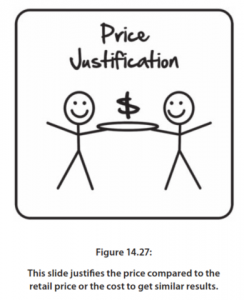 38: YOU'VE GOT TWO CHOICES SLIDE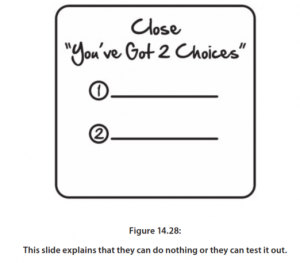 39: GUARANTEE SLIDE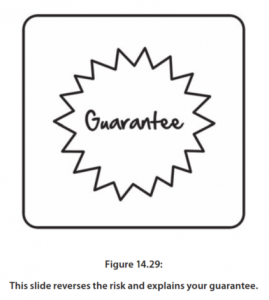 40: THE REAL QUESTION IS THIS…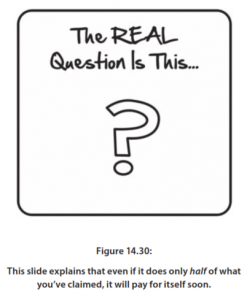 41: LAST STACK SLIDE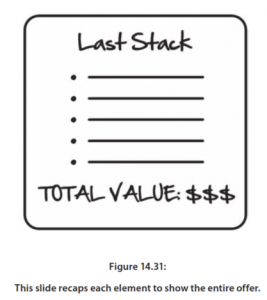 42: URGENCY/SCARCITY BONUS SLIDE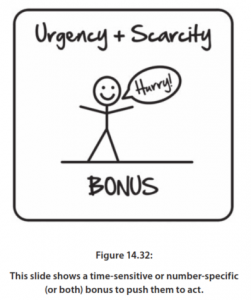 The two most valuable tools in marketing are urgency and scarcity. Here you're going to add a bonus upgrade that's only available right then. You can create urgency and scarcity by offering something special to a certain number of people, or for a certain amount of time (or both).
43: CLOSING CALL TO ACTION/Q&A SLIDE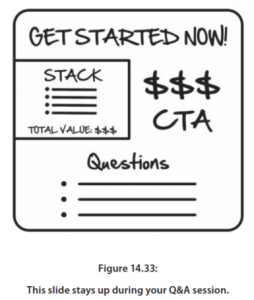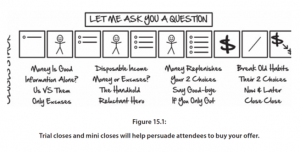 Here are some examples of trial closes
Are you ready to get started?
Are you all getting this?
Is this making sense?
Can you imagine if that happened to you?
Who here wants a free copy of……………?
Would you like to be our next case study?
You've heard them talk about this before, right?
Isn't that cool?
Isn't that exciting?
Am I right?
Can you see yourself doing…………….?
I'm sure you've noticed this too, right?
The most powerful times to use trial closes are right after you've shared a case study or success story from one of your students.
Many times people will share their story and then quickly move on. If you notice when I share any story, I'll always pause, and then drop a half dozen trial closes before I move on. "Did you hear that? Isn't that amazing? Can you imagine what your life would be like if that happened to you? Are you getting this?!" these are all examples of the types of trial closes I would use right after sharing a success story.
16 mini closes
Money is good: The goal is to get people to disassociate from their fear about spending money with you. Money is a tool for exchange. You spend money to get something greater in return.
Disposable Income: The goal is to help them realize that they are spending their disposable income on things that aren't serving them well, and by spending that money on things that will help them grow, they will have long-term fulfillment. When you use the disposable income close, people get that they do have the money to invest.
Money replenishes: The goal for this close is to help people realize that while each month money comes back, time does not, and if they're not careful, they will run out of time.
Break old habits: The goal for this close is to help them realize that if they leave today without investing, nothing in their life will change.
Information alone: My goal for this close is to help them understand that, while they have gotten some awesome information, they can't rely on information alone. They need coaching and accountability too.
Money or excuses: The goal of this close is to get them to quit making excuses about why they can't buy.
Your two choices: The goal of this close is for them to understand why you are charging so much money, and to make sure they are okay with that.
Their two choices: The goal for this close is to help them realize they are crazy if they don't invest with you today.
Us vs. them: The goal for this close is to call people out as either doers or dabblers.
The handhold: This close is where you walk them through the sign-up process.
Say good-bye: In this close I want to show them all the pain that will instantly disappear after they invest.
Now and later: In this close, I want to paint a picture of their life now compared to what it could become if they invest.
Only excuses: The goal of this close is to call out any excuses that might be keeping them back and diffuse them.
Reluctant hero: The goal of this close is to help them believe they can actually do it.
If you only got: The goal of this close is to show them what they already got for free, and what they can possibly achieve when they invest with you.
Close close: This close is the final push to get them over the edge I typically do this one several times during the question-and-answer section at the end of the webinar.
STAY TUNED FOR THE NEXT THREE PARTS COMING SOON
★DOWNLOAD THIS FREE PDF SUMMARY HERE
🕮 MY FREE BOOK TO LIVING YOUR DREAM LIFE"
🤲 SPONSOR BESTBOOKBITS BY USING PATREON 
💲 SUPPORT BESTBOOKBITS BY CLICKING THE LINKS BELOW