STOP READING BY YOURSELF AND JOIN THE 'BEST BOOK CLUB' NOW HERE TO MEET AUTHORS AND NEW FRIENDS
STOP TRYING TO ACHIEVE YOUR GOALS BY YOURSELF AND BE COACHED TODAY HERE
DOWNLOAD THIS FREE PDF SUMMARY HERE
CHECK OUT THE FOLLOWING Book | Summaries | Course
YouTube |Spotify | Instagram | Facebook | Newsletter | Website
Section Four – Becoming your dream customer's guide
Take a step back and realize that now you are becoming the guide in your dream customer's story.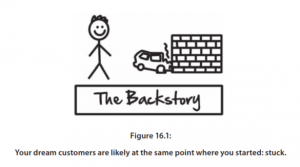 Your dream customer's two journeys
Your dream customers are stuck there just like the hero in any story is stuck in their "ordinary world." They are frustrated, they are waiting for their mentor, their expert, their guide to take them on their hero's journey.
In Building a StoryBrand, Donald Miller explains that our brand is not the hero. He says your customer is the hero, and your brand's role is to successfully guide the hero through the challenges they will face. Therefore, he explains that your brand should be like Yoda to Luke Skywalker.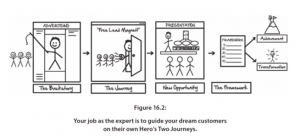 Backstory: It starts by understanding that your dream customers are in their backstory now. Your job as their future guide is to go where they are, find the red oceans they are frustrated and stuck in, and start throwing our hooks to grab their attention.
Journey: After you grab someone's attention, you are giving them a literal calling to leave their ordinary world (Facebook, Google, email-wherever they are seeing your ad) and start a journey with you. Just like our hero in any story physically leaves their home, your dream customers are leaving where they are comfortable and coming to your funnel.
New opportunity: Now that they have joined your list and started on this journey with you, you have the ability to make them a presentation. During this presentation you will do the following things:
Introduce yourself to them as their new guide
Tell them your story to give them an epiphany
Present them your new opportunity
SECRET #16 TESTING YOUR PRESENTATION LIVE
"If you were to launch a new start-up, how would you do it?" The answer is simple: I would create a presentation, and then I would deliver that presentation live every week for a year, until I had it perfected.
The problem most people have is they create what they think is a good presentation, record it once, and then put it into their funnels. You can do that, but the problem is that if you haven't perfected it, you have no idea what people's real objections are. Even if you do it live a half dozen times, at least you'll know where the sticking points are and you can get those ironed out. It's a little hinge that swings a huge door. The difference between 10 percent conversion and 15 percent conversion is the difference between a 7 figure-a-year webinar vs. an 8 figure webinar.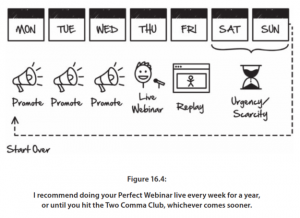 My favorite day to do webinars is Thursday, because then I have adequate time to promote it during the week. I start my promotions on Monday and keep pushing hard until Thursday before the webinar goes live. I send emails. I drive Facebook ads. I work with joint venture partners, and I engage in a whole bunch of other activities that drive traffic to my sign-up page. Whatever I can do to get people onto this live event, I do. When the webinar starts, I stop all promotion because the rest of the week is about converting prospects into buyers.
Weekly Live Webinar Stats
1,000 people register ($3,000 ad spend at $3 per registration)
250 attend webinar (25 percent show-up rate)
25 buy course (10 percent close rate; $25,000 in sales at $997 each)
25 buy in follow-up replays ($25,000 in sales at $997 each)
$47,000 net profit ($50,000 sales – $3,000 ads)
So each week I do a live webinar selling people on my new opportunity. I spend Monday through Thursday morning promoting that webinar to get as many people as possible to show up on Thursday night. I present the webinar live on Thursday night and make my special offer. Then I show replays on Friday, Saturday, and Sunday. At midnight Sunday, I take down the offer for those who had registered. Then I start again on Monday filling my event for the upcoming Thursday. That's it. That's the whole model.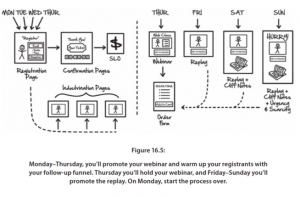 The live presentation (webinar) Funnel
Step 1: Send Traffic to the Webinar Registration Page
The key to a high-converting webinar registration page is… curiosity. That's it. If your registration page isn't converting well, it's because you're showing people too much and they assume they know the answer. If they think they know what you're going to talk about, then they won't register or show up.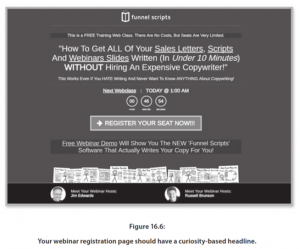 Step 2: Send Registrants to a Thank-You page with a Self-Liquidating Offer
Remember, the registration page is about curiosity. The thank-you page is about your passion and excitement for what they are about to experience on the webinar.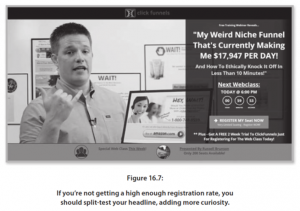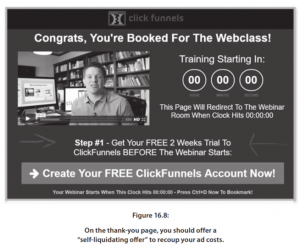 One of the biggest secrets about the thank-you page is that you can (and should) use it to sell people something! We call this a "self-liquidating offer," or SLO. There are a few reasons you want to include this offer here.
It is called a self-liquidating offer because it's meant to liquidate your ad costs. That's right –often you can completely cover your ad costs from the product you offer on your thank-you page. That means everything you sell on the webinar is pure profit!
If they buy something that complements what the webinar is about, they are more likely to show up live.
Buyers in motion tend to stay in motion, unless you do something to offend them. That means if they buy from you before the webinar, they are a lot more likely to buy from you on the webinar.
I like my SLO offers to be lower ticket, usually $37-$47 or a free (or $1) trial to a membership site.
Step 3: Send a series of indoctrination emails
Step 4: Send Reminders
Step 5: Present the Webinar Live
The webinar must be delivered live on a webinar platform.
The two we use are GoToWebinar.com and Zoom.us.
Step 6: Send Follow-Ups and Create Last-Minute Urgency
Step 7: Close the Cart
Step 8: Repeat – Monday morning, you start all over again with Step 1: driving traffic. Each time you go through this process, you will improve. You'll figure out different ways of presenting that get more people to buy. You'll answer more questions. You'll fine-tune your ad targeting. The point is to never stop after one try – especially if you had disappointing results.
So the last step is to repeat your webinar. Again and again. Run it every week for a full year, and watch what happens to your bank account and your expert status.
SECRET #17 THE PERFECT WEBINAR SHORTCUT
Here's how to do a webinar in 15 minutes.
Question #1: What's the new opportunity I'm offering?
Question #2: What special offer can I create for those who purchase?
Question #3: What is the one Big Domino for this offer?
Question #4: What is my Epiphany Bridge origin story to attempt to knock down the Big Domino?
Question #5: What is the framework I'm teaching and the false belief I'm trying to break? (Vehicle)
Secret #1 Title: It's All about the Script
Question #6: What is the framework I'm teaching and the false belief I'm trying to break? (Internal Beliefs)
Secret #2 Title: Understanding the Model
Question #7: What is the framework I'm teaching and the false belief I'm trying to break? (External Beliefs)
Secret #3 Title: You Have to Do This Live Until….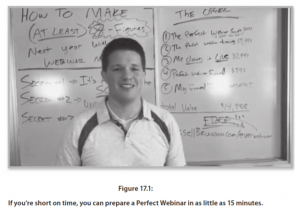 Facebook Live presentation, using the Perfect Webinar script without any PowerPoint slides – just a whiteboard and a few sheets of paper.
Pros: The biggest benefits of doing the Perfect Webinar shortcut is that 100 percent of the people who see your presentation actually see your presentation. With a traditional webinar, you lose people at each step. From the people who hit your landing page, maybe 40 percent register, and from there maybe only 20 percent show up. When you do it live, everyone who sees the presentation (either live or afterward) can be hooked into watching it immediately.
The other big pro is that when your presentation is done, if it's good you can turn it into an ad and drive people to it all the time.
Cons: I would not recommend going the Perfect Webinar shortcut route until you've practiced presenting in a live webinar environment first.
The Perfect Webinar is perfect.
If you try it and it doesn't work, I can tell you from experience it's probably for one of these reasons:
You picked a bad market and no one wants to hear what you have to say.
You built an improvement offer and no one wants to buy it.
You slipped into teaching the tactics before you sold your audience on the strategies.
If you pick a good market, make a new opportunity that is truly irresistible, and use your presentation to break and rebuild your audience's belief patterns around that new opportunity, it works.
SECRET #18 THE 5-MINUTE PERFECT WEBINAR
You can access the script here
http://gazdagodas-akademia.com/wp-content/uploads/sites/71498/2020/05/5-Minute_Perfect_Webinar.pdf
SECRET #19 PLUGGING "EXPERT SECRETS" INTO YOUR VALUE LADDER
We've seen it in every movie: The hero (your dream customer) finds a guide (you) who leads them to their destination. I hope that you're now seeing that this role as an expert or guide is one of the greatest callings we can have in this life.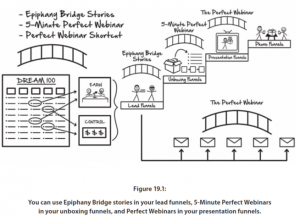 Epiphany Ads
Epiphany bridge stories: Most of my ads are simply a story about how I created the lead magnet, webinar, book or whatever the call to action is on the ad. I follow the five simple phases of an Epiphany Bridge story.
Backstory
Journey
New Opportunity
Framework (what I'm offering in the ad)
Achievement
Then I give people a call to action to click and get access to the framework. Sometimes they are taken to a page where they give me their email address for the framework; other times they have to get on a webinar, or buy a book, or watch a video. But the CTA is always pushing back to the framework I shared in the story.
5 Minute Perfect Webinars
5-Minute Perfect Webinar ads for every product
Perfect Webinar Shortcuts
Email Epiphany follow-up funnels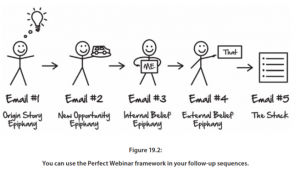 One of the keys to a soap opera sequence like this is that every email needs to pull people into the story in the next email.
Teasing about the next email that's coming so they are anxiously waiting for it.
Moving from emotion to logic to fear in your email sequences.
STOP READING BY YOURSELF AND JOIN THE 'BEST BOOK CLUB' NOW HERE TO MEET AUTHORS AND NEW FRIENDS
STOP TRYING TO ACHIEVE YOUR GOALS BY YOURSELF AND BE COACHED TODAY HERE
DOWNLOAD THIS FREE PDF SUMMARY HERE
CHECK OUT THE FOLLOWING Book | Summaries | Course
YouTube |Spotify | Instagram | Facebook | Newsletter | Website
Epiphany lead magnets
You can share your Epiphany Bridge stories in your lead magnets.
Here is the simple framework I use on these pages:
Backstory
Journey
New Opportunity
Framework (what I'm offering for them to become a lead)
Achievement
Epiphany Automated Webinar Funnels
GoToWebinar.com or Zoom.us to host a live webinar, you take the recording of your Perfect Webinar presentation and plug it into a ClickFunnels page.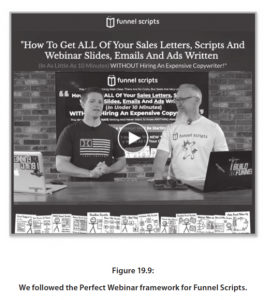 Epiphany product launch funnels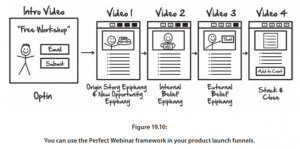 CONCLUSION
The feeling you get as the expert or the guide in someone else's journey-when someone you've helped has accomplished their goal and enjoyed success – is a thousand times better than the feeling you get from your own success.
STOP READING BY YOURSELF AND JOIN THE 'BEST BOOK CLUB' NOW HERE TO MEET AUTHORS AND NEW FRIENDS
STOP TRYING TO ACHIEVE YOUR GOALS BY YOURSELF AND BE COACHED TODAY HERE
DOWNLOAD THIS FREE PDF SUMMARY HERE
CHECK OUT THE FOLLOWING Book | Summaries | Course
YouTube |Spotify | Instagram | Facebook | Newsletter | Website