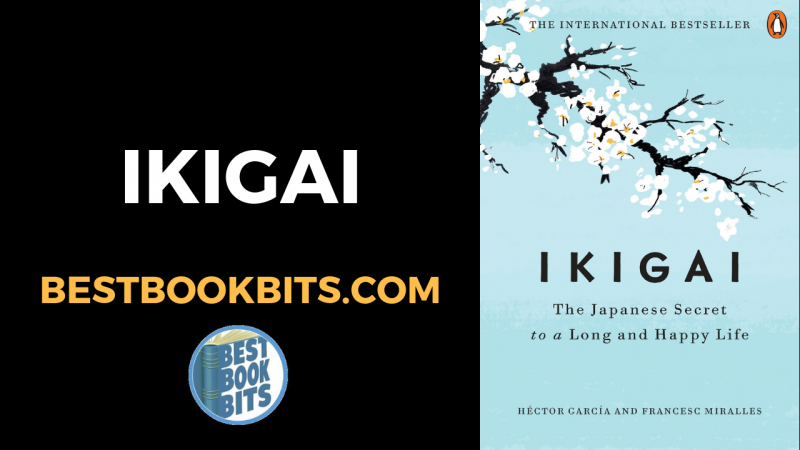 This book covers many topics related to the "art of living."
The authors define ikigai and the rules of ikigai; they conducted a total of one hundred interviews in Ogimi, Okinawa to try to understand the longevity secrets of centenarians and supercentenarians.
"What do Japanese artisans, engineers, Zen philosophy, and cuisine have in common? Simplicity and attention to detail."
"The authors of this book wish you a long, happy, and purposeful life."
WHAT IS IKIGAI?
In Japanese, ikigai is written by combining the symbols that mean "life" with "to be worthwhile."
"Translates roughly as 'the happiness of always being busy.'"
"There is a passion inside you, a unique talent that gives meaning to your days and drives you to share the best of yourself until the very end. If you don't know what your ikigai is yet, as Viktor Frankl says, your mission is to discover it."
"Our ikigai is different for all of us, but one thing we have in common is that we are all searching for meaning. When we spend our days feeling connected to what is meaningful to us, we live more fully; when we lose the connection, we feel despair."
"Our ikigai is hidden deep inside each of us, and finding it requires a patient search. According to those born on Okinawa, the island with the most centenarians in the world, our ikigai is the reason we get up in the morning."
"Once you discover your ikigai, pursuing it and nurturing it every day will bring meaning to your life."
"They have an important purpose in life, or several. They have an ikigai, but they don't take it too seriously. They are relaxed and enjoy all that they do."
"One thing that everyone with a clearly defined ikigai has in common is that they pursue their passion no matter what."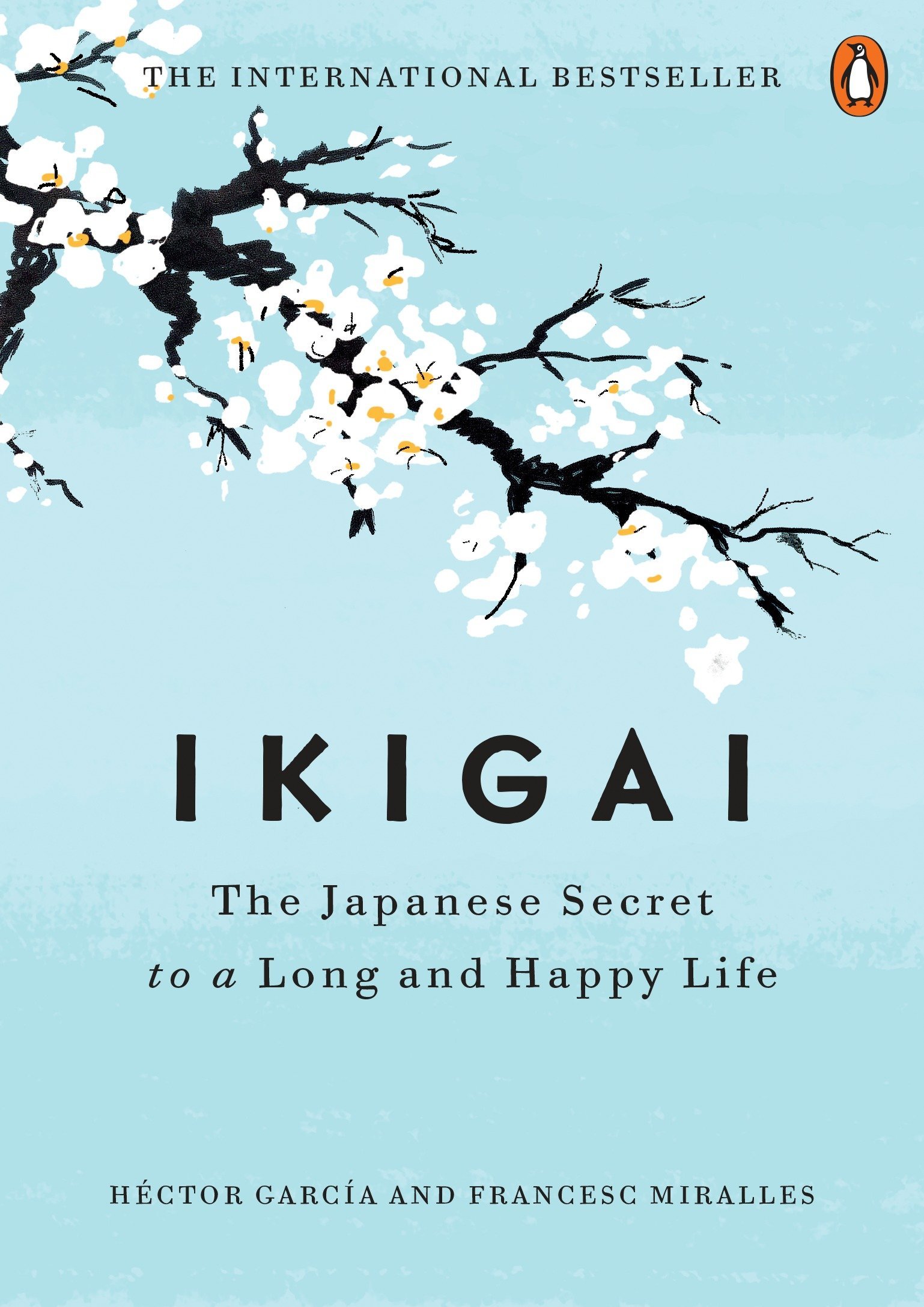 THE 10 RULES OF IKIGAI
Stay active; don't retire.
Take it slow.
Don't fill your stomach.
Surround yourself with good friends.
Get in shape for your next birthday.
Smile.
Reconnect with nature.
Give thanks.
Live in the moment.
Follow your ikigai.
STRESS & EXISTENTIAL CRISIS:
"Many people seem older than they are. Research into the causes of premature aging has shown that stress has a lot to do with it."
"The American Institute of Stress investigated this degenerative process and concluded that most health problems are caused by stress."
"Existential crisis, on the other hand, is typical of modern societies in which people do what they are told to do, or what others do, rather than what they want to do. They often try to fill the gap between what is expected of them and what they want for themselves with economic power or physical pleasure, or by numbing their senses."
"Those who give up the things they love doing and do well lose their purpose in life. That's why it's so important to keep doing things of value, making progress, bringing beauty or utility to others, helping out, and shaping the world around you, even after your 'official' professional activity has ended."
MORITA THERAPY:
"Many Western forms of therapy focus on controlling or modifying the patient's emotions. In the West, we tend to believe that what we think influences how we feel, which in turn influences how we act. In contrast, Morita therapy focuses on teaching patients to accept their emotions without trying to control them, since their feelings will change as a result of their actions."
"Logotherapy and Morita therapy are both grounded in a personal, unique experience that you can access without therapists or spiritual retreats: the mission of finding your ikigai, your existential fuel. Once you find it, it is only a matter of having the courage and making the effort to stay on the right path."
FLOW:
"The happiest people are not the ones who achieve the most. They are the ones who spend more time than others in a state of flow.​"
"In order to achieve this optimal experience, we have to focus on increasing the time we spend on activities that bring us to this state of flow, rather than allowing ourselves to get caught up in activities that offer immediate pleasure."
"Concentrating on one thing at a time may be the single most important factor in achieving flow."
"Japanese people often apply themselves to even the most basic tasks with an intensity that borders on obsession."
"Our ability to turn routine tasks into moments of microflow, into something we enjoy, is key to our being happy, since we all have to do such tasks."
"Artists, for example, who carry the torch of their ikigai instead of retiring, have this power. Art, in all its forms, is an ikigai that can bring happiness and purpose to our days. Enjoying or creating beauty is free, and something all human beings have access to.​"
"Artists know how important it is to protect their space, control their environment, and be free of distractions if they want to flow with their ikigai."
"Many such artists might seem misanthropic or reclusive, but what they are really doing is protecting the time that brings them happiness, sometimes at the expense of other aspects of their lives. They are outliers who apply the principles of flow to their lives to an extreme.​"
According to Csikszentmihalyi, in order to focus on a task we need:

1. To be in a distraction-free environment

2. To have control over what we are doing at every moment ​
OGIMI, OKINAWA:
"We realized right away that time seems to have stopped there, as though the entire town were living in an endless here and now."
"Many Japanese people never really retire—they keep doing what they love for as long as their health allows."
"The Japanese are skilled at bringing nature and technology together: not man versus nature, but rather a union of the two."
"Okinawans live by the principle of ichariba chode, a local expression that means 'treat everyone like a brother, even if you've never met them before.'"
Celebrations seem to be an essential part of life in Ogimi.​
"Being in a hurry is inversely proportional to quality of life. As the old saying goes, 'Walk slowly and you'll go far.' When we leave urgency behind, life and time take on new meaning.​"
"Looking back, our days in Ogimi were intense but relaxed—sort of like the lifestyle of the locals, who always seemed to be busy with important tasks but who, upon closer inspection, did everything with a sense of calm. They were always pursuing their ikigai, but they were never in a rush."
"They are always busy, but they occupy themselves with tasks that allow them to relax. We didn't see a single old grandpa sitting on a bench doing nothing.​"
"The restaurant is right by the sea and seems like something from the planet Tatooine, from Star Wars. The menu boasts in large letters that it serves 'slow food' prepared with organic vegetables grown in the town.​"
SECRETS OF THE CENTENARIANS & SUPERCENTENARIANS:
"Over the course of a week we conducted a total of one hundred interviews, asking the eldest members of the community about their life philosophy, their ikigai, and the secrets to longevity:

Nurture your friendships every day

"Eat and sleep, and you'll live a long time. You have to learn to relax." — Misao Okawa (117 years old)
"I've never eaten meat in my life." — María Capovilla (116)
"Everything's fine." — Jeanne Calment (122)
"Your mind and your body. You keep both busy, you'll be here a long time." — Walter Breuning (114)
"I just haven't died yet." — Alexander Imich (111)
"Food won't help you live longer…The secret is smiling and having a good time."
"My secret to a long life is always saying to myself, 'Slow down,' and 'Relax.' You live much longer if you're not in a hurry."​ (Note: Hooray for more slow living!)
"The key to staying sharp in old age is in your fingers. From your fingers to your brain, and back again. If you keep your fingers busy, you'll live to see one hundred."​
LONGEVITY DIET:
"One hundred percent of the people we interviewed keep a vegetable garden, and most of them also have fields of tea, mangoes, shikuwasa, and so on."
"Locals eat a wide variety of foods, especially vegetables. Variety seems to be key. A study of Okinawa's centenarians showed that they ate 206 different foods, including spices, on a regular basis. They ate an average of eighteen different foods each day, a striking contrast to the nutritional poverty of our fast-food culture."
"They eat at least five servings of fruits and vegetables every day. At least seven types of fruits and vegetables are consumed by Okinawans on a daily basis. The easiest way to check if there is enough variety on your table is to make sure you're 'eating the rainbow.' A table featuring red peppers, carrots, spinach, cauliflower, and eggplant, for example, offers great color and variety. Vegetables, potatoes, legumes, and soy products such as tofu are the staples of an Okinawan's diet. More than 30 percent of their daily calories comes from vegetables."
"Grains are the foundation of their diet. Japanese people eat white rice every day, sometimes adding noodles. Rice is the primary food in Okinawa, as well."
"Eat fish an average of three times per week."
"Consume fewer calories: an average of 1,785 per day, compared to 2,068 in the rest of Japan. In fact, low caloric intake is common among the five Blue Zones."
"Tofu, Miso, Tuna, Carrots, Goya (bitter melon), Kombu (sea kelp), Cabbage, Nori (seaweed), Onion, Soy sprouts, Hechima (cucumber-like gourd), Soybeans (boiled or raw), Sweet potato, Peppers"
"Okinawans drink more Sanpin-cha—a mix of green tea and jasmine flowers—than any other kind of tea…Okinawans drink an average of three cups of Sanpin-cha every day."
"White tea, with its high concentration of polyphenols, may be even more effective against aging. In fact, it is considered to be the natural product with the greatest antioxidant power in the world—to the extent that one cup of white tea might pack the same punch as about a dozen glasses of orange juice."
OTHER MEMORABLE QUOTES:
"We are what we repeatedly do. Excellence, then, is not an act but a habit." — Aristotle
"To be able to concentrate for a considerable amount of time is essential to difficult achievement." — Bertrand Russell
"The grand essentials to happiness in this life are something to do, something to love, and something to hope for." — Washington Burnap
"Everything can be taken from a man but one thing: the last of the human freedoms—to choose one's attitude in any given set of circumstances, to choose one's own way." — Viktor Frankl
"Nana korobi ya oki (Fall seven times, rise eight.)" — Japanese proverb
"Metabolism slows down 90 percent after 30 minutes of sitting. The enzymes that move the bad fat from your arteries to your muscles, where it can get burned off, slow down. And after two hours, good cholesterol drops 20 percent. Just getting up for five minutes is going to get things going again. These things are so simple they're almost stupid." — Gavin Bradley
Shout out to KYLE KOWALSKI for doing this written summary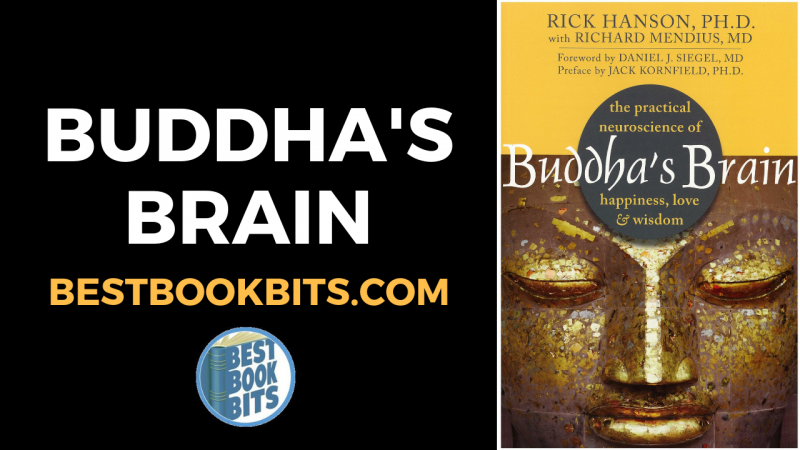 There is no wrong way to a meditation — the right way is what feels right to you.
…if I know one thing for sure, it's that you can do small things inside your mind that will lead to big changes in your brain and your experience of living.
What flows through your mind sculpts your brain. Thus, you can use your mind to change your brain for the better — which will benefit your whole being, and every other person whose life you touch.
I've already experienced the positive change that happens after meditative practice. A lot of times change happens without me noticing it consciously.
If you want to get good at anything, it helps to study those who have already mastered that skill, such as top chefs on TV if you like to cook. Therefore, if you'd like to feel more happiness, inner strength, clarity, and peace, it makes sense to learn from contemplative practitioners — dedicated lay people and monastics — who've really pursued the cultivation of these qualities.
Our brain has two major neuronal systems which keep us chasing carrots. The first one is dopamine based which has the effect of us wanting to repeat things that gave us rewards in the past. The second system is based on several other neuromodulators like endorphins, oxytocin and norepinephrine. These strengthen the neural circuits that are active, making them more likely to fire together in the future. Having desires can feel great but desiring in itself can be an unpleasant experience as the book states. Even mild longing is subtly uncomfortable.
When you do fulfill a desire, the rewards that follow are often not that great. They're ok, but look closely at your experience: Is the cookie really that tasty — especially after the third bite?
One reason meditation makes us happier is because it helps us overcome these stronger longings that prevent us from being happy.
The brain typically detects negative information faster than positive information.
It's easy to acquire feelings of learned helplessness from a few failures, but hard to undo those feelings, even with many successes. People will do more to avoid a loss than to acquire a comparable gain.
The Simulator in our brains
Simulation makes us suffer. What? Yes, it turns out our brain developed over three million years the capability to simulate the future, that's why we don't have to get hit by a car first to know that we should watch out before crossing the street. That ability of our brain is great, but it also pulls us out of the present moment by its very nature. There you are trying to concentrate at your work or to meditate, but your mind keeps caught in these mini mind-movies.
In sum, the simulator takes you out of the present moment and sets you chasing after carrots that aren't really so great while ignoring more important rewards (such as contentment and inner peace.)
Self-Compassion
Self-compassion isn't self-pity, but is simply warmth, concern, and good wishes — just like compassion for another person. Because self-compassion is more emotional than self-esteem, it's actually more powerful for reducing the impact of difficult conditions, preserving self-worth, and building resilience (Leary et al. 2007). It also opens your heart, since when you're closed to your own suffering, it's hard to be receptive to suffering in others.
The darts we throw ourselves
This concept was very interesting to me, I figured it to be so true in my own experience. Let me explain what first and second darts are. First darts are painfull experiences we have. Some are very useful, like the pain we feel when touching a hot stove. That pain protects us from a bad burn. But second darts are entirely of our choosing, it is how we react to our experiences.
They are ironically the ones that make us suffer most, not our initial experiences.
In relationships, second darts create vicious cycles: your second-dart reactions trigger reactions from the other person, which set off more darts from you, and so on.
Remarkably, most of our second-dart reactions occur when there is in fact no first dart anywhere to be found — when there's no pain inherent in the conditions we're reacting to. We add suffering to them.
And saddest of all, some second-dart reactions are to conditions that are actually positive. Like if someone pays you a compliment, that's a positive situation. But then you might start thinking, with some nervousness and even a little shame: Oh, I'm not really that good a person. Maybe they'll find out I'm a fraud. Right there, needless second-dart suffering begins.
The balanced brain
One of the things I most liked about this book is how it explains in very scientific terms the way our brain works. For instance, the amygdala is the part of the brain that produces a lot of suffering if not balanced by other parts of the brain like the prefrontal cortex (PFC) or the Anterior Cingulate Cortex Hub (AAC)
Strengthening the AAC — such as through meditation — helps you think more clearly when you're upset, and brings warmth and emotional intelligence to your logical reasoning.
Understanding equanimity, something you gain with meditation
With equanimity, what passes through your mind is held with spaciousness so you stay even-keeled and aren't thrown off balance. The ancient circuitry of the brain is continually driving you to react one way or another — equanimity is your circuit breaker… With equanimity, situations have only characteristics, not demands…
Equanimity is neither apathy nor indifference: you are warmly engaged with the world but not troubled by it.
Wow, I'm still amazed about this concept, it is something I want to obtain more of. I've had several experiences where I react very different now than I did before starting to meditate, I guess that's some equanimity in action.
Mindfulness
Awareness are neural patterns in your brain that are highly variable, but the representational capacities themselves — the basis of the subjective experience of awareness — are generally very stable. Consequently, resting in awareness brings a beautiful sense of inner clarity and peace.
Through mindfulness practice you can strengthen your mentalability of staying in awake and alert, but quiet and peaceful mind. In essence,mindfulness is well-controlled attention.
Shout out to karlbooklover.com for doing this written summary