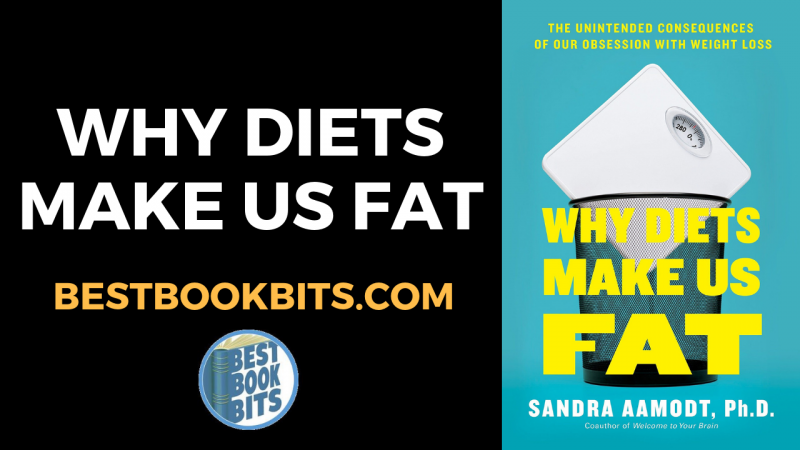 ★★★ Sign up to the WEEKLY Book Summary Newsletter by CLICKING HERE

WHY DIETS MAKE US FAT By Sandra Aamodt, PhD
BOOK SUMMARY: WHAT'S IN IT FOR ME? DISCOVER WHY EVERYTHING YOU'VE HEARD ABOUT DIETING IS WRONG.
We're constantly bombarded with trendy new diets. But whether you decide to become a fruitarian, count calories obsessively or limit yourself to the spartan sustenance of our stone age forebears, you may become disappointed when you realize that few diets give you the results you were hoping for.
While diets can help you shave off a few pounds in the short term, they rarely deliver the goods in the long run. We now have a much better understanding of why this is, thanks to advances in neuroscience, genetics and psychology.
As this book summary will show you, if your goal is to live and eat healthier, then simply focusing on weight loss is not the way to go. So let's dive into some of the popular myths about diets.
In this book summary, you'll learn
how evolution made gaining weight easier than losing it;
why willpower isn't that important to eating more healthily; and
how exercise might one day save your life.
SUMMARY PT 1: WHY DO YOU GAIN WEIGHT AGAIN AFTER LOSING IT? BECAUSE YOUR BRAIN THINKS YOU'RE STARVING.
If a woman of average height who weighs 110 pounds lost 30 pounds, most people would agree she was too skinny and possibly malnourished. Yet if a woman who weighs 230 pounds lost 30 pounds, many people would congratulate her for shedding the excess weight.
To society, there's a big difference in experience between these two women on a diet. Yet to the human brain, these scenarios are interpreted as dangerous: in both cases, the body thinks it's starving.
Your body has evolved to keep your weight within a defended range; that is, your average weight plus or minus 10 or 15 pounds.
It's relatively easy to achieve weight changes within your defended range through modifications in diet and exercise. The range itself can also shift, but it's important to keep in mind that it's far easier to raise the range than it is to lower it.
So while you can lose weight, once you drop below your defended range, your body will work hard to get you back to that level.
Why is this the case? Your brain maintains a highly effective energy-balance system, which automatically keeps your weight in its defended range by keeping the calories you burn close or equal to the calories you consume.
This energy-balance system, however, can easily be upset by the body's reward system. When you do something that helps you survive – for example, eat a calorie-rich hamburger – your body sends your brain a shot of the feel-good neurotransmitter dopamine.
Such a system was beneficial for our hunter-gatherer ancestors. When they found a stash of honeycomb or made a big kill, for instance, the body's reward system compelled them to overeat, which made sense for survival, as the next meal might not come for a while.
Today, however, this system doesn't work in our favor. With constant access to high-fat, sugary foods, we can too easily overeat, which pushes our bodies' reward system into a feel-good loop.
As a reaction to our overeating, we often put ourselves on diets. Yet, research suggests that if we diet repeatedly, it can cause changes in the brain, making the reward response even stronger, and resulting in even more indulgence.
SUMMARY PT 2: WILLPOWER PLAYS A MUCH SMALLER ROLE IN HEALTHY EATING THAN MOST DIETERS BELIEVE.
So is willpower the solution for keeping the body's reward system at bay amid a world full of sugary temptation?
The idea that a dieter must have a will of steel is a common dieting myth. Yet willpower isn't suited to battling the constant allure of tasty, calorie-rich treats.
Willpower is good when channeled to achieve short- or medium-term goals, but it's ineffective at meeting long-term goals.
A short-term goal might span a few hours, days or months, and involve tasks such as cooking a complicated recipe or finishing a work assignment.
Long-term goals, on the other hand, involve repetitive actions over the span of years – so using willpower to fight cravings continually is ineffective, because your willpower will no doubt wane before your dieting goals have been met.
In short, willpower is a finite resource that's needed to guide many human behaviors. Moreover, once you've depleted your store of willpower, it needs time to recharge.
Expending willpower to drag yourself to the gym, for instance, means you're going to have less of it when you get home and come face-to-face with that leftover chocolate cake.
Willpower has different levels of efficacy for different activities, too. A wide-ranging review of studies found that willpower was the least effective when making decisions about food.
On the other hand, willpower is great at regulating automatic behaviors, otherwise known as habits.
As we'll explore in the next book summarys, it's far more effective to form good eating habits than to try and use willpower to fight food cravings.
Once you use up your willpower, you inevitably revert to old habits. Then it's a matter of whether your habits include going for a jog or finding comfort in a pint of chocolate ice cream.
SUMMARY PT 3: WEIGHT DISCRIMINATION AND UNREALISTIC BODY IMAGES CAN LEAD TO DIRE HEALTH CONSEQUENCES.
Has anyone ever made a comment on your weight, insinuating that it wouldn't hurt if you lost a few pounds? If so, you've experienced a form of weight discrimination known as fat shaming.
Fat shaming hinders rather than helps – instead of encouraging people to lose weight, it more often leads to further weight gain and continued unhealthy eating habits.
That's because people who feel bad about themselves are more likely to binge. They're also less likely to exercise, since they don't identify themselves as fit, active individuals.
Children and teenagers are especially vulnerable to fat shaming. A study of 2,500 American girls who were fat shamed found that these girls were twice as likely to gain weight within the next five years than those who weren't criticized about their weight.
Another result of the pervasiveness of unrealistic body images in the media is mental health issues related to weight.
One study looking at the relationship between body image and media distortions was conducted in Fiji. In the 1970s, few women in this island nation suffered from an eating disorder or dieted; in fact, a full-figured Fijian woman was seen as ideal.
In 1995, researchers examined the impact of the introduction of satellite television to Fiji. They suspected that foreign commercials and TV shows depicting a Western ideal of beauty would somehow affect how local young women saw themselves.
Researchers organized focus groups in the province of Nadroga, first in 1995 with a group of 17-year-old girls, and again in 1998 with another group of girls.
While the girls' average weight remained steady between the two groups, researchers found that their relationship to food and their bodies had changed dramatically.
In just three years, the number of girls who said they suffered from an eating disorder such as anorexia or bulimia jumped from 13 to 29 percent. The modern Western ideal of slimness had overtaken Fijian culture, with a whopping 74 percent of girls reporting feeling "too large."
SUMMARY PT 4: GENETICS PLAYS A LARGE PART IN WHY PEOPLE PUT ON WEIGHT AND HOW MUCH WEIGHT ONE GAINS.
Have you ever noticed how it's easy to put on weight but difficult to lose it? The reason for this can be traced back hundreds of thousands of years to the first modern humans.
Early humans evolved to cope with famine, which is why our bodies are much better at hanging on to weight than shedding it.
Over some 200,000 years of modern human anatomical development, it's only in the last century that food has become something that is reliably and regularly available for the majority of people.
Before that, gathering food and evading predators required activities such as hunting and gathering, which made it difficult for early humans to overeat. The constant threat of starvation also meant that the genes that encourage weight loss were essentially undesirable and were gradually filtered out through evolution.
A person's genetic makeup also plays a large part in their predisposition for obesity, and even the subtlest differences in gene expression can lead to huge variations in weight gain.
A study conducted by Claude Bouchard and Angelo Tremblay, for instance, took pairs of identical and non-identical twins and had them consume an extra 1,000 calories per day for three months.
While the non-identical twin pairs differed in weight gain by as much as 28 pounds and as little as eight, the identical twins gained the same amounts of weight.
In another study that explored weight loss rather than weight gain, a group of identical twins burned 1,000 more calories a day than they normally did for three months. Twin pairs aligned even more closely in weight loss than in weight gain shown in the previous study – again demonstrating the power of genetic makeup when it comes to body weight.
And in a further example of how resistant bodies can be to weight loss, some participants lost just two pounds at the end of three months.
So, if you want to find out how predisposed you are to gaining weight, you can either take a range of expensive genetic tests or look at the waistlines of family members at the next reunion!
SUMMARY PT 5: BY PAYING MORE ATTENTION TO THE FOOD YOU EAT, YOU'LL ENJOY FOOD MORE AND EAT LESS OF IT.
Get ready to tune out all the dieticians and health gurus who claim to have found the perfect path to weight loss: the best guide to eating healthily is listening to yourself.
Mindfulness, the practice of staying present in the moment, can help you become a smarter eater.
When applied to food, mindful eating is about being fully aware of the dietary decisions you make and the actions you take concerning food consumption.
Instead of relying on diets and external cues, such as the temptation of junk food at the local convenience store, mindful eating will help you listen to your body's internal hunger signals.
To know what your body needs, you'll have to tune into the satiety signals from your energy-balance system. You can trust it – this internal system has worked for us since the dawn of humanity, long before the emergence of trends such as the Atkins or South Beach diets.
Here are a few techniques to start eating mindfully, which is the natural path to becoming fitter, thinner and less susceptible to eating disorders.
First, sit down for a meal when you're only moderately hungry. If you're famished, you're much more likely to eat too much too fast, and ignore signals from your body.
Second, eat at a slower pace. Put your utensil down between bites and savor the bite in your mouth instead of focusing on the next one.
Finally, eat only when you are completely free from distractions. Instead of checking your phone or sitting at your desk, engage fully with your food to enjoy it.
SUMMARY PT 6: BEING HEALTHY AND BEING THIN ARE NOT AS CLOSELY RELATED AS YOU MIGHT THINK.
People often feel healthier after they've started dieting and exercising, and often attribute this to the weight loss alone. In truth, weight loss is often just a temporary side effect, because physical activity is what makes you feel truly good.
Regular exercise is a much better indicator of health than weight, because no matter how much people weigh, active people are simply healthier.
Time and time again, studies show that when it comes to predicting early deaths, exercise levels are ten times more indicative than measures of obesity.
The first study to analyze the importance of weight versus exercise was carried out on London transport employees in 1949. British doctor Jeremy Morris collected data from 31,000 men who were either bus drivers or bus conductors.
Predictably, drivers didn't get much physical activity, as they sat in the driver's seat most of the time. Conductors, on the other hand, climbed nearly 500 steps a day while collecting fares on London's double-decker buses.
The studies found that conductors were 30 percent less likely to have a heart attack. Furthermore, the heart attacks they did suffer from were less life-threatening.
But what if being active simply made conductors slimmer and thus healthier? In a clever twist to the study, Morris also compared employees' waistlines with the potential risk of heart attack.
Indeed, conductors were thinner, but Morris also discovered that even the heaviest conductors were still less likely to suffer a heart attack than were the sedentary drivers.
The fact that a healthy body does not necessarily equal a thin body is especially true for the elderly.
Once you pass the age of 60, it becomes more dangerous to weigh too little than to weigh too much. Older people are more prone to serious illnesses, and a certain level of fat can act as a buffer against debilitating weight loss that can stem from a prolonged illness.
Therefore, to be as healthy as possible, it's better to focus on exercise over weight loss.
SUMMARY PT 7: ELIMINATE BAD HABITS AND FORM GOOD ONES FOR A HEALTHIER LIFE.
Doing something over and over will soon make that action become second nature. Such a habit is great when it comes to looking both ways before crossing a road, but bad if it means you beeline for the freezer and your favorite ice cream whenever you feel stressed.
So instead of straining your willpower, cultivate positive habits to maintain a healthy lifestyle.
Over half the things you do on a regular basis are automatic habits. The more you do something, the harder it is not to do it again. If you build positive habits, you can use your limited willpower for other things.
How long does it take to establish a habit? People often cite 21 days, but this is a minimum. In fact, the time it takes to develop a habit varies from situation to situation, but on average, it takes around two months for an action to become ingrained.
There are steps you can take to ensure good habits are formed successfully.
First, make sure your goal is realistic. Setting unrealistic goals is a surefire way to disappoint yourself and fall off the wagon. Instead of setting a goal to jog five times a week, try resolving to take a walk three times a week.
Second, be consistent. Missing one day isn't disastrous, but missing a week will throw you off course. One tip for maintaining a routine is to keep a record of the days you've completed.
Third, remember that it's easier to break bad habits by replacing them with positive ones.
All habits involve doing something, so you can't replace them by doing nothing instead. For example, if you like to snack on salty chips, it won't be enough to not eat them – instead, try replacing the chips with fresh fruit or nuts.
Remember: when you change your habits, you change your life!
IN REVIEW: WHY DIETS MAKE US FAT BOOK SUMMARY
The key message in this book:
Your body is much better at regulating your weight than any diet. If you learn to be responsive to your body's hunger cues and exercise regularly, you'll be on the right path toward better health.
Actionable Advice
Select one healthy habit and cultivate it slowly.
Don't change your diet, exercise regime and television schedule all at the same time; that's too much of a shock to your limited stores of willpower. If there's one habit that will improve your life today and for the rest of your days, it's being physically active!
SHOUT OUT TO https://conscioused.org FOR DOING THE WRITTEN SUMMARY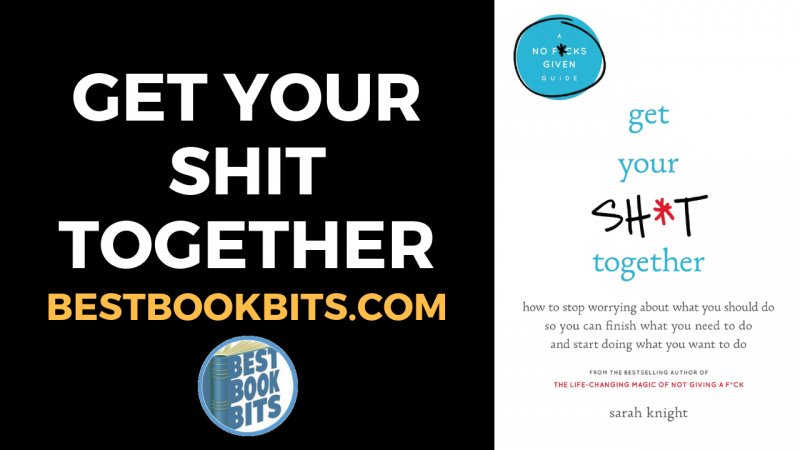 ★★★ Sign up to the Weekly Book Summary Newsletter by CLICKING HERE


GET YOUR SH*T TOGETHER By Sarah Knight
BOOK SUMMARY: WHAT'S IN IT FOR ME? GET YOUR LIFE TOGETHER.
How many times have you told yourself you're going to do something and then just never followed through? Whether it's cleaning the house, getting that promotion at work or making a loved one feel special, many of us are guilty of lacking the commitment to achieve the things we want in life. And it's not just our big goals that we struggle to fulfill – sometimes just getting through our daily routine can feel like a struggle, with not enough time in the day for even basic tasks.
Luckily, there's a solution to this cycle of ambitious goal-setting, failure and self-loathing. Read this book summary to discover how you can start following through on your promises to yourself. From achieving your weight-loss goals to furthering your career, let's go on a journey to discover how, with a little strategizing and a dash of focus and commitment, you can achieve your goals.
A polite word of warning before you start, though: as you might have guessed from the title, this book summary contain obscenities.
Read on to discover
how to harness the power of negative thinking;
why doing nothing can be the best strategy in a crisis; and
what career-changing conversation you need to have with your boss.
SUMMARY PT 1: GET YOUR SHIT TOGETHER BY ALLOCATING TIME TO ACHIEVE REALISTIC GOALS.
What's standing in the way of you achieving your goals and being happy? When we're challenged to get our proverbial shit together, our response is often "I just don't know where to begin." If this sounds familiar, then the first step toward getting your shit together is to consider exactly what your goals are, and when you plan to achieve them.
It's crucial to be realistic about what you hope to achieve, but many of us set the bar too high when it comes to our goals.
This is problematic because we can't become winners if we're constantly holding ourselves to unrealistic standards. Our body goals are a perfect example. If you're a normal person whose goal is to get in shape and lose some weight, it's a tad unrealistic to strive to look like gorgeous fitness model Kate Upton. Most likely, you simply don't have her body type.
So setting a goal of looking like her would be akin to aiming for an unreachable finish line. How discouraging is that? So discouraging, in fact, that it might be enough to make you quit the gym altogether, sit on your couch and mainline cookies rather than working out.
Therefore, get your shit together by ditching your unrealistic goals. Get on track by aiming for realistic progress that will make a difference to your actual life, like losing a few pounds of weight. In other words, don't set goals based on other people's measurements – measurements you're unlikely to match.
Another key step to getting your shit together is to establish a better relationship with time.
If you feel as if you don't have enough time to meet your goals, you probably have bad time-management skills. Combat this problem by gaining a better understanding of how you actually spend your time. You can do this by timing how long it takes you to fulfill routine tasks, such as having a shower or working out at the gym. Then, use this knowledge to create a realistic weekly schedule that contains all the things you want to do but never seem to have time for, such as learning a new skill. It really is that simple to start getting your shit together.
SUMMARY PT 2: MAINTAIN YOUR ROMANTIC RELATIONSHIP THROUGH A STRATEGY OF LOVING COMPETITION.
A big part of getting your shit together is maintaining your valued relationships. To keep our social and family connections ticking over, we need to do things actively to maintain or improve them. One of the most central relationships in our lives is often the one we have with our romantic partner. But the best way to nurture this relationship isn't necessarily to be as accommodating as possible. Actually, a better way to improve or maintain a great relationship with your significant other is to get competitive with them.
By getting competitive with your partner, we're not talking about playing a doubles tennis match. Instead, being competitive in this context means competing to be the most loving and thoughtful person in the relationship.
For instance, make it your goal to be the most helpful or the nicest one. Have a competition to see who gives the best present on Valentine's Day or makes the nicest surprising romantic gesture.
Injecting this loving rivalry into the mix is beneficial whether you're in the initial throws of passion or have been together for decades already. Once you adopt this winning relationship mind-set, you'll suddenly find that even the most mundane tasks become a labor of love for your partner. Even disposing of the garbage is now a way to score points in this competition, rather than a chore you find annoying.
And if you want to win big at this loving competition, get organized.
Set some time aside to make a list of all the things you could do for your partner that will bring you serious relationship points. These could be big things, such as romantic trips abroad, provided you have some significant cash at your disposal. But it's important that your list also contains lots of small loving gestures that require much smaller expenditure too, such as keeping the freezer stocked with their favorite flavor of ice cream.
In fact, small affectionate gestures expressed on a regular basis are much more effective than huge romantic gestures made only occasionally. Why? Because little, daily kindnesses give your partner the impression they're always on your mind. Conversely, the annual romantic blow-out can sometimes leave your loved one thinking you're just overcompensating for ignoring them all year!
SUMMARY PT 3: GET YOUR PROFESSIONAL SHIT TOGETHER BY EXUDING CONFIDENCE AND ASKING THE RIGHT QUESTIONS.
Getting your professional shit together means different things to different people. For the author, it meant taking the plunge, quitting her job as an editor and starting to work for herself as an author. For many of us, the equivalent might be gaining a promotion or a raise within our current position.
But whatever career path you find yourself on, there are some universally applicable tips for getting your shit together.
When it comes to the world of work, appearing confident – even if on the inside you're anything but – is crucial if you're going to win the trust and respect of others.
To project more confidence in the workplace, start by taking a look at your colleagues. Who appears to have their shit together and how do they give off that impression? Your colleagues are probably doing remarkably simple things to signal that they're capable, confident adults – things like having a cheerful and steady demeanor and managing to wear clean shirts without yesterday's lunch stains.
Ask yourself, would it be that difficult for you to emulate their confidence and togetherness? Probably not – you just need to keep a smile on your face and do your laundry!
Another important way to get your professional shit together is to ask your boss the right questions.
Namely, ask her what it is you need to do to reach your professional goals. For instance, if your dream is to become a director in your department, then explicitly ask your boss what you would need to do to be considered for such a position. Though this might seem like obvious advice, far too many of us keep quiet. Because we don't ask the right questions, we end up guessing how to prove to our seniors that we're ready for more responsibility.
But what do you have to lose by asking directly? Even if your boss replies that there's nothing you can do and there's no way for you to progress in the organization, you've still learned something valuable. Specifically, you've learned there is no future for you in your current job, and you need to find a new one – one where you can progress.
SUMMARY PT 4: GET YOUR HEALTH ON TRACK BY PRIORITIZING AND BY HARNESSING THE POWER OF NEGATIVE THINKING.
Millions of Americans are overweight and suffering from lifestyle-related illnesses such as type 2 diabetes. Given this, you might assume that this is a nation that cares little about its health and fitness. But you would be mistaken.
In fact, when the author conducted a survey asking people where they felt they most needed help, respondents overwhelmingly talked about their physical health.
So we really do care about our health, it's just that we don't know how to get our shit together. How can we change this?
If you need some help when it comes to your physical fitness goals, then try changing how you think about them.
Although everyone lauds the power of positive thinking to help you achieve your aims, the author believes that negativity can be just as powerful. For example, if you hate your body and your excess weight is getting you down, just weigh this negativity with how much you hate the idea of breaking a sweat in the gym. If your negative body image wins out, it's time to hit the treadmill. After all, it's better to face the short-term misery of lunges and squats than a lifetime of depression due to hatred of your appearance.
Your physical health goals also don't need to be radical for them to count toward getting your shit together.
During her youth, the author forced herself to go on long weekend runs and watched countless exercise videos. She was convinced that she needed to be thin. But these days she couldn't care less if she's carrying a little extra weight, and has ditched the punishing exercise regimen. But that doesn't mean she doesn't have her fitness shit together in her late thirties.
Nowadays she fits a little light stretching into her daily lifestyle. This fits in with her more mature priorities, which include being limber without slavishly devoting herself to exercise.
SUMMARY PT 5: COPE WITH ANXIETY BY BEING PROACTIVE OR BY STRATEGICALLY DOING NOTHING.
If you aspire to have your shit truly together, you'll need to deal with your emotional or mental health issues too. For many of us, that means learning how to cope with anxiety, a common mental health issue. Barring turning to a medical professional for help, there are two simple approaches that can help you deal with your anxiety.
Sometimes the best strategy when dealing with anxiety-inducing situations is to face the situation head-on and rip off that anxiety Band-Aid.
This strategy is helpful when dealing with situations from which it will be impossible to move on without being proactive. For instance, say you are desperate to move out of your current house-share and live on your own, but can't face telling your housemate that you are moving out. The only way you can get on with your life is to take a deep breath and tell him or her.
You can't just disappear in the dead of the night without telling them, but neither can you secretly move out and pay rent on two apartments to avoid an awkward conversation. Your anxiety will only go away, and likely be replaced with relief, once you've had the conversation you've been dreading and moved out.
The second strategy for coping with anxiety is precisely the opposite of the first. Instead of being proactive, consciously decide to do nothing.
In this strategy, you ignore the situation and hope that any problems resolve themselves on their own. This may sound irresponsible, but it's just sensible hesitation. For instance, if your boss sends you an ambiguous email that spikes your anxiety levels, it's probably not a good idea to reply immediately or to go charging into their office to ask if you're going to be fired.
Instead, try sleeping on it. When you return to work after a good night's sleep, there's every chance that email will seem perfectly innocuous. And voilà – no panicky response was necessary after all.
SUMMARY PT 6: GET HOUSE PROUD BY DIVIDING CHORES INTO 20-MINUTE SESSIONS.
What would it take for you to be able to keep your home clean? Although this aspiration might sound straightforward enough, for many of us, it's only a matter of hours before the dishes start piling up in the kitchen sink, and dirty laundry litters the bedroom floor again. When it comes to being house proud, our best-laid plans quickly go awry.
So how can you get your housekeeping shit together and remain in a perfect state of tidiness?
The first step is to undertake a one-off decluttering session.
Don't overdo it during this initial tidy-up. You don't need to engage in a life-transforming purge of everything you own. Instead, you should aim to get your home into enough order so that you wouldn't be embarrassed if your neighbors showed up unexpectedly.
Once you're satisfied with your efforts, the next step is to make a plan for the long-term tidiness of your home. To do this, start by separating every cleaning chore you can think of into different categories. For instance, some of these categories could include putting your children's toys away, folding and ironing laundry, taking the bins out, and vacuuming.
Now that you have divided all your chores into categories, it's time to commit to getting your shit together by making a pledge to yourself.
Namely, you should commit to undertaking one to two of these categories every other day. By breaking your housework up into bite-size chunks, it will be more manageable, and you won't feel overwhelmed. Schedule a small amount of time in your busy day to complete a category – when you think about it, you probably don't need more than 20 or so minutes to get each one done.
Once you've integrated this cleaning time into your schedule, you have no excuse not to stick to it. Some tasks, such as vacuuming, may require a little more of your time. But remember that vacuuming every other week for one hour is still going to be easier than adding that hour to another nine hours of other chores you have to do one day, all because you didn't divide them into daily 20-minute chunks.
So when it comes to getting your cleaning shit together, keep in mind that a little can go a long way.
IN REVIEW: GET YOUR SH*T TOGETHER BOOK SUMMARY
The key message in this book summary:
So many of us set unrealistic goals for ourselves – goals we have no hope of ever achieving. Instead, take a look at what realistic changes would make a difference in your life. Once you have a realistic goal, break it into manageable tasks and make a small amount of progress every day toward making it happen. Getting your shit together doesn't need to be difficult, you just need to be consistent.
Actionable advice:
Use your common sense to lose weight.
Losing weight isn't rocket science. You shouldn't continue eating whatever, and however much, you like, but neither do you need to eat just lettuce three times a day. To lose weight the sensible way, work out how many fewer calories you need to consume on a daily basis. Science tells us that 3,500 calories are needed to maintain around one pound of weight. Therefore, aim to lose one pound a week by cutting back your food intake by 500 calories a day. Simple – and no rabbit food required.
SHOUT OUT TO https://conscioused.org FOR DOING THE WRITTEN SUMMARY