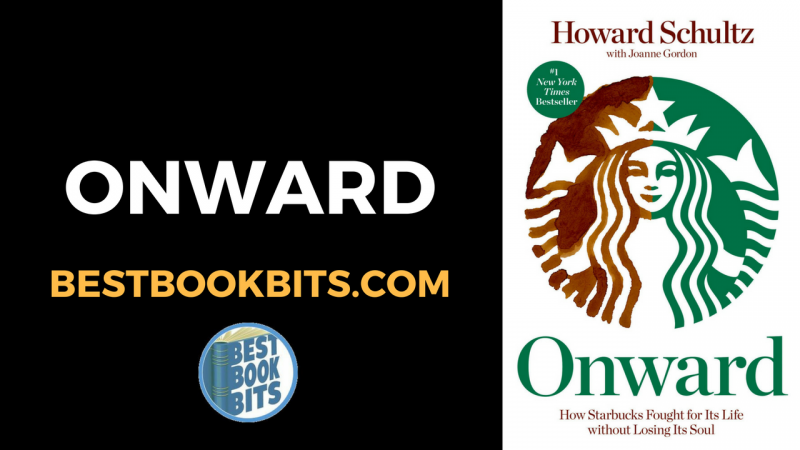 ★★★Sign up to the Weekly Book Summary Newsletter by CLICKING HERE
★★★Get any FREE audiobook of your choice by CLICKING HERE
★★★ View the Hottest Products of the month by CLICKING HERE


Onward by Howard Schultz
Introduction
In the introduction Howard Schultz explains how he was inspired to start Starbucks in the bar he saw visiting Italy. He describes the experience of Italian cafes as human interactions that resembled an amazing theater unfolding before his eyes.
His goals he says was never only that of winning or making money, but to build a great company which also cares about people. One which would give people the feeling of the Italian bars.
The idea of striking a balance between profit and social conscience is indeed a big recurring refrain along the book.
However Starbucks was failing that objective. During the years when Howard Schultz stepped out as CEO Starbucks started being obsessed with growth and bottom line revenues.
He takes the blame for that shift as well, but in January 2008 he decided to step back in and take the reins of the company again.
Onward is the story of his comeback and of Starbucks turnaround.
Part 1: Love
Chapter 1: A Beverage Of Truth
In chapter 1 of Onward Howard Schultz talks about unprecedented decision of closing all US stores to retrain the baristas. He says it was a bold move which was likely to have many critics.
It was an admission that the company was not good enough. But Howard Schultz says that he knew that was the truth.
But at the same time, it was a galvanizing move. The author had seen the quality of Starbucks cafe and experience deteriorate more and more, and he addressing the core product was a necessity. The simple fact Starbucks was going for it was a strong message the company was going to invest in its people.
And to put people and customers back at its core.
Chapter 2: A Love Story
In chapter 2 I particularly loved the description of entrepreneurship Howard Schultz makes. He says the companies entrepreneurs build become part of them and deeply personal.
The entrepreneurial journey, he says, has high highs but also low lows that can break your heart. Entrepreneurs must love what they do so much that it's worth the pain.
Doing anything else, for the entrepreneur, would be unimaginable
Howard Schultz says that when we love something, emotions drive us. And in reading Onward I had the perception indeed of a caring man with a big heart.
Chapter 3: Surfacing
Howard Schultz explains about his humble upbringing. His father was a blue collar delivery worker and when he fell and broke hip and ankle he was simply sent home.
No health care coverage, no severance payment, no nothing.
He deeply believe people deserved better than that.
But just as tragic for Schultz was the fact his father never found fulfillment in his work. Work should be fulfilling, Howard Schultz thought.
And he wanted to build that kind of company that his father never got the chance to work for.
And to build such a company, one needs intent, process and heart.
Chapter 4: Nothing Is Confidential
Howard talks here about an internal memo he wrote and how painful it was to see it leaked.
And yet that reminded him two things: one, that Starbucks needed to be more active in digital media. It needed to have the power to tell its own story, rather than being the victim of a rumor mill.
And the second was that as long as he spoke from his heart, he would be fine. He says:
Chapter 5: Magic
Chapter 5 is especially interesting because Howard was facing a dilemma: following his heart or the data.
Customers loved the sandwich cheese they were serving, but the melted and burned cheese was destroying the coffee aroma. And the coffee aroma was at the core of Starbucks.
Howard Schultz was not interested in finding a compromise.
Chapter 6: Loyalty
The major lesson learned is never to let success get to your head. Schultz says Starbucks never did… Until some did.
Chapter 7: Believe
The economy during the crisis was into a tailspin.
I found it interested that Howard Schultz was not sleeping before he stepped back as CEO. He wondered in the middle of the night what he was going to say.
The message here for me was that we all, all have our weak moments.
Part 2: Confidence
Chapter 8 A Reservoir Of Trust
Howard says he wanted to return to the roots, but it must have not been as a way of dwelling on their storied history. He had to go back to the roots while reinventing and innovating.
He would not cast blame on anyone, and the number one priority was that of instilling back confidence in the company's future.
As a website on social interactions, I found it particularly interesting when he talked about "reservoir of trust". Howard says that during the years, with exceptional employee benefits and respect, he had earned "points" with his employees he could now use in the difficult times.
This is basically the same principle of The Social Exchange Rule applied over time. And he's right, "deposits" do apply over time as well.
One thing I didn't agree 100% with Howard was when he talks about competitor and he says Starbucks needed to "differentiate itself". I think a company with strong roots doesn't need to "differentiate" itself.
Like Simon Sinek so well explains in Start With WHY, it's the commodity producers that need to differentiate themselves. The companies with a soul and strong values don't worry about differentiating.
Indeed soon after he explains that Starbucks had to show how their experience and customer relationships was not the same as a fast food business. It wasn't simply based on a transaction, but there was added human value.
Then Howard talks further about the competition and says that McDonald could actually serve well to Starbucks as a strong motivator. He is basically pointing out here the rule of out-group / in-group. We all feel closer and more emboldened when there's an "enemy" outside
Partners, customer and shareholders
Howard says he puts partners first, then customers, then shareholders. To create long term value for shareholders a company must create value for the employees and their customers first.
Which is not what always happens under pressure of Wall Street. He was going to change that. By slowing the opening of new stores first and putting the customer experience back on pole position.
Chapter 9: A New Way To See
Howard was going to put Starbucks core product first: without great coffee Starbucks had no reason to exist. Starbucks had to be the coffee authority.
Chapter 10: Playing To Win
Howard says the company too often had play on the defensive. Missing the earnings estimate was the primary fear and the primary motivator behind Starbucks' actions.
It was scandalous for him that Starbucks' coffee was rated behind McDonald's. So he would first of all restart grinding beans directly in the store, something that had been scrapped in a push to serve customers faster.
Chapter 11: Elevating The Core
Howard Schultz eliminated comps figure reporting as one of the main culprit in driving short-term thinking.
He refers once to walking into a store and seeing a bunch of stuffed animals for sales. They had nothing do with coffer or Starbucks, but the store managers said they were great for sales and had a big profit margin.
That was the mentality he needed to stamp out.
Chapter 12: Get In The Mud
Howard Schultz says that Starbucks mentality had become that of big numbers. A bad store, a non perfect cup of coffee or an unhappy customer meant nothing with the big numbers.
But they forgot that… "ones" add up.
The new mindset he wanted, instead, was to start from the core of what Starbucks was. One cup of coffee at a time.
Chapter 13: A Reason To Exist
Howard Schultz didn't particularly liked external consultants but decided to give them a try. And was very pleased with the top global leaders retreated a consultant firm organized.
He presented there his "Transformation Agenda", and was particularly touched seeing the line of people forming to sign their copy of the mission statement.
Chapter 14: Benevolence Inside
The author says Starbucks' coffee is exceptional, but that emotional connection is their true value proposition. And it's something, he says, too subtle for many business-people and cynics to appreciate or replicate.
He also speaks here about the importance of their Fairtrade initiatives.
Chapter 15: Beyond The Status Quo
Chapter 15 of Onward is all about the digital world and the new push of customers interaction he wanted to champion. Building a website to collect customers' feedback and idea was the first step.
Chapter 16: Bold Moves
Howard Schultz talks about his colleague, Costco CEO Jim Sinegal, a hero of ethical retail entrepreneurship and a protagonist in Leaders Eat Last by Simon Sinek.
Jim told him never to lose his customers because re-acquiring them after they were gone was going to be much more difficult and expensive.
And Howard started introducing reward cards.
Part 3: Pain
Chapter 17: Whirlwind Starbucks
Howard talks about critics he received, especially from Wall Street, for his decisions.
He says that Starbucks is not a coffee company serving people, but a people's company serving coffee, and human behavior is paramount because it's much harder to change than a recipe or a marketing strategy.
That's what most of his critics never understood.
He says that he realized later on how the good decisions he made has something in common while the bad ones didn't. The good ones:
Were right and engaged partners (Starbucks' employees)
Was right for customers and met their needs
Was right for the business
Howard talks about a few more frustrations here, including how he feels it's unfair that while Wall Street was taking the world down with them, Starbucks had become a symbol of excesses with the "$4 latte".
Chapter 18: A Lethal Combination
Howard talks here about the outdated in-store technology and of all the bloated expenses Starbucks was running.
He says that growth had taken precedence over everything and was the carcinogen that had invaded the company. Many of the newly opened stores didn't even make sense from a financial perspective.
Chapter 19: Reverence Building
Those close opened without paying attention to the returns they would bring had to be closed. Howard here clearly described how painful it was for him to close stores and let go of workers.
It was 600 in the end. 70% of which had been opened in the last 3 years, during the crazy push for growth and expansion.
He describes of all the steps he took to make sure he was giving the laid off workforce a chance.
Chapter 20: No Silver Bullets
Howard Schultz talks about the big success the customer card turned out to be, but how there was no silver bullet.
I found it particularly interesting that the author fell for a "silver bullet mentality", trying to find something that would change his business overnight.
And in that desperate quest, he embraced a product, an Italian sorbetto, that turned out to be a failure.
Chapter 21: I Know This To Be True
Chapter 31 of Onward then goes into the pain of having to let go of office staff.
He says that as much as they opened stores haphazardly, so people were hired at times to cover up processes deficiencies. Throwing bodies at problems instead of fixing the root causes.
He said again they tried to do it as emphatically as possible and providing with more benefits than most other similar companies would.
Some employees understood and thanked, but some others didn't. And Howard tells of a few email he received from some fired employees that hurt him to read.
He says he read every name of people being fired, not allowing them to become just a number on a spreadsheet.
He also made sure to speak about it and give people the chance to vent. Publicly. He hoped that talking to him and doing so publicly would reinforce the very values some felt he was tarnishing.
It reminded me a bit of Ray Dalio, when he says that you "must love the person you shoot". But Howard seems much more human than Dalio.
Part 4: Hope
Chapter 22: Truth In Crisis
Howard Schultz talks about how inefficient Starbucks' supply chain was.
Particularly interesting as a leadership lessons learned for me was the fact that the supply chain had no real supply chain expert. Starbucks used to promote from within, what the author calls "stretch hires".
But it seems like sometimes one does needs experts.
Starbucks' supply chain didn't need generalists to learn on the job, it had become a very complex matter that needed specialists.
Chapter 23: A Galvanizing Moment
Schultz talks about the 10.000 people strong conference he was being pressured to scrap to save costs but that he was adamant to keep.
He says he needed to see all the leaders and store manager all together to reignite the passion and remind of the company's values.
He says it was a huge success and a game changer.
Chapter 24: Nimble Someone
Chapter 24 of Onwards talks about the "free coffee for voters" campaign they managed to launch in a few weeks and which turned out to be a huge success.
It was a reminder that it was still possible to move quickly and that social media was going to be a game changer when used smartly.
It also reminded me of how Onwards used the political arena and the "vote" campaign to get some free advertising, an advertising "trigger."
Chapter 25: Plan B
Chapter 25 deals with cost cutting initiatives and the Lean methodology Howard implemented. He says he was skeptical, but soon changed his mind and the results were great.
Chapter 26: Stay The Course
Chapter 26 of Onwards talks about the investors conference. I was particularly intrigued of how worried Howard was until a former MBA player in his board of directors gave a pep talk behind curtains that helped everyone step up and deliver.
Part 5: Courage
Chapter 27: Innovate For More
Howard says that a good idea is not enough. A great execution is equally important. But instead of asking why, he would ask "why not", and launched a R&D branch to come up with new products.
Chapter 28: Conviction
Howard says he doesn't believe leadership has a single recipe for success, but he believes great leadership has two major attributes:
Confidence about the destination
The ability to bring people along
Chapter 29: Connecting Dots
Chapter 29 was interesting regarding how watchful famous people must be in front of cameras. Howard said Starbucks saw the situation in the UK being quite dire.
The journalist interview a UK government official soon after whom, in turn, lashed out against Starbucks.
Lesson learned.
Chapter 30: Balance The First
Howard Schultz talks here about the importance of charm, values and human connection. And at the same time he wants to do it at scale. He wants the magic of the coffe, but also wants it replicable and of the same quality over and over.
This reminded of Michael Gerber when he says McDonald is as passionate about burgers as any other burger enthusiast, but he made it at scale.
Howard wanted to balance efficiency with romance, humanity and profitability.
The lean methodology actually allowed baristas at Starbucks to be less stressed, move quicker and also have more time to talk to customers.
Chapter 31: Conscience
Traveling in Rwanda Howard wonders how much can one person or a single company do. He did not have an answer, but he knew that doing nothing was unconscionable.
Chapter 32: Winning Sitting
As the economy rebounds, Starbucks turned the corner for good.
Chapter 33: Nĭ Hăo
The book ends with Howard Schultz that, after fixing the US business, looks at expansion again. Starting with China.
EPILOGUE
The epilogue stresses again the importance of balance.
Howard says that growth is a tactic, not a strategy. And Starbucks lost its way when growth became a strategy.
Again Howard stressed the importance of the a sustainable economical model and the emotional attachment with the customers.
And of course, of being an authority in the core business. I particularly loved when he said:
The proof of Starbucks' coffee authority will always be in the cup
SHOUT OUT TO https://thepowermoves.com FOR DOING THE WRITTEN SUMMARY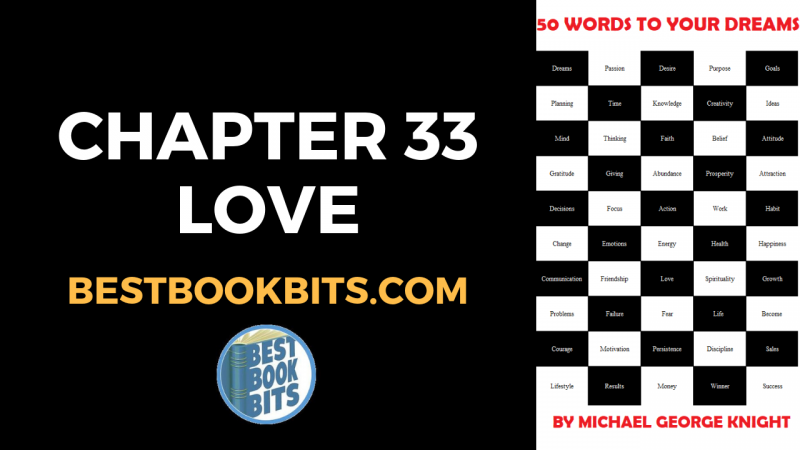 33 LOVE
Love is a word that has as many definitions as there are people to define it. Love can mean an intense feeling of deep affection for some and love can mean passion for others. Love can mean romance, desire, lust, yearning, infatuation, warmth, intimacy, attachment, endearment, devotion, worship and ardour. It can also be compassion, care, kindness, goodwill, altruism or philanthropy. As you can see the word love can mean different things to different people.
Ask ten people what love means to them and get ten different answers, but I ask you what does love mean to you? What thoughts come to your mind when you think of love? What people come to mind? What things come to mind? What do you love to do? What makes you come alive? What do you care about? Everyone has a different blueprint of love. A different way of experiencing love, a different way of showing love and a different way of getting love. For some to experience love they require romance and intimacy, for others it might be as simple as showing compassion and caring for another. Love can be felt by a simple loving thought, a loving word spoken or heard, a loving act seen or watched on TV. The way we get love isn't as important as the feeling of love itself. Cultivate more love into your life.
WHAT IS BLOCKING YOU FROM EXPERIENCING LOVE?
Before we look at ways to cultivate more love into your life, lets take a moment examine what is blocking you from experiencing love? What or who is stopping you from feeling love? Or are you missing that someone in your life to love and get love from? Is it yourself that is stopping your from experiencing love by your own thoughts? Have you been hurt in the past and now have your defenses up blocking love from entering into your life? Are you in a relationship and the romance has stopped? There could be a multitude of reasons that you are not experiencing the love you desire in your life. First step is identifying these love blocks before you take the next step in consciously cultivating more love into your life.
ACT YOUR WAY TO LOVE
You can think loving thoughts and say lovely things, but performing loving acts is what really gets the job done. Act your way into love by consciously performing loving acts. The quickest way to feel love is make another person feel loved. By the simple act of showing love to another through your loving actions, you increase love just as a candle loses nothing by lighting another candle. You can inject love into your life by your loving actions. Let's use an example to illustrate this further. A woman recently inherited her family fortune worth millions with one catch to the inheritance, she must give it all away before she too passes on. The woman decides to randomly mail complete strangers a cheque for $1,000 with a note that reads. "Someone out their loves you and wanted to make you smile, now go out there and make someone else smile too." The woman ends up sending out cheques to thousands of strangers with this one message. Who do you think received more love? The people randomly receiving a $1,000 cheque with a lovely note or the woman who sent out the thousands of cheques? I'll let you decide that one.
QUOTES ON LOVE
A dog is the only animal that doesn't have to work for a living. A hen has to lay eggs, a cow has to give milk, and a canary has to sing. But a dog makes his living by giving you nothing but love. (Ryan O'Meara)
A loving heart is the truest wisdom. (Charles Dickens)
A physician once said, "The best medicine for humans is love." Someone asked, "what if it doesn't work?" He smiled and said, "Increase the dose." (Unknown)
All love experiences are beneficial, except to the person who becomes resentful and cynical when love makes its departure. (Napoleon Hill)
Being deeply loved by someone gives you strength, while loving someone deeply gives you courage. (Lao Tzu)
Darkness cannot drive out darkness; only light can do that. Hate cannot drive out hate; only love can do that. (Martin Luther King, Jr.)
Do not think that love in order to be genuine has to be extraordinary. What we need is to love without getting tired. Be faithful in small things because it is in them that your strength lies. (Mother Teresa)
Don't move the way fear makes you move. Move the way love makes you move. Move the way joy makes you move. (Osho)
Eat like you love yourself. Move like you love yourself. Speak like you love yourself. Act like you love yourself. (Tara Stiles)
Every time you smile at someone, it is an action of love, a gift to that person, a beautiful thing. (Mother Teresa)
Falling in love is not a choice. To stay in love is. (Unknown)
Far too many people are looking for the right person, instead of trying to be the right person. (Gloria Steinem)
For just as love is my weapon to open the hearts of men, love is also my shield to repulse the arrows of hate and spears of anger. (Og Mandino)
Goodbyes are only for those who love with their eyes. Because for those who love with heart and soul there is no such thing as separation. (Rumi)
Gravitation cannot be held responsible for people falling in love. How on earth can you explain in terms of chemistry and physics so important a biological phenomenon as first love? Put your hand on a stove for a minute and it seems like an hour. Sit with that special girl for an hour and it seems like a minute. That's relativity. (Albert Einstein)
I am wise, for I know that love is the answer to all questions. (John Demartini)
I express the energy of unconditional love to all people and all things in my life. (Wayne Dyer)
I have decided to stick with love. Hate is too great a burden to bear. (Martin Luther King. Jr.)
I have found the paradox, that if you love until it hurts, there can be no more hurt, only more love. (Mother Teresa)
I searched for love everywhere until I found where it was all along, inside. (Debi Maldonado)
I will greet this day with love in my heart. (Og Mandino)
If you could only love enough, you could be the most powerful person in the world. (Emmett Fox)
If you don't have love for yourself and don't carry around this higher energy of love, you can't give it away. (Wayne Dyer)
If you wished to be loved, love. (Seneca)
It is good to love many things, for therein lies the true strength, and whosoever loves much performs much, and can accomplish much, and what is done in love is well done. (Vincent van Gogh)
It's easy to find someone to chill with. But it's hard to find someone to build with. (Unknown)
Let yourself be silently drawn by the stronger pull of what you really love. (Rumi)
Life without love is like a tree without blossoms or fruit. (Kahil Gibran)
Love and compassion are necessities, not luxuries. Without them, humanity cannot survive. (Dalai Lama)
Love cannot live under domination. (Norman Vincent Peale)
Love doesn't make the world go around. Love is what makes the ride worthwhile. (Franklin Jones)
Love everyone and serve everyone. (Ram Dass)
Love goes very far beyond the physical person of the beloved. (Viktor Frankl)
Love is a game that two can play and both win. (Eva Gabor)
Love is a language which the deaf can hear and the blind can read. (Mark Twain)
Love is a risk; you risk bearing your soul, opening your heart and feeling vulnerable, but it's much better to take the risk and have nothing, than to always play it safe. (Steven Aitchison)
Love is a state of being, not a trip from here to there. (Deepak Chopra)
Love is a state of being. Your love is not outside; it is deep within you. You can never lose it, and it cannot leave you. It is not dependent on some other body, some external form. (Eckhart Tolle)
Love is a verb. Love is doing, saying, showing. Never think just saying you love someone is enough. (Unknown)
Love is an emotion with many sides, shades, and colour. The love which one feels for parents or children is quite different from that which one feels for one's sweetheart. (Napoleon Hill)
Love is an unconditional commitment to an imperfect person. To love somebody isn't just a strong feeling. It's a decision, a judgement and a promise. (Unknown)
Love is happy when it is able to give something. The ego is happy when it is able to take something. (Osho)
Love is not what you say. Love is what you do. (Unknown)
Love is patient, love is kind. It does not envy, it does not boast, it is not proud. It does not dishonor others, it is not self-seeking, it is not easily angered, it keeps no record of wrongs. Love does not delight in evil but rejoices with the truth. It always protects, always trusts, always hopes, always perseveres. (Corinthians 13:4-8)
Love is the ability and willingness to allow those that you care for to be what they choose for themselves without any insistence that they satisfy you. (Wayne Dyer)
Love is the bridge between you and everything. (Rumi)
Love is the glue that holds everything together. (Unknown)
Love is the only force capable of transforming an enemy into a friend. (Martin Luther King Jr)
Love is when you are thinking: "How can I make you happy?" Attachment is when you are thinking: "why aren't you making me happy?" (Ponlop Rinpoche)
Love many things, for therein lies the true strength, and whosoever loves much performs much, and can accomplish much, and what is done in love is done well. (Vincent Van Gogh)
Love one another and help others to rise to the higher levels, simply by pouring out love. Love is infectious and the greatest healing energy. (Sai Baba)
Love yourself first so that other people will love you too. (Isabel Lacuesta)
Love, and you shall be loved. (Ralph Waldo Emerson)
Memories of love never pass. They linger, guide, and influence long after the source of stimulation has faded. There is nothing new in this. Every person, who has been moved by genuine love, knows that it leaves enduring traces upon the human heart. The effect of love endures, because love is spiritual in nature. The man who cannot be stimulated to great heights of achievement by love, is hopeless-he is dead, though he may seem to live. (Napoleon Hill)
Once a person loves himself or herself, the natural tendency is to turn outward toward loving and caring for other people. This is the mark of the healthy, happy person. (Brian Tracy)
One word frees us of all the weight and pain of life: That word is love. (Sophocles)
Our job is to love others without stopping to inquire whether or not they are worthy. (Thomas Merton)
People think a soul mate is your perfect fit, and that's what everyone wants. But a true soul mate is a mirror, the person who shows you everything that is holding you back, the person who brings you to your own attention so you can change your life. (Elizabeth Gilbert)
People were created to be loved. Things were created to be used. The reason why the world is in chaos is because things are being loved and people are being used. (Unknown)
The love that you withhold is the pain that carry. (Alex Collier)
The most difficult thing in the world to do is to send love in response to hate. (Unknown)
The one thing we can never get enough of is love. And the one thing we never give enough of is love. (Henry Miller)
The people who are the hardest to love are the ones who need it the most. (Peaceful Warrior)
The relationship between husband and wife should be one of closest friends. ( R. Ambedkar)
There are many treasures, but the greatest of these is love. In other words, it's better to live in a tent on the beach and know love, than to live in a mansion all alone. Your family and your love must be cultivated like a garden. Time, effort, and imagination must be summoned constantly to keep it flourishing and growing. (Jim Rohn)
There are two basic motivating forces: fear and love. When we are afraid, we pull back from life. When we are in love, we open to all that life has to offer with passion, excitement, and acceptance. We need to learn to love ourselves first, in all our glory and our imperfections. If we cannot love ourselves, we cannot fully open to our ability to love others or our potential to create. Evolution and all hopes for a better world rest in the fearlessness and open-hearted vision of people who embrace life. (John Lennon)
There is no greater power in the universe than the power of love. The feeling of love is the highest frequency you can emit. If you could wrap every thought in love, if you could love everything and everyone, your life would be transformed. (Rhonda Byrne)
There is only one poverty and that poverty is a heart that cannot love. (Osho)
To love for the sake of being loved is human, but to love for the sake of loving is angelic. (Alphonse de Lamartine)
We've got this gift of love, but love is like a precious plant. You can't just accept it and leave it in the cupboard or just think it's going to get on by itself. You've got to really look after it and nurture it. (John Lennon)
What is love? Love is the absence of judgment. (Dalai Lama)
What is the difference between I like you and I love you. Beautifully answered by Buddha: When you like a flower, you just pluck it. But when you love a flower, you water it daily. (Buddha)
When love empowers people, amazing things can happen. (Zig Ziglar)
When someone loves you, they don't have to say it. You can tell by the way they treat you. (Unknown)
When we come to the end of our lives, it won't be the material things we've accumulated that we'll want surrounding our bed. It will be the people we've loved and those who have loved us in return. (Zig Ziglar)
When you find true love, home is no longer a place. It's the person you love. And wherever they are, you're home. (Unknown)
Whenever we can manage to love without expectations, calculations, negotiations, we are indeed in heaven. (Rumi)
Where there is love there is life. (Mahatma Gandhi)
Wherever you are, and whatever you do, be in love. (Rumi)
You are what you love, not what loves you. (Kyle Cease)
You can only become truly accomplished at something you love. Don't make money your goal. Instead pursue the things you love doing and then do them so well that people can't take their eyes off of you. (Maya Angelou)
You don't have to change anybody, you just have to love them. (Maharaji)
You must love in such a way that the person you love feels free. (Thich Nhat Hnah)
You need power, only when you want to do something harmful otherwise love is enough to get everything done. (Charlie Chaplin)
You never lose by loving. You always lose by holding back. (Barbara de Angelis)
You, yourself, as much as anybody in the entire universe, deserve your love and affection. (Buddha)
Your task is not to search for love but to find a portal through which love can enter. (Eckhart Tolle)
Your task is not to seek for love but merely to seek and find all the barriers within yourself that you have built against it. (Rumi)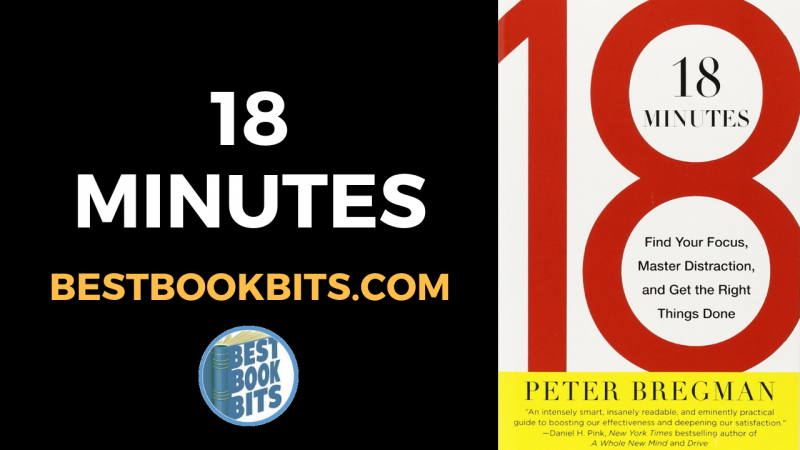 ★★★ Sign up to the WEEKLY Book Summary Newsletter by CLICKING HERE
★★★ Get any FREE Audiobook of your choice by CLICKING HERE
★★★ View the LATEST Products of the month by CLICKING HERE
BOOK SUMMARY: WHAT'S IN IT FOR ME? FIND YOUR FOCUS AND GET THINGS DONE IN 18 MINUTES.
Do you sometimes find it difficult to concentrate? You're not alone. With Facebook, Instagram and smartphones always with us, constantly beeping and buzzing, craving our attention, getting things done is tougher than ever.
So how do you fight these distractions and find your focus again? First of all, you need to accept that you can't do everything. Then you need to make sure that the goals you have are really yours. Then it's time to get going. Luckily, there are some neat tips and tricks that will make it easier for you to succeed. And it doesn't require a lot of time either. Just 18 minutes.
In this book summary, you'll learn
what Gmail's "undo send" function can teach you about life;
what jelly can teach you about choice; and
why you should embrace your quirks.
SUMMARY PT 1: START BY PAUSING AND FOCUSING ON THE BEST COURSE OF ACTION.
Sometimes waking up in the morning and looking at your to-do list can be overwhelming. Finding enough time to take care of everything can be a daily struggle. But with the right plan and some focused attention you can be your most productive self.
First, find your focus by pausing for a moment, reflecting on what needs to be done and finding the best and most fruitful course of action.
This pause will also lead to you making fewer mistakes.
Take Gmail's "undo send" function, for example. This feature gives you five seconds to reconsider whether you might regret that email you just sent. And five seconds is all most people need to pause and realize they've made a mistake.
Of course, it's more productive to avoiding writing and sending that email in the first place.
Our initial instincts are often emotional, and the part of our brain that controls our impulses needs those few extra seconds to take control and put us on the right path. So, before you take action, slow down and take a moment to consider and to avoid wasting time.
This pause can train your mind for long term success.
You can think of life in terms of a marathon: It requires constant effort and endurance. Marathon runners gain endurance by breaking their week into four days of short runs, one day of a long run and two days of rest. And just like these runners you need this rest to reflect and put things in perspective.
Pausing also allows you to think in new ways, leading to new possibilities.
Without that break you'll be on constant autopilot, acting out according to your idea of how things are supposed to be. This is the kind of behavior that leads to mistakes and missed opportunities. When you pause it gives your mind the chance to calm down, see things accurately and recognize the possibilities for productivity.
So take the important first step and pause.
SUMMARY PT 2: FIND WHAT'S RIGHT FOR YOU BY LEVERAGING YOUR STRENGTHS AND EMBRACING YOUR WEAKNESSES.
Are you so ambitious you don't know where to start? To find the best option for you, try to organize your life and focus on the things that matter most. Ask yourself what you want to accomplish in a day, week, year or lifetime.
To attain these goals, you will need direction, and the key to getting on the right path is limiting your choices and taking advantage of your strengths.
It is easier to take action when there are fewer options from which to choose. A simple way to narrow your options is to focus your attention on the things you are good at and work toward those talents and strengths. This can be a formula for being strategic about the things to which you dedicate your time and energy.
Use this method to focus on approximately five things that will make a difference in your life. It might be improving your social life, being a better parent or launching a new product. By devoting 95 percent of your time to these goals, you'll be directing your time and energy in the best possible way.
Focusing on your strengths doesn't mean ignoring your weaknesses. It is actually a good idea to embrace them!
For example, say that one of your weaknesses is that you look at issues in very black-and-white terms. The author's friend turned this weakness into an advantage by working on the issue of health reform. By not getting bogged down in unproductive arguments over gray areas, he used his stance of "I am right, you are wrong," as a source of power to move things forward and excel at his job.
So, when you are looking for direction in your life and choosing what to work on for the next day or year, take into consideration your strengths and weaknesses. You'll be on your way to getting the right things done.
SUMMARY PT 3: ASSERT YOUR DIFFERENCES AND PURSUE YOUR PASSION WHILE AVOIDING PITFALLS.
Have you ever considered what makes you different and unique as a disadvantage? Don't! It is a competitive advantage to be different from the rest!
Today's marketplace is crowded and people have more options than ever from which to choose. From bars and restaurants to technological gadgets and mobile applications, it's the ones that offer something unique and different that stand out and succeed.
If you are wondering what kind of successful project to work on for the next year, focus on the ones that have that special feature and stand out from the rest.
Often times these differences can lead us to pursue our passion.
It's much easier and more enjoyable to spend time on things we are passionate about. It can take a lot of time to master something or perfect a certain skill, so it's wise to turn your attention to something about which you're passionate.
Take learning an instrument, for example. A study at the Berlin Academy of Music revealed that it takes 8,000 hours of training to become a professional violinist. Those hours will go by much more quickly if you love what you are doing.
But to be successful you have to avoid the pitfalls along the way.
One common pitfall is the tendency to give up after a failure or misstep. Don't fall into this one! Instead, pick yourself up and look at a failure as a chance to learn from your mistakes and make improvements.
Another pitfall involves being paralyzed by uncertainty about the future. In reality, no one knows what the future holds – even a winning lottery ticket might turn into a future disaster! It's better to focus on the present and creating your opportunities.
So, now that you know what to look for – and what to avoid – it's time to follow the plan.
SUMMARY PT 4: PLAN YOUR DAY WITH THE WISDOM OF THE 18 MINUTES RITUAL.
To follow through on a plan, you have to spend your time wisely. And to do that you need to have a system to keep you focused and on track.
Luckily, there's a simple 18-minute ritual you can follow every day.
First, put aside five minutes in the morning to go over your plan for the day. In addition to things you would like to do, create an "ignore list" of things to avoid. This will help you navigate the work day and stay on target.
For example, if one of your goals is to become a better parent, today you might decide to avoid seeking the advice of other parents and instead focus on listening to your child.
Scheduling is a useful tool for getting things done. And this doesn't mean saying, "I'll get to it tomorrow." Studies have shown that people are more likely to accomplish a task when they set a very specific time and place.
Of course, sometimes things don't go according to plan and you'll need to reschedule. But don't postpone things for more than three days. Try to find time later that same day or sometime soon, and if it still doesn't get done it might be best to let it go.
The next step is to give yourself a one minute pause every hour during the day.
It's easy to get overwhelmed at some point and lose your focus. In order to stay on track, take a short pause every hour to reflect on the progress you've made and what lies ahead. Afterward, you'll be refocused and reenergized.
The final step is to take five minutes at the end of the day to review. This is time to think about what did and didn't work over the course of the day. Remember, learning from mistakes as well as victories is key to long-term success.
Now that you have the power of the 18-minute daily plan it's time to be the boss of your distractions.
SUMMARY PT 5: TO PREVENT DISTRACTIONS, MASTER YOUR INITIATIVE, YOUR BOUNDARIES AND YOURSELF.
So, even though you may have a plan in place and a daily ritual to help you stick to it, you might be asking, "What about all the daily distractions?"
Defeating distraction isn't easy, and often the hardest part of accomplishing a task is getting started.
You might find that simply changing your environment will help keep you focused. It's easy to get distracted if you're looking at the exact same wall every single day. Simply rearranging the chairs in a conference room can help people stay sharp in meetings.
Staying motivated is easier when you make accomplishing your tasks fun.
Say you have a long-term project in front of you on which it's intimidating to even get started. Try making a game out of it. Split the project up into different levels to ease the pressure and set up gradually increasing rewards for "beating" those levels.
Setting clear boundaries is important for a distraction-free work zone.
If you're working from a closed office, make it clear to everyone, even your kids, that your privacy is to be respected. If you have a knock-first-before-entering policy or a set do-not-disturb time, make sure to keep it enforced or else it can run the risk of being only a suggestion.
Sometimes we are our own worst distraction.
Here's a counterintuitive trick to help: distract yourself from your distractions! Often times you can resist temptations to snack or check Twitter by simply stopping and sidetracking yourself. This is similar to pausing and re-focusing yourself on the task at hand.
Now that you've mastered your distractions, it's time to start your plan. So here's a final tip: Start off small, the rest will come naturally.
IN REVIEW: 18 MINUTES BOOK SUMMARY
The key message in this book:
Don't do what others are expecting or what seems necessary, do what is right for you. Look at your unique strengths, weaknesses and passions. Then plan your year and follow the ritual of 18 minutes to help you reach your goals and overcome the distractions in your way.
Actionable advice:
Celebrate and use failure instead of fearing it.
Did you know Iceland is the happiest place on earth? That's because Icelanders don't stigmatize failures. And you shouldn't either. By accepting and learning from your mistakes you will adopt a growth mind-set which can enable you to maximize your potential. Failure is inevitable but also educational.
SHOUT OUT TO https://conscioused.org FOR DOING THE BOOK SUMMARY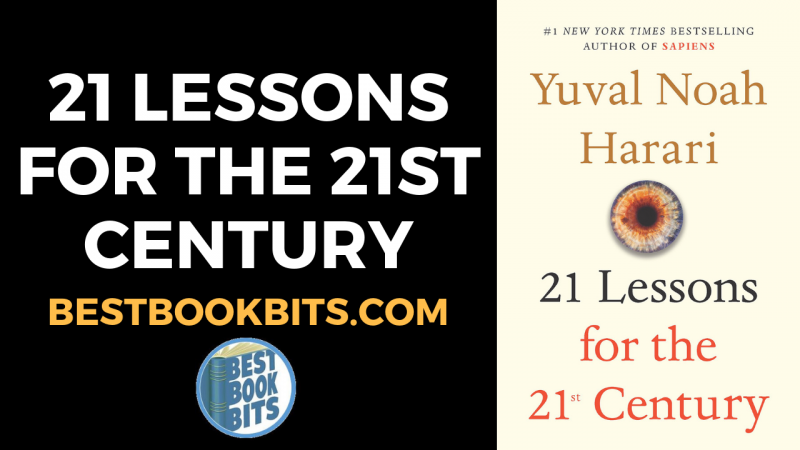 ★★★ Sign up to the WEEKLY Book Summary Newsletter by CLICKING HERE
★★★ Get any FREE Audiobook of your choice by CLICKING HERE
★★★ View the LATEST Products of the month by CLICKING HERE


Chapter One — Disillusionment
Stories
On the topic of information overwhelm, Harari makes the point that 'humans think in stories rather than in facts, numbers or equations which is why the communist, fascist and liberal stories of the 20th Century were so powerful.
The simpler the story, he says, the better. A lesson not only for those of you declaring political war, which is fair to say few of you are, but also for those of you in the business and entrepreneurship game. It's imperative that you make your stories simple.
While the 20th Century was all about three political systems, the 21st century introduces new stories and classes, that of humans, superhumans and artificial intelligence.
Artificial Intelligence
As AI gets more sophisticated it will create classes of humans; superhumans who are augmented by technology. As Elon Musk pointed out on a recent episode of the Joe Rogan Experience, we've already been augmented, there's just a disconnect and the data rate is too slow.
While there's a lot of pushback against the liberal story today, Harari says that at the end of the day humankind won't abandon the liberal story because it doesn't have any viable alternatives. "People may give the system and angry kick in the stomach but having no where else to go they will eventually come back."
Chapter 2 — Work
Harari says that the better we understand the biochemical mechanisms that underpin human emotions, desires and choices the better computers can get at analysing human behaviour, predicting human decisions and replacing human professions such as bankers and lawyers.
At least in some lines of work it might make sense to replace all humans with computers even if individually some humans still do a better job than machines.
On Automation
The US National Highway Traffic Safety Administration estimated that in 2012, 31% of fatal crashes involved alcohol abuse, 30% speeding and 20% distracted drivers.
Self-driving vehicles have none of these flaws and eventually, we could see the displacement of 3.5 million professional truck drivers in the United States alone, amongst other driving professions.
Rather than replacing humans entirely though, AI might actually help create new human jobs. Instead of humans competing with AI they could focus on servicing and leveraging AI. The job market of 2050 is likely to be characterised by human AI cooperation rather than competition.
Several years after IBM's Deep Blue defeated chess grandmaster Garry Kasparov, human computer cooperation flourished. However, in recent years computers have become so good at playing chess that their human collaborators lost their value, which could be seen as a precursor to what might happen at a more pervasive level.
Another computer program, DeepMind's Alpha Zero, went from utter ignorance to creative mastery in under four hours without the help of any human guide, to dominate the world's best AlphaGo players and programs.
AI and Creativity
People often say that AI could never feel like a human being, that it could never be as creative as a human being. On this point, chess tournament judges are constantly on the lookout for players secretly getting help from computers. One of the ways to catch cheats, we're told, is to monitor the level of originality players display. If they play exceptionally creative moves, the judge's suspect that this cannot possibly be a human move, it must be a computer move. At least in chess, creativity is already the trademark of computers rather than humans!
By 2050 not just the idea of a job for life but even the idea of a profession for life might seem antediluvian. However, Harari insists that many jobs are uninspiring drudgery not worth saving and I tend to agree given all the work I'm doing to help liberate people from playing boring process oriented roles to unlock their potential and help them lead more fulfilling work lives. Nobody's life dream is to be a cashier, says Harari. He goes on to say that "what we should focus on is providing for people's basic needs and protecting the social status and self worth". "Universal basic income will protect the poor against job losses and economic dislocation while protecting the rich from populist rage".
Alternatives to UBI
Government could subsidize universal basic services (UBS) rather than income Instead of giving money to people who then shop around for whatever they want the Government might subsidize free education, free healthcare, free transport and so forth. This effectively brings the communist plan to fruition, albeit not by revolution.
Harari warns of the threat of further geographic consolidation of wealth though. "If a 3D printer takes over from the Bangladeshis, the revenues previously earned by the South Asian country will now fill the coffers of a few tech giants in California. This could pave the way for an even greater wealth gap and the collapse of developing countries.
Some say that the big tech companies should be taxed to cover the shortfall, and right they may be, insofar as the local distribution of taxes is concerned, but Harari points out that people are unlikely to support the distribution of these funds offshore to places defined by president Trump as 'shithole countries'. If you believe the typical American voter will support that, says Harari, you might just as well believe that Santa Claus or the Easter Bunny will solve the problem.
Happiness = Reality — Expectations
The problem with UBI or UBS is that human beings aren't just built for satisfaction. Human happiness depends less on objective conditions and more on our own expectations. Our expectations adapt to changing conditions including to the condition of other people (keeping up with the Joneses). When things improve, expectations balloon and consequently even dramatic improvements in conditions might leave us as a dissatisfied as before.
Today's poor live better than yesterday's kings, however Americans are taking antidepressants in astounding numbers, leading to the current opioid epidemic. People need not only the basics, but they need to feel like they have enough, that their contributions are worthwhile, that they are learning and growing and that they have access to a community.
Chapter 3 — Liberty
On Democracy and Voting
Harari shares the following quote: "You might as well call a nationwide plebiscite to decide whether Einstein got his algebra right, all that passengers boat which runway the pilot should land." However, he goes on to say that for better or worse, elections and referendums are not about what we think. They're about what we feel.
Winston Churchill famously said that 'democracy is the worst political system in the world, except for all the others'. Rightly or wrongly people might reach the same conclusions about big data to algorithms that may come to run the world. They might have lots of bugs but we have no better alternative.
'Truth'
Recently on an episode of the Sam Harris podcast, Harris and psychologist Jordan Peterson debated for what seemed ad infinitum, the definition of truth. Harari puts it simply; truth today is defined by the top results of the Google search.
On big data algorithms, once we begin to count on AI to decide what to study, where to work, and who to marry, democratic elections and free markets will make little sense.
Psychology and AI in war
On 16 March 1968, a company of American soldiers went berserk in the South Vietnamese village of My Lai and massacred about 400 civilians. This war crime was initiated by American forces that had been involved in jungle guerrilla warfare for several months. It was a fault of human emotions. If the US had the killer robots in Vietnam, the massacre would never have occurred. However if the US had killer robots the war could have dragged on for many more years because the American government would have had fewer worries about the moral of soldiers or massive anti-war demonstrations.
Companies today are not only doing more with less, such as Netflix, which with 5,000 or so employees has a market capitalisation of more than US$60 billion compared to Blockbuster which, with a workforce of 60,000 could only muster up a market cap at its peak of US$5 billion. These benefits extend to the realm of warfare. Today whenever Palestinians make a phone call or post something on Facebook or travel from one place to another they're likely to be monitored by Israeli microphones, cameras, drones and software. The data is analysed with the aid of algorithms which helps Israeli security forces pinpoint and utilise potential threats. It is therefore surprisingly easy for few Israeli soldiers to control about two and a half million Palestinians.
Algorithms and Personal Finance
When you apply to your bank for a loan, it's likely that your application is processed by an algorithm rather than a human. The bank might refuse to give you a loan and you ask why and the bank replies, "algorithm said no". You ask, "why did the algorithm say no, what's wrong with me?" The bank replies "we don't know, no human understands the algorithm because it is based on advanced machine learning but we trust our algorithm so we won't give you a loan".
Chapter 4 — Equality
Those who own the data own the future.
Harari says that unlike land and machines data is everywhere and nowhere at the same time, it can move at the speed of light and you can create as many copies of it as you want. So we had better call upon our lawyers, politicians, philosophers and even poets to turn their attention to this conundrum. The key political question of our era is quite possibly, "how do you regulate the ownership of data?"
This also echoes what many commentators are saying when analysing the forward march of big tech companies who, more often than not, are spearheaded by people who lack the fundamentals when it comes to the broader economic, political, social or philosophical implications of their work. We need to solve complex problems by taking a multi-disciplinary approach.
Chapter 5 — Community
On tech addiction and how it is compromising genuine human connection and community, Harari makes the point that it is easier than ever to talk to his cousin in Switzerland but it is harder to talk to his husband over breakfast because he constantly looks at his smartphone instead of at him.
Chapter 6 — Civilization
10,000 years ago, humankind was divided into countless isolated tribes where we knew no more than a few dozen people. With each passing millennium these tribes fused to larger and larger groups creating fewer and fewer distinct civilizations. In recent generations the few remaining civilizations have been blending into a single global civilization.
People care far more about their enemies than about the trade partners, says Harari. For every American film about Taiwan there are probably about 50 about Vietnam.
The people we fight most often are our family members.
Chapter 7 — Nationalism
There is nothing wrong with benign patriotism.
The problem, Harari warns, starts when benign patriotism morphs into chauvinistic ultra-nationalism. Instead of believing that my nation is unique, which is true all nations, I might begin feeling that my nation is supreme.
The Environment
Unless we dramatically cut the emission of greenhouse gases in the next 20 years, average global temperatures will increase by more than two degrees celsius resulting in expanding deserts, disappearing ice caps, rising oceans and more extreme weather events such as hurricanes and typhoons.
It isn't a coincidence that scepticism about climate change tends to be the preserve of the nationalist right, says Harari. You rarely see left wing socialists tweet that climate change is a Chinese hoax. When there is no national answer, but only a global answer to the problem of global warming, some nationalist politicians prefer to believe the problem does not exist.
To counter this, the advent of unconventional technologies might help. For example, clean meat. This might sound like science fiction but the world's first clean hamburger was grown from cells and then eaten in 2013. It cost $330,000. Four years of research and development brought the price down to $11 per unit and within another decade, clean meat is expected to be cheaper than slaughtered meat, which can count for a lot towards ecological rejuvenation when you consider that the water footprint of beef alone is 1,800 gallons per pound of beef.
Three threats facing humanity: technological nuclear and ecological
We now have a global ecology, a global economy and global science but we are still stuck with only national politics. This mismatch prevents the political system from effectively countering a main problems. To have effective politics we must either be globalising ecology economy and the major science or we must globalise politics.
Global governance, Harari says, is unrealistic. Rather, to globalise politics means that political dynamics within countries give far more weight to global problems and interests.
Chapter 8 — Religion
Harari says that in order to understand the role of traditional religions in the world of the 21st Century, we need to distinguish between three types of problems:
1- Technical problems: how should farmers in arid countries deal with severe droughts caused by global warming?
2 Policy problems: what measures should Government adopt to prevent global warming in the first place?
3 Identity problems: should I even care about the problems of farmers on the other side of the world?
As Karl Marx argued, religion doesn't really have much to contribute to the great policy debates of our time.
Freud ridiculed the obsession people have about such matters as a narcissism of small differences. On this point, I did some research to find out why the Eastern Orthodox and Western Christian religions branched off from each other. One of the key points of difference that ultimately split the churches was that most Western Christians use a version of the Nicene Creed that states that the Holy Spirit "proceeds from the Father and the Son", whereas the original Orthodox version doesn't feature 'and the Son'. That was it. Perhaps Freud had a point.
Chapter 9 — Immigration
To clarify matters, Harari defines immigration as a deal with three basic conditions or terms.
1 — The host country allows immigrants in.
2 — In return, the immigrants must embrace at least the norms and values of the host country even if that means giving up some of their traditional norms and values.
3 — If they assimilate to a sufficient degree over time they become equal and full members of the host country. They become us.
Precisely because you cherish tolerance, says Harari, you can not allow too many intolerant people in. While the tolerant society can manage more liberal minorities, if the number of such extremes exceeds a certain threshold, the whole nature of society changes. If you are bringing in too many immigrants from the Middle East, you will eventually end up looking like the Middle East says Harari.
On culturists: People continue to conduct a heroic struggle against traditional racism without noticing that the battlefront has shifted from traditional racism to culturists.
Terrorism
On terrorists: They kill very few people but nevertheless managed to terrify billions and shake huge political structures such as the European Union or the United States to their core. Since September 11, every year terrorists have killed about 50 people in the EU, about 10 people in the USA, about seven people in China and 25,000 people globally, mostly in Iraq, Afghanistan, Pakistan, Nigeria and Syria.
Diabetes and high sugar levels kill up to 3.5 million people annually while air pollution kills about seven million people.
Terrorism is like the fly that tries to destroy a china shop. The fly is so weak that it cannot move even a single teacup. How does a fly destroy china shop, asks Harari? It gets inside a bull's ear and starts buzzing. The ball goes wild with fear and anger and destroys the china shop. This is what happened after 9/11 as Islamic Fundamentalist got inside the ear of the American bull to destroy the Middle Eastern china shop. Now they flourish in the wreckage. And Harari reminds us that there is no shortage of a short-tempered bulls in the world.
The overreaction to terrorism poses a far greater threat to our security than terrorist themselves. This lesson echoes lessons from Robert Greene's 33 Strategies of War, in luling your opponent into making a premature, emotion-driven decisions and ultimately, the wrong move, one that you are ready to capitalise on.
Harari says that a successful counter terrorism struggle should be conducted on three fronts.
1 — Government should focus on clandestine actions against the terror networks.
2 — The media should keep things in perspective and avoid hysteria theatre. As it stands, the media obsessively report terror attacks because reports on terrorism sell newspapers much better than reports of diabetes or pollution.
3 — The imagination of each and every one of us. Terrorist hold our imagination captive and use it against us. It is the responsibility of every citizen to liberate his or her imagination from the terrorists and to remind ourselves of the true dimensions of this threat.
Chapter 11 — War
Today information technology and biotechnology are more important than heavy industry when it comes to war.
Today the main economic assets consist of technical and institutional knowledge rather than wheat fields, goldmines or even oil fields and you just cannot conquer knowledge through war.
Chapter 12 — Humility
Even apes developed the tendency to help the poor, the needy and fatherless millions of years before the Bible instructed ancient Israelites to do the same.
Chapter 13 — God
Harari says that morality doesn't mean following divineties. It means reducing suffering. Hence in order to act morally you don't need to believe in any myth or story. You just need to develop a deep appreciation of suffering. In the long run, immoral behaviour is counterproductive. You're not likely to live in a society where strangers are constantly being raped and murdered. Not only would you be in constant danger but you would lack the benefit of trust between strangers which supports trade and economic growth among other things.
Religious belief can either create compassion in people or justify and stoke their anger especially if someone dares to insult their God ignores his wishes.
On secularism, Harari reminds us that the secular code enshrines the values of truth, compassion, equality, freedom, courage and responsibility. The secular code isn't an ideal to aspire to rather than social reality.
The most important secular commitment is to truth which is based on observation and evidence rather than on mere faith. Interestingly, Harari notes that strong belief is often required where the story isn't true.
It is the commitment to the truth and modern science which has enabled humankind to split the atom, decipher the human genome, track the evolution of life and understand the history of humanity itself.
Finally, secular people cherish responsibility. We need not credit any divine protector with these achievements the resulting from humans developing their own knowledge and compassion. Instead of praying for miracles we need to ask what we can do to help.
Harari makes a great point in saying that "as we come to make the most important decision in the history of life I personally would trust more in those who admit ignorance than those who claim infallibility". As I said in a recent blog post, beware of people bearing absolutes.
He goes on to say that "if I asked you what was the biggest mistake your religion, ideology or worldview committed, and you did not come up with something serious, I for one would not trust you".
Chapter 15 — Ignorance
On free will: Behavioral economists and evolutionary psychologists have demonstrated that most human decisions are based on emotional reactions and heuristics shortcuts rather than on rational analysis and that while out emotions and heuristics were perhaps suitable for dealing with life in the Stone Age they are woefully inadequate in the Silicon Age.
No individual knows everything it takes to build a cathedral and atom bomb or an aircraft. What gave homo sapiens an edge over other animals was not rationality but our unparalleled ability to think together in large groups.
Individual humans know embarrassingly little about the world and as history progressed we came to know less and less. We rely on the expertise of others for almost all our needs.
This is what Steven Sloman and Philip Fernbach refer to as 'the knowledge illusion'.
The reason we think we know a lot, even though individually we know very little, is because we treat knowledge in the minds of others as if it were our own.
If you can not afford to waste time you will never find the truth.
Most political figures and business moguls are forever on the run. Yet if you want to go deeply into any subject you need a lot of time and in particular you need the privilege of wasting time to experiment with unproductive paths, to explore dead ends to make space for doubts and boredom, to allow little seeds of insight to slowly grow and blossom.
Fake News
When one thousand people believe some made up story for one month that's fake news.
When a billion people believe it for a thousand years that's religion and we are admonished not to call it fake news in order not to hurt the feelings but the faithful. For better or worse, Harari says, fiction is among the most effective tools in humanity's toolkit. By bringing people together, religious creeds make large-scale human cooperation possible.
Stories in Business
Besides religions and ideologies commercial firms rely on fiction and fake news too. Branding often involves retelling the same fictional story again and again till people become convinced it is the truth. When I say Coca-Cola, you probably think of young people enjoying it, playing sports and having fun. You probably don't think about the overweight diabetes patients lying in hospital beds.
Harari goes on to say that while we certainly need the good science, from a political perspective a good science fiction movie is worth far more than an article in Science or Nature.
Chapter 18 — Science Fiction
In the early 21st Century, perhaps the most important artistic genre is science fiction because very few people read the latest articles in the field of machine learning or genetic engineering, but instead movies such as the Matrix and Her and TV series such as Westworld and Black Mirror shape how people understand technology and its social and economic impacts.
This also means that science fiction needs to be far more responsible in the way it depicts scientific realities otherwise it might give people with the wrong ideas or focus their attention on the wrong problems.
Perhaps the worst failing of present-day science fiction is that it attempts to confuse intelligence with consciousness. As a result it is overly concerned about a potential war between robots and humans when in fact we need to feel a conflict between a small superhuman elite. In thinking about the future of artificial intelligence, Harari says, Karl Marx is still a better guide than Steven Spielberg.
Chapter 19 — Education
Much of what kids learn today will likely be irrelevant by 2050, which echoes many of my own teachings as part of the Lemonade Stand children's entrepreneurship program, that we've been running for almost three years now. I've always maintained, during this time, that what kids really need to learn is adaptability, learning how to learn, resilience, curiosity, critical thinking, problem solving and effective collaboration. However, we'll learn what Harari and pedagogical experts think shortly.
Harari says that the last thing a teacher needs to give her pupils today is more information for they already have far too much of it. Instead, people need the ability to make sense of information, to tell the difference between what is important and what is an important and above all to combine many bits of information into a broad picture of the world.
Many pedagogical experts, Harari says, argue that schools should switch to teaching the four C's; critical thinking, communication, collaboration and creativity, echoing my earlier sentiments. More broadly schools should downplay technical skills and emphasize general-purpose life skills. Most important of all will be the ability to deal with change to learn new things and to preserve your mental balance in unfamiliar situations. Again, learning how to learn, resilience and adaptability.
If somebody describes to you the world of the mid-21st Century and it sounds like science fiction. it is probably false, but if somebody describes to you the world of the mid-21st Century and it doesn't sound like science fiction, it is certainly false, says Harari.
On adapting to change, after a certain age, Harari says, most people just don't like to change. When you are fifteen your entire life is change. By the time you are fifty, you don't want to change and most people have given up on conquering the world. You prefer stability. You have invested so much in your skills, your career, your identity and your worldview that you don't want to start all over again. The harder you've worked on building something the more difficult it is to let go of it and make room for something new. This shows up in most established organisations today with entrenched ways of doing things and senior decision makers who are unwavering in their desire to maintain the status quo.
In light of this, the best advice Harari has for today's fifteen year olds is not to rely on the adults too much. Most of them mean well but they just don't understand the world.
To run fast don't take much luggage with you and leave all your illusions behind — they're very heavy.
Turtles All the Way Down
There is a story of a man who claim that the world is kept in place by resting on the back of a huge elephant. When asked what the elephant stands on he replied that I stand on the back of a large turtle. And the turtle? On the back of an even bigger turtle. And that bigger turtle? The man snapped and said 'don't bother about it, from there onwards it's turtles all the way down'.
Going back to the introductory gambit on stories, the most successful stories, Harari says, are open ended.
Most stories are held together by the weight of the roof rather than by the strength of the foundations. In history, the roof is sometimes more important than the foundations.
Make People Believe in Your Story
If you want to make people really believe in some fiction entice them to make a sacrifice on its behalf. Why do you think women ask their lovers to bring them diamond rings, asks Harari? Once a lover makes such a huge financial sacrifice he must convince himself that it was for a worthy cause. This is in line with rationalising and normalising our decisions and what Barry Schwartz calls satisficing.
When you inflict suffering on yourself in the name of some story, it gives you a choice, either the story is true or I am a gullible fool. When you inflict suffering on others you are also given a choice, either the story is true or I'm a cruel villain. And just as we don't want to admit we are fools we also don't want to admit we are villains so we prefer to believe that the story is true.
One more thing on Free Will
Just consider the next thought that pops in your mind, where did it come from? Did you really choose to think it and only then did you think it? Certainly not.
Realising this can help us become less obsessive about our opinions feelings and desires. Humans usually give so much importance to their desires that they try to control in shape the entire world according to these desires. It is better to understand ourselves, our minds and our desires rather than try to realise whatever fantasy pops up in our heads.
Social Media
It is fascinating and terrifying to behold people who spent countless hours constructing and embellishing a perfect self online, becoming attached to their creation, and mistaking it for the truth about themselves. If you could only feel what the people in the photos felt while taking them. Hence if you really want to understand yourself, Harari says, you should not identify with your Facebook or Instagram account.
The Buddha and the Universe
The Buddha taught that the three basic realities of the Universe.
1 — Everything is constantly changing
2 — Nothing has any enduring essence; and
3 — Nothing is completely satisfied.
Suffering emerges because people fail to appreciate this. You can explore the furthest reaches of the galaxy, but you will never encounter something that does not change, the has an eternal essence, and that completely satisfies you.
According to the Buddha, life has no meaning and people don't need to create any meaning.
Chapter 21 — Meditation
Harari echoes what philosophers have been saying for millenia, that the deepest source of suffering is in the patterns of our own minds. When I want something and it doesn't happen, my mind reacts by generating suffering. Suffering is not an objective condition in the outside world. It is a mental reaction generated by our own minds. Learning this is the first step towards seizing to generate more suffering.
Meditation is not an escape from reality. It is getting in touch with reality. Without the focus and clarity provided by this practice, Harari says he could not have written this book. He sees meditation as yet another valuable tool in the scientific talking, especially when trying to understand the human mind, which is an interesting take on conflating calm and clarity with ambition and progress.
Harari closes out with some words of wisdom:
Consciousness is the greatest mystery in the universe.
We had better understand our minds before the algorithms make a match up for us.
Shout out to Steve Glaveski for doing the written summary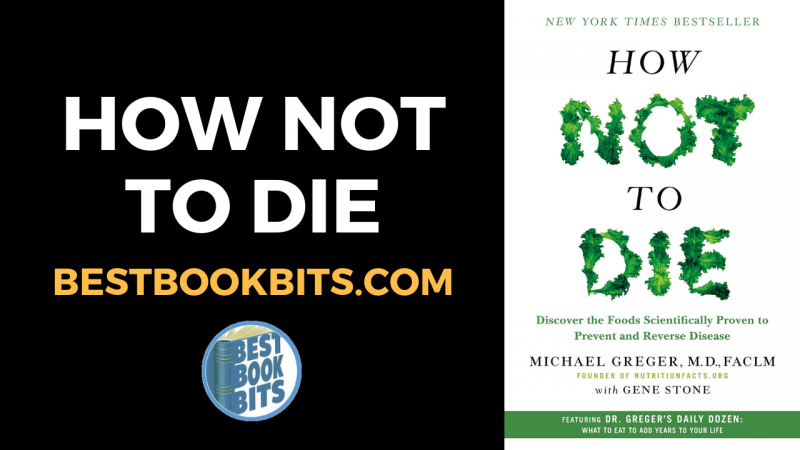 ★★★Sign up to the Weekly Book Summary Newsletter by CLICKING HERE
★★★Get any FREE audiobook of your choice by CLICKING HERE
★★★ View the Hottest Products of the month by CLICKING HERE
​Preface
Bodies heal themselves when stop eating artery clogging foods
nutritionfacts.org
Intro
Diet number one cause of disease
Physicians inadequately trained on nutrition
Risk for diseases change when you move countries and change diets
Best is unprocessed whole plant foods
Four key factors to reduce disease risk
Don't smoke
Don't be overweight
30 min of exercise per day
Eat right
Whole foods
Refined grains, soda, and meat quickens telomere loss
Quality not quantity of food eaten is the key
Telomeres regrow through better food choices and reverse heart disease
Best diet is one that is whole food plant based diet
Discourages meat, dairy, eggs, processed foods
Treat the cause not the symptoms
Reimbursement more impactful than research
Non genetic favors like diet have much bigger impact on disease risk
Twin studies show that diet much more impactful than genes
How not to die from heart disease

Our top killer
No benefit from fish oil supplements or eating fatty fish
Plaque buildup starts in heart shoe in pregnant mom based on her diet
Trans fat and saturated fat worst
Eating animal products and processed junk the worst
Best target cholesterol under 150 and LDL under 70
Diet centered around whole plant food
Healthy diet reverses heart disease
Endotoxins from animal products
Vegan diet reverses angina
Brazil nuts improve cholesterol levels in just a single journal and remains a month later. Just eat 4 per month because have a lot of selenium.
How not to die from lung diseases

Healthy diet protects against lung cancer
Load up on broccoli. Stops metastases.
Kale lowered bad cholesterol
Turmeric prevents cancer
Prenatal exposure to barbecue fumes affects birth size and head size and future cognitive development
Living next to restaurant increases cancer due to exhaust fumes of cooked food. Chinese restaurants worst effect.
Bacon fumes worst
Asthma worse from diet based on animal products
Supplements of vitamins don't help but actual fruit and vegetable intake better
How not to die from brain diseases

High fibre diet reduces risks
Need to eat more potassium. Not potassium. Greens, beans, sweet potato best.
Citrus great. Oranges best.
8 hours of sleep best
Antioxidants. Those fruits like mangoes that don't turn brown when exposed to air. Add lemons to fruit salad so doesn't turn brown.
bit.ly/antioxidant foods
Clogged arteries lead to Alzheimer's
Diet can trump genetics
More saturated fats worse for brain
Berries great for brain health
Saffron best helping spice against Alzheimer's
Cooking with wet methods better than with dry
Aerobic exercise helps cognitive function
How not to die from digestive cancers
Turmeric very good
Fiber intake
How not to die from infections
Sneeze into crook of elbow
Diet strengthens immune system
Kale
Broccoli
Vegetables activate immune system with each meal
Berries
Probiotics
Cardamom
Prebiotics are in beans and whole plant foods and greens
Exercise boosts immune system
Boosting immunity with mushrooms
Eggs and chicken contaminated with salmonella
Bladder and uti infections caused by E. coli from chicken
How not to die from diabetes

Insulin resistance
Higher fat intake leads to insulin resistance
Kids eating veggie diets grow taller
Saturated fats in animal foods
Legumes help prevent diabetes
Veggie diet better than caloric restriction
People feel better on plant based diet
Plants cure diabetes
How not to die from high blood pressure

Over 120 is high blood pressure
Sodium too much dangerous
Low sodium diet reverses high blood pressure
Chicken breasts stuffed with salt in production
Each thing you eat should have less sodium than calories or grams of serving size
Dairy and meat raise blood pressures over vegan
Raw vegetables better than cooked
Ground flax seed very good
Beans, chickpeas, Lentils good
Hibiscus tea good
Beet juice
Arugula
Eat big salad daily
How not to die from liver diseases

Oatmeal, whole wheat, brown rice good
Make your own cranberry cocktail
Whole food better than supplement
Coffee helps
How not to die from blood cancers
Plant diet helps prevent
Real açaí berries actually good
Cloves, cinnamon, purple cabbage
Curcumin
HHhHow not to die from kidney disease
Animal protein more acidic than plant
Purple cabbage
Nitrosamines carcinogenic in hot dogs
How not to die from breast cancer
Vigorous exercise protects
Better melatonin control helps
Black beans good
Lots of fiber
Apple a day
Broccoli defends
Flax seeds
soybeans
How not to die for suicidal depression

Saffron
How not to die from prostate cancer

Milk harmful
Eggs linked to prostate progression
Eggs and poultry worst
Add cruciferous vegetables
Igf1
How not to die from Parkinson's disease

Reduce dioxin intake
Dairy blocks benefits of berries
Coffee helps
How not to die from iatrogenic causes of doctors

Dietary antioxidants better than supplements
Salicylic acid
Part 2 introduction

Traffic light system
Daily dozen
iPhone app
Opportunity cost of eating one thing versus another
What's healthier depends on compared to what
Nuts, soy foods, whole grains and less meat and dairy
Traffic light categories in pdf
Plant vs animal foods
Unprocessed vs processed foods
If it came from a plant, eat it. If it was made in a plant, don't.
Milling of wheat into white flour is processing it
Unprocessed means nothing bad added, nothing good taken away
Just scale back unhealthy if can't totally avoid
3 step method
Think of 3 green light meals u already enjoy
Whole grain pasta marinara sauce with veggies
Think of 3 meals that could be adapted to be green light
Switch from beef chili to 5 bean chili
Discover 3 new healthy options
Forksoverknives.com
Straightupfood.com
Happyheathylonglife.com
PCRM 21 day kick-start program online starts first of every month
Think of it as an experiment
What he eats
The more u eat healthy, the better it tastes
Greger Daily dozen
Dry erase board checklist on fridge
In supplemental pdf
5 glasses of beverages
Beans can be any legumes and lentils
Ground flax seeds
Turmeric, vinegar
90 minutes of moderate exercise or 40 minutes of intense
PB banana sandwich knocks off 4 boxes at once; easy to do several at a time
Frozen berries in freezer
Beans
Serving is around 0.5-1 cup
Legumes with every meal: beans, chickpeas, lentils
Soy
Miso soup
Edamame
English peas
Lentils. Sprouted lentils.
Buy no salt added canned beans
Roasted chickpeas
Black bean brownies
Berries
½ cup per day
Pigment is the antioxidant so the more color the better
Strawberries, blackberries
Fructose only in added sugar bad and contributes to weight gain but not in fruits
Eating fruits with dessert or white bread slows release of insulin
Eating crazy high amount of fruit still doesn't have adverse effects
Frozen berries as nutritious as natural
Soft serve ice cream made just in blender from frozen
Tart cherries
Goji berries helps with macular degeneration
Black currants help with computer eye strain
Blending better than juicing
Other fruits
Apples
Dates
Mango
Kiwi
Citrus and peel
Cruciferous vegetables
Arugula
Cauliflower, broccoli
Sprinkle mustard powder to broccoli
Horseradish
Roasted cauliflower or broccoli
Kale chips
Purple or red cabbage
Broccoli sprouts and growing own veggies at home in kitchen
Greens
Cup of raw or half cup of cooked
Spinach
Chlorophyll eaten by body combines with sunlight to create CoQ10
Black or Tuscan kale best
Balsamic glaze
Green smoothies: liquid, ripe fruit, greens
Fresh mint leaves
Pair greens with something u love like nuts
Put everything u eat on a bed of greens
Vinegar great for blood sugar control
Even consuming vinegar outside meals good
Apple cider vinegar
Salad days
Avoid alfalfa sprouts because lots of salmonella
Other vegetables
Oyster mushrooms
Sweet potatoes
Carrots
Boiled purple potatoes
Pair veggies with peanut butter and salad dressing dips
Kids and adults will eat more when call the fruits and veggies more fun names
The more parents eat veggies the more kids do
Cruciferous veggies plus garlic or onion
Bell peppers best eaten raw
At least half your plate should be filled with vegetables
Flaxseeds
1 tablespoon ground per day
Better ground than oil
Dried fruit and nut bars calorie rich but don't contribute to weight gain
Trail mix
Nuts and seeds
¼ cup of nuts or 2 tablespoons of butter
Blended nuts to make creamy sauces
Walnuts best
Peanut butter very good
Nuts boost metabolism
Pistachio nuts for sexual dysfunction
ED predicts heart problems
Eat lots of seeds
Herbs and spices
Quarter teaspoon turmeric per day plus other spices
Salt-free herbs and spices
Pick out foods with most vibrant colors
How to eat turmeric
Combine with some source of fat
Fresh turmeric root (¼ inch per day)
Grate onto other veggies
Can consume with soy
Good for lentil, brown rice
Supplements worse
Saffron
Fenugreek improves muscle strength
Cilantro
Cayenne pepper
Ginger powder in water relieves migraines and menstrual cramps
Lemon ginger apple juice or apple juice
Peppermint
Oregano and marjoram
Cloves
Amla indian spice/fruit. Can buy the powder online or in indian stores. Capsule as last resort.
Breakfast smoothie recipe in book with antioxidants
Garam masala
Spice mixes
Smoked paprika
Whole grains
3 servings per day
Lowers inflammation
Red quinoa better. More color better. Colored rice.
8 checkmark pesto recipe
Popcorn
Bionature brand pasta
5:1 rule: grams of carbs to grams of fiber should be 5 or less
Apply same rule to cereals
Puffed cereal worse than non-puffed
Oats
Beverages
Teas
5 glasses tap water per day
Zero milk per day
Water is top drink
Drinking water improves cognitive performance
Add fruits and berries to water
Green tea best
Helps skin and spring allergies
If add lemon then white tea Better than green
1 minute steeping enough
Throw tea leaves into smoothie
Matcha powder
The best sweetener
Blackstrap molasses
Or date sugar
Erithritol best artificial one but only good for increasing consumption of green light foods
Hibiscus tea
Daily tea recipe
Rinse mouth with water after drinking anything sour
​
Exercise
90 minutes of moderate or 40 min of intense daily
Stand up more
Walking meetings
Standing and treadmill desks
Treat sore muscles with plants
Berries help
SHOUT OUT TO http://www.maxmednik.com FOR DOING THE WRITTEN SUMMARY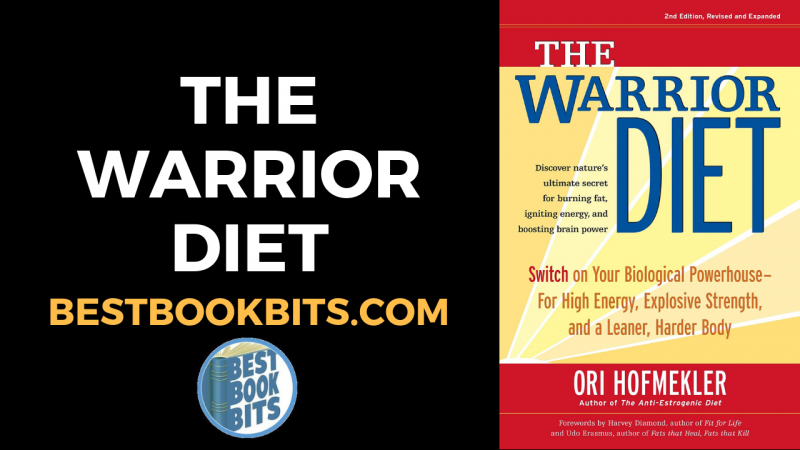 ★★★Sign up to the Weekly Book Summary Newsletter by CLICKING HERE
★★★Get any FREE audiobook of your choice by CLICKING HERE
★★★ View the Hottest Products of the month by CLICKING HERE


The warrior diet is essentially eating one meal a day and restricting calories and macronutrients
If you want to nibble on snacks during the day, you can do so with fruits, vegetables, and a little protein
This doesn't include carbohydrates like bread and grains
Exercising on an empty stomach supports our sympathetic nervous system and promotes more weight loss
This diet guarantees several hours a day of fat burning hormones percolating through your body
During this period, your body is at a peak capacity to remove toxins and generate energy while staying alert, resisting fatigue and stress
Long periods of undereating increase protein efficiency
Your body will become more efficient at recycling proteins and will be utilized more efficiently when you do eat them
Not eating for long periods also improves insulin sensitivity so that when you do eat, your blood sugar doesn't fluctuate wildly and your body won't store the carbohydrate calories as fat
The trick is to re-train your body and teach it to become more instinctive
You can do this by avoiding most foods during the day though he recommends eating vegetables and fruits, and a little protein during the day like eggs, cheese, yogurt, and high-quality whey
He refers to "Warrior" as an instinct deep within us all
Stubborn fat is the fat that's hard to get rid of and is caused by an excess of the female hormone estrogen
The Warrior Diet Principle:
The warrior diet is based on the daily cycle of under-eating and overeating
The warrior diet goals:
Trigger the warrior instinct
Burn fat
Gain strength
Accelerate metabolism
Boost virility
Detoxify
Slow the aging process
Attain a sense of freedom
Reach satisfaction
Live instinctively
Chapter 1: The Warrior Instinct
The warrior instinct manifests itself through 3 other human instincts:
The instinct to survive and multiply
The hunter predator instinct
The scavenger instinct
Falcons are trained well keeping their edge by keeping them underfed which allows their vitality and sharpness to maintain
While hunters eat only once hungry, scavengers eat all the time
Chapter 2: The Warrior Cycle
The distinguishing aspects of the warrior cycle are:
The energy cycle
The cycle of materialism and de-materialism
The healing process of the cycle
When you eat several meals throughout the day, you don't give your body a chance to go through the process of detoxification and healing, or deprivation and satisfaction
Chapter 3: The Undereating Phase
Controlled fasting is easier to follow than water or coffee fasts, and it accelerates detoxification and overall well-being
When you fast, insulin drops and the hormone glucagon increases
When it dominates, most of the bodies energy comes from glycogen reserves and fat stores
Also, the drop in insulin allows the growth hormone GH to peak
This increases the body's capacity to rejuvenate, repair tissues, and burn fat
A natural elevation of GH should help slow the aging process
The fear of hunger
Many people today have an irrational almost phobic fear of hunger
We live in a society that teaches us that it isn't ever good to be hungry
Learning to deal with hunger was practiced intentionally to make people tougher and stronger, thereby more resilient to life's hardships
Fasting hunger pains only last a few minutes but your body adapts
You can eat fresh veggies or fruits and fresh juices, or light protein like yogurt or eggs
But always break your fast with fresh, raw foods
The principle of fasting is based on not eating a full meal during the day
You can consume certain live foods and drink a lot of water
Naturally stimulating beverages like coffee and tea are allowed and a few nutritional supplements are suggested
You must minimize to mostly live, raw food in the form of fruit, veggies, and natural juices, and small portions of light fresh protein foods like yogurt, boiled eggs, or whey protein shake
Processed carbs and sugar should be avoided during the undereating phase as to not burst your insulin levels
Fasting vs. starvation
Fasting is the art of manipulating the metabolic system
It is controlled and for a limited time
When you reach this peak time period and eat a large meal, your body will compensate and your metabolism will be boosted higher than it was before
Conversely, with starvation, the fasting is not controlled and the body is forced to slow down its metabolic rate and start to cannibalize muscle and lean tissue
Fasting to heal
Throughout history, people have incorporated fast as a natural therapeutic method
Overall, mind-body energy is increased with fasting
This healing force throws off accumulated toxins, clears dead cells, and rebalances and rejuvenates the body
The accumulation of material in your body, especially undigested food and toxins, makes you sick
To begin with, avoiding toxins is very important
But it is at least as important to give the body a chance to detoxify itself
When you eat the traditional 3 to 6 meals and other diets, you don't give your body the chance to detoxify and get rid of all the waste material
Detoxification is literally the neutralizing, breaking down, and elimination of waste and toxins from the body
Every organism and cell has anabolic and catabolic processes
The anabolic process deposits material into the tissues
The catabolic process destroys and takes material away from the body whether through burning fat, eliminating waste, or removing toxins
This cycle of depositing and removing material should be done on a daily basis
The Warrior Diet is the only one he's aware of that's based on daily detoxification
Elimination is integral to detoxification
It's also a vital part of the daily human cycle, or the Warrior's cycle
The warrior diet promotes a healthy, natural elimination cycle
Your immune system is naturally boosted during fasting and detoxification
Detoxification and the healing process
Sometimes you may get allergic reactions but these are the body's way naturally activating the immune system to help heal and cleanse itself by getting rid of toxins in any available way
For example, if you have a fever and let it run its natural course without taking drugs, in most cases the fever will kill the bacteria or other pathogens, that's helping the body to detoxify and heal
Taking drugs cuts short this process so your body may not have a chance to finish the healing cycle
The adaptation usually lasts for the first few weeks when beginning the warrior diet
Some people adapt immediately, but it normally takes between 1 to 3 weeks
Adaptation is necessary
Adaptation relates to the warrior instinct because part of the warrior instinct involves taking chances
Chapter 4: What to Consume During the Undereating Phase
As mentioned previously, detoxification and keeping insulin at a minimum level are of prime importance during the undereating phase
It's most important to consume live, raw foods on a daily basis during the undereating phase
Live foods contain vital nutrients, enzymes, vitamins and minerals that aid in daily detoxification
When you ingest raw and fresh fruits and veggies, you reload your body with living enzymes
When you do this, you optimize your body to:
Detoxify and create an anti-aging effect
Reduce inflammation, congestion, and pain
Better digest the food that you eat later on in the overheating phase
Replenish your body with natures life forces
It's extremely important to drink a lot of fluids throughout the day, primarily water
Vegetable juices that are freshly prepared are the best to complement your water intake
Fruit juices made in a blender with no additives are also good
Minimize or avoid using foods with a high glycemic index
Berries are great choices during undereating, as well as apples, pears, and tropical fruits like mangos
Active individuals should have a recovery meal after training made from fresh, fast assimilating proteins such as whey or milk proteins 15-30g together with low glycemic carbs such as rice or oats 10-25g
After exercise, the body is in a peak metabolic potential to absorb amino acids and other nutrients into the working muscle
This highly anabolic potential diminishes within 3 to 4 hours after exercise
The timing of recovery meals is therefore critically important for all recuperation, muscle development, and strength again
To fully utilize proteins, you must optimize all three factors: enzymes, probiotics, and the live food factor
Good fats like raw avocado and raw nuts may accelerate fat burning, increase libido, and resist aging
Note that is best to eat these foods at night during the overeating phase as to not tax your digestive system during the undereating phase
Do NOT combine nuts and seeds with grains and sugars
These high-fat foods work best in a low glycemic environment
Probiotics are the friendly beneficial bacteria in your digestive tract
They are necessary for healthy digestion and may be the first line of defense in disease prevention
The main function of probiotics is to aid in the efficient absorption of food, vitamins and minerals
They secrete antibiotic substances that destroy harmful pathogenic bacteria, yeast, and parasites and thereby help you digest and assimilate your food
Probiotics are abundantly found in naturally fermented foods including sauerkraut, miso, yogurt
Athletes are particularly susceptible to mineral deficiency and therefore should consider supplementation
It's best to take the multimineral supplement before or right after your work out
Minerals help alkalize your body
This protects it from the acidic side effects physical and mental stress
Ginseng is a good antioxidant and alternative stimulant to caffeine
It helps you adapt to stress
Ginger is an herb with anti-inflammatory properties and one of the best natural digestive aids
It possesses natural antibiotic properties which makes it a most viable herb for detoxification
Chapter 5: The Overeating Phase
Overeating Principles:
Rule one: always start with subtle tasting foods then move to the more aggressive
Rule two: include as many tastes, textures, colors, and aromas as possible in your main meal
Rule three: stop eating when you feel much more thirsty than hungry
Instinctual eating: The overeating phase does not involve guilt or obsessive self-control
By following these rules, you will create a way of eating that is much more instinctive
By trusting your instincts, you will experience a sense of freedom and real satisfaction
Having the sense of freedom is necessary to be truly happy
The Goals of Overeating:
Enhance your recuperation
Repairing tissues and building muscles
Boost your metabolism
Replenish your energy reserves
Nourish your body and mind while providing a sense of pleasure and full satisfaction
Experience a sense of freedom guilt free
Re-train to eat instinctively
After the undereating phase, your taste buds are primed for subtle tastes
Is the best way to retrain your taste buds
Researcher speculate that the cycle of fasting and overeating affects the brain similar to the way physical exercise affects muscles
Similar to how the intensity of a workout dictates the quality of the workout, the intensity of the meal dictates your body's metabolism
The human body is built for subtle, whole foods tastes
But taste buds today have been dulled from being fed an aggressive, overly processed diet from an early age
Chapter 6: The Main Meal
Food preparations for the overeating phase
Eating warm, cooked foods is not only beneficial but a good balance between raw, uncooked foods during the undereating phase
Fermented soups like miso soup are great because it is a natural alkalizer
Fermented foods are helpful for your digestion and the balance of healthy bacteria in your guts
On the warrior diet, you can actually consume as many raw nuts as you like and not gain weight
Just follow this rule: do not consume nuts with green carbohydrates
Nuts work really well with a small amount of protein and an abundant amount of veggies
You can basically live on nuts and veggies
Almonds are the best nuts to consume
Red wine is good because it's fermented, contains enzymes so helps digest protein, and combat free radicals because of the flavones protects against heart attacks
Fresh squeezed fruit and vegetable juices have high GI but since they come from natural, live, raw food, the body can usually handle them really well
They contain digestive enzymes that load the body with essential nutrients and support overall metabolism
Balancing sodium intake has a lot to do with the ratio to potassium and magnesium
What is not allowed on warrior diet: almost everything allowed except refined sugar, refined processed pastries
Chapter 7: Stubborn Fat
How to prevent stubborn fat:
Stay away from crash dietsthat make you lose fat then get it back
Second generation fat would most likely be more stubborn than the first
Avoid ingesting foodsthat have an estrogenic effecton the body, such as soy, clover, and licorice
Eat as much organic foodas possible
If the food or water smells like plastic, stay away from it
Certain compounds in plastic called plasticizers are highly estrogenic and carcinogenic
Minimize alcoholconsumption
Excessive alcohol may compromise your liver's ability to break down and detoxify estrogenic derivatives
Control your insulin
Follow a steady exercise routine
Chapter 8: The Warrior Diet vs. Other Diets
Our bodies are built to adapt to various situations without losing homeostasis
If a diet is built on such specifics that you often fail to follow the regimen, it is most likely an unstable diet
An unstable diet is a bad diet simply because it's almost impossible to stay on it
The huge disadvantage with the frequent feeding system is that the body never gets a break to detoxify, recuperate, and to let the pancreatic system rest
Reader's note: Now he's going through the diet and lifestyle or ancient people like Greeks and Romans back then
The Ancient Warrior Diet was based on a cycle of one meal per day at night
You can cycle the warrior diet in different ways, with days of undereating only and days where you overeat
You can also alternate between days of high fat and days of high carbs
However, if your goal is to reduce body fat, high fat days would be most effective
You can always go off the warrior diet for a period (like holidays) and then go back on
This is okay because you should never feel deprived
The warrior diet promotes synergy between the sympathetic and parasympathetic nervous system
Overeating boosts metabolism
One of the most important benefits of overeating on the warrior diet is the overall metabolic accelerating effect on the body
Overeating can be good for you and doing so can be instinctual
Like any primal instinct, if you try to repress it and shove it inside, it will come back with a vengeance
The overeating syndrome:
Deprivation leads to uncontrolled binging
Romance is based on an instant like the warrior instinct that goes against the rules and norms
Like being devoted to a cause or being self-sacrificing for love and such
Any seemingly romantic idea that appeals to a crowd of people is probably false romantic
True romanticism is individualistic and endorses uniqueness
All romantic acts involve breaking rules or routines and doing things out of the ordinary
The Aggressive Instinct
Aggression has both good and bad sides, and is needed for survival
Some supplementation is necessary to make up for the lost nutrients that existed in greater quantities in food in the past
Some foods like fresh vegetables and fruits and juices are best eaten on an empty stomach during the day to accelerate the detoxifying effect and assimilation of their essential nutrients
Chapter 12: Sex Drive, Potency, and Animal Magnetism
An inherent, instinctual code has always attracted men and women to each other sexually
Further, this inherent code is based on sensual, aesthetic attraction
He believes there may be a direct connection between diet, health, sexual performance and fertility for both men and women
The most notable cause of testosterone decline is the common exposure to estrogenic chemicals in the environment, food, and water
Overtraining may rob you of your testosterone
It is critical to take one to two days off per week
Rest is part of the training cycle and is necessary for recuperation and strength gain
Food and sex have been bound together for a long time
This could be due to the intimate connection between the two most powerful instincts that predominate life:
The instinct to survive
The instinct to multiply
Nourishment and sex give us a great sense of pleasure
Having the wisdom to satisfy both desires for food and sex is the art of living well
Chapter 14: The Warrior Workout
Controlled Fatigue Training = CFT
Strength is the ability to resist a force in time and space
The more you can sustain strength, the stronger you get
Factors that determine strength are:
Intensity = weight load
Volume = time under tension
Form = the length of the motion
The timeframe for a constructive, intense training session is between 15 and 45 minutes
Pre-workout meals are optional whereas post-workout recovery meals are critical
The logic behind recovery meals is to:
Minimize the catabolic and stress effects of the workout
Replenish energy reserves in the muscles
Accelerate the anabolic effects after the workout
When cooking, you treat yourself and those around you to something that satisfies a most basic primal need: nourishment
Cooking is one way of being in control
In his opinion, it is a humane means of showing respect to yourself and your surroundings
Themes/Main ideas:
The warrior diet is based on the daily cycle of under-eating and overeating
The huge disadvantage with the frequent feeding system is that the body never gets a break to detoxify, recuperate, and to let the pancreatic system rest
Fasting is the art of manipulating the metabolic system
Many people today have an irrational almost phobic fear of hunger
Detoxification is literally the neutralizing, breaking down, and elimination of waste and toxins from the body
Eating live, raw foods during undereating help:
Detoxify and create an anti-aging effect
Reduce inflammation, congestion, and pain
Better digest the food that you eat later on in the overheating phase
Replenish your body with natures life forces
Overeating Principles:
Rule one: always start with subtle tasting foods then move to the more aggressive
Rule two: include as many tastes, textures, colors, and aromas as possible in your main meal
Rule three: stop eating when you feel much more thirsty than hungry
The Goals of Overeating:
Enhance your recuperation
Repairing tissues and building muscles
Boost your metabolism
Replenish your energy reserves
Nourish your body and mind while providing a sense of pleasure and full satisfaction
Experience a sense of freedom guilt free
Re-train to eat instinctively
Having the sense of freedom is necessary to be truly happy
The human body is built for subtle, whole foods tastes
Our bodies are built to adapt to various situations without losing homeostasis
The timeframe for a constructive, intense training session is between 15 and 45 minutes
The timing of recovery meals is critically important for all recuperation, muscle development, and strength again
The logic behind recovery meals is to:
Minimize the catabolic and stress effects of the workout
Replenish energy reserves in the muscles
Accelerate the anabolic effects after the workout
SHOUT OUT TO https://marloyonocruz.com FOR DOING THE WRITTEN SUMMARY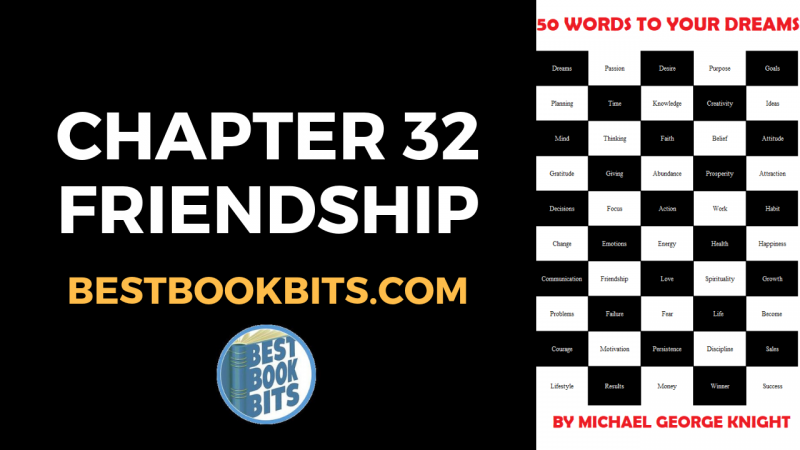 Friends, we can't live without them. Those people that know everything about you and still like you. With all the new social media platforms and rise of mobile technology it is becoming easier to keep in touch with our friends. But nothing will replace the human one on one personal interaction we get with friends.
Friendships, take the time and effort in building and maintaining. Don't become lazy in friendship or you might wake up one day friendless. Friendships die when one person stops putting energy into it and it becomes one sided. Through our life friendships are made and lost through the passing of time. From being a kid and having friends in the neighborhood and at school, to becoming an adult and making friends through work and social activities. This is a natural part of growing up and life change. If you wish to cultivate friendships with people all you need to do is be a friend to someone, simply being a friend. Being there to give a listening ear and a helping hand, you will make more friends than you will lose.
FRIENDS BECOMING STRANGERS AND STRANGERS BECOMING FRIENDS
Take a look back into your past and notice how strangers became your friends and then over time those friends became strangers. Regardless of the multitude of reasons for this happening, friendships just like life is an ever evolving journey with people coming and going from our lives. Enjoy the time you spend with people, cherish the moments, welcome new people into your life and let other people drift out of your life.  Make friends with strangers, as Grant Cardone says, "You need to talk to strangers because strangers have everything you want." There are people out there in the world that would love to be your friend, seek those people out and build your tribe around the people you vibe with.
SHOW ME YOUR FRIENDS AND I'LL SHOW YOU YOU'RE FUTURE
How many times have I heard this said from many a people, show me your friends and I'll show you you're future. Truer words have never been spoken. "You're the average of your five friends" Jim Rohn is fond of saying. Les Brown says it another way, "If you run around with 9 losers pretty soon, you'll be the 10th loser." The people you associate with have more of an impact on your life then you might realize.
Take inventory of your top five friends and ask yourself the following questions:
Is this person a positive influence or negative influence in my life?
Am I getting nourishment from these people or are these people toxic to my growth as a person? Are they happy for me or do they secretly envy you?
Have we outgrown each other or are we growing together?
Do the things that brought us together as friends still have weight to keep us friends?
Am I friends with this person for the sake of being friendly and don't want to hurt the other persons feeling?
And last, do I feel good when I finish seeing this person or do I feel worst?
Tough questions to ask yourself but questions indeed you should be asking yourself annually. Gary Vaynerchuk hit the nail of the head when he said, "Drop a loser friend, pick up a winner friend, every year." Start to cultivate a world class team of friends and people around you. Start to move away from friends and people that are dragging you back down to the old paradigm that you are trying to escape from. You were not the same person last year let alone five years ago. That person is dead just like the friendships you had when you were 10 years old, those children grow up to become adults. Understand your life is always moving and changing, you don't have to hold on to the people from the past who are not currently serving your present self. We can't be best friends with everybody and we can't please everyone in our life.
HOW MANY FRIENDS CAN YOU MAINTAIN?
Studies have shown that on average people have about 5 intimate friends, 15 good friends, 50 close friends, 150 friends, 500 acquaintances, and 1500 people who you could put a name to a face. The numbers here are not exact and are an indication of the different categories we place people into. We all unconsciously lump people into categories of friendship based on a host of factors including how long we have known each other, to how much time we spend together, to the closeness of friendship etc etc. You don't need to have a large group of friends in your life to be happy, research shows the having less friends and strong connections with those friends is better than having more friends with weaker connections. Start developing deeper friendships with others by opening up yourself and letting them open up you. Be real to others and talk about real things and see the quality of your friendships develop with others.
QUOTES ON FRIENDSHIP
A friend is a gift you give yourself. (Robert Louis Stevenson)
A friend is a second self, so that our consciousness of a friend's existence…makes us more fully conscious of our own existence. (Aristotle)
A friend is an extension of oneself. (Earl Nightingale)
A friend is someone who gives you total freedom to be yourself. (Jim Morrison)
A great relationship is about two things: first, appreciating the similarities, and second, respecting the differences. (Unknown)
A real friend is one who walks in when the rest of the world walks out. (Unknown)
Be careful the environment you choose for it will shape you; be careful the friends you choose for you will become like them. (Unknown)
Be who you are and say what you feel, because those who mind don't matter and those that matter don't mind. (Dr. Seuss)
Become friends with people who aren't your age. Hang out with people whose first language isn't the same as yours. Get to know someone who doesn't come from your social class. This is how you see the world. This is how you grow. (Unknown)
Being honest may not get you a lot of friends but it'll always get you the right ones. (John Lennon)
Continue to surround yourself with positive people who care about you and always find ways to create a win-win in every relationship in your life. Relationships are the key to success, and it's time to start investing in yours. (Lewis Howes)
Count your age by friends, not years. Count your life by smiles, not tears. (John Lennon)
Distance doesn't separate people. Silence does. (Jeff Hood)
Don't chase people. Be yourself, do your own thing and work hard. The right people the ones who really belong in your life will come to you, and stay. (Will Smith)
Every relationship take us to a higher level of awareness and understanding. (Unknown)
Fate makes our relatives, choice makes our friends. (Jacques Delille)
Friends are like knickers. Some crawl up your arse, some snap under pressure, some don't have the strength to hold you up, some get a little twisted, some are your favourite, some you can see right thru, some are cheap and just plain nasty and some actually cover your arse when you need them to. (Unknown)
Friendship and relationship will fail if it's only one person trying to keep it together. (Unknown)
Friendship is the hardest thing in the world to explain. It's not something you, learn in school. But if you haven't learned the meaning of friendship, you really haven't learned anything. (Muhammad Ali)
Friendship is the purest love. It is the highest form of love where nothing is asked for, no condition, where one simply enjoys giving. (Osho)
Friendships link and loop and interweave until they mesh the world. (Pam Brown)
He who has many friends has no friends. (Aristotle)
However successful you are, there is no substitute for a close relationship. We all need them. (Francesca Annis)
Human relations are the science of dealing with people in such a way that our egos and their egos remain intact. And this is the only method of getting along with people that ever brings any real success or any real satisfaction. (Les Giblin)
I don't chase after people anymore. If they like spending time with me, they will do so. If not, I'm content in my own company. (Unknown)
I don't like forced conversations, forced friendships, forced interactions. I simply do not force things. If we do not vibe, we don't vibe. (Unknown)
I get better results by frankness in my dealings with people, for I find that direct, straight dealing not only wins friends, but also it holds them. (Napoleon Hill)
I have finally started to take stock of my own worth and stopped chasing after people. If a person cares about you, you will know it by their actions, just like you know they don't care by their actions. (Carrie Hurd)
I like when I don't have to be careful about what I say. That's when you know you're with the right people. (Unknown)
I've learned that it is not what I have in my life but who I have in my life that counts. (Unknown)
If someone comes into your life and has a positive impact on you, but for some reason they can't stay, be thankful that your paths crossed and that they somehow made you happy, even if it was just for a short while. (Unknown)
If someone wants to be part of your life, they'll be there. So don't bother saving a spot for someone who won't make an effort to stay. (Unknown)
If you are looking for a friend who is faultless, you will be friendless. (Rumi)
If you become friends with yourself you will never be alone. (Maxwell Maltz)
If you find someone who makes you smile, who checks up on you often to see if you're okay, who watches out for you and wants the very best for you. Don't let them go. Keep them close and don't take them for granted. People like that are hard to find. (Unknown)
If you go looking for a friend, you're going to find they're very scarce. If you go out to be a friend, you'll find them everywhere. (Zig Ziglar)
If you hang out with chickens, you're going to cluck; and if you hang out with eagles, you're going to fly. (Steve Maraboli)
In a genuine relationship, there is an outward flow of open, alert attention toward the other person in which there is no wanting whatsoever. That alert attention is presence. (Eckhart Tolle)
It is of practical value to learn to like yourself. Since you must spend so much time with yourself you might as well get some satisfaction out of the relationship. (Norman Vincent Peale)
It is one of the blessings of old friends that you can afford to be stupid with them. (Ralph Waldo Emerson)
It is the individual who is not interested in his fellow men who has the greatest difficulties in life and provides the greatest injury to others. It is from among such individuals that all human failures spring. (Dale Carnegie)
Knowing a person is like music. What attracts us to them is their melody, and as we get to know who they are, we learn their lyrics. (Unknown)
Letting go means to come to the realization that some people are a part of your history, but not a part of your destiny. (Unknown)
Letting toxic people go is not an act of cruelty. It's an act of self-care. (Unknown)
Lots of people will enter your life, some will stay and some will leave. What we must know is that they bring a lesson for us. (Unknown)
Making a hundred friends is not a miracle. The miracle is to make a single friend who will stand by your side even when hundreds are against you. (Torin)
Most people don't realize it, but the most vital element of success in life is the ability to get along well with other people. (Dexter Yager)
Mutual trust is the key to developing long-term, effective relationships. All enduring relationships from school friends to parents and children, to lovers and married couples, and to work colleagues are based on mutual trust. (Jack Collis)
Never confuse people who are around you with people who are there for you. (Gee Linder)
No relationship is a waste of time, the wrong ones teach you the lessons that prepare you for the right ones. (Unknown)
One can make more friends in two months by becoming genuinely interested in other people than one can in two years by trying to get other people interested in him. (Dale Carnegie)
Overthinking ruins friendships and relationships. Overthinking creates problems you never had. Don't overthink, just overflow with good vibes. (Unknown)
People don't care how much you know until they know how much you care about them. (Zig Ziglar)
People inspire you, or they drain you. Pick them wisely. (Hans F Hanson)
Relationships are about trust. If you have to play detective, then it's time to move on. (Unknown)
Relationships are nothing more than interdependent people bonding and banding together to encourage one another to be their very best. (Zig Ziglar)
Smiling wins more friends than frowning. (Stephen R. Covey)
Some of the biggest challenges in relationships come from the fact that most people enter a relationship in order to get something: they're trying to find someone who's going to make them feel good. In reality, the only way a relationship will last is if you see your relationship as a place that you go to give, and not a place that you go to take. (Anthony Robbins)
Sometimes you have to move on without certain people. If they're meant to be in your life, they'll catch up. (Unknown)
Sometimes your circle decreases in size, but increases in value. (Unknown)
Strangers can become best friends just as easy as best friends can become strangers. (Unknown)
Surround yourself with people who know your worth. You don't need too many people in your life, just the real ones who appreciate you for exactly who you are. (Unknown)
Surround yourself with people who make you happy. People who make you laugh, who help you when you're in need. People who genuinely care. They are the ones worth keeping in your life. Everyone else is just passing through. (Karl Marx)
Surround yourself with the dreamers and the doers, the believers and the thinkers, but most of all, surround yourself with those who see the greatness within you, even when you don't see it yourself. (Edmund Lee)
That's the problem with putting others first. You've taught them that you come second. (Unknown)
The internet introduces everybody, no matter how weird, no matter how marginalized, no matter how peculiar, to the fact that there are others like you. That there are others like you. Find the others. Make common cause. Realize, that it's the deals you cut and the friends you make that determine where you're going to be standing when the flash hits. (Terence McKenna)
The key is to keep company only with people who uplift you, whose presence calls forth your best. (Epictetus)
The older I get the more I realize the value of privacy, of cultivating your circle and only letting certain people in. You can be open, honest, and real while still understanding not everyone deserves a seat at the table of your life. (Unknown)
The only way to have a friend is to be one. (Ralph Waldo Emerson)
The person who tries to live alone will not succeed as a human being. His heart withers if it does not answer another heart. His mind shrinks away if he hears only the echoes of his own thoughts and finds no other inspiration. (Pearl Buck)
The strongest drug that exists for a human is another human being. (Unknown)
There are no strangers here; only friends you haven't met. (William Butler Yates)
There comes a point in your life when you realize who matters, who never did and who won't anymore. So don't worry about people from your past. There's a reason why they didn't make it to your future. (Unknown)
There comes a point when you have to realize that you'll never be good enough for some people. The question is, is that your problem or theirs? (Unknown)
Throw open the doors and windows of your mind and heart to others, and reap a harvest of friends. (Earl Nightingale)
Time decides who you meet in life, your heart decides who you want in your life, and your behaviour decides who stays in your life. (Unknown)
Truly great friends are hard to find, difficult to leave, and impossible to forget. (Unknown)
Understand that people change and sometime they're no longer compatible with our lives. We just have to learn to accept it and move on. (Unknown)
We define each other, we are all backs and fronts to each other. (Unknown)
We know who we are in terms of other people, we all lock together. (Alan Watts)
When you're up in life, your friends get to know who you are. When you're down in life, you get to know who your friends are. (Unknown)
Without friends no one would choose to live, though he had all other goods. (Aristotle)
Yet I also believe that when you do unto others, blessings come to you as well. So if you don't have a friend, be a friend. If you are having a bad day, make someone else's day. If your feelings are hurt, heal those of another. (Nick Vujicic)
You can never establish a personal relationship without opening up your own heart. (Paul Tournier)
You can't open up the story of my life and just go to page 738 and think you know me. (Arin Hanson)
You don't lose friends, because real friends can never be lost. You lose people masquerading as friends, and you're better for it. (Mandy Hale)
You must constantly ask yourself these questions: Who am I around? What are they doing to me? What have they got me reading? What have they got me saying? Where do they have me going? What do they have me thinking? And most important, what do they have me becoming? Then ask yourself the big question: Is that okay? (Jim Rohn)
You'll know when a relationship is right for you. It will enhance your life, not complicate your life. (Unknown)
Your network is your net worth. (Porter Gale)
That's a wrap on
50 Words to Your Dreams
Chapter 32: Friendship
Let me know your thoughts on Chapter 32
If you need some accountability in your life
connect with me for a free coaching session at
coaching@bestbookbits.com  
For 100's of Video, Written & Audio Book Summaries check out our website
bestbookbits.com
Stay tuned for Chapter 33 in the series "LOVE"