< DOWNLOAD THIS SUMMARY IN PDF HERE >
< FOLLOW US HERE > |YouTube |Spotify | Instagram | Facebook | Newsletter | Website
As Beverly Sills points out, "There are no shortcuts to any place worth going."
As you will see, body recomposition (building muscle while losing fat) is not quite as straightforward as merely losing fat or merely building muscle. In our opinion, achieving both of these goals at the same time will require more attention to detail and a more optimized approach than your typical run-of-the-mill bulking or cutting diet.
CHAPTER 01: THE START LINE
"EVERYTHING SHOULD BE MADE AS SIMPLE AS POSSIBLE, NOT SIMPLER"- ALBERT EINSTEIN
In some sense, every day is a new beginning – a new start line to reassess, adjust and aim to improve. We would rather proclaim, "Pay attention to how you start because it will not only determine how you finish, but determine your fulfillment along the way." As we see it, one of the reasons so many people end up not finishing what they started is because they didn't start the right, or most optimal, way.
If you've heard that you MUST be in a calorie surplus to gain muscle or that you MUST be in a calorie deficit to lose fat, you have once again been nudged towards oversimplification.
Unless you are a dietary masochist, restrictive and rigid diets simply aren't sustainable.
RECOGNIZE YOUR STARTING PLACE
Like most facets of life, experience matters. To get to where you want to be, you first need to know where you are right now. Your starting line will most likely be different than others', meaning the route to your end point may also differ.
With this understanding, pause and decide where on the beginner-veteran spectrum you are currently positioned. Your experience level, both in the gym and in the kitchen, is going to significantly impact how detail-oriented you need to be with your approach.
BEGINNER (0-2 YEARS OF LIFTING EXPERIENCE)
The truth of the matter is, a true beginner can concurrently build muscle and lose fat quite easily. This is because as a new lifter, your physiology is the most primed for muscle growth that it will ever be.
Recomposition is both easier and simpler for a beginner.
As long as you meet the three criteria outlined below, you should be able to build muscle and lose fat as a beginner without the same level of optimization that an intermediate or advanced trainee would need:
Your caloric intake isn't too high or too low (meaning, you are eating either in a small caloric deficit or a small caloric surplus). We will revisit specific examples later, when we set up the diet.
Your protein intake is adequate. We will outline the specifics in Chapter Eight when we set up macronutrients.
You are weight training with a focus on progressive overload (incrementally adding either weight, volume or improving technique over time). We will later outline the specifics of training for recomposition.
INTERMEDIATE (~2-5 YEARS LIFTING) TO ADVANCED (~5 OR MORE YEARS LIFTING EXPERIENCE)
Progressing towards the other end of the spectrum, the longer you've been resistance training, the closer you are to your genetic potential. If you are a weight room veteran, you will have to fight for continued progress. We believe this is where the often overlooked and oversimplified details of nutritional science really move the needle to optimize results.
UNDERSTANDING RECOMPOSITION
To be clear, when we say body recomposition, we are referring to a reduction in body fat percentage alongside an increase in lean body mass (more specifically, muscle mass). In both women and men, this is most commonly achieved under four circumstances:
NEW LIFTERS (BEGINNERS):
DETRAINED LIFTERS (DETRAINEES):
OBESE INDIVIDUALS:
ANABOLIC STEROID USERS:
UNDERSTANDING RECOMPOSITION – ONE LAYER DEEPER
Three possible scenarios that will all count as body recomposition
1.YOU BUILD MUSCLE WHILE SIMULTANEOUSLY LOSING FAT.
2.YOU BUILD MUSCLE MASS WHILE MAINTAINING BODY FAT MASS.
3.YOU LOSE FAT WHILE MAINTAINING MUSCLE MASS.
CHAPTER 02: THE TOOLS OF TITANS
"GIVE ORDINARY PEOPLE THE RIGHT TOOLS AND THEY WILL BUILD THE MOST EXTRAORDINARY THINGS."– NEIL GERSHENFELD
Measuring weight loss is super simple: stand on a body weight scale. If the number is going down, you're losing weight. Good job (assuming you're cutting).
Measuring weight gain is equally simple: Stand on the same scale. If the numbers go up, you're gaining weight. Good job (assuming you're bulking).
Measuring body recomposition is a bit more tricky, however. How exactly should we do that? Well, having the number go down on the scale might hint toward fat loss, but then how are we supposed to tell if we're gaining muscle or not?
Similarly, having the number go up on the scale might hint toward muscle gain. But, how are we supposed to tell if not not merely gaining fat?
As a third possibility, maybe the number on the scale stays exactly the same. Does that imply that we're gaining muscle at the exact same rate that we're losing fat? This would be the perfect recomp! But then again, maybe it means that progress has completely stalled and we're neither gaining any new muscle nor losing any fat at all. Yikes!

< DOWNLOAD THIS SUMMARY IN PDF HERE >
< FOLLOW US HERE > |YouTube |Spotify | Instagram | Facebook | Newsletter | Website
MANDATORY TOOLS
This compartment of our metaphorical toolbox contains four key tools: Body weight Scale, Measuring Tape, Camera (Progress Photos) and a Food Scale.
WEIGHT SCALE
For consistency purposes, we recommend tracking your body weight for four-seven days per week at the same time of day for consistency purposes.
For the most accurate weigh ins, we suggest weighing as soon as you wake up, after using the bathroom and before drinking any water or eating any food.
Using those four-seven body weight measurements, you will tabulate a weekly average. You will then compare that weekly average to future weekly averages to determine whether your weight is trending up or down over time.
MEASURING TAPE
The ying to the weight scale's yang is the old-school measuring tape. A measuring tape will be used to obtain two primary bits of information: waist circumference and other body measurements (shoulders, glutes, chest, legs, arms and calves).
CAMERA (PROGRESS PHOTOS)
Sometimes referred to as the Bodybuilder's Selfie, progress photos may be the most valuable tool of all.
Rather than constantly checking yourself in the mirror, which can lead to false and inaccurate assessments due to changes in lighting, level of hydration, et cetera, we recommend taking progress photos at regular intervals with consistent lighting and camera set up.
We recommend taking progress photos one to four times monthly.
FOOD SCALE
Tracking macronutrient (fat, carbohydrate and protein) intake is a very powerful and effective way to manipulate body composition.
Due to the dehydration effect cooking has on many foods, we recommend weighing food raw (before cooking) since this is a more precise way to measure.
For the sake of convenience, we recommend tracking your food intake through mobile apps like MyFitnessPal, My Macros+, FitGenie or Calorie King.
SPECIAL TOOLS
Now that we've looked inside the Mandatory Toolbox, we would like to describe three special tools that can be useful under certain circumstances, but may also be more inconvenient for some.
SKIN CALIPERS
BIOELECTRICAL IMPEDANCE (BIA)
BIA sends a low level, imperceptible electrical current through the body to estimate body fat mass in relation to lean mass. Roughly speaking, because fat mass and lean mass have different densities, the electrical current will travel at different speeds through different body tissues to register information about body composition.
DUAL ENERGY X-RAY ABSORPTIOMETRY (DEXA)
A DEXA scan sends a beam of low dose X-ray energy through the body, separating body composition into three components: bone mass, lean mass and fat mass.
CHAPTER 03 BELIEF BUSTING
"A WISE MAN PROPORTIONS HIS BELIEF TO THE EVIDENCE." – DAVID HUME
The "calories in versus calories out" debate (also known as the "is a calorie a calorie?" debate) has been the source of many an internet brawl.
Clearly calories and macronutrients matter for body composition, but we definitely cannot say that they are the only things that matter.
In a nutshell, energy balance is the relationship between the calories you consume (by eating food) and the calories you expend (by exercising, having a heartbeat, digesting food, fidgeting at your desk, running to the car, et cetera).
A calorie is simply a unit of energy. And "energy balance" simply refers to the relationship between energy coming in and energy going out. Over a specific time scale, energy balance is said to be positive if you are storing more calories than you are burning. Generally speaking, this means you are in a caloric surplus and should gain weight.
Conversely, energy balance is said to be negative if you are burning more calories than you are storing. In this case, you are in a caloric deficit and should lose weight. Again, for the most part, bigger caloric surpluses will lead to faster weight gain and bigger caloric deficits will lead to faster weight loss.
Put simply, the energy balance equation in relation to calories and weight loss looks like this:
WEIGHT CHANGE = CALORIES IN – CALORIES OUT.
In other words, if your goal is to simply lose weight, then you simply need to focus on eating fewer calories and/or burning more calories. If your goal is to simply gain weight, then you need to simply focus on eating more calories and/or burning fewer calories. But since you're reading this book, it's probably safe to assume that what you really want is to lose fat and gain muscle, not to merely lose or gain weight.
DEPOSITING AND WITHDRAWING
For the sake of being as precise as possible, it's worth noting that fat and muscle tissues have different energy densities. Because muscle is made up mostly of water, it has much less stored energy than fat does. One kilogram (~2.2 pounds) of muscle contains 1,800 calories while one kilogram of fat has 9,400 calories.
Let's run the net energy balance math on the example above, assuming you were to lose 20 pounds (9.1kg) of fat while gaining 5 pounds (2.3kg) of muscle over a full year:
9.1 KILOGRAMS OF FAT LOST = 85,540 CALORIES LOST
2.3 KILOGRAMS OF MUSCLE GAINED = 4,140 CALORIES GAINED
NET ENERGY BALANCE = ENERGY GAINED – ENERGY EXPENDED = -81,400 CALORIES
In other words, in order to achieve this body recomposition, you must have been in a 81,400 calorie deficit over the course of the year. Since there are 365 days in a year, that would amount to: 81,400 yearly calorie deficit / 365 days = a 223 calorie deficit per day.
The point to take home here is that despite being in a net caloric deficit, muscle was still gained, proving that the energy balance equation does not imply that fat loss and muscle gain cannot occur at the same time. They simply CAN!
THE POWER OF BELIEF
"Whether you think you can or you think you can't, you are probably right."
The first reminder of just how powerful self-imposed cultural groupthink can be is the 4-minute barrier imposed on runners prior to 1954. At the time, society as a whole submitted to the belief that it was humanly impossible for anyone to run a mile in less than four minutes. That was until 1954, when Roger Bannister broke through this barrier of perception. Since that famous day, thousands have accomplished this previously "impossible" goal.
Body recomposition is ultimately achieved through the construction of one new tissue (muscle) and the breakdown of another tissue (fat).
CHAPTER 04 DECODING METABOLISM
Recall from the previous chapter that we're setting up the energy balance equation like this: Weight change = calories in – calories out.
The 'calories in' part of this equation is very straightforward: you eat food – and that pretty much covers that segment. The 'calories out' aspect is much more complex and requires further explanation to understand how each of these two factors influence body recomposition.
When scientists or fitness enthusiasts speak of metabolism or metabolic rate they are usually loosely referring to total daily energy expenditure (TDEE): the total number of calories you burn each day. It is sometimes referred to as your net metabolic rate. As shown in the chart below, three key factors determine the number of calories we burn each day.
Total Daily Energy Expenditure
TEF
Basal Metabolic Rate (BMR)
Physical Activity Level
Thermic Effect of Food
Physical Activity Level
BMR
Figure 4A: Three Components of your Total Daily Energy Expenditure (TDEE)
Let's have a look at each of the three components of metabolism separately, to gain a better understanding of how we burn calories.
BASAL METABOLIC RATE (BMR).
Your BMR is essentially how many calories your body burns per day in order to perform all of its basic metabolic functions and maintain its body mass at rest. If you sat on the couch all day long and did nothing but breathe, this would be roughly the number of calories you'd burn.
As shown in Figure 4A above, BMR typically accounts for 50-70 percent of your daily energy needs
PHYSICAL ACTIVITY LEVELS.
The second component of your metabolic rate is captured through how many calories you burn by "moving around". For most people, daily physical activity makes up 20-35 percent of total caloric expenditure. These values can be lower if you are more sedentary or higher if you're more active than average.
It's worth highlighting that this component of metabolism is not limited to the number of calories you burn while formally exercising (lifting weights and cardio). It includes the calories burned from all of your daily activities, including typing at your desk, bringing groceries to the car and singing in the shower.
The calories burned from these non-exercise activities make up NEAT: Non-Exercise Activity
Thermogenesis. NEAT can vary greatly between individuals, directly impacting the number of calories they burn through daily physical activity

< DOWNLOAD THIS SUMMARY IN PDF HERE >
< FOLLOW US HERE > |YouTube |Spotify | Instagram | Facebook | Newsletter | Website
If you live a very sedentary lifestyle and have fat loss goals, it would be important to create some active habits to increase levels of NEAT.
THERMIC EFFECT OF FOOD.
Sometimes referred to as dietary thermogenesis, the third component of your Total Daily Energy Expenditure is the amount of energy expended by breaking down and processing food for use and storage. Simply put, your body burns calories as it digests, absorbs, transports and stores food that you eat.
Just as each macronutrient (carbohydrates, fats or proteins) provides us with a different number of calories (see Table 4A below), they also require different amounts of energy to digest, absorb, and utilize. Because of this, each macronutrient has a different thermic effect.
It's important to understand that each macronutrient provides us with a different amount of energy (calories), as seen in the chart below, and each macronutrient differs from a thermogenic standpoint.
| | | |
| --- | --- | --- |
| MACRONUTRIENT | CALORIES/GRAM | THERMIC EFFECT (RANKED) |
| Fat | ~9 Cal/gram | Lowest TEF (burns the least calories |
| | | while being digested/absorbed) |
| | | |
| Carbohydrates | ~4 Cal/gram | Medium TEF |
| Protein | ~4 Cal/gram | Highest TEF (burns the most calories |
| | | while being digested/absorbed) |
| | | |
Table 4A: The Caloric Content and Thermic Effect of Different Macronutrients
Protein is the most thermogenic macronutrient. This means eating a higher protein diet will result in more calories burned because it requires more energy to digest and absorb that protein. This is one of the many reasons why high protein diets typically result in greater fat loss and better improvements in body composition, even when caloric intakes are equated.
This fact serves as another example of why the expression "a calorie is a calorie" fails to capture the more complex and nuanced ways in which each of the different macronutrients are handled by our bodies. 200 grams of sweet potato and 43 grams of Gatorade will both deliver roughly 40 grams of carbohydrates. However, the thermic effect of these two foods are quite different. Your body will expend more energy digesting and absorbing the carbohydrates from the sweet potato than it will the Gatorade.
CHAPTER 05: SETTING UP THE DIET: CALORIE INTAKE
"FAILING TO PLAN IS PLANNING TO FAIL." – ALAN LAKEIN
When setting up a diet that will cause the simultaneous loss of one tissue (fat) and gain of another tissue (muscle) we need to consider four different dietary tenants, organized in order of importance:
CALORIE INTAKE: As mentioned previously, whole body changes in energy balance will be driven primarily by total calorie intake.
MACRONUTRIENT BREAKDOWN: After determining calorie intake, it is crucial to know where those calories are coming from. In Chapter Eight we will set up the best ratios of protein, carbs and fat to optimize muscle mass and training performance.
NUTRIENT TIMING AND MEAL DISTRIBUTION: Once we know what calories and macros will yield the best body recomp, we need to figure out how to organize those macros into meals so that we can maximize muscle gain/retention and fuel performance and recovery.
FOOD SOURCES: Where our calories and macronutrients are coming from also matter for driving positive body composition changes forward. We will discuss this in the context of nutrient quality in Chapter Nine and Ten.
CALORIE INTAKE: HOW MANY CALORIES SHOULD I EAT?
Exactly how many calories you need to eat for body recomposition will depend primarily on three individual factors: your primary goal, your current body composition and your level of training experience.
YOUR PRIMARY GOAL
Obviously, the goal with body recomposition is to build muscle AND lose fat (not to pick one or the other). However, we think it is important that even if you have the goal of achieving both, it is still important to pick what goal is more important to you.
CURRENT BODY COMPOSITION
Your current body composition ties in strongly to your primary goal factor. Surely, people with a higher starting body fat percentage will be wise to select the primary goal of losing fat and people with a low starting body fat percentage will be wise to select the primary goal of building muscle.
TRAINING EXPERIENCE
As mentioned previously, the more training experience you have, the closer you will be to your natural genetic limitation for muscle mass and consequently, it will be more difficult for you to gain lean mass. Conversely, someone who is still relatively new to weight training will be able to gain muscle mass much faster.
OTHER FACTORS
While the three primary factors outlined above will mostly determine how many calories you should eat (whether you should be in a caloric surplus, deficit or at maintenance), there are still a few other factors that may influence this decision.
BIOFEEDBACK.
Throughout the process of recomping, it is important to pay attention to biofeedback (your recovery and hunger). If your training volume or intensity is higher than normal for example, it may be necessary to increase your caloric intake during this period of increased training demands. Also, sometimes an amplified training stimulus will result in an increased appetite, perhaps as a signal that you require more nutrients to fuel proper recovery.
HITTING YOUR TARGET
When it comes to making nutritional recommendations for weight loss or weight gain, it is common to see a specific number of calories added to or subtracted from maintenance. For example, it's commonly suggested that if your goal is to lose one pound of fat per week, you should eat 500 calories below your maintenance. So, assuming you'd maintain your weight on 2,500 calories, if you eat 2,000 calories per day, you'll supposedly lose about one pound per week. These suggestions are usually based on the concept that there are 3500 calories in one pound of fat, however, research indicates that this figure often overestimates predicted weight loss and undermines the adaptive nature of our metabolism
CARB/CALORIE CYCLING & REFEEDS
For the purposes of this book, we will define a refeed as a 24 hour period during which caloric intake is increased (normally through increased carb intake). Generally, refeeds are employed in dieters for four main reasons:
To acutely improve training performance (which is often impeded on low calorie/carb intakes);
To provide a mental break from the monotony of a fat loss diet;
To acutely reverse some of the negative hormonal adaptations associated with low caloric intakes and low body fat percentages, such as reduced leptin; and
To improve adherence to the diet.
A LINEAR APPROACH (NO REFEEDS OR CARB CYCLING)
A linear approach to daily caloric intake means that you will eat the same caloric intake and the same macros every day without refeeds, high carb days or calorie cycling. This approach would be most appropriate for anyone with the primary goal of building muscle and in a caloric surplus.
Sometimes, the best approach from a psychological perspective is to simply enjoy the occasional "free meal" or "cheat night" and get back on track the next day. In the grand scheme, the occasional missed day will not hold you back as long as you don't allow it to derail your overall commitment to the plan.
LOGICAL CARB CYCLING (NON-LINEAR CARB INTAKE)
For those who are either in a deficit, or at caloric maintenance and are seeking to optimize every area of their diet, we are suggesting a "logical carb cycling" approach.
As a simple rule of thumb for those taking the non-linear route, we recommend reducing total daily carb intake by to approximately 20 percent on non-training days.
You may also utilize this logical carb cycling approach by increasing your calories (primarily via carbs) on a day your caloric expenditure is abnormally high.
Ultimately, our goal is to empower you to be your own scientist with your own physique. Our aim is to give you tools and knowledge to set up your own diet, without getting too attached to black and white suggestions.
CHAPTER 06 THE ART OF SELF-COACHING
" IF YOU COULD KICK THE PERSON IN THE PANTS RESPONSIBLE FOR MOST OF YOUR TROUBLE, YOU WOULDN'T SIT FOR A MONTH." – THEODORE ROOSEVELT
Below is a reminder of how frequently you should be using the mandatory toolkit to assess progress.
FREQUENCY REQUIRED FOR MANDATORY TOOLS:
Body weight Scale: 4-7x per week to calculate a 7-day avg.
Circumference Measurement: Biweekly or Monthly (the less experience you are, the more frequently you should implement)
Progress Photos: 1-4x per month (higher frequency for those with less experienced as progress is typically faster)
IF IT'S NOT BROKE, DON'T FIX IT
In general, we recommend doing a complete self-assessment once or twice monthly, where you take a look at the collective data from your toolkit. If the tools collectively indicate that you are making progress with your primary goal, then we recommend not adjusting the plan. If it's working, keep going. Making adjustments more frequently than this can result in flip-flopping on your goals, paralysis by analysis and less reflective judgement.
Consider a few examples of when it would NOT be appropriate to adjust calories:
You're losing fat.
You're building muscle.
You're losing fat and building muscle.
Next, consider some examples of when it would be appropriate to adjust calories:
You're NOT losing fat. If your primary goal was to lose body fat and after one month you find that your waist circumference is up or unchanged, your progress photos are looking exactly the same and your weekly bodyweight average is the same or up, then this feedback indicates that you have not lost fat, although you may have built some muscle! In this case, since your primary goal was to lose fat, an adjustment to caloric intake may be required to get fat loss moving at a faster rate.
You're NOT building muscle. If your primary goal is to build muscle and after one month, you find that your bodyweight is the same (or down), your waist circumference is unchanged (or down) and your progress photos are looking a bit leaner but not more muscular, this feedback collectively indicates that you may have lost fat, but you may not have built much muscle.

< DOWNLOAD THIS SUMMARY IN PDF HERE >
< FOLLOW US HERE > |YouTube |Spotify | Instagram | Facebook | Newsletter | Website
CHAPTER 07 THE "SKINNY FAT" DILEMMA
THE BEST PROJECT YOU WILL EVER WORK ON IS YOU" – SONNY FRANCO
'Skinny fat' is a popular buzz-term used to describe someone who is of normal body weight but has a high level of body fat. In visual terms, it would describe an individual with low muscularity but relatively high bodyfat. We will define a skinny fat male as having more than 20 percent body fat with low muscularity and a skinny fat female as having more than 35 percent body fat with low muscularity.
One important thing to note is that most people who lack muscle mass don't have much resistance-training experience and as such, are far away from their genetic potential.
For both body composition and health purposes, we generally advise that reducing body fat percentage be set as the primary dietary goal while the weight training and high protein intake drive the muscle building process.
Depending on whether you are "more skinny than fat" or "more fat than skinny", it may be more important that you focus on losing fat first, building muscle first or do both concurrently. Below is a schematic of our recommended approach depending on which boat you find yourself in.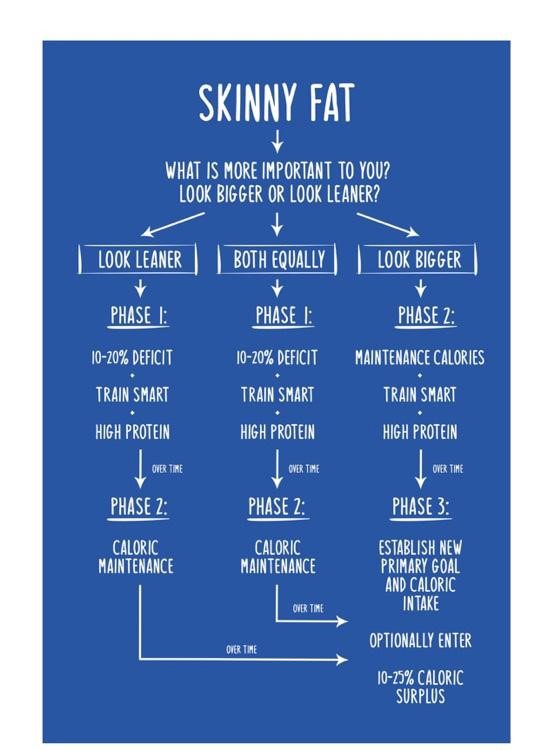 As you can see in the figure above, as your body composition improves, you will enter different phases of recomposition. Below, we will outline one such example of a skinny-fat individual who prioritized looking leaner first.
PHASE 1: LOWER BODY FAT PERCENTAGE (~10-20% CALORIC DEFICIT)
PHASE 2: GAIN LEAN MASS AND LOWER BODY FAT PERCENTAGE (~CALORIC MAINTENANCE)
Now that you have achieved a lower body fat percentage, it is time to transition to caloric maintenance so that muscle can be built at a faster rate. This may require recalculation of your current caloric needs based on your new body weight, body composition and activity level as covered earlier in this chapter.
PHASE 3: ESTABLISH NEW PRIMARY GOALS (~10-25% CALORIC SURPLUS)
At this point, you have prioritized fat loss in Phase 1, lowered your body fat percentage while increasing muscle mass more substantially in Phase 2 and may now be ready to prioritize a faster rate of muscle gain by entering a caloric surplus.
At this point, we recommend gradually increasing your total calorie intake up to around 10-25 percent.
CHAPTER 08: UNPACKING MACROS AND MICROS
"THE HISTORY OF MODERN NUTRITIONISM HAS BEEN A HISTORY OF MACRONUTRIENTS AT WAR: PROTEIN AGAINST CARBS; CARBS AGAINST PROTEIN, AND THEN FATS; FATS AGAINST CARBS." -MICHAEL POLLON
MACRONUTRIENTS
There are three key macronutrients which make up the calories we consume in food. The prefix MACRO refers to the nutrients our bodies use in BIG amounts to function properly (on the scale of grams). The macros we will discuss in this chapter are protein, carbs and fats.
MICRONUTRIENTS
Micronutrients, on the other hand, are nutrients like vitamins and minerals that our bodies use in small amounts (on the scale of milligrams).
THE SIX MICRONUTRIENT COMMANDMENTS:
Aim for at least three or four servings of green vegetables per day.
Aim for at least two servings of fruit per day.
Try to regularly eat a variety of fruits and vegetables of different colours and rotate food sources.
Consume fatty fish once or twice per week (otherwise, consider fish oil supplements.
Eat a varied, balanced diet. If eliminating grains, dairy or meat, consider supplementation of vitamin B12, vitamin D, omega-3 fatty acids, iodine, iron, calcium, and zinc under the guidance of a medical professional.
Generally, stick to a whole food, minimally-processed, nutrient-dense diet.
HOW MUCH PROTEIN SHOULD WE EAT FOR RECOMP?
The amount of protein you need to optimize your body composition is a controversial topic that is being continuously researched and updated by scientists.
What we do know for certain is that protein is the most essential macronutrient when it comes to repairing and building muscle (29). We also know that protein is the most thermogenic macronutrient, meaning it leads to more caloric expenditure than carbs or fats. In addition, protein tends to be the most satiating macronutrient (96), meaning you will feel fuller for a given number of calories consumed.
The combined effect of these properties is that protein is essentially the "super-macro": It is the most important for both muscle gain and fat loss.
When it comes to body recomposition, we believe that protein is king. As alluded to above, protein is the best muscle-building and the best fat-burning macronutrient. For this reason, we think it is far better to have too much protein than too little.
How much protein YOU need to eat, depends not only on your bodyweight, but also on your body fat.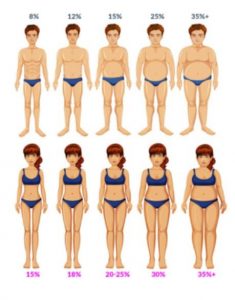 Figure 8: A Visual Representation of Various Bodyfat Percentages (Male and Female)
OUR SLIDING MODEL FOR PROTEIN INTAKE
First up, there is direct evidence that increasing protein intake leads to body recomposition. Several studies have shown that very high protein intakes (protein overfeeding) leads to body recomposition by either reducing fat mass, increasing lean mass, or both
The higher your body fat percentage, the less likely you are to lose muscle in a calorie deficit because your body has so much fat to use for fuel. On the other hand, the leaner you are, the more likely you are to lose muscle in a calorie deficit because there is more limited fat for fuel. Therefore, we propose that the leaner you are, the more protein you need to eat to preserve (or gain) muscle mass.
This is why we recommend a sliding protein target ranging between 1.2 – 1.6 grams per pound of lean body mass. This sliding scale takes into consideration your current body composition. The leaner you are, the closer you will want to be to the 1.6 grams per pound figure. The more body fat you have, the closer you will want to be to the 1.2 grams per pound figure.
Figure 8A: The Sliding Model of Protein Intake (Based On LBM)
PROTEIN INTAKE SUMMARY:
Eat 1.2-1.6 grams of protein per lb of lean body mass (LBM).
Calculate your LBM using your bodyweight and bodyfat percentage.
LOW FAT? LOW CARB? OR NEITHER?
Historically, fats and carbs have both been praised and demonized. Currently, within fitness culture, there seems to be a divide between those who hate carbohydrates and those who hate fats.
Without getting too off-topic over the respective roles of each of these macronutrients in the body, it is important that we not view either nutrient as 'good' or 'bad'. We believe that both carbs and fats play an important role in fueling training performance and driving positive body composition change.
To keep things simple, fats are essential for survival and carbohydrates are not. This means that we must consume dietary fat, whereas our metabolism can adapt to a complete absence of carbohydrate intake by shifting the primary energy source to ketone bodies. Still, just because we can survive without carbs does not imply that eliminating them from the diet is the most effective route to body recomp.
Many folks still assume that dietary fat intake is the root of all body fat storage.
Many people fear that "eating fat will make them fat."
Because of the many metabolic pathways that depend on fat availability, it is much more likely that fat-phobia will hinder your body recomposition goals rather than help them.
We recommend that as long as body recomposition is the goal, one should never eliminate any macronutrient entirely. All three macros should be present in harmony with one another at the appropriate intake for the individual's needs and goals.
HOW MUCH FAT SHOULD WE EAT FOR RECOMP?
The amount of fat you should eat for recomp will depend on three main factors: your current body fat percentage, your activity level and your personal preferences.
We generally advise that 20-35 percent of your total calories come from dietary fat. By ensuring you never drop your fats below 20 percent of total calories, you reduce your risk of becoming deficient in fat soluble vitamins and experiencing negative hormonal side effects such as reduced testosterone.
The higher your body fat percentage, the lower your insulin sensitivity. Thus, the higher your starting body fat percentage is, the lower your carbohydrate intake should be. Therefore, we suggest those with higher levels of body fat stay toward the higher end of our recommended range of 20-35 percent of total calories.
Moreover, you should take your activity levels into consideration when determining how much of your caloric intake should come from fats. Those that are more active would benefit from a lower fat intake, as they can more easily utilize carbohydrates for energy, while those with less active lifestyles would be better off with a higher fat and lower carb intake.
HOW MUCH CARBOHYDRATE SHOULD WE EAT FOR RECOMP?
Carbohydrates are our bodies' preferred energy source as they are utilized most efficiently (especially for those of us who are not 'fat adapted' or in a state of dietary ketosis). Moreover, carbohydrates are a great tool for improving training performance (6), as plenty of research has shown that extreme carbohydrate restriction can negatively impact strength training
Similar to determining dietary fat, it is also important to take into consideration your daily activity level, NEAT, lifestyle, and dietary preferences so as to improve sustainability and adherence when setting up carbohydrate intake.

< DOWNLOAD THIS SUMMARY IN PDF HERE >
< FOLLOW US HERE > |YouTube |Spotify | Instagram | Facebook | Newsletter | Website
CHAPTER 09: SOLVING THE MYSTERIES OF PROTEIN
PROTEIN QUALITY: WHAT FOOD SOURCES ARE MOST ANABOLIC?
Are all proteins created equal? In short, no.
Protein quality is typically defined based on its amino acid profile (122). Generally speaking, complete proteins are food sources which provide you with all of the nine essential amino acids. These essential amino acids are exactly what they sound like: essential. We need to consume them in our diet for proper functioning and survival as they play critical roles in various metabolic pathways.
One such pathway we will discuss in detail is muscle protein synthesis (MPS). This process of synthesizing (or building) new muscle protein requires that all nine essential amino acids be present (see Table 9A), since skeletal muscle protein is itself made up of these nine essential amino acids. The same way we cannot build a brick house without bricks, we also cannot build muscle without essential amino acids.
WHY ARE BCAA'S SO POPULAR & WHAT PURPOSE DO THEY SERVE?
On the topic of branch chain amino acids (BCAAs), it's no secret that they have become one of the most popular sports supplements on the market. Perhaps this is because the three BCAAs (leucine, isoleucine and valine) have been identified as the key amino acids for initiating muscle protein synthesis
SUGGESTED PROTEIN SOURCES
Below are a list of high quality, protein rich foods that we recommend including in your diet regularly. These foods were selected based on the completeness of their amino acid profile and total leucine content.
PROTEIN SOURCES LIST:
Whey Protein
Eggs
Egg Whites
Meat (Chicken, Beef, Pork, Turkey, Elk, Game, etc)
Fish (all kinds)
Dairy (i.e. yogurt, cheese)
Vegan Protein Powder (Rice + Pea Blends)
Soy Protein Isolate
Seaweed, Spirulina
HOW MANY MEALS SHOULD I EAT PER DAY?
We generally recommend splitting your protein up across multiple meals per day so as to maximize the anabolic potential of each meal. From an optimization standpoint, we believe that spreading protein intake more evenly throughout the day will have a better effect on both maintaining and building muscle than skewing your protein intake to be eaten in just one or two massive meals.
INTERMITTENT FASTING
So everyone is on the same page, intermittent fasting (IF) is a dietary practice in which you extend your fasting period, thus consuming fewer meals per day. This can come in more extreme forms such as having only one meal per day and less extreme forms such as having an eight hour eating window, which ultimately amounts to just skipping breakfast. The less extreme version, for example, might involve having three or four meals from 12pm-8pm and then fasting for the remaining 16 hours of the day.
if using intermittent fasting, we recommend that you still try to space your protein out more evenly across your eating window.
For example, if you were restricting eating from 12pm-8pm, you could eat a serving of protein at 12pm, 3pm, 5pm, and 8pm so that you still stimulate MPS four times per day.
PROTEIN TIMING: WHEN ARE THE IMPORTANT TIMES TO EAT PROTEIN?
First, it is important to acknowledge that if you are already hitting your total daily protein targets and eating four to six high-protein meals per day, the specific timing of those meals is of relatively less importance. We believe that the exact times that you eat your meals can be dictated largely by personal preference, scheduling and your own biofeedback signals (such as hunger and satiety).
A NOTE ABOUT FAT
While fats are essential for survival and can positively impact your health in many ways, we think they have a relatively smaller role in optimizing body composition than protein and carbohydrates.
it would be short-sighted to avoid dietary fat out of fear of having them "make you fat". We also suggest that you limit and avoid trans-fats whenever possible because of their negative impact on heart
SUGGESTED FAT SOURCES
FAT SOURCES LIST:
salmon and other fatty fish (or fish oil supplements)
whole eggs
seeds (flax, chia, etc.)
nuts (walnuts, almonds, macadamia nuts, peanuts, etc.)
nut butters (peanut butter, almond butter, etc.)
CHAPTER 10: SOLVING THE MYSTERIES OF CARBOHYDRATES
"THE THREE MOST HARMFUL ADDICTIONS ARE HEROIN, CARBOHYDRATES AND A MONTHLY SALARY."-NASSIM NICHOLAS TALEB
Carbohydrates are a non-essential macronutrient. Unlike protein and certain fats, you can technically survive without eating any carbs for the rest of your life. Carbohydrates also do not have the same anabolic properties as protein, since they do not directly impact muscle protein synthesis.
Despite this, carbohydrates still play a crucial role in the body recomposition process by fueling training performance, which will ultimately drive muscle growth.
All carbohydrates have a few things in common: They are all made up of carbon, hydrogen and oxygen atoms (hence the name Carb-OH-hydrates), they all hold about three grams of water per gram when stored as muscle glycogen and they all taste amazing (for the most part).
SUGGESTED CARB SOURCES
We recommend an 80/20 rule when it comes to food selection: ensure about 80 percent of your carbs are coming from whole, minimally processed foods such as those below. The other 20 percent can be filled in with foods you personally enjoy or find convenient.
CARB SOURCES LIST:
Whole wheat bread, oatmeal, brown rice, long grain rice, all rice derivatives (i.e. cream of rice, rice crisp cereal, etc.) legumes (peas, beans, etc.), starchy vegetables (potatoes, carrots, corn), quinoa, bulgur (wheat derivatives), all fruit (kiwi, bananas, apples, oranges, etc.), all berries (raspberries, blueberries, blackberries, etc.), all fibrous vegetables (broccoli, spinach, kale, lettuce, etc.)
CHAPTER 11: THE NUTRITION-WORKOUT LINK
"WORK OUT. EAT WELL. BE PATIENT. YOUR BODY WILL THANK YOU!" -ANONYMOUS
PRE-WORKOUT NUTRITION
In our opinion, THIS is the MOST important meal of the day for body recomposition. As such, we will give it the most attention. Optimizing the pre-workout meal will ensure that you are properly fueled to perform at your best and generate the ideal anabolic environment to maximize the muscle building process.
As such, there are two primary purposes of the pre-workout meal: to fuel training and to create an anabolic environment for building muscle.
THE IMPORTANCE OF HYDRATION
An underappreciated and often neglected component of fueling your training is proper hydration. Research has shown that a mere three percent dehydration status can significantly decrease strength, total volume/reps and recovery between sets, all while increasing perceived exertion scores (the workout feels harder)
POST-WORKOUT NUTRITION
While the post-workout anabolic window has gotten more attention than it deserves in bodybuilding circles, a post-workout meal still has a meaningful role in the peri-workout trio of feedings. Since the primary goal of the post-workout meal is to begin the recovery process, we will start with the most anabolic macronutrient, protein.
PROTEIN
The most important aspect of post-workout nutrition is stimulating muscle protein synthesis and sparking the muscle repair process for tissue that was damaged during training. To this end, we recommend consuming approximately 0.5 grams of protein per kilogram of bodyweight in the post-workout meal, ideally coming from a complete protein source such as whey, meat, poultry or fish

< DOWNLOAD THIS SUMMARY IN PDF HERE >
< FOLLOW US HERE > |YouTube |Spotify | Instagram | Facebook | Newsletter | Website
CARBS
A second objective of post-workout nutrition is to replenish glycogen stores.
CHAPTER 12: CARDIO: TO-DO OR NOT-TO-DO
Remember that with the goal of body recomposition, we are trying to build muscle and lose fat. The muscle building component will be taken care of primarily through progressive resistance training and adequate protein intake. The fat loss component will come primarily through establishing a caloric deficit. Such a caloric deficit can be achieved by reducing your caloric intake, by increasing activity (including cardio) or through a combination of both (57).
On a typical weight-loss program, cardio is often prescribed to help impose a caloric deficit so the individual doesn't have to excessively restrict calories from their diet.
FREQUENCY
While it will depend on the individual, we generally recommend keeping formal cardio sessions within the five sessions per week range.
In general, it seems that the majority of your training energy should be allocated to weight training, since that is what will ultimately drive muscle growth. Furthermore, your fat loss goals should be achieved primarily through dietary measures rather than over-reliance on cardio.
INTENSITY
Research has also suggested that higher intensity cardio is more likely to interfere with muscle building goals, especially when performed frequently.
LIFESTYLE FACTORS
Assuming fat loss is your primary goal, it may also be worth considering your lifestyle and daily activity levels to help determine how much and what kind of cardio would be best for you. If you live a more sedentary lifestyle ( have a job that requires you to be seated most of the day), incorporating some cardio into your daily routine will likely improve your overall health, decrease stress, and ensure you are using physical activity to augment your diet.
On the other hand, if you work a labor-intensive job and your NEAT is much higher (construction worker, landscaper, etc.), additional cardio would most likely be unnecessary and more likely to impede your muscle building goals.
CHAPTER 13: SETTLING THE SUPPLEMENT DILEMMA
It is important to note that supplements are not required to improve body composition. They are, by definition, supplemental. Investing more time, energy and money in improving your training and nutrition will positively impact your physique far more than any natural supplement ever could.
WHICH SUPPLEMENTS SHOULD YOU CONSIDER TAKING?
Not all supplements are created equal, and while this may seem pretty obvious when viewing the vast landscape of supplements available on the market,
TIER 1
Tier 1 is where the three factors of safety, efficacy, and cost really shine. Not only are there mountains of quality research to support these supplements, but they are also fairly inexpensive and most likely to make a meaningful impact on your performance and/or physique.
PROTEIN POWDER
supplementing your diet with a high quality protein powder is a convenient and effective way to help you reach your daily protein target. High-quality whey protein (any time of day), casein protein (especially before bed), and vegan protein powders (such as soy, pea and brown rice protein powder) are all practical options to add to your diet arsenal
CREATINE
Being the most studied supplement in the world, the data on creatine is very clear. Creatine significantly improves strength and power performance, enhances muscle hydration and increases muscle size (24). The international society of sports nutrition deemed creatine to be the safest and most effective ergogenic aid. More recent data has even shown it to have neuroprotective properties as well
CAFFEINE
Caffeine has a large body of evidence supporting its use for cognitive function, increasing strength, prolonging fatigue, maximizing acute fat oxidation, sparing glycogen and much more
TIER 2
The supplements in this tier (multivitamins and fish oil) are unique as their effectiveness will depend much more on your overall diet.
For most people, you can think of the supplements in Tier 2 as a kind of insurance policy: if you have low dietary quantities of omega 3 fatty acids or a certain vitamin or mineral, taking these two supplements will help insure your overall health requirements.
MULTIVITAMINS
Research reveals that it is not always easy to get micronutrient requirements from food alone, especially for athletes.
FISH OIL (ESSENTIAL FATTY ACIDS (EFA'S – EPA + DHA))
TIER 3
This tier is where we will cover supplements that have the potential to be beneficial, but the effect is relatively small, the results are mixed, and there is a lower quality and/or lower quantity of studies supporting their use.
GREEN TEA (EGCG)
ASHWAGANDHA
L-CITRULLINE
CHAPTER 14: SLEEP AND STRESS: THE DARK HORSE OF BODY RECOMP
"SLEEP IS THE GOLDEN CHAIN THAT TIES HEALTH AND OUR BODIES TOGETHER." -THOMAS DEKKER
Up until now there has been no talk of two painfully underrated variables that can impact your recomp success on an enormous scale: sleep and stress. We're calling these combined factors the "dark horse" of body recomp because they are so infrequently acknowledged as the major factors that they are.
While many of us may wish it weren't true, in terms of both muscle gain and fat loss, we cannot possibly overstate how critical sleep and stress are to your success.
SLEEP
Despite the fact that today's culture seems to glorify lack of sleep, as if sleeping less were synonymous with the hard-working, disciplined individual, the reality is that just because you prioritize sleep doesn't mean you're lazy. In fact, sleep is extremely important.
SLEEP EXTENSION
Sleep extension has also been the subject of much excitement in the sports world, especially at the elite level. One such study on the elite Stanford University NCAA men's and women's swimming teams found that when swimmers extended their sleep to 10 hours per night, their average sprint time, reaction time, turn time and kick speed all improved, with many of the swimmers setting personal, school and NCAA records throughout the study
HOW MUCH SLEEP DO WE NEED FOR BODY RECOMPOSITION?
The National Sleep Foundation recommends seven to nine hours of sleep per night for young adults and adults seeking general health and well-being. However, based on the benefits seen in the literature in terms of performance and recovery with sleep extension and the fact that resistance training imposes a significant recovery demand, we recommend a slightly higher target of eight to nine hours of sleep per night to optimize progress.
STRESS
If you're like us, you have probably noticed how stress negatively affects what would otherwise be routine endeavours. Exam time, tax audits, a death of a loved one, a major illness, a job loss or being the subject of a nasty rumor can all reign down on our well-being, including our muscle to fat ratios.
Lifestyle stress can take a profound toll on recovery from training. It is a fair conclusion to say high stress levels are not doing your body recomposition goals any favours.
SUGGESTIONS AND TIPS
In dealing with the stressors in my life, I often resort to two main forms of relief: Meditation and an activity that evokes a state of "flow" – being in the zone.
CHAPTER 15: WEIGHT TRAINING: THE DRIVING FORCE OF BODY RECOMPOSITION
"THE BARBELLS AND DUMBBELLS YOU HOLD IN YOUR HANDS AND THE WAY YOU USE THEM HAVE STORIES TO TELL." – CRAIG CECIL
Let's start this chapter by saying that it is easy to lose fat by using diet alone, but nearly impossible to build muscle without weight training. This fact has led many experts in the field to conclude that when it comes to building muscle, nutrition is permissive to weight training. This means that you can have the most optimal diet, eat the ideal amount of perfectly distributed protein every day, and you still won't build any appreciable muscle without a training stimulus.
As such, we believe that weight training can be considered the driving force of body recomposition. To better understand this, let's use the analogy of a car. We can think of our training as the engine and our nutrition as the gasoline needed to fuel performance. The better the fuel (macronutrients, micronutrients, nutrient timing, et cetera), the better the performance. However, without the engine, the car simply won't move, regardless of the fuel's quality.
We can then think of other variables such as sleep and stress management as the tune-ups, oil changes and tire rotations required to keep the system moving along.
PROGRESSIVE OVERLOAD IS KEY
Progressive overload is the gradual increase in the amount of stress placed on the body from exercise. In other words, if no greater stress is placed on the muscle over time, the muscle has no reason to grow in order to overcome that stress.
In its most basic form, progressive overload simply means doing more, over time. Practically speaking, this usually takes the form of simply adding more weight to a given exercise from workout to workout. However, there are several different ways to apply progressive overload:
increase load
increase repetitions with same load
increase sets
improve form
increase rep duration (such as by slowing the eccentric/negative)
When it comes to progression, we urge you to prioritize quality over quantity. The concept of progressive overload (more specifically, progressive tension overload) is effective mainly because it provides a simple method for increasing mechanical tension – a key player in muscle hypertrophy
VOLUME IS A DRIVER OF GROWTH
At the most basic level, training volume refers to the amount of work you are doing. While volume load is calculated in the scientific literature according to the formula, sets x reps x load, in practical training circles, it is usually approximated as the number of working sets (not including warm up sets) performed per session or per week.
TRAINING HARD
Another way that training volumes differ is in terms of how hard the sets are. Should we be pushing sets all the way to failure or should we stop shy of failure?
It is clear that if you want to make continued progress past the beginner level, it is important to put in a high level of effort when training.This does not imply that every set should be taken to failure, Since consistently taking sets to complete fatigue can lead to overtraining and reduced overall volume, potentially hindering growth. As a general rule, we recommend leaving one to three reps in the tank on most compound exercises. Isolation exercises can be taken more routinely to failure without the same risk of fatigue accumulation, however, we still recommend reserving failure for the last set of any given exercise.
WHAT IS THE BEST REP RANGE FOR MUSCLE GROWTH?
Practical hypertrophy zone where the majority of working sets should come from. That practical rep zone is 6-15 reps.
We suggest allocating approximately 75 percent of your weekly training volume to the 6-15 rep zone.
TRAINING FREQUENCY AND TRAINING SPLITS
It seems that as a whole, the scientific literature suggests that training each muscle twice per week is better than only training each muscle once per week. Whether or not frequencies higher than that are better, seems to depend on the individual.
THE UPPER LOWER SPLIT (BEGINNER-INTERMEDIATE)
Day 1 – Upper
Day 2 – Rest
Day 3 – Lower
Day 4 – Rest
Day 5 – Upper
Day 6 – Rest
Day 7 – Lower
THE UPPER LOWER SPLIT (INTERMEDIATE-ADVANCED)
Day 1 – Upper
Day 2 – Lower
Day 3 – Upper
Day 4 – Lower
Day 5 – Upper
Day 6 – Lower
Day 7 – Rest

< DOWNLOAD THIS SUMMARY IN PDF HERE >
< FOLLOW US HERE > |YouTube |Spotify | Instagram | Facebook | Newsletter | Website