★DOWNLOAD THIS FREE PDF SUMMARY HERE
? MY FREE BOOK TO LIVING YOUR DREAM LIFE"
? SPONSOR BESTBOOKBITS BY USING PATREON 
? SUPPORT BESTBOOKBITS BY CLICKING THE LINKS BELOW
Ultimately, the business that can spend the most to acquire a customer wins.
INTRODUCTION
Old School Direct Marketing. Whatever they were selling, the process was the same. They would place a small ad asking people to contact their company for a free report. After you contacted them, they would send you a sales letter, disguised as a free report, selling a low-ticket information product. When I purchased the product, they would send me their "system" – along with another sales letter selling me a high-ticket product.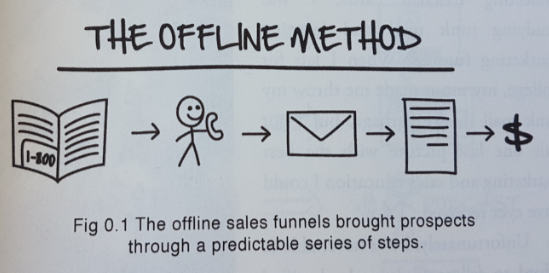 While most kids my age were collecting baseball cards, I was studying junk mail and learning marketing funnels.
People were using the Internet to make money in a way that was almost identical to what I had learned when I was a kid. But instead of using mail, they were using email; instead of using magazines, they had blogs; instead of the radio, they were using podcasts.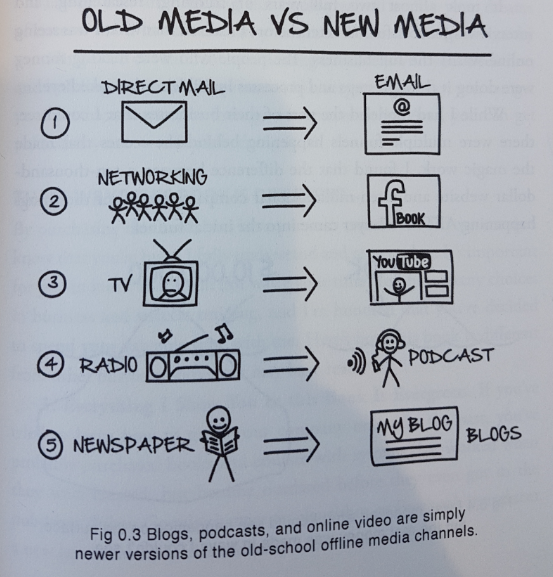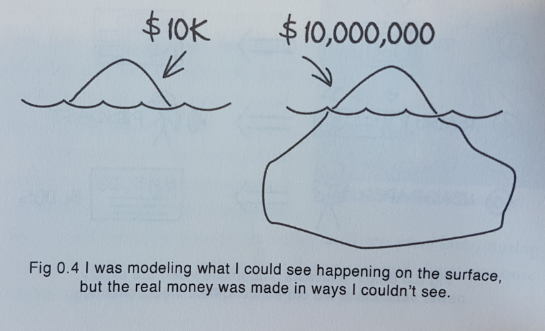 SECTION ONE: LADDERS AND FUNNELS
SECRET #1: THE SECRET FORMULA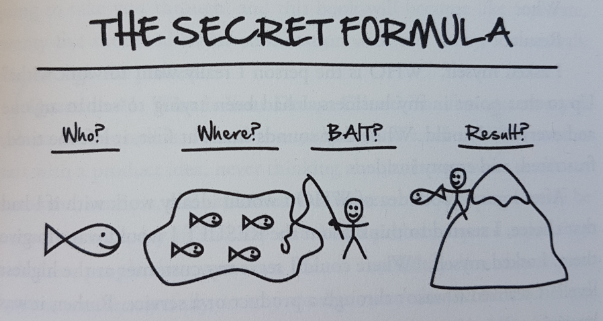 Question #1: Who Is Your Dream Client?
The first question you have to ask yourself is, Who do I actually want to work with?
Question #2: Where Can You Find Them?
Where do they hang out online? Are they on Facebook or Instagram? What groups are they part of? What email newsletters do they subscribe to? What blogs do they read?
Question #3: What Bait Will You Use to Attract Them?
Question #4: What Result Do You Want To Give Them?
Once you've hooked your dream customers with the perfect bait, the last question is what RESULT do you want to give them? I'm not talking about what product or service you want to sell them. A business is NOT about products and services. A business is about what result you can get for your clients. Once you (and they) understand that concept, then price is no longer a barrier.
The four steps again are as follows:
Who are your dream clients?
Where can you find them?
What bait will you use to attract them?
What result do you want to give them?
SECRET TWO: THE VALUE LADDER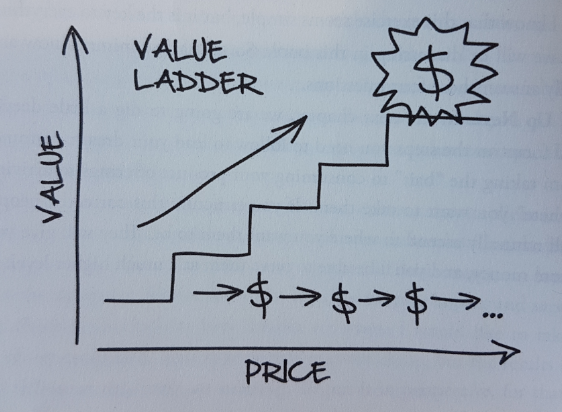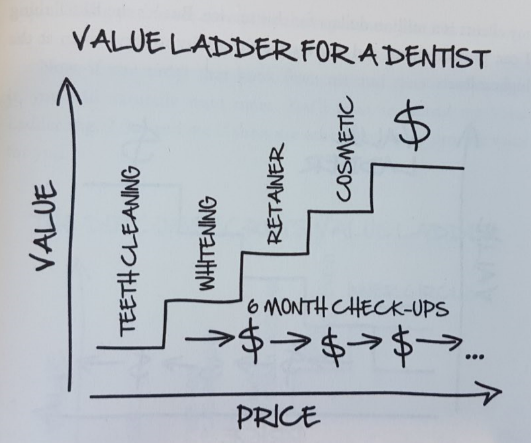 If you look at how we structure it, you'll see that on the left hand axis we have value, and on the bottom axis we show the price. Now, on the top right hand corner of this graph, you'll see the big $ sign. This is where you want to take your client. This is where you can provide them the most value – and also charge them the most.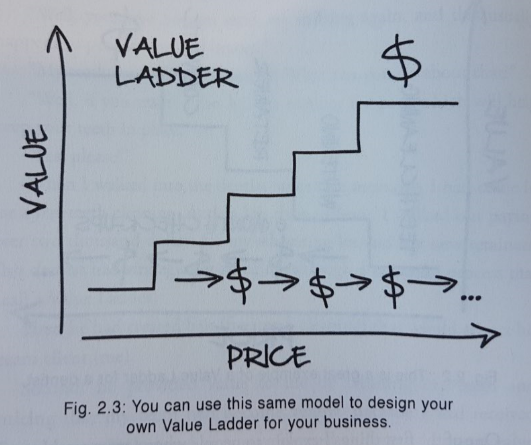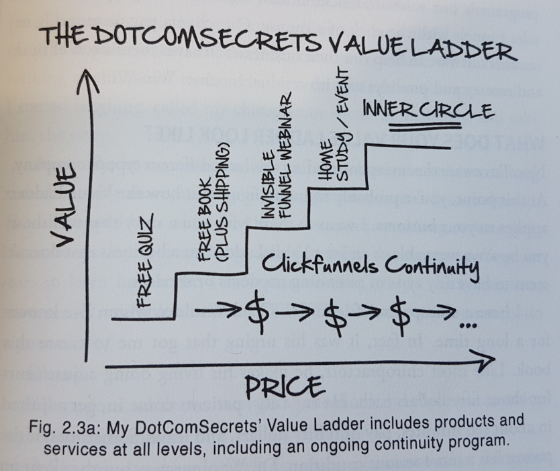 No Value Ladder is complete without a good continuity program. There are many ways to structure your continuity program. It could be organized around software, membership sites, or ongoing coaching, but it should be something you can bill for each month. That residual income will become the lifeblood of your business.
There's no end to the level of backend services and experiences you can add. If you keep providing more and more value, people will spend more and more money to keep working with you.
The only limit to your value offerings is your imagination. Keep thinking of higher and higher levels of service, and you can keep charging more and more money. There's always something else you can offer.
Offer a coaching program? How about a live event?
SECTION #3: FROM A LADDER TO A FUNNEL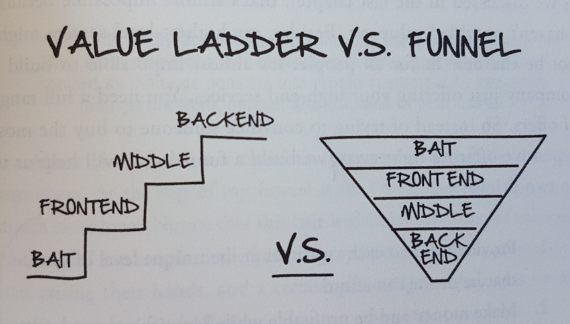 We build a funnel that will help us to do two things:
1. Provide value to each customer at the unique level of service that he or she can afford.
2. Make money and be profitable while identifying our dream clients who can afford our highest offer.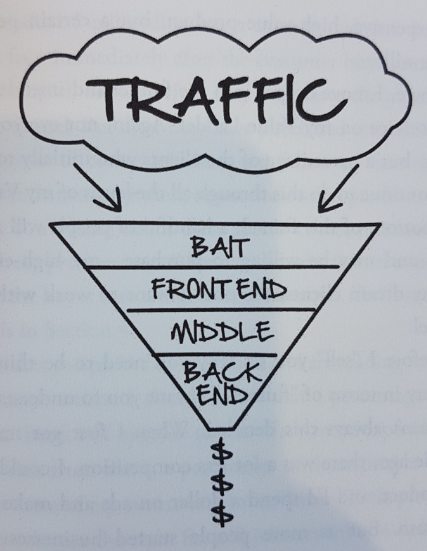 Build a deeper funnel with more offerings. The deeper your funnel is, and the more things you can offer your clients, the more each customer will be worth to you. And the more they are worth to you, the more you can spend to acquire them.
Ultimately, the business that can spend the most to acquire a customer wins. (Dan Kennedy)
Let's Review: So a sales funnel is just the online process you take someone through to get them to ascend through the different levels of your Value Ladder. It's the actual webpages that will make the Secret Formula work. The Secret Formula will help you find your dream customer, offer them your bait, and lead them to where you want them to go – all while providing the customer value and making you money.
SECRET #4: HOW TO FIND YOUR DREAM CUSTOMERS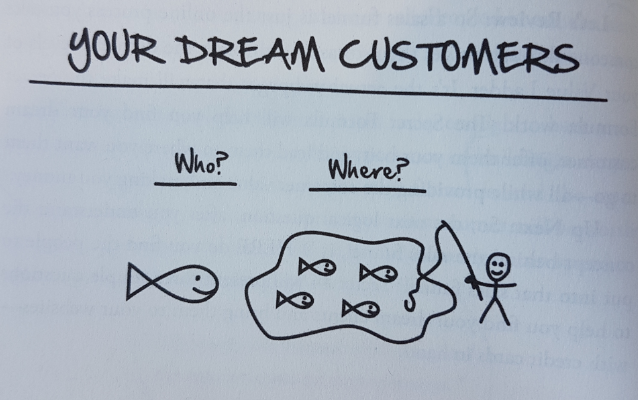 Find out who your dream clients are and then find out where they are.
One of the coolest things about the Internet is the power of congregations. These seemingly unimportant groups of people gathering together in little corners of the Internet make it possible for people like you and me to get into business quickly and be successful without all the barriers and expensive hurdles of traditional media.
The power of a congregation because it's one of the main reasons the Internet is such an amazing tool for businesses. Prior to the Internet, it was hard for people around the world to congregate together. We were limited by location and ability to communicate.
Once you understand the core concept of congregations, driving traffic is incredibly easy. Not sure where your congregations are?
QUESTION #1: WHO IS YOUR TARGET MARKET?
Consumers want and expect messaging that speaks directly to them, or they will likely ignore you. There's just too much information bombarding us at all hours of the day and night. As modern humans, we are subconsciously forced to screen out anything that doesn't directly apply to us.
To create hyper-targeted messages, you have to know your target market inside and out. Successful businesses get inside of the customer's mind and find out what the individual really cares about. What are their pains and passions? What do they desire? What do they think about, and what do they search for online?
QUESTION #2: WHERE IS YOUR TAGET MARKET CONGREGATING?
I like to think of the Internet as a huge mountain, and your ideal customer – your traffic – is gold inside that mountain. Your job as a marketer is to find the goal and mine it out.
As the entrepreneur, it's your job to go out there and find these congregations.
QUESTION #3: HOW CAN YOU GET A CUSTOMER TO LEAVE. THE CONGREGATION AND CHECK OUT YOUR FUNNEL?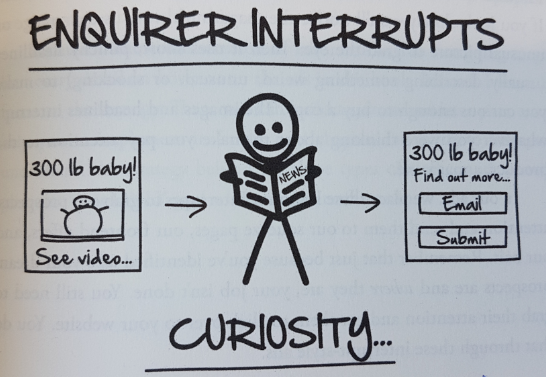 Your ads must be able to grab people's attention if you want them to click over to your site.
You are trying to engage someone who is already checking email, Facebook, and his cell phones at the exact same time. You have to interrupt potential customers long enough for them to click on your ad and visit your website.
SECRET #5: THE THREE TYPES OF TRAFFIC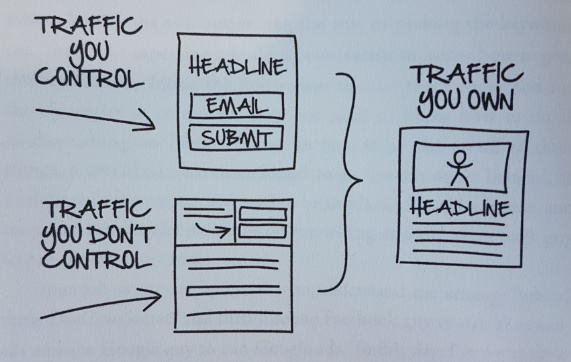 Your one and ONLY goal is to OWN all the traffic you can.
Traffic you own is the BEST kind of traffic. It's your email list or your followers, readers, customers, etc.
This is my own distribution channel; I can send out messages anytime I want, with no new marketing costs. I can sell things to these people over and over again, and all of that money comes back as pure profit.
You have to build a list.
It's so important to convert the other two types of traffic (both traffic you control and traffic you don't control) into subscribers and buyers (traffic that you own) as quickly as possible. The bigger your list, the more money you make.
Any kind of paid traffic is traffic you control, including the following
* Email ads (solo ads, banners, links, mentions)
* Pay-per click as (Facebook, Google, Yahoo, etc.)
* Native ads
* Affiliates and joint ventures
The squeeze page is a very simple page with ONE goal: to convert traffic that you control into traffic that you own.
Traffic You Don't Control
Social media, search traffic, guest blog traffic, YouTube, Guest interviews etc
Just like traffic that I control, my ONLY goal with traffic that I don't control is also to turn it into traffic that I own.
SECTION TWO: YOUR COMMUNICATION / FOLLOW-UP FUNNEL
SECRET #6: THE ATTRACTIVE CHARACTER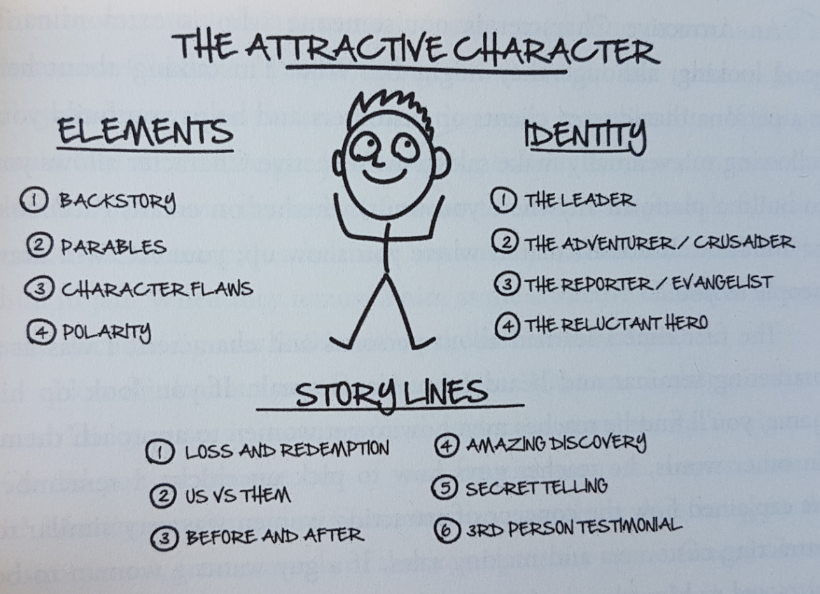 An Attractive Character is not someone who is extraordinarily good looking, although they might be. What I'm talking about here is a persona that attracts clients or customers and helps you build your following to eventually make sales.
Focus on building out your own Attractive Character profile
The four elements of the attractive character
Backstory
Attractive Characters Speak in Parables
Attractive Characters Share Their Character Flaws
Attractive Characters Harness the Power of Polarity
Identity of an Attractive Character
The Leader
The Adventurer or Crusader
The Reporter or Evangelist
The Reluctant Hero
Attractive Character Storylines
Loss and Redemption
Us vs. Them
Before and After
Amazing Discovery
Secret Telling
Third-Party Testimonial
SECRET #7: THE SOAP OPERA SEQUENCE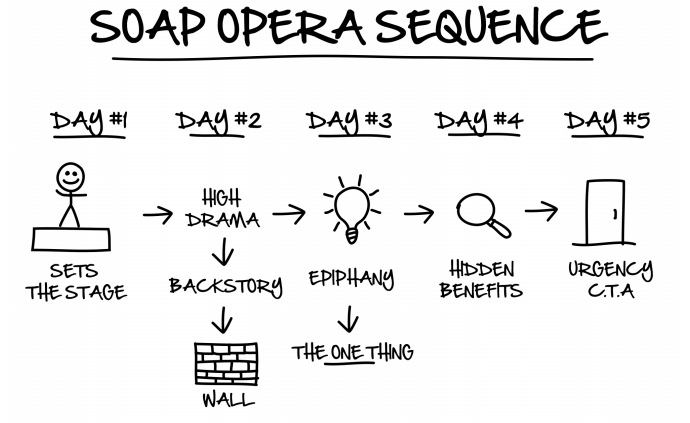 That's how the soap opera sequence works: Email #1 pulls the reader to Email #2…Email #2 pulls the readers to Email #3…And so on. The emails themselves should be easy to read and fast to scan.
SECRET #8: DAILY SEINFELD SEQUENCE
Your Soap Opera (auto-responder) Sequence is your Attractive Character's introduction to your new subscriber.
Seinfeld emailed continue the conversation on a daily basis. The goal is to be fun and entertaining while you sell stuff.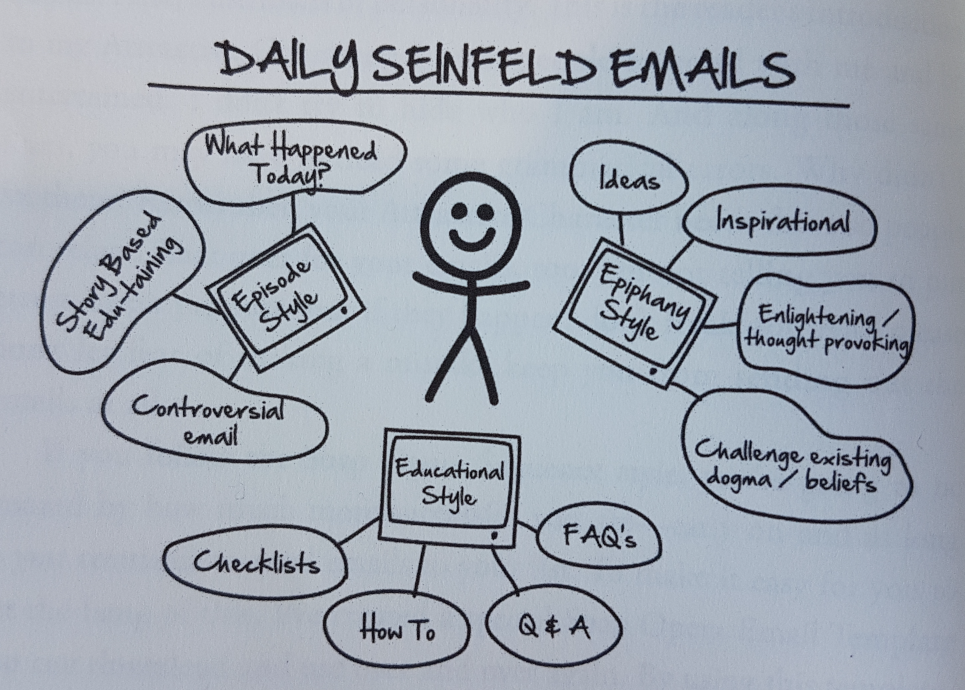 SECTION THREE: FUNNELOGOY LEADING YOUR CUSTOMERS TO THE SALE (OVER AND OVER AGAIN)
SECRET #9: FUNNEL HACKING REVERSE ENGINEERING A SUCCESSFUL FUNNEL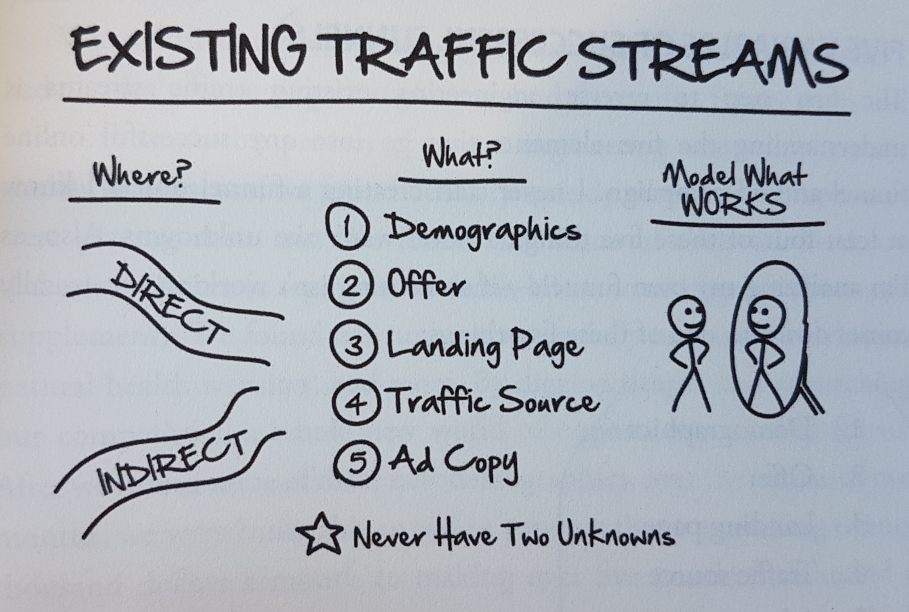 Before you start to build out any new sales funnel, the first thing you want to do is find other people who already have a successful funnel and are selling to my target market.
Reverse engineer what they're doing and figure out where they are getting their traffic. We call this process "funnel hacking."
Tony Robbins says that if you want to be successful in any part of your life, you need to find someone else who is already doing what you want to do and model your effort after theirs.
FIVE VARIABLES OF SUCCESSFUL FUNNELS
Demographics
Offer
Landing Page
Traffic source
Ad copy
Remember, traffic is made up of real people. People can be persuaded to click.
The who funnel hacking process depends upon finding out about all five of these elements in regards to your competitors.
HOW TO FUNNEL HACK A SUCCESSFUL CAMPAIGN
Step #1: Where are your competitors (Both Direct AND Indirect)?
Step #2: What are they doing? Use SimilarWeb.com as a tool to find your competitor's traffic sources.
Long running ads are usually high-converting and big money makers.
Collect the actual ads your competitors are running and model them for your own ads.
SECRET #10: SEVEN PHASES OF A FUNNEL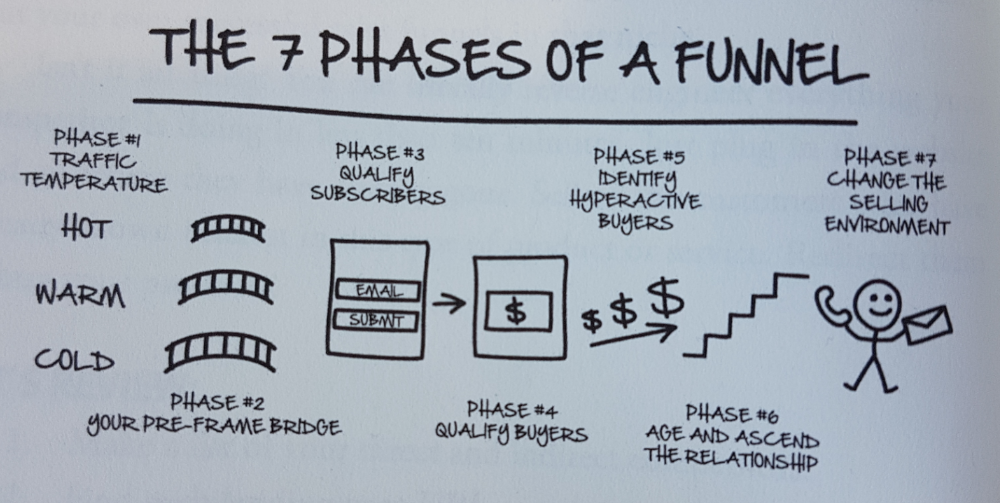 The real difference between having a six, seven, or even eight-figure business is whether you understand the phases of a funnel and can successfully monetize the different points along the line.
The money you make in your business depends on how well you manage the experience of every person who comes in contact with you-no matter how long they stay.
I've broken the customer experience down to seven specific points in the funnel.
IT'S ALL ABOUT THE PRE-FRAME
You need to understand the concept of a pre-frame because each step in a funnel is a pre-frame for the next step.
Phase #1: Determine Traffic Temperature
There are three levels of traffic that come to your website: hot, warm, and cold. Each group needs special treatment and individualized communication.

You have to figure out where your prospect is along the product-awareness continuum: product aware, desire aware, or problem aware.
Hot traffic from your email list probably knows you and your product, so they would be the most product aware and would respond best to product-based copy.
Hot Traffic is made up of people who already know who you are. They're on your email list, they subscribe to your podcast, they read your blog – you have an established relationship with them.
Warm traffic consists of people who don't know you, but they have a relationship with somebody you know. This I where joint venture partnerships work well.
Cold traffic is made up of people who have no idea who you are. They don't know what you offer or whether they can trust you.
The first step is to figure out what temperature your traffic is so that you can build the right pre-frame bridge.
Phase #2: Set up the pre-frame bridge
A hot traffic bridge is typically very short. You already have a relationship with these people.
A warm traffic bridge is a little longer than a hot traffic bridge, but not much.
A cold traffic bridge is the holy grail of online marketing. If you really want to scale your business, you have to learn how to convert cold traffic.
Phase #3: Qualify Subscribers
The whole goal here is to take all the traffic – hot, warm, and cold – and find out who is willing to give us an email address in exchange for more information. (This is known as subscribing to a list.) If people aren't willing to give their email addresses at this point, they are highly unlikely to give me money later.
Phase #4: Qualify Buyers
Immediately after you qualify your subscribers, you want to find out who among them is a buyer.
If someone is willing to buy from you once, they'll continue to buy from you as long as you keep offering value.
Two lists: subscribers and buyers. Each list is unique and gets treated differently.
Phase #5: Identify Hyperactive Buyers
Who's in pain right now? And what are they willing to buy right now to alleviate that pain?
People love to buy. And when they're in pain and want relief, they will spend money in that quest.
Phase #6: Age and Ascend the Relationship
This is the point where we start changing the types of funnels we use. If we started with a Free-Plus Shipping Funnel, we may move the buyer into an Invisible Funnel or maybe move them up to a Three-Step, High-Ticket Backend Program.
Phase #7: Change the Selling Environment
The most common ways to change the environment are to sell the pricier items over the phone, through direct mail, or at a live event or seminar.
When we change the selling environment, we can communicate at a different level, and it becomes easier to move people up to the higher levels of the Value Ladder.
SECRET #11: THE TWENTY-THREE BUILDING BLOCKS OF A FUNNEL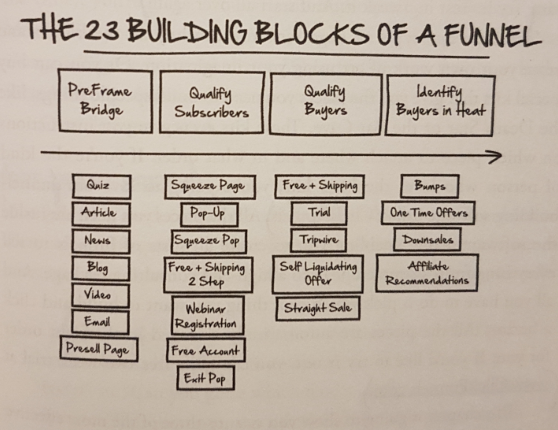 Try it. Test it. Tweak it. And start all over again.
Funnel-building software called ClickFunnels. clickfunnels.com
PRE-FRAME BRIDGE
Quizzes are great tools for engaging your audience and getting their brains primed for your sales page.
Use articles as a pre-frame for cold traffic coming from a banner ad.
Add a call to action somewhere on the page. A call to action is simply where you ask the reader to do something: click here to learn more, subscribe today, get your free sample here.
News: Anything that's news or is perceived as news commands more attention than other reading matter.
If your pre-frame is attached somehow to a current news story, you'll automatically receive a bump in attention for as long as that story continues to dominate the news.
Blogs: A blog post can be used to pre-frame most any topic.
Videos: YouTube videos make great pre-frame material, especially for testimonials. The video should agitate the problem for the viewer or educate them on some process or idea.
Email: Pre-framing with email works well when you buy a solo ad or use JV partners to endorse you to their lists.
Presell Pages: Sometimes you have to educate people before you sell to them. A presell page tells a story.
QUALIFYING SUBSCRIBERS
The next phase is to qualify your subscribers. Remember the goal here is simply to get people to opt-in to your list, subscribe to your newsletter, or request a free offer you've put in front of them. You're separating out the casual visitors from the people who are willing to trade their email addresses in return for more information.
Pop-Ups can still be effective if used carefully.
Squeeze Page: The squeeze page is the simplest way to qualify subscribers. It was developed as a way to increase subscribers without using pop-ups. It's a simple opt-in page that requires people to give you their email addresses to get access to something on the next page. (i.e., a free report or a free video).
Click Pop: The click pop is a way to get people to join your list via a button on your blog or others web pages. When they click on that button, up pops a squeeze-page-style pop-up.
Free-Plus Shipping, Two-Step Form: This type of web form takes advantage of buyer psychology and combines the "qualify subscribers" and "qualify buyers" steps into one.
Webinar Registration: Free webinars as a way to generate leads. When people register for the webinar, they naturally need to give you their email address because you need to send them details about the webinar.
Free Accounts: Signing people up for a free account works especially well with software and membership programs.
Exit Pop: An exit pop is, not surprisingly, a last-chance pop-up after people click away from your site. It asks if they're sure they really want to leave without subscribing.
QUALIFYING BUYERS
When we qualify buyers, remember that the goal is to get people to pull out their credit cards and actually pay for something. The first purchase is the hardest to get, so it's best to offer something of value for a very low price.
Free-Plus-Shipping, Trial. Tripwire, Self-Liquidating Offers, Straight Sale
IDENTIFY HYPERACTIVE BUYERS
To figure out which customers are hyperactive buyers at the point of sale, I need to offer an upsell immediately after I qualify them with a low-cost or free offer.
Bumps: These are the little offers we add on to our order forms.
One-Time Offers: After someone has purchased any of your frontend products, you can make them a special, one-time offer.
Down sales and Affiliate Recommendations,
SECRET #12: FRONTEND VS. BACKEND FUNNELS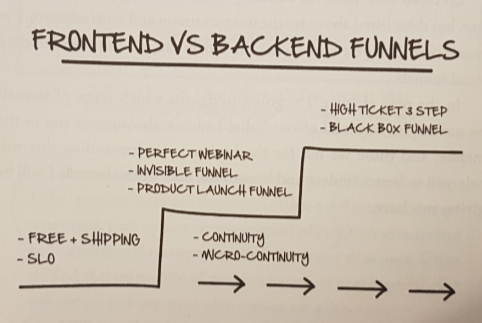 Product Awareness Continuum: The basic psychology goes back to the product awareness continuum we discussed when we were talking about traffic temperature in Secret #9.
How you speak to your prospects depends on where they are on the product awareness continuum.
Cold traffic is probably only aware of the problem they are facing. They don't know you or your products, so they need to start at the front of the Value Ladder with a low-level funnel, like a Free-Plus-Shipping or Self-Liquidating-Offer Funnel.
THE BIG PICTURE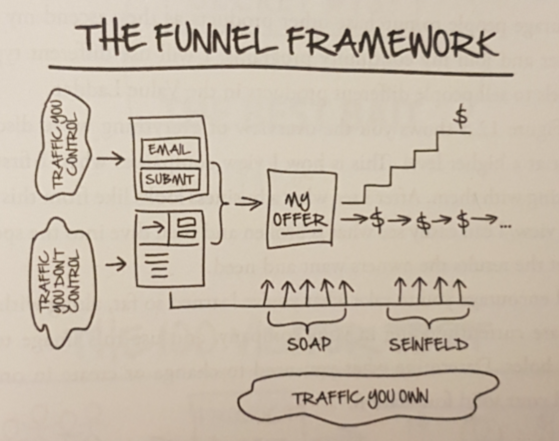 The core funnel moves people from the traffic stage all the way up the Value Ladder.
SECRET #13: THE BEST BAIT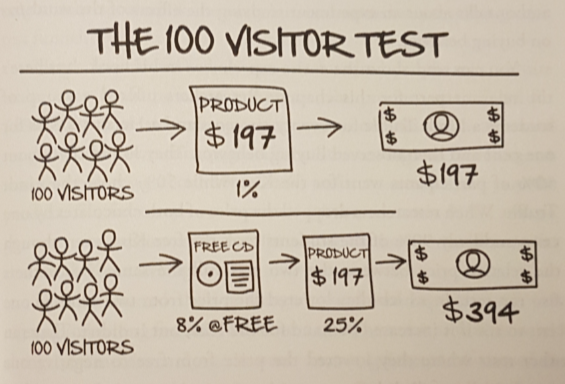 I don't know what it is about buyer psychology, but once you get someone to say the first yes, it's so much easier to get the second yes. It's a slippery slope. You get them started by saying yes to a small thing, then they are much more likely to say yes to a larger thing later.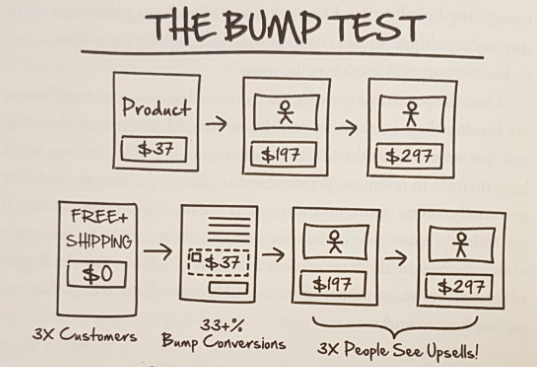 If someone isn't willing to pull out a credit card and pay a few bucks for shipping on your product, then they probably aren't going to buy your other products either.
SECTION FOUR: FUNNELS AND SCRIPTS
FRONTEND FUNNELS
FUNNEL #1 TWO-STEP, FREE-PLUS SHIPPING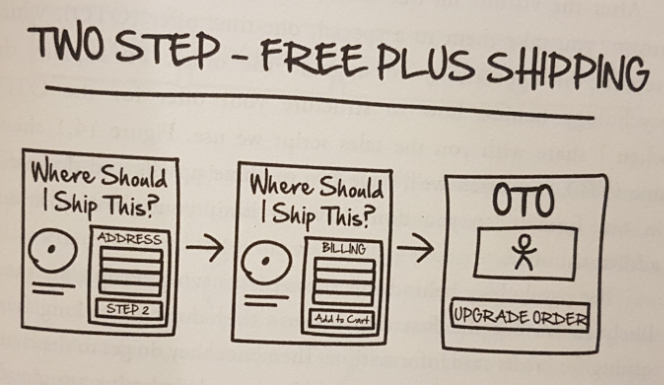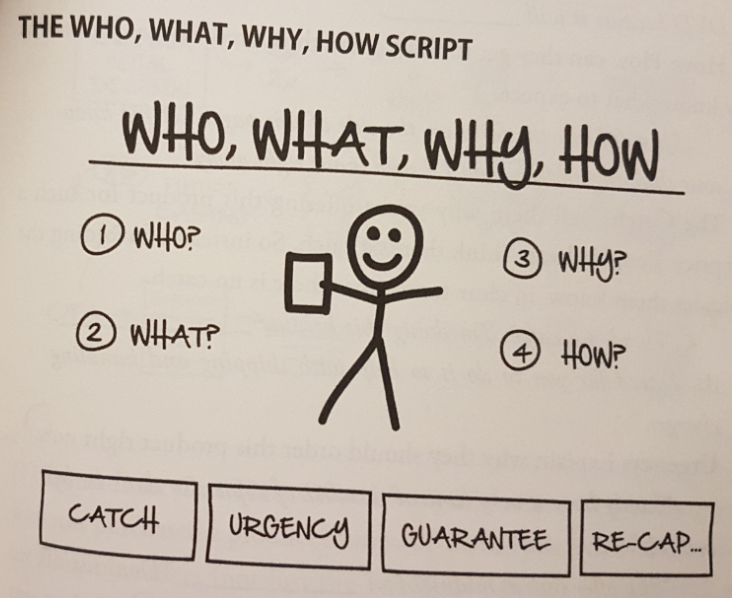 Just create a little video, answering these four questions, and maybe add in a text version on the page.
Who: Who are you? Introduce yourself very briefly.
What: What do you have? Introduce your product or offer briefly.
Why: Why do they need it? Explain the benefits of the offer.
How: How can they get it? Walk them through the order process so they know what to expect.
The Catch: Tell them why you're offering this product for such a low price.
Urgency: Explain why they should order this product right now.
Guarantee: Reverse any risk in ordering the product.
Recap: Remind them what they are getting and why.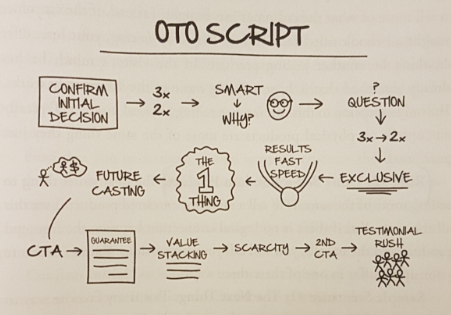 OTO stands for One Time Offer. It's a special offer you make to people who just purchased a product from you.
Rule #1: Don't Sell More of the Same Thing.
Rule #2: Don't Sell a Random Product.
Exclusive: Explain why this OTO is not for everyone.
Results, Fast, Speed: Explain that this OTO will complement the original purchase by delivering better results, faster.
The One Thing: Here you need to find the One Thing in your product that is they key to the buyer's success.
Future Pacing: Help the buyer imagine achieving goals faster and with greater ease.
Call to Action (CTA): Tell the buyer how to order the special offer.
Guarantee: Reverse the risk he may be feeling with a guarantee.
Value Stacking: Add in valuable bonuses.
Scarcity: Give them a reason to order right now! Make this a truly one-time offer.
Second CTA: Repeat your call to action.
Testimonial Rush: Add in testimonials about your product-more is better.
FUNNEL #2: SELF-LIQUIDATING OFFER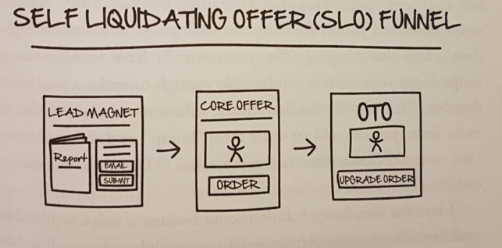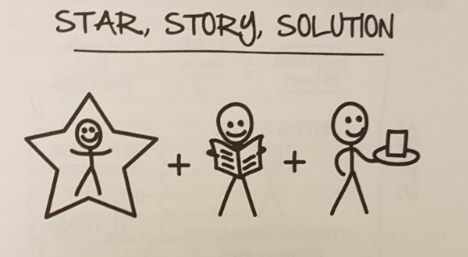 First, you need a star (I call this person the Attractive Character), then you need a story that agitates a problem, and finally you need to provide a solution (your product).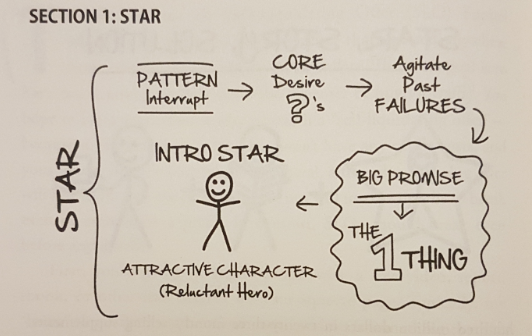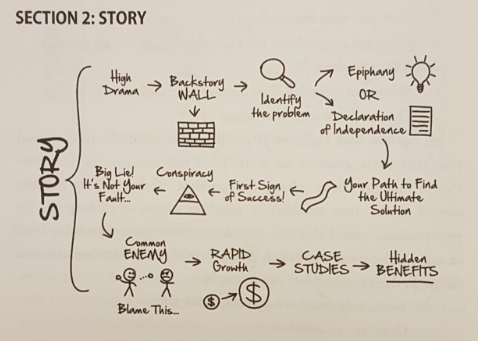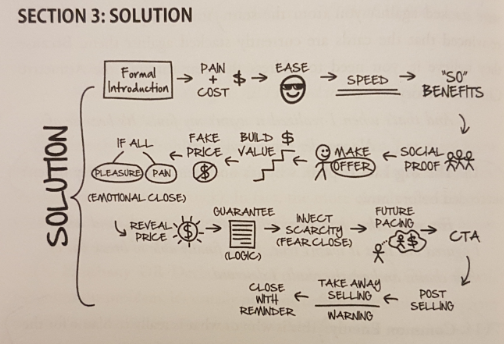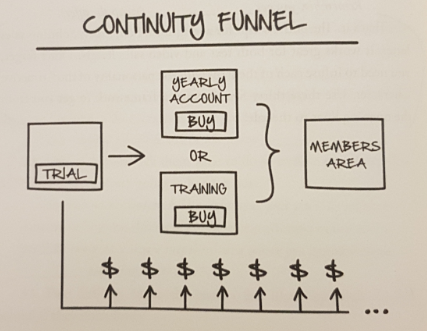 Continuity is when you get paid regularly, usually every month, for ongoing access to information or software or some other product.
FUNNELS FOR THE MIDDLE OF THE VALUE LADDER
FUNNEL #4: THE PERFECRT WEBINAR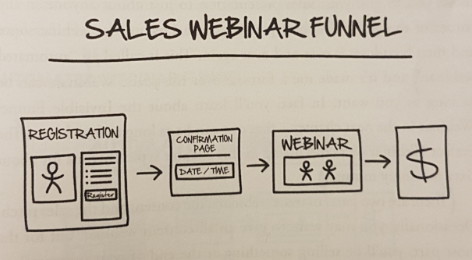 Webinars have become extremely popular sales tools over the past few years, mainly because they work so well. They take the old teleseminar/speaking model to a whole new level.
With a webinar, you can deliver your presentation online. People don't have to travel anywhere to catch your speech (and you don't have to travel anywhere either)
At it's most basic level, a webinar is nothing more than a PowerPoint presentation that you broadcast live (or record) over the Internet. It allows you to give your sales presentation to just about anyone in any corner of the globe. The best part is you can record the webinar once and then broadcast it over and over again. This is called an "automated webinar."
There are two parts to most webinars: the content and the sales pitch.
SALES WEBINAR FUNNEL
The funnel for a sales webinar is very simple. You drive traffic to a registration page where you have some sort of sales letter or video encouraging readers to sign up for the webinar.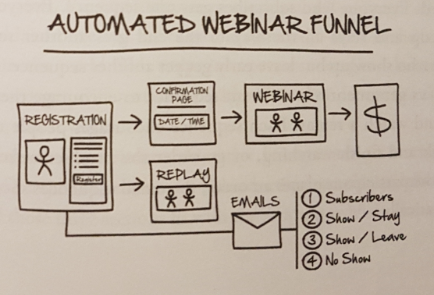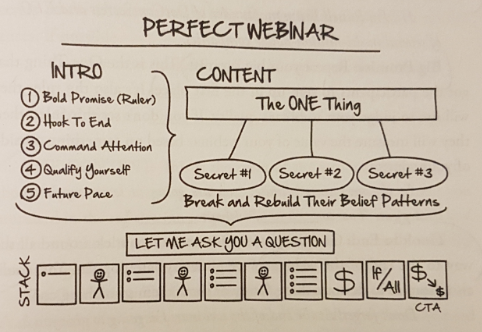 A typical webinar is broken down into three sections: the introduction, the content, and the close (or the sales pitch)
The only thing your prospect remembers when you sell is the last thing you show them.
FUNNEL #5: INVISIBLE FUNNEL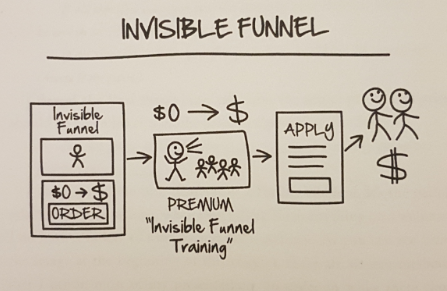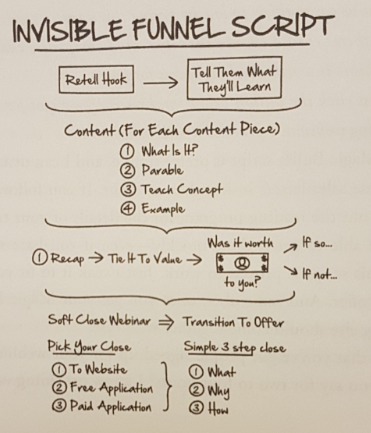 FUNNEL #6: PRODUCT LAUNCH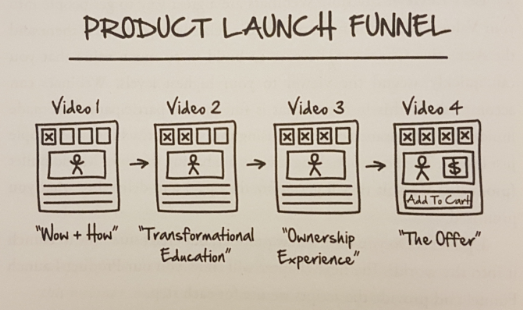 Basically, you're breaking up your sales presentation over four videos-each providing a ton of value, while educating your prospects and selling your products.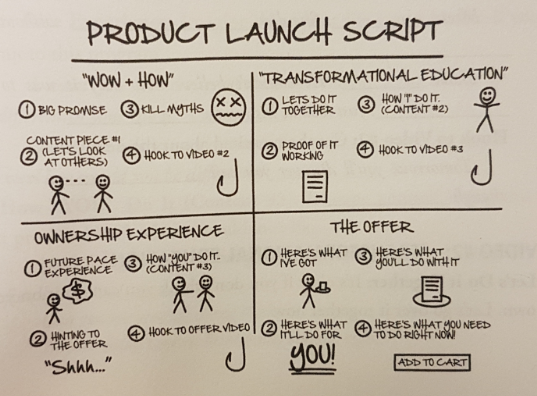 BACKEND FUNNEL
FUNNEL #7: HIGH-TICKET, THREE-STEP APPLICATION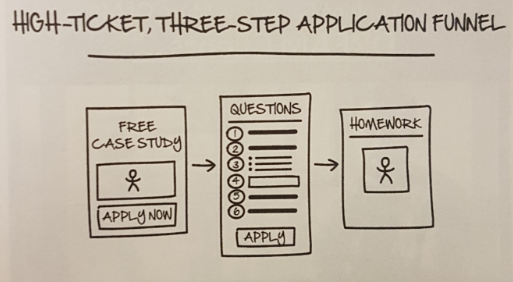 This funnel us a very simple process to qualify and pre-frame potential high-ticket consulting or coaching clients.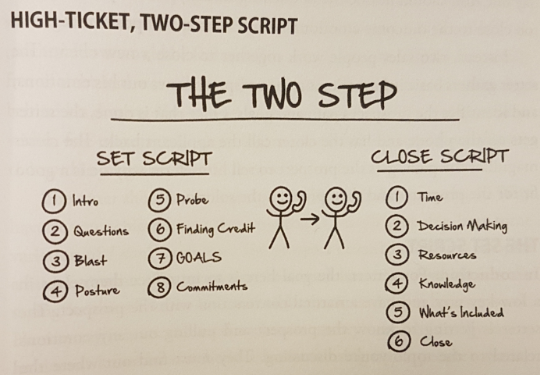 SECTION FIVE: CLICKFUNNELS
Create everything in ClickFunnels in about an hour! If you don't have your ClickFunnels account yet, you can get a free, two-week trial at ClickFunnels.com.
Live demo at DotComSecretsBook.com
CONCLUSION: IGNITE YOUR FUNNEL
Decide who you want to serve. Who are your ideal clients?
Create your bait, and do it quickly. Don't overthink it or try for perfection here.
Figure out your Value Ladder. What can you offer above and beyond what you currently do? Go create those things.
Start building out your funnels, one at a time.
★DOWNLOAD THIS FREE PDF SUMMARY HERE
? MY FREE BOOK TO LIVING YOUR DREAM LIFE"
? SPONSOR BESTBOOKBITS BY USING PATREON 
? SUPPORT BESTBOOKBITS BY CLICKING THE LINKS BELOW